Global Cannabis Applications: A Company at a Crossroads
Global Cannabis Applications Corp (CSE: APP) – the blockchain and AI integrated, cannabis focused mobile application company. Bit of a mouthful, isn't it? There's also a proposed ICO mixed in there as well. If this sounds complex to you, that's because it is.
We've addressed an issue that seems to be present here many times before. That issue, is the use of buzzwords. This is clearly evident the moment any investor takes a deeper look into the company. However, the company has not always been this way. Lets take a deeper look at Global Cannabis Applications Corp, and see how they got to where they are today.
Global Cannabis Applications: A Company at a Crossroads
Although heavily focused on the use of buzzwords at the current point in time, this is a relatively recent development. The company has existed for several years now, under the name Fundamental Applications Corp. In this format, they were geared towards creating mobile applications for millennials. For roughly two years, they were heavily focused on the development of their Foro mobile app – think of it as a craigslist or Kijiji geared specifically towards university and college students.
By late 2016 however, there were signs that they were attempting to move away from this form of the company. This began with the acquisition of Opinit, a company with a web based content sharing platform. Later that same year, they then made a significant investment in Mo Tecnologias, a Columbia based Fintech company.
A later release issued December 7, 2016 indicated that a new mobile app was being jointly developed between the two companies, and would be released to the Columbian market in January 2017. This was a transaction that would be considered arms-length due to a common officer. No further mention of this deal ever occurred again, and it appears no investment actually took place based on the subsequent interim financials filed by the company.
After this release, the company went effectively silent. The only releases issued for four months pertain to equity raises and option issuance.
Then suddenly on March 8, the company announced they would be launching an app focused on the "global cannabis user marketplace." Less than a month later in a shotgun fashion, the company formally began to change its name from Fundamental Applications Corp to Global Cannabis Applications Corp. And so begins the collection of buzzwords.
Global Cannabis Applications' Current Operations
Citizen Green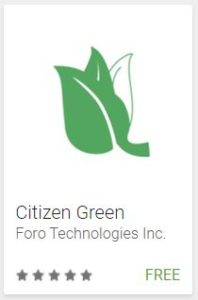 Acting as the new flagship mobile application for Global Cannabis, Citizen Green is intended to connect buyers with sellers, similar to their Foro app. The different here however, is that it is focused on the global cannabis market. It aims to connect those selling cannabis and cannabis related products to those looking to consume the goods. Originally only available in European countries where cannabis is legal, the mobile app was first launched on April 20, 2017.
The application itself has since been further enhanced from this initial format. The first of which, was the integration of data from the Cann Help Deck. This data contains information on countless strains and their healing effects which has been collected over the last ten years. The data is then used to recommend a specific product that is matched to the pain being experienced by the patient. From this process, the "Pain to Strain" trademark was formed for Global Cannabis Applications.
There are a few issues with this application however. First and foremost, the mobile app is only available on Android devices. Second to that, the last update as per the Google Play store was July 20, 2017. The amount of installs listed is within the 100 – 500 range. Not exactly a bullish indicator for the company.
CannaLife
By all appearances, CannaLife has essentially replaced what was initially intended to be called Citizen Green. Like its predecessor, it's an application focused on matching cannabis strains with the pain users are experiencing. The difference in this rendition, is that it focused on the social aspect of cannabis. To do so, it has essentially created a social media network catering to medical cannabis users. In this regard it is similar to Facebook in that groups can be created, profiles are established, and data is intended to be shared socially.

The app itself is stated to be "blockchain and A.I. ready" by the company, however it is not clear what this integration will involved at this point in time. Currently, users acquire tokens based on the activity conducted within the application. This will later be used for a proposed coin offering by the company, whereby these tokens will be tradeable on market exchanges.
Unlike Citizen Green, CannaLife is available on both the iPhone as well as Android devices. It has also been updated much more recently, with the latest Android release being issued December 18, 2017. The iPhone variant was last updated January 15, 2018. Although Apple does not display download figures, there have been no reviews posted. For Android, it is again in the 100 – 500 downloads range, with an average rating of 4.6 which is largely for a previous version.
Global Cannabis Apps Corporation (Australia) Pty Ltd
The first mention of artificial intelligence (AI) and blockchain from Global Cannabis Applications occurred on July 19. This was the result of the company announcing that they were in talks with an accelerator located in Australia, known as Fintechgration.

Essentially, the company intended to focus on collecting data which it can then further utilize in its Citizen Green suite of products. The end goal of utilizing this technology is to enhance the companies ability to recommend the most suitable strain of cannabis to the end user. The intention is for the data to be collected in a manner that is suitable for use within clinical trials.
In September, the company formed it's 61% owned Australian subsidiary to tackle this project. Known as GCAC Australia for short, the intention for the subsidiary is to collect big data on the medical marijuana industry. Presently, it is tackling regulatory related projects for the Australian market. This is being done in conjunction with BuddingTech, a technology accelerator focused on the cannabis industry.

In addition to this, the company has secured a global license for "Cannabis Compliance AI". Cannabis Compliance AI is a peice of technology focused on the auditing and inspection aspect of the medical cannabis industry which is based on risk. This is intended to be used in conjunction with the GCAC Blockchain and initial coin offering.
Global Cannabis Applications Blockchain & ICO
The last item to address is the proposed initial coin offering planned by Global Cannabis Applications. Although no news release has specifically been issued to directly address the ICO, there are bits and pieces available that tell us what the technology will be centered around.
The most information we have pertaining to the initial coin offering is obtained through two news releases related to ICO experts joining the company. Here's the most we've got on the proposal as of yet.

In addition to Rasool Verjee, the company has also obtained the services of Antanas Gouga, both of whom have exstensive knowledge in the blockchain realm. It should also be noted that GCAC has partnered with Blockchain Centre Vilnius, which is a technology hub focused on connecting investors, regulators, and startups in the Asian region.
As of yet, it is not believed that a whitepaper currently exists for the proposed coin offering. However, it has engaged with marketing partner BuzzHunter for promotional purposes, as well as Crypto Tax & Legal to ensure regulatory compliance with its offering. The associated whitepaper can likely be expected to be released in the near term.
Global Cannabis Applications' Financials
Revenues
Lets cut to the chase – Global Cannabis Applications has no revenues. This is despite CEO Brad Moore's comments issued in an April 20, 2017 news release related to the launch of Citizen Green on the Google Play store. Within, he stated "The Citizen Green app is a real game changer and will help the Company achieve its near and long-term revenue goals." It's questionable what the phrase "near term" meant within this statement.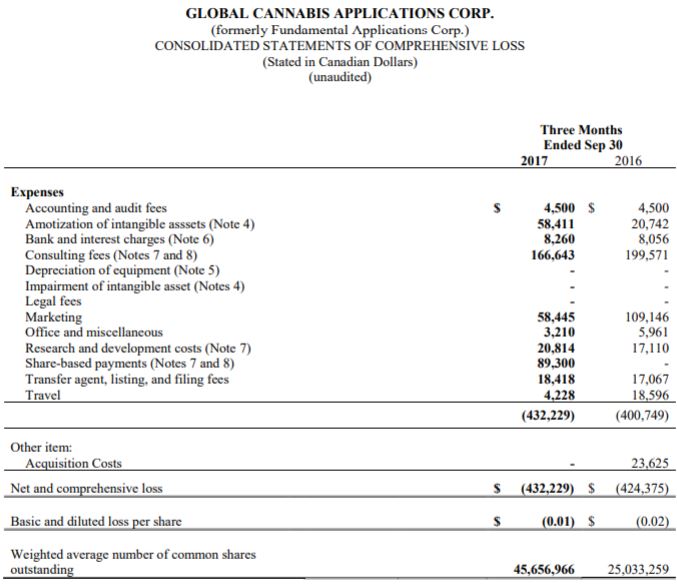 On the bright side, the company is able to keep its expenses relatively in check. Given the amount of directions that Global Cannabis has stretched itself as of late, it has managed its losses quite well. The largest expenses for the quarter is related to that of consulting fees, which is fairly common in small cap stocks listed on the CSE.
Also of note, is that it has managed to keep its cash requirements to a minimum. This is the result of very frequent debt settlements through the issuance of shares. When this is not an option, the company often does small, unannounced financings that investors are only aware of once they have closed.
At this point in time, it is likely that the company will register its first revenues when it finally launches its initial coin offering. No other perceived methods of revenue generation are known at this time.
Share Structure
Here's the thing with Global Cannabis Applications' share structure. Although the share count is low, it's difficult to gauge due to the fact that it is constantly changing. The company is frequently performing small financial raises – to the point that they were asked to issue a clarification on the outstanding share count in September 2017.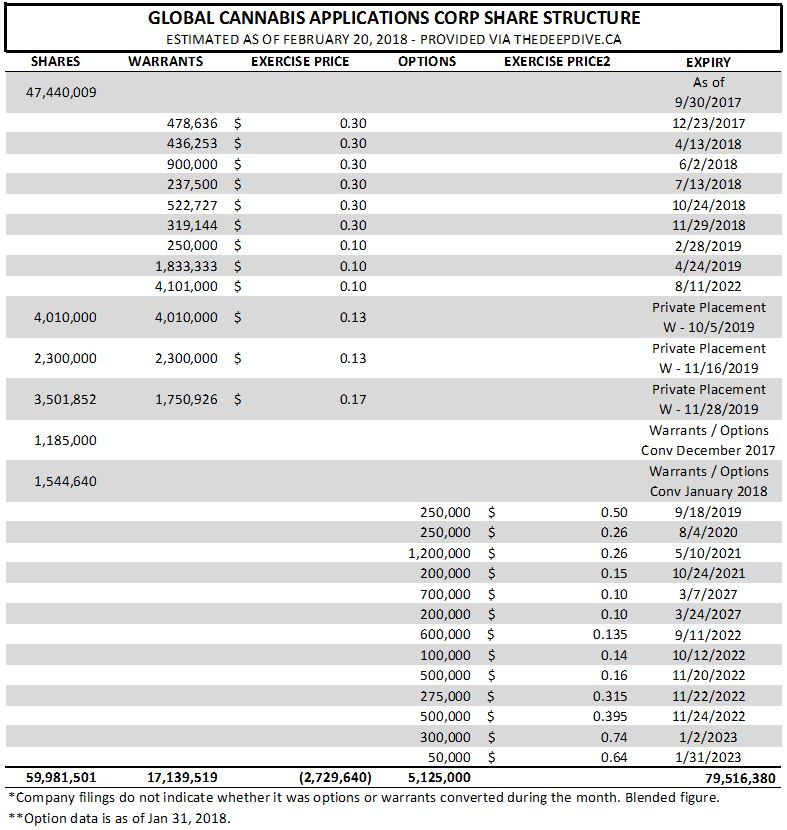 As of February 20, 2018, it is estimated the Global Cannabis Applications Corp has 59,981,501 shares outstanding. On a fully diluted basis, it is calculated that 79,516,380 shares will be issued. Based on the closing price of APP on February 16 of $0.36, this gives the company a market valuation of $21.59 million. On a fully diluted basis, this figure is $28.63 million.
Insider Positions
When it comes to insider positions within management, the figures are slightly disappointing. At the present point in time, ThreeD Capital actually owns more of the company than the officers and directors own combined. Although this sounds extreme, GCAC does indeed appear to have a small management team.
It should also be noted that ThreeD Capital CEO Sheldon Inwentash personally held 1.85 million shares recently, but disposed of them in early January. Along with this, Canadian Insider lists a "Brownstone Energy Inc" as being a 10% security holder of the company, however this information could not be verified through SEDI.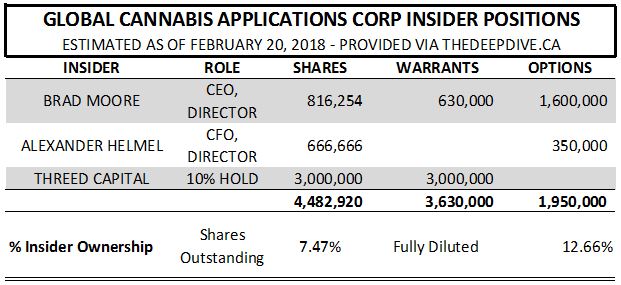 As it currently stands, insiders account for roughly 7.47% of company ownership. Fully diluted, this figure increases to 12.66%. Again however, this is largely the result of ThreeD Capital's current position in the company.
Closing Remarks
As we wrote this article, we found ourselves in a conundrum. Basically, we went back and forth on the merits of the company and whether or not we like the direction it is headed.
On the one hand, it appears to be chasing buzzwords in a significant way. This is evident based on the quick name change so that it included the terminology of "cannabis". This is then further exemplified through the sudden introduction to blockchain and artificial intelligence, which we aren't certain is sufficiently integrated just yet. It appears as if there's two entirely separate entities currently trying to mash two separate products together. This is not to mention the lack of downloads the applications have seen on the Android platform, or the lack of current revenues.
However, on the other hand is a company that might just be located at the right place at the right time. Although it appears to have spread itself thin with the various technologies it is looking to implement at once, there is potential for the vision they have created. Establishing a software suite that covers the industry from end to end – that is, consumers through to regulators – is something that may have significant potential down the road. Certainly, the importance and value of big data is increasing daily.
Thus, we are left at a crossroads. There are wildly negative aspects of the company in the current format, however we cannot discount the future potential should things come together as envisioned. If the company could focus in on one technology of choice, we might be able to make a better decision. Certainly, pulling itself in so many directions at once is counter productive. As always, the decision whether or not to invest in the company will have to come down to the individual investor once all aspects have been weighed appropriately.
Execute on an investment with conviction. Dive Deep.
---
Information for this analysis was found via The CSE, SEDAR, SEDI, Bloomberg, Google Play Store, Apple App Store, and Global Cannabis Applications Corp. The author has no securities or affiliations related to this organization. Not a recommendation to buy or sell. Always do additional research and consult a professional before purchasing a security.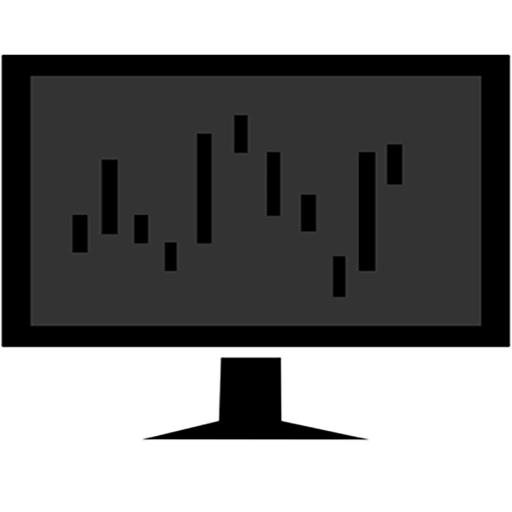 As the founder of The Deep Dive, Jay is focused on all aspects of the firm. This includes operations, as well as acting as the primary writer for The Deep Dive's stock analysis. In addition to The Deep Dive, Jay performs freelance writing for a number of firms and has been published on Stockhouse.com and CannaInvestor Magazine among others.