Goldrea Resources: The Good, The Murky, & The Questionable
In the world of cannabis stocks, investors are used to resource companies entering the bustling sector. Thankfully for Goldrea Resources Corp (CSE: GOR), these newcomers are generally met with a wave of enthusiasm from eager investors looking to get in on the next multi-bagger. Fore within the sector, is a plethora of inexperienced investors willing to swallow up whatever it is your trying to sell. And for these new entrants, that's good news.
Now, thats not to say all companies that were previously focused in resources are guaranteed to fail. A perfect example of this would be Aurora Cannabis, a sector leader that began its story in an entirely unrelated industry. However, by this point in time the ship has all but sailed on the opportunity for these resource companies that perform a change of business. That doesn't mean that they won't try though. Enter, Goldrea Resources Corp.
Goldrea Resources: The Good, The Murky, & The Questionable
The Good in Goldrea Resources
First things first, we need to pay some respect to Goldrea Resources. Above all, they have an exceptionally tight share structure, regardless of what sector they want to classify themselves as. Share structures don't come along often looking like this, at least not in the cannabis sector.

Pretty basic, isn't it? There's not a whole lot to the share structure of Goldrea Resources, and in our books that's a good thing. In fact, until recently it had close to half of its current fully diluted count. A recent private placement at $0.06 put a quick end to that however. This placement consists of the only outstanding warrants the company has, which contain a low exercise price of ten cents a piece.
Although the company may have a very low fully diluted count, investors still need to be aware of what it consists of. Almost all of Goldrea Resources derivatives are to be exercised at $0.10 or less, with the only exception being the options issued this past Monday to the CEO. All derivatives are currently in the money at the time of writing. Therefore, although there is a small share count, expect selling pressure to arrive once these shares become free trading in three and a half months. Until then, there may not be a whole lot of selling pressure available.
Given the low share count exhibited by Goldrea Resources, we were slightly disappointed by the insider positions currently being held. Collectively, roughly 17% of the fully diluted share count of the company is owned by insiders. We expected this to be much higher solely due to the sparse amount of paper existing for Goldrea.
Also note that not all of these positions, particularly the outstanding options, are filed appropriately on SEDI. We had to consult the recently filed Form 11 to obtain these figures. As such, there might be some slight disparity from what you see in your Deep Dive.
Overall, based on the closing price of $0.355 on January 23, 2018, Goldrea has a market cap of $10.9 million. On a fully diluted basis, this figure climbs to $14.6 million.
Goldrea Resources' Murkiness
Recently, it was announced that Goldrea Resources had signed a letter of intent with Tabu Investments back on October 23, 2017. Although the news was released to shareholders in late December, what was presented to investors was rather lacking in the information department. This is what we received.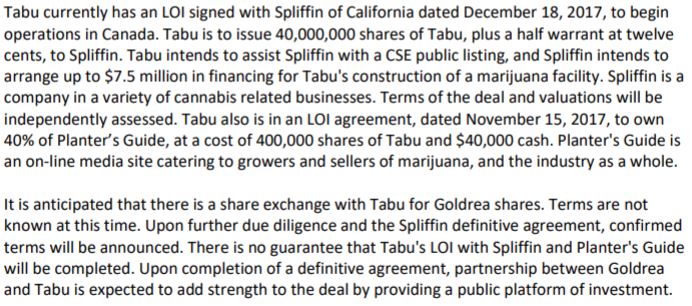 Why is it murky? Essentially, it leaves several things undefined, including the most important aspect: the terms of the transaction. Although it identifies that there should be a share exchange between Tabu and Goldrea Resources, it doesn't spend much time defining what this might entail. Additionally, we receive no monetary figures with regards to the potential deal, which makes it difficult to evaluate effectively.
We realize that "the terms are not known at this time", however that leaves many possibilities in the air. Will the transaction be in the form of a reverse takeover, or is Goldrea purchasing Tabu? Will Tabu be under a subsidiary and have minimal impact on the share structure of Goldrea, or will it completely change the structure of Goldrea?
In addition to this, the deal Tabu is involved in seems slightly odd as well with regards to it's role with Spliffin. Why would Spliffin entertain a third party taking over their brand, if they're going to fund the vast majority of the expansion anyways? Would it not just be easier, and better for Spliffin, to handle everything themselves? The only letter of intent discussed within the release that appears to make sense is that of with Planter's Guide, where there is clarity on the topic and defined terms.
We understand that several investors are currently using this release as a justification for a speculative investment. The tight share structure provides a further benefit in this regard, as it enables the share price to appreciate rapidly. However, be aware that obtaining a definitive agreement with Tabu Investments, in whatever form it may take, is dependent on Tabu Investments signing a definitive agreement with Spliffin as well, which further complicates the situation.
The Questionable
Although there are several questions that have been asked already, there are a few more that remain with regards to Goldrea Resources. The large glaring question, is why was the letter of intent with Tabu Investments held back by the company for two months? Especially since this time frame overlaps entirely with an open private placement, which opens the company up to further scrutiny. It seems odd that such positive information would be held tight by the company while the entire cannabis sector rose to new levels.
There's also the issue of what the company will do with its currently owned mineral properties, one of which was acquired within the last year. In particular, the Argos property in Quebec was acquired for $2,500 in cash and the issuance of 700,000 shares. Was this an entire waste of funds and dilution?
Further to this, as recently as the middle of September the company was pushing forward with attempting to develop some of its mineral properties. In particular, they have been working on collecting data and assays on their Cannonball Property, which was acquired in 2016. It seems counter intuitive that the company would work towards progressing this line of work while actively looking to change sectors to the cannabis industry. Again, is the company looking to totally exit their current sector in favour of entering the world of pot stocks, or do they see it as a future subsidiary?
Closing Remarks
The short of it, is that Goldrea Resources needs to clear the air for its shareholders. There are many questions currently circulating, the answers to which could entirely change ones outlook on the company. The current share structure is currently a major strength for the company. However, the impact this potential agreement with Tabu Investments could have on the structure could entirely erase the efforts management has gone through to keep the share count so minimal. This is a major risk to shareholders.
Overall, Goldrea Resources currently remains a highly speculative investment for shareholders. More than anything, it will likely be used as a trading device by momentum traders as awareness picks up the for company. The tight share structure will only magnify the effect these individuals have on the share price. Above all, in these situations investors must not get too greedy. Know your entry and exit for the investment, and act on it.
Not all investments need to be long term. Regardless, know the value a company presents and act accordingly. Dive Deep.
---
Information for this analysis was found via Sedar, The CSE, Tabu Investments, and Goldrea Resources Corp. The author has no securities or affiliations related to this organization. Not a recommendation to buy or sell. Always do additional research and consult a professional before purchasing a security.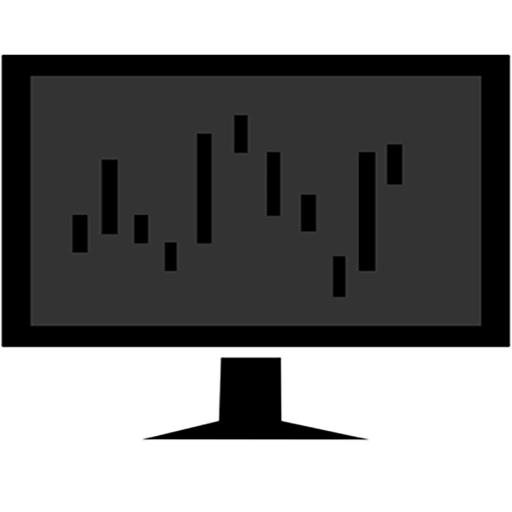 As the founder of The Deep Dive, Jay is focused on all aspects of the firm. This includes operations, as well as acting as the primary writer for The Deep Dive's stock analysis. In addition to The Deep Dive, Jay performs freelance writing for a number of firms and has been published on Stockhouse.com and CannaInvestor Magazine among others.