Inside the CPP-Putin Partnership
This column wrote Sunday that the CPP, Canada's national pension fund and largest asset manager, was likely holding equities of Russian companies on its balance sheet at least as recently as the end of its last fiscal year, and appears to have altered its public disclosure to obscure its ownership of those assets as their values tanked and they became increasingly socially toxic.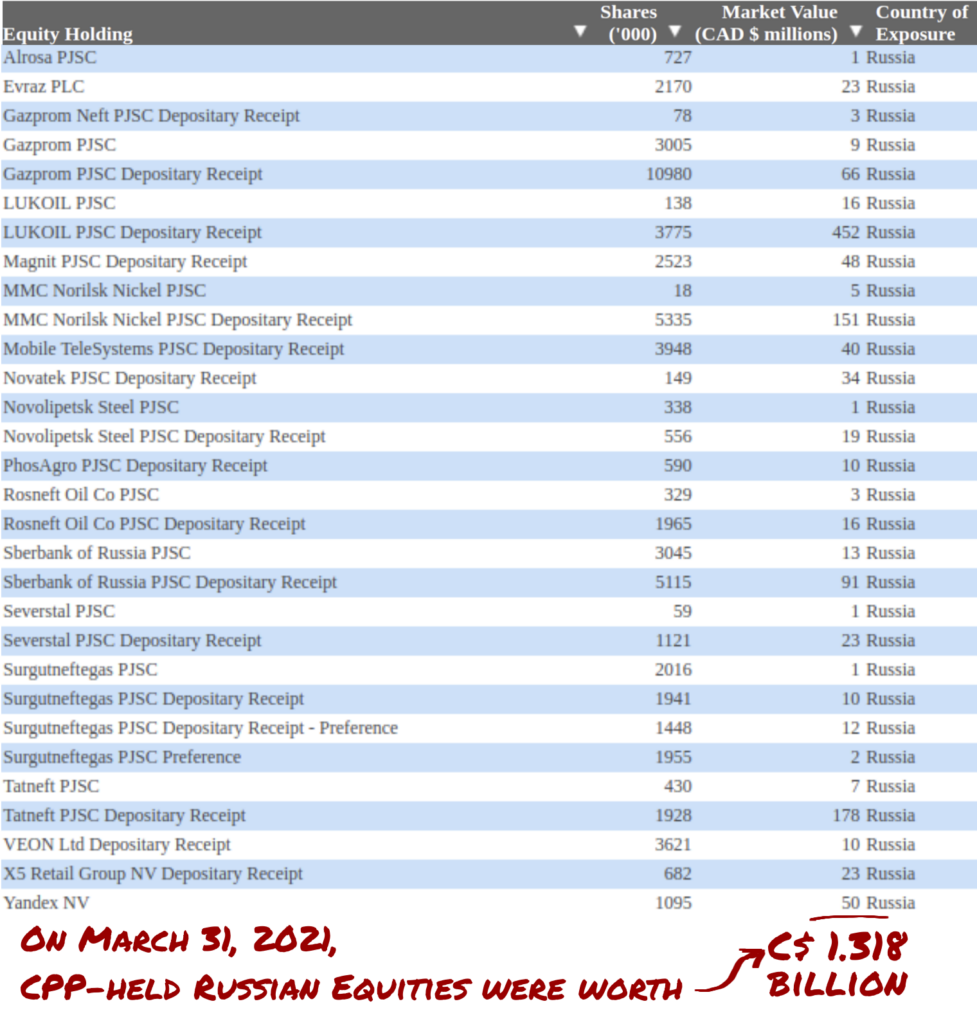 Most of the Russian companies that the CPP appears to have recently owned are banking and natural resources companies partly or mostly owned by the Russian government, whose stocks' primary listings are on the presently frozen Moscow stock exchange. The value of these apparently deleted positions on March 31st of 2021 was $1.3 billion. Any stock that the CPP was unable to unload before the bids left is presently about as good as pumpkin futures in November, for delivery by a pumpkin outfit run by the mob.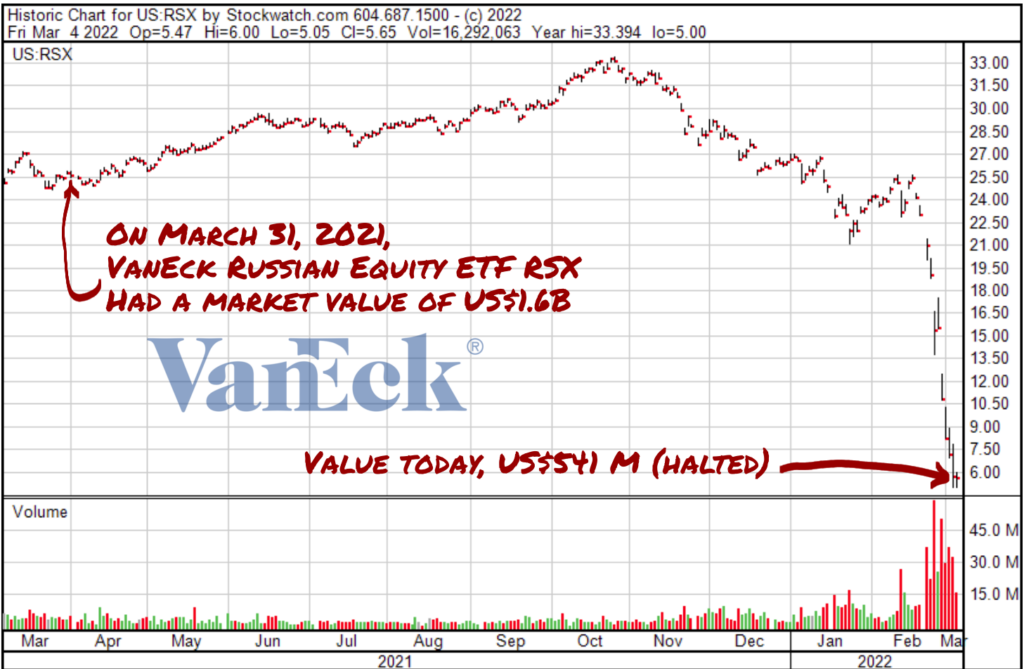 The over-the-counter positions in Sberbank, Norilsk, and Gazprom that may have once been (and may still be) on the CPP balance sheet are only public information by virtue of CPP investments' voluntary disclosure which, it would seem, can be withdrawn at any time.
The Smoking Gun: YANDEX
But American disclosure rules for large asset managers are a lot more stringent than Canadian ones. The SEC requires all financial managers with more than $100 million of US assets under management, including the CPP, to itemize their US holdings quarterly on Form 13F. Most of the pension fund's apparent Russian assets aren't 13F-eligible securities, but Moscow-based Russian search engine Yandex is listed on the NASDAQ, and 13F filers who own it have to disclose the position, including the CPP.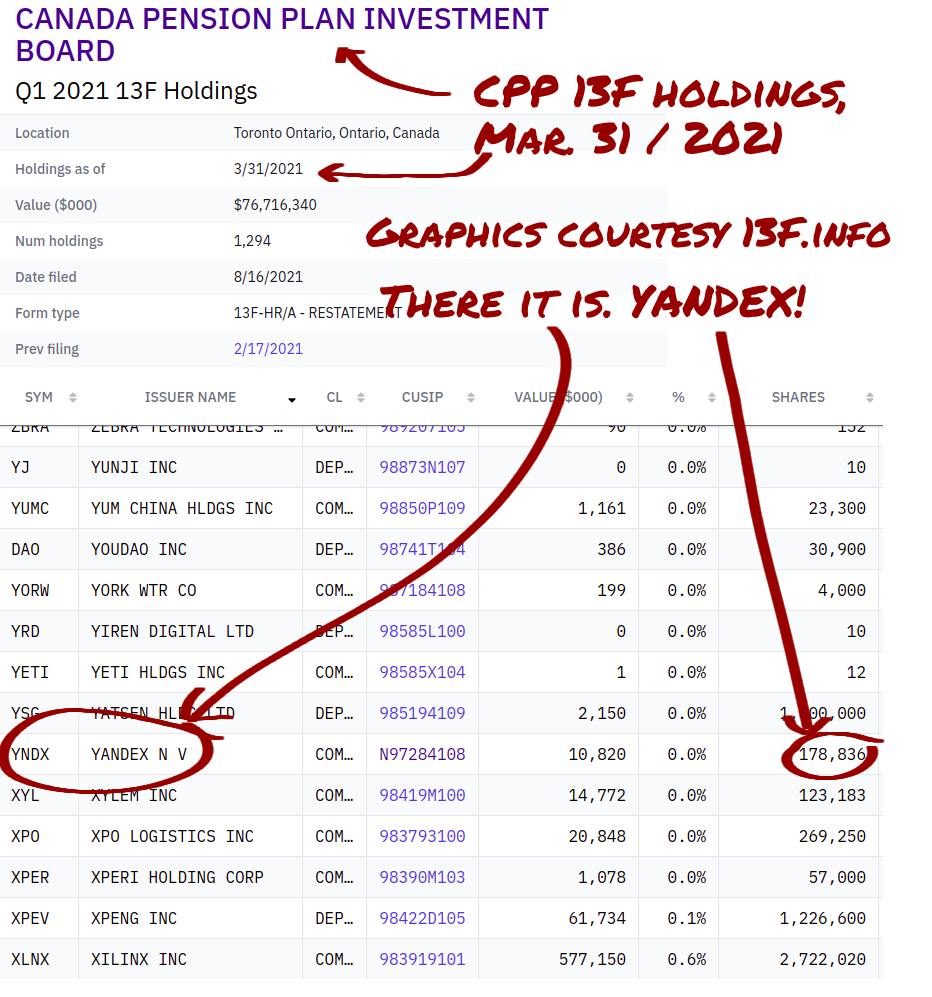 The CPP's 13F filing says that they owned 178,836 shares of Yandex on March 31st, 2021. The fund has been in and out of the off-brand Russian Google, owning as much as 1.2 million shares in 2019. A 178,836 share Yandex position has appeared on the CPP's 13Fs since Dec 2020, unchanged.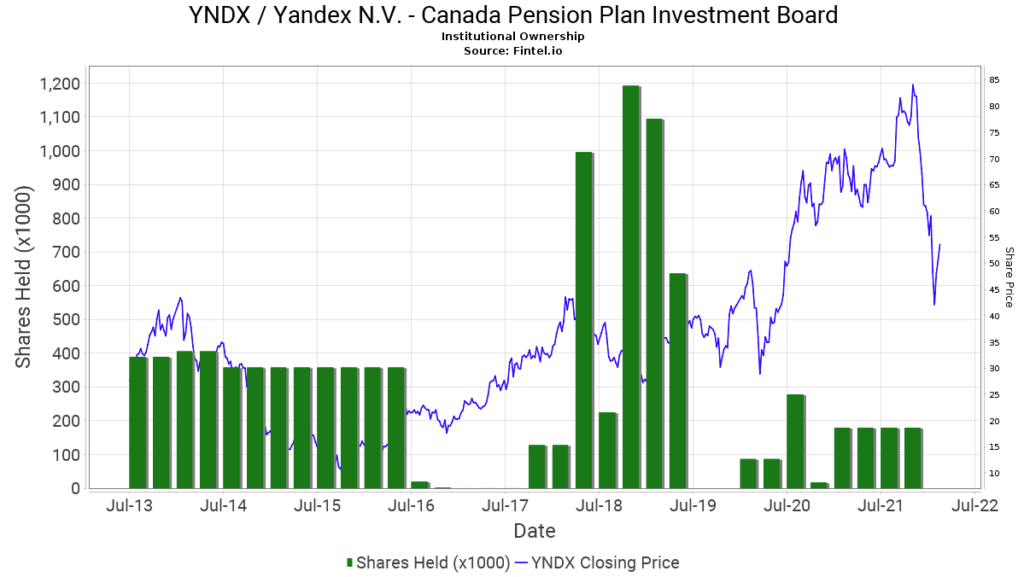 The $50 million Yandex position isn't significant to the CPP, and the NASDAQ listed paper would have made it one of the easier positions to unload in the turmoil, but its presence on the Plan's 13F, which it can't retroactively adjust, and absence on its public list of foreign securities, which it can, lends credibility to the notion that the CPP may have been left holding the Russian bag when the rockets started to fly.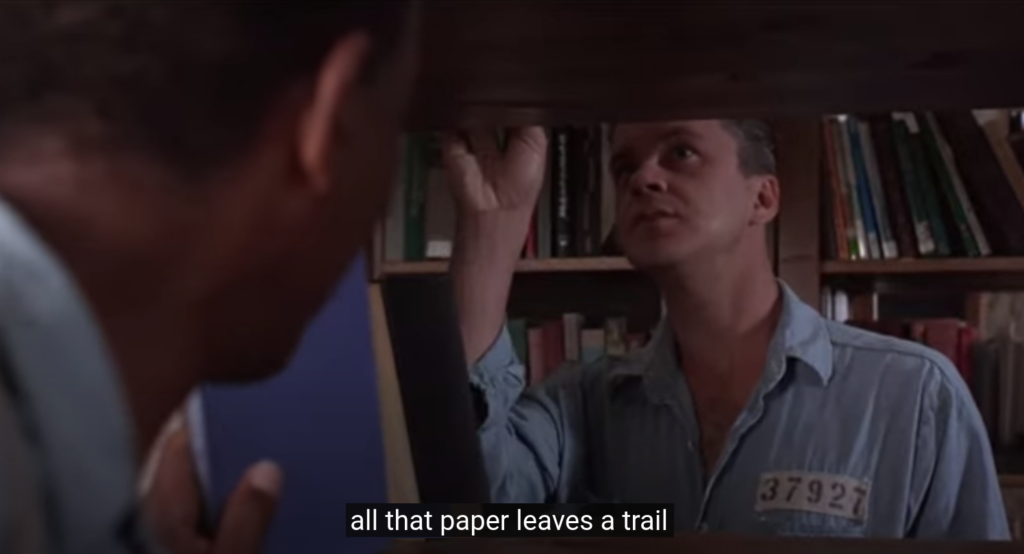 The Sberbank Redemption
Sberbank, the Russian Federation's largest bank by assets, has had a rough week. It pulled all operations from Europe Wednesday, sanctions having cut off all means of getting liquidity to branches outside of Russia. Pictures out of Moscow show long lines of people trying to get a hold of Roubles while they're still worth spending. Sberbank's sudden fall from record profits in 2021 to critical liquidity problems has to be one of the most dramatic in the history of banking.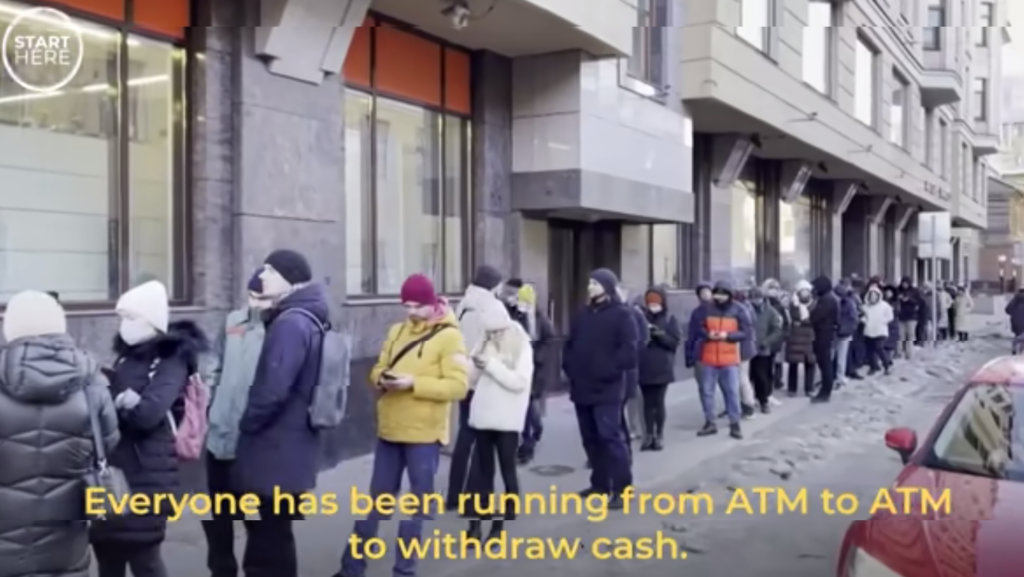 The CPP's deleted disclosure shows 8.16 million shares of Sberbank between two foreign listings. That position as reported on March 31st would have had a market value around $122 million for most of the past 12 months but, at the moment, is essentially worthless.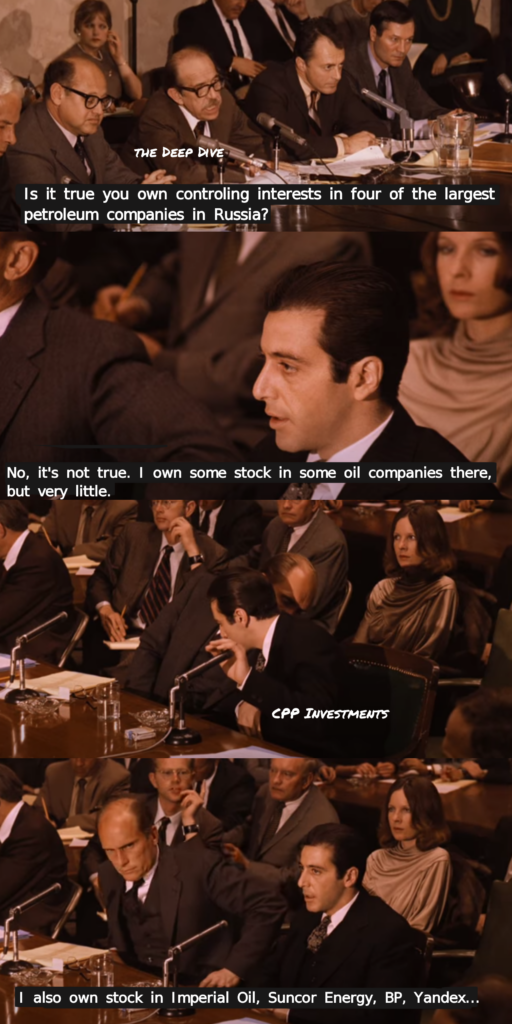 Ultimately, $1.3 billion isn't going to mean a lot to a pension fund with $479.2 billion in net assets. But it's worth wondering how they got into this mess. Partnering with Putin likely seemed like a good idea at the time because it was juicy.
Sberbank paid about $1/share in dividends for the past three years, about 7%. The oilco gravy was even thicker: Lukoil divvy was between 5% and 8%, with a fat buyback in 2019 that bumped total yield up to 13%. Morningstar calculates Taneft's 5 year average yield at 8.77%.
---
Information for this story was found via The SEC, Twitter, CPP Investments and the other sources mentioned. The author has no securities or affiliations related to this organization. Views expressed within are solely that of the author. Not a recommendation to buy or sell. Always do additional research and consult a professional before purchasing a security. The author holds no licenses. Article corrected to reflect correct area of a quarter section. Thanks to Dave in the comments.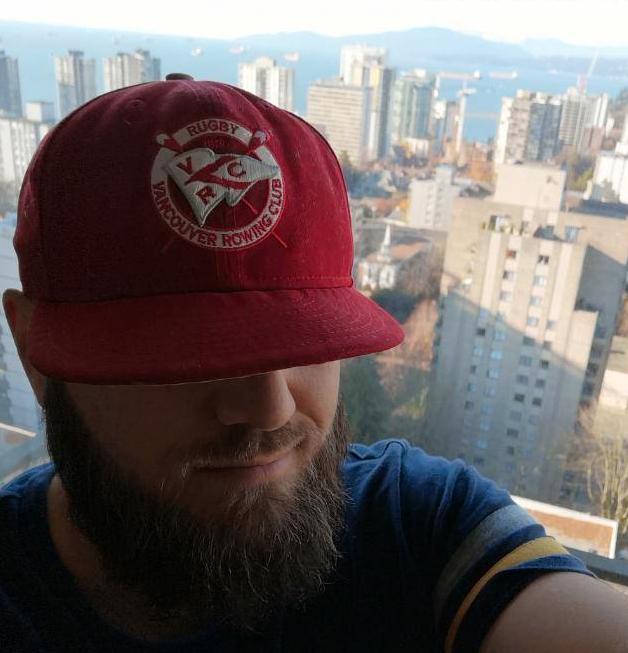 Braden Maccke is a freelance writer from Vancouver, B.C.
You can read all of his Deep Dive articles here.
He can be reached at braden@fundamentalhype.com.