The Canada Pension Plan's Russian Assets Are Top Secret
The carnage in Russian equities continued Wednesday, as the market felt its way through the emerging economic warfare between Russia and the West. Sanctions by the G7 nations have so far focused on the foreign-held assets of Russian nationals, and on the ability of Russian institutions to do business with the rest of the world. The sanctions prevent any kind of transactions with most Russian financial institutions, the direct investment in Russian companies, and the purchasing of new Russian debt.
But a careful reading of the Canadian economic sanctions (summary courtesy Osler Law) show there is technically no prohibition against owning equity or debt instruments of Russian companies that was issued prior to the sanctions having been enacted, which makes sense. Western investors who bought a piece of the world's largest gas company (Gazprom), or the world's largest nickel producer (Norilsk), weren't trying to finance Putin's empire building. They were in it for good old-fashioned greed!
Criminalizing Russian securities products would put all sorts of large money pools in a legal pinch, and freezing them would prevent the asset managers from doing what everyone wants and expects them to do during this opening round of sanctions: sell.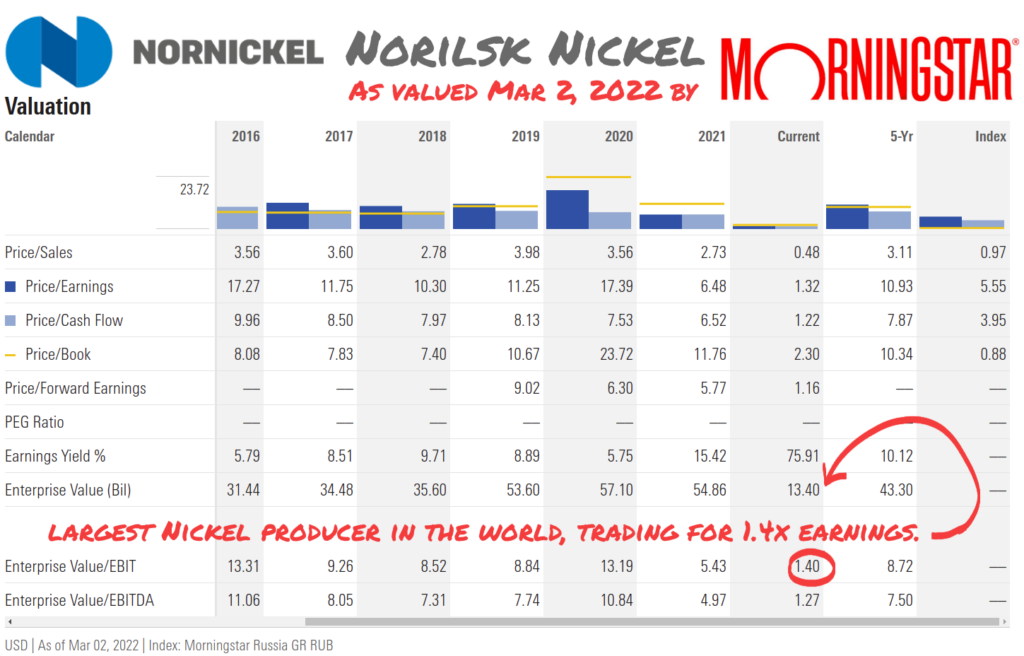 The Moscow Stock Exchange ("The MOEX"), where most of these securities have their primary listing, is closed at the moment and will likely remain closed for the foreseeable future. But listings of those companies' depository receipts that trade on other exchanges and as part of ETFs are buckling under the pressure of positions whose former holders are currently reluctant to admit having owned in the first place.
Pension money managed for glory and benefit of Canadian proletariat.
With $479.2 billion in net assets, and $627.9 billion in assets under management at March 31, 2021, The Canada Pension Plan is the largest pension plan in Canada. The fund is managed by CPP Investments, a Crown corporation. In order to "maintain transparency and accountability to stakeholders," CPP Investments publishes a list of the foreign equity products that it owns on its website, and updates it once a year, when it publishes its year-end financial statements. CPP's fiscal year ends March 31.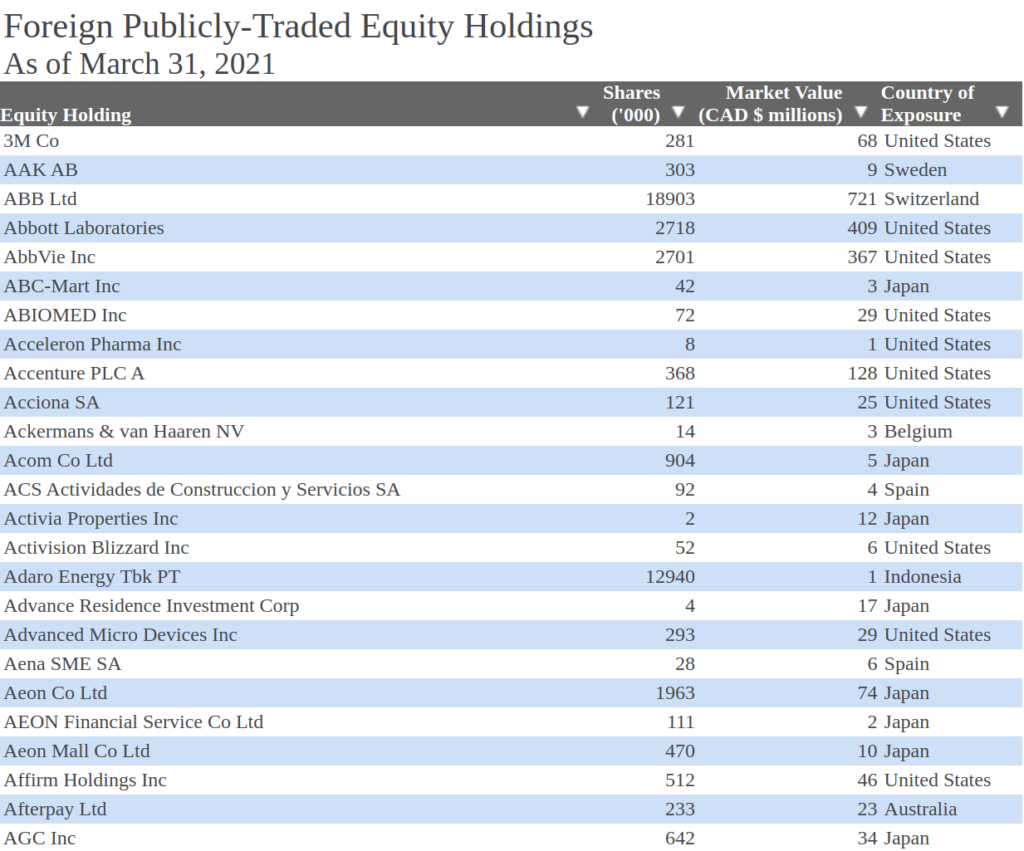 That list of foreign equities, complete with a handy "Country of Exposure" column, presently shows the pension plan holding no Russian assets as of the end of its last fiscal year. But at 9:20 am PST this past Friday Feb 25th, twitter user @rohanarazel was under the impression that the Pension Plan DID own Russian assets, and posted a screenshot of what appears to be that same page, showing as much.
By 6:29 PM, other users were replying to Rezel's tweet, asking where he got that image of the list because, by then, the official list did not include any Russian assets.
The first casualty of war is the truth
Rezel acknowledged that the list on the CPP's website at that time was different than the one he published, but did not give any clue as to when he took the screen grab, or respond to allegations in the replies that it's a fake. The Deep Dive reached out to Razel via twitter DM to ask when he took it, and did not get a direct answer to the question. Razel pointed out that a targeted google search of the list's URL for the word "Gazprom" returns results, indicating that Google web crawlers did once identify that word on that list, further indicating that it has been deleted. The Plan's apparent 5,335,000 share Norilsk Nickel position being listed at a value of C$151 million is basically consistent with the market price of the Norilsk ADRs on March 31, 2021.
The Dive also reached out to CPP Investments' media relations team by email to inquire about whether or not they are now or have ever been a manager of Russian assets, and have not yet received a reply. The sum total value of the Russian equities on that screen grab, whenever it was taken, was C$1.3 billion. Its value today is considerably less.

If the Crown corporation did remove these positions from its public disclosure, was it to mitigate the bad optics of having once facilitated an imperial aggressor, or is it because it has no intention of unloading these positions at these valuations, and would prefer not to answer questions about why the 2022 year-end list shows an increase in these positions as the managers average down?
If Russia stays on a war footing, it's likely to burn through a lot of nickel.
(with files from Deep Dive Editor Jay Lutz)
---
Information for this briefing was found via Sedar and the companies mentioned. The author has no securities or affiliations related to this organization. Not a recommendation to buy or sell. Always do additional research and consult a professional before purchasing a security. The author holds no licenses.