Is Carvana Lost On Its Long-Term Destination?
Shares drop 37% on the day as revenue continues to dwindle, losses widen, and Q4 outlook spells further decline
Carvana (NYSE: CVNA) has reported its Q3 2022 financials, topped by a quarterly revenue of US$3.39 billion, a fall from both Q2 2022's US$3.88 billion and Q3 2021's US$3.48 billion.
"In the third quarter, we made some of the most significant operational progress we have ever made as a company. Unfortunately, the increasingly challenging environment presented headwinds that inhibited that progress, allowing only a portion to show in our financial results," the company wrote in its shareholders' letter.
Following the earnings release, the firm's shares opened to as much as 37% drop on the day. Year-to-date, the company has lost 96% of its valuation.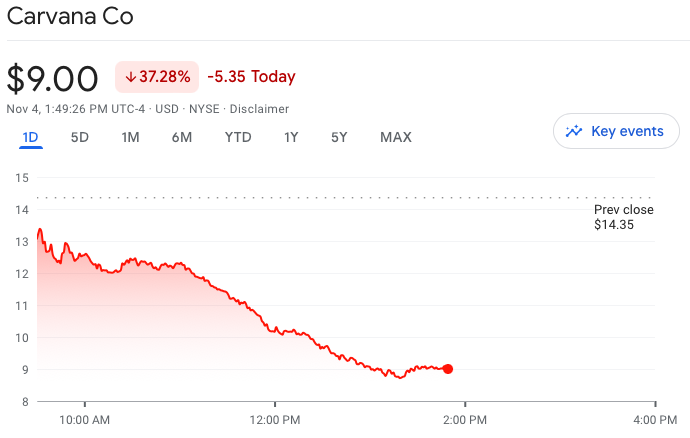 The company has long maintained the historical format built around its three objectives: grow retail units and revenue, increase total gross profit per unit (GPU), and demonstrate operating leverage.
Blaming the headwinds of the changing macroenvironment background, the company is seeing declines on its topline–contrary to its first objective. Aside from the revenue decline, the firm also saw the sharpest sequential drop on record for its retail units sold this quarter, ending at 102,570 units from last quarter's 117,564 units. It is also a decline from last year's 111,949 units.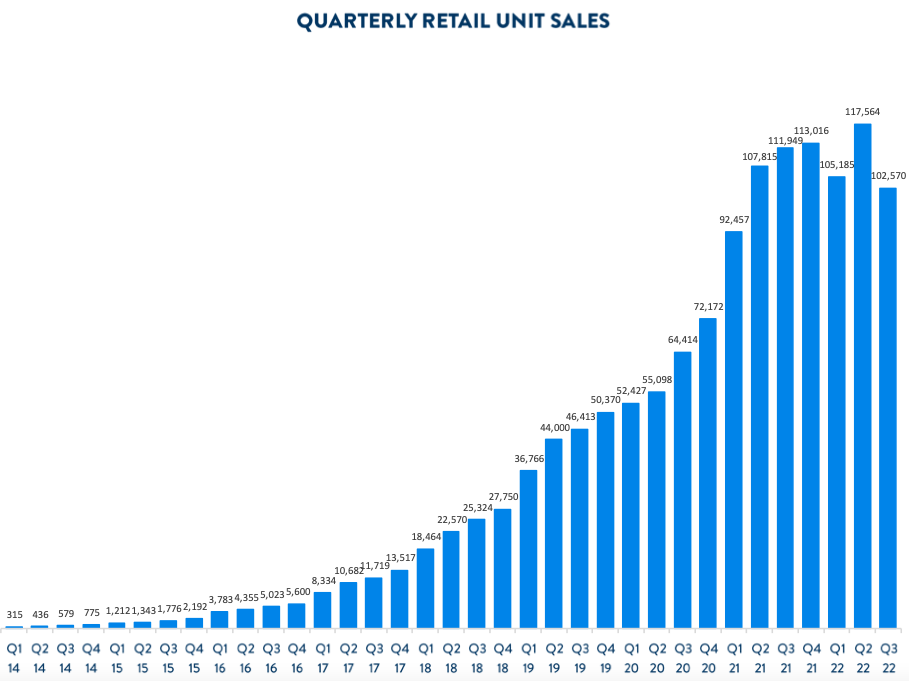 "Retail unit volume in Q3 was impacted by a variety of internal and external factors, including industry-wide used vehicle prices, interest rates, other macroeconomic forces, and our own actions to drive profitability, including passing benchmark interests through to origination rates, reducing advertising, and lowering inventory size," the firm explained in the letter.
On its second objective, total GPU for the quarter came in at US$3,500, an improvement from US$3,368 in the previous quarter, but still a decline from US$4,672 in the previous year. The sequential increase is being attributed to the US$2.2 billion acquisition of the auction business of ADESA, Inc.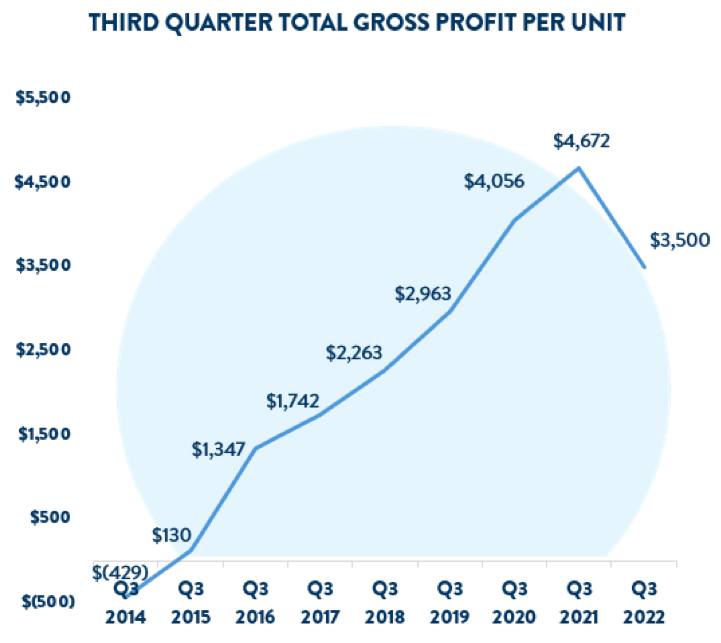 Further on its financials, the firm notched 10.6% gross margins for the quarter, marginally unchanged from last quarter's 10.2% but a drop from last year's 15.0%.
On demonstrating operating leverage, the firm discussed in length how it was able to reduce quarter-on-quarter US$90 million in selling, general and administrative expenses. The reductions, the company said, "were broad-based, including in payroll, advertising, logistics, and other SG&A expense" and "were primarily driven by our cost savings initiatives across all areas of the business."
But given the revenue decline, the trimmed expenses weren't enough to prevent a wider net loss. The firm saw a redder bottomline for the quarter, notching US$508 million net loss compared to last quarter's US$439 million net loss and last year's US$68 million net loss. This translates to US$2.67 loss per share.
Calibrating for financial items, adjusted EBITDA came in at a loss of US$200 million vis-a-vis the loss of US$239 million in the previous quarter and the gain of US$9 million in the year-ago period.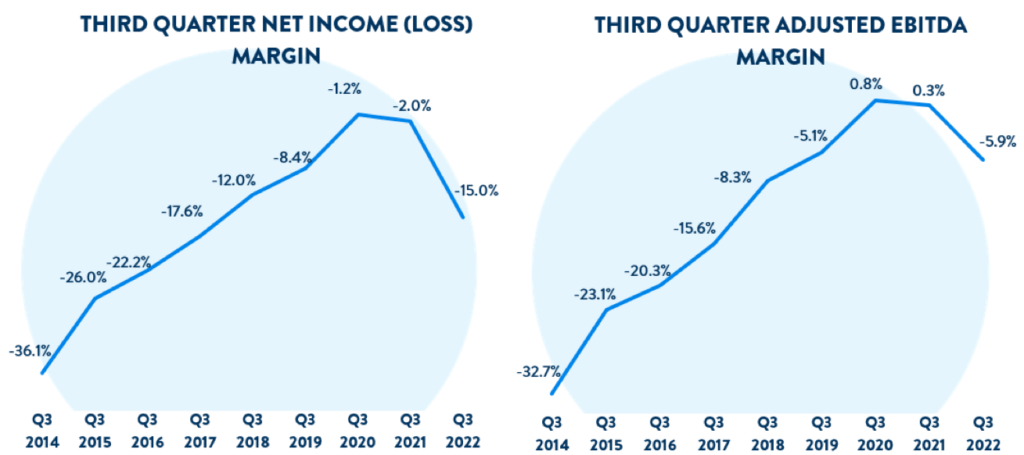 Net loss margin essentially widened to -15.0% from last quarter's -11.3% while adjusted EBITDA margin slightly improved to -5.9% from last quarter's -6.2%
For the first nine months of the year, the firm has recorded a net loss of US$1.45 billion against US$10.77 billion in revenue.
The long-term goal
"While the current environment has drawn our focus to the near-term, the long-term remains extremely exciting," the company said in its statement. "Like other companies we admire in history, our goal is to be made better by the challenges we face. On the other side of this period, we plan to be a better company as a result of having gone through it."
READ: Fast And Furious: Carvana's Growth Is Paved With Missing Car Titles And Customer Complaints
The company has set long-term financial goals with an indeterminate timeline. Based on its Q3 2022 results, much of its targets–especially the margins–are far from achieving the set objectives, as observed with the trajectory posited by the past two quarters.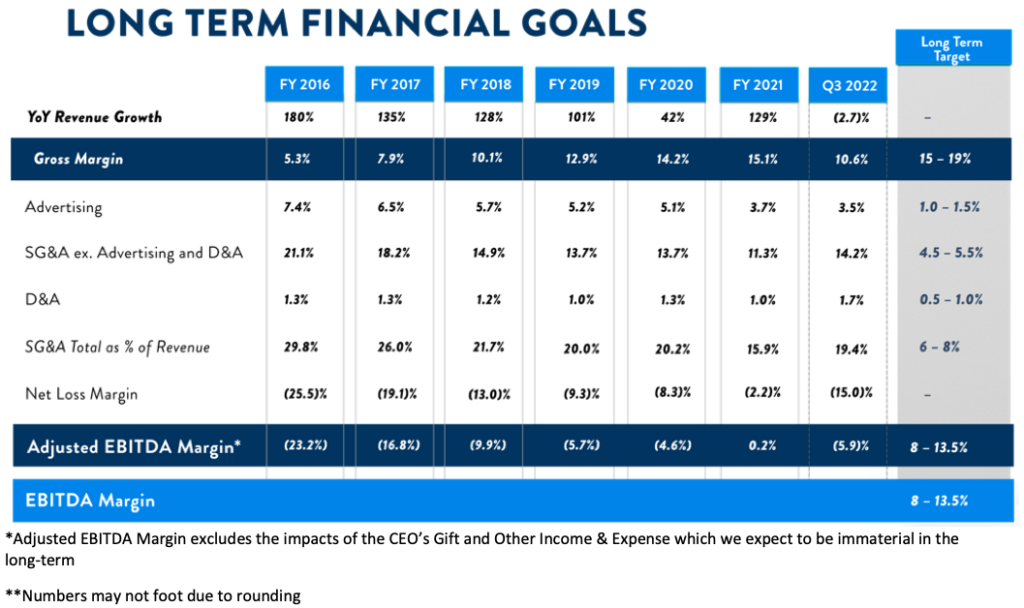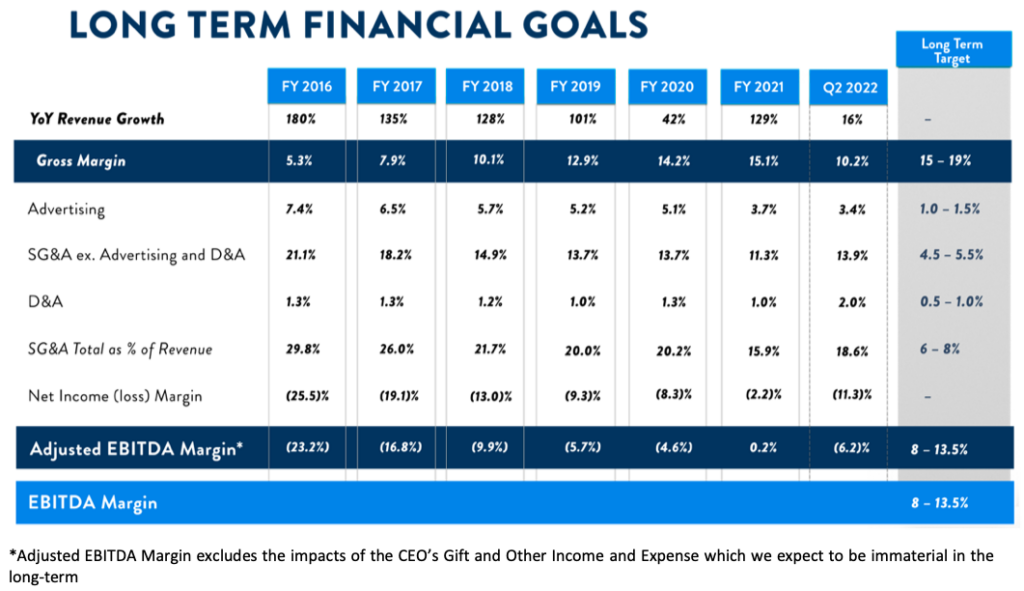 However, the company clarified that "given the current industry, economy, and market environment, [it has shifted its] priorities to lowering expenses and driving positive free cash flow."
As the firm has communicated before, its expects "a sequential reduction in retail units sold and total GPU" in Q4 2022, attributing the grim outlook to "reduced used vehicle industry demand, increasing benchmark interest rates, higher used vehicle depreciation rates, and our profitability initiatives flow through."
The company is also not providing an outlook for 2023 "in light of current industry and macroeconomic conditions."
Carvana closed Friday's session at $8.76, down 39% on the day.
---
Information for this briefing was found via The Denver Channel and Seeking Alpha. The author has no securities or affiliations related to this organization. Not a recommendation to buy or sell. Always do additional research and consult a professional before purchasing a security. The author holds no licenses.