Justin Trudeau is Fixing Canada's Housing Crisis by Re-Announcing $4B Housing Fund First Promised in 2021
Shortly after his delayed arrival on Canadian soil following a disastrous trip to India for the G20 Summit, Prime Minister Justin Trudeau didn't waste any time rolling up his sleeves and getting back to work. First thing on the agenda? Solving the country's housing crisis.
On Wednesday, Trudeau unveiled his plans for the $4 billion "Housing Accelerator Fund," earmarking $74 million for a deal to swiftly erect 2,000 housing units in a small area of London, Ontario over the next three years, with promises of further developments thereafter. These units plan to be high-density, no re-zoning needed, and in a generous move, to forfeit city-owned land for even more developmental marvels like duplexes and small apartments, preferably near a bus stop or a train station.
Doing some quick math, Trudeau's team has a glittering dream with the fund: 100,000 new housing units across Canada. And by the tune of the prime minister's announcement, London is just the opening act of this housing circus. "Everyone deserves a good place to call home," Trudeau declared. Indeed, a sentiment all Canadians can get behind, though the messenger might make a few eyes roll.
However, there's a twist: no new funding. His $4-billion fund was a recycled promise from the 2021 federal election which got its allocation in the 2022 federal budget, constituting a significant portion of a whopping $10-billion housing-centric package. Trudeau only got around to launching it this year. Must've been busy preparing for the G20 Summit.
Accompanying Trudeau during this announcement was the Minister of Housing, Infrastructure, and Communities, Sean Fraser. Their day began with a visit to an affordable housing project before a two-day internal caucus discussion, that Trudeau almost missed thanks to technical issues with his jet whilst in India.
However, Trudeau's latest theatrics come amid not-so-rosy poll numbers. Surveys suggest that both Conservatives and NDP might have a better handle on housing affordability than our star performer. Perhaps sensing the impending curtain drop, Trudeau emphasized housing as a "core" priority last month. Yet, critics didn't miss the chance to point out the stark absence of any solid actions from his end following his recent strategy meet.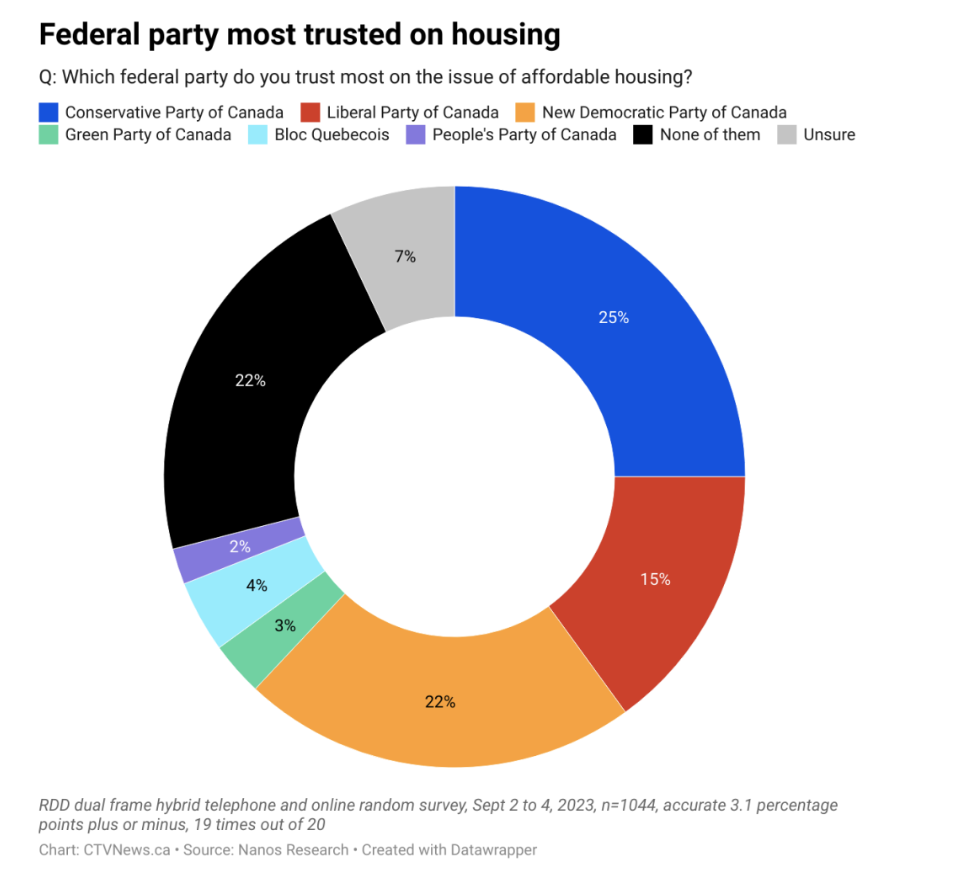 In a candid confession, London West MP Arielle Kayabaga expressed her personal challenge in buying a house despite her MP salary. The Conservatives, never missing a beat, cheekily highlighted that Trudeau's MPs, earning a hefty $195,000, still find home ownership a far-off dream. Poilievre's office slyly remarked, "It seems members of the Liberal caucus are finally feeling what their constituents felt for almost a decade."
And for the cherry on top, anti-Trudeau protesters camped outside the convention center, making security tighter than Trudeau's grip on his housing narrative.
Information for this story was found via the sources mentioned within the article. The author has no securities or affiliations related to the organizations discussed. Not a recommendation to buy or sell. Always do additional research and consult a professional before purchasing a security. The author holds no licenses.