Supreme Prints Q4 Revenue of $19 Million, Adjusts EBITDA to Make It Look Like They're Making Money
The Supreme Cannabis Co. (TSX:FIRE) made good on last month's projection that they would do $19 million in sales in the quarter ending June. FIRE hit the number on the mark. Having grown their SG&A expenses only slightly since the last period, there's a case to be made that Supreme has successfully scaled, but they don't make it easy to tell.
Most cannabis companies print a top line cost of sales number under their revenue that allows analysts to quickly figure out a conventional gross profit and gross margin figure before the IFRS-mandated fair value changes in biological assets. All of Supreme's peers break out a non IFRS gross profit specifically. Organigram (TSX:OGI), for example, sold $24.7 million last quarter, and managed a 50% gross margin. They also publish their unit sales, (4,600 kg last Q) which gives analysts a look at how their cultivation is going. Supreme is the biggest company in Canada by revenue that still doesn't publish their sales weights.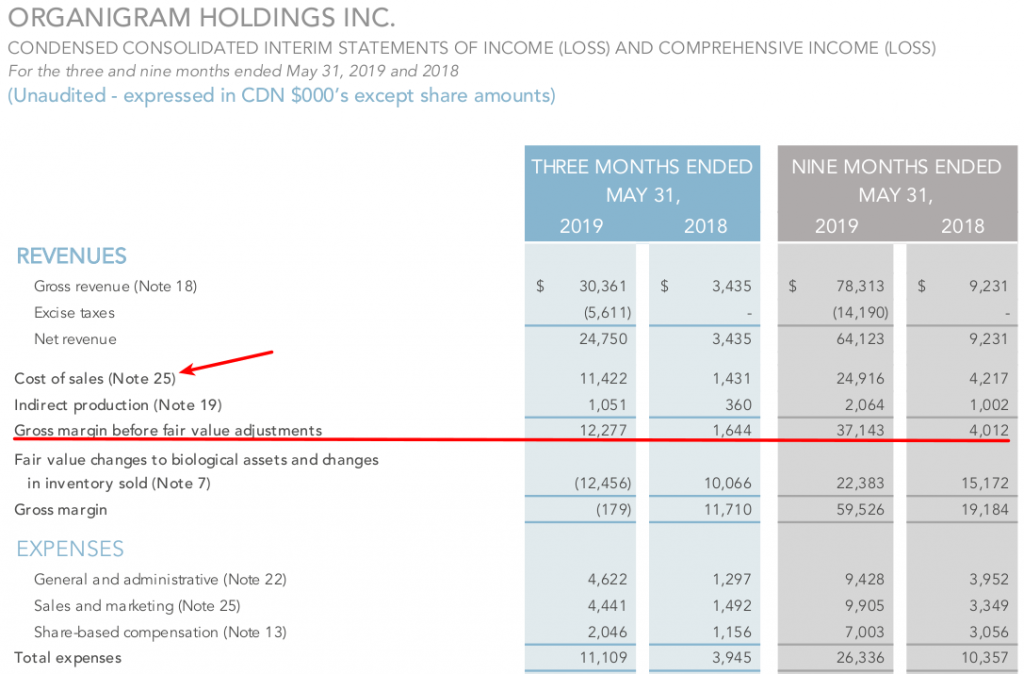 Supreme makes it look like they're doing that, but it's hard to tell what they're actually doing.
The notes referenced indicate that the figure for "production costs" are the expenses capitalized in the production of Supreme's cannabis. Both the wages and property plant and equipment costs are split between production costs and operating costs with no clear dichotomy for what counts as a cost and what doesn't. This makes it hard to determine Supreme's gross margin and compare it to its peers, which is a shame, because Canopy's 16% company wide gross margin would be pretty easy for Supreme to beat.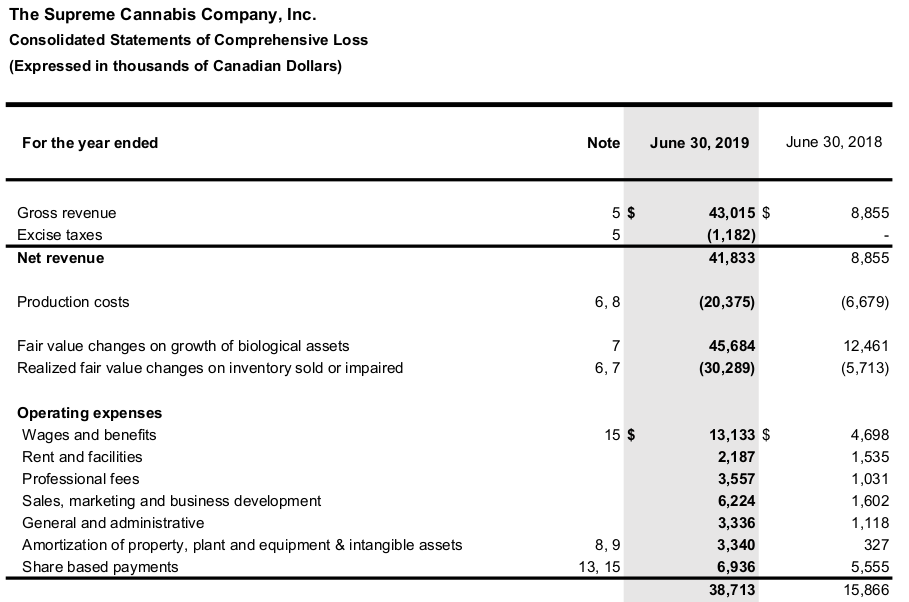 The company would very much like for the market to believe that it is making money, and it is, if you count funny. Supreme Cannabis prints an "adjusted EBITDA" figure that excludes the stock-based compensation given to directors, the loss they took on their investments, and all of their finance costs. In other words, if money were free, and Supreme's directors didn't pay themselves their standard $1 million + in stock, the company would have earned $3.1 million last quarter. Before taxes. And amortization and depreciation.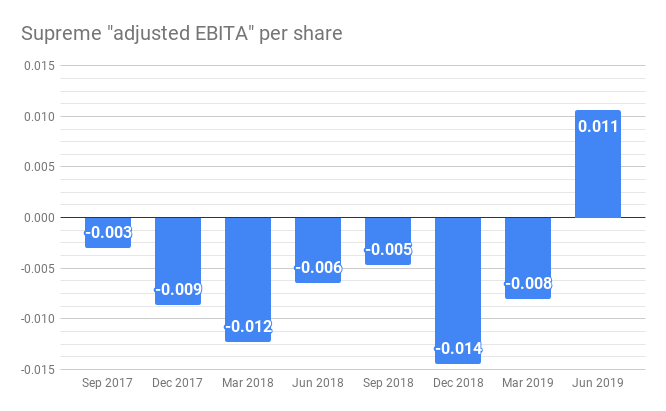 This bumper crop of adjusted EBITDA works out to 1.1 cents per share in (adjusted) earnings for Supreme, without accounting for the 40 million shares from this summer's purchases of BlissCo and Truverra, which happened following the end of the period.
Blissco printed a loss of $1.2 million the last time they filed financials in April of 2019, their only $742,000 in revenue coming from the sale of pre-rolls. The cost of setting the Langley, BC facility up for extraction, then running it isn't known.
Truverra's finances aren't public, so there's no telling what costs Supreme shareholders assumed for the 14.7 million shares they used to buy Truverra. The "state of the art" Scarborough extraction facility is something Supreme plans to "re-purpose" for use in extraction, and there's no word yet on whether or not that facility will require re-licensing. It isn't presently licensed for processing.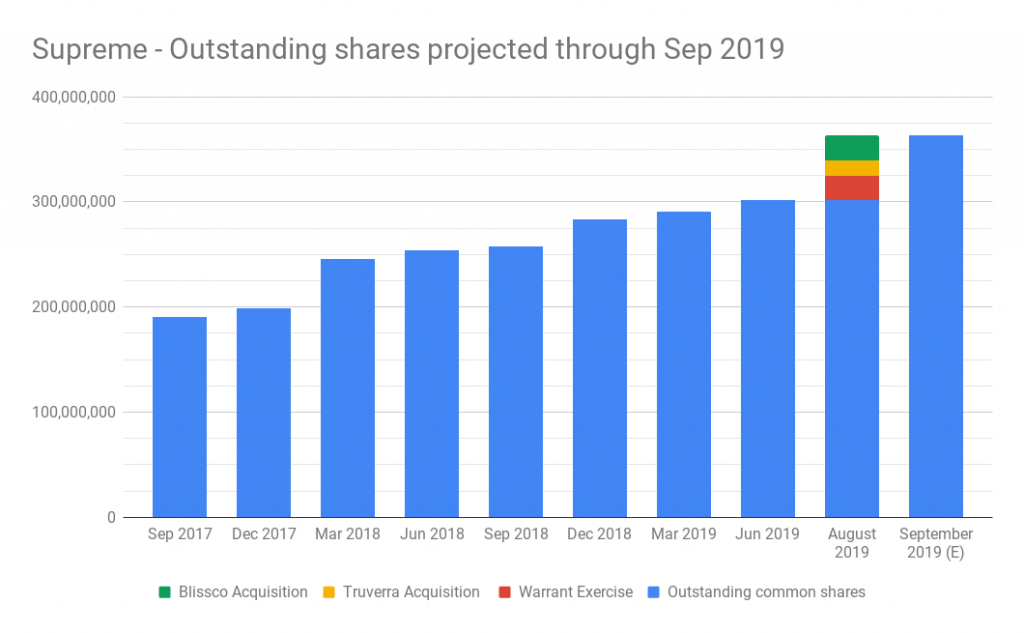 The Deep Dive reported in August that Supreme CEO Nav Daliwhal and founder John Fowler were both Blissco and Truverra shareholders, and noted at the time that things were looking pretty dire for the cash-poor BlissCo before Supreme came along.
Supreme's 301 million end-of-June share count DOES include $2 million worth of stock the company paid to bring unknown communications firm Bayfield Strategies in-house back in November. The acquisition doesn't appear to have saved them much in terms of costs, Supreme having spent $1 million on professional fees in the quarter that they acquired Bayfield, and $1.4 million this quarter.
Increasingly, Supreme feels like a company whose directors think they won the treasury. $19 million in quarterly revenue is the sort of thing one might expect out of a mid-tier Canadian producer, but so is information like how much product they sold by weight and the gross margin they sold it at.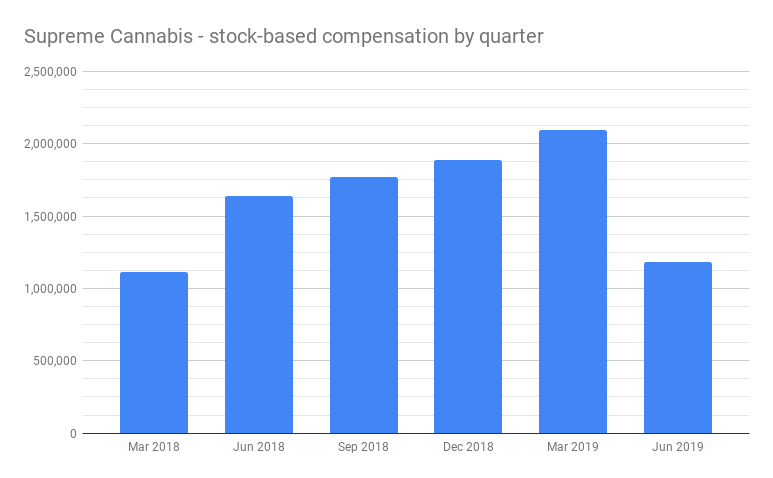 It's not yet clear how the market wants to address Supreme's self-dealing and opacity. Supreme was up 1.4% to $1.40 Tuesday following these earnings on 1.7 million shares in volume, and gave back a penny Wednesday to close at $1.39 on 2 million shares. The trader crowd likes Supreme, and the company's retail following tends to be sophisticated.
The company's task now is to convince the street that there's more to come, and create enough buying to get all 300 million shares, plus the 40 million issued for acquisitions, plus the outstanding warrants and options, up trading above $2.45 so that the $79 million in outstanding convertible debt can convert into another 32 million shares. With that much stock sustained at that price, Supreme would be worth just shy of $1 billion.
Presently, Supreme Cannabis is worth $472 million at a price of $1.38 per share. As we mentioned, it did $19 million in revenue last quarter.
---
Information for this analysis was found via Sedar, The CSE and Supreme Cannabis. The author has no securities or affiliations related to this organization. Not a recommendation to buy or sell. Always do additional research and consult a professional before purchasing a security.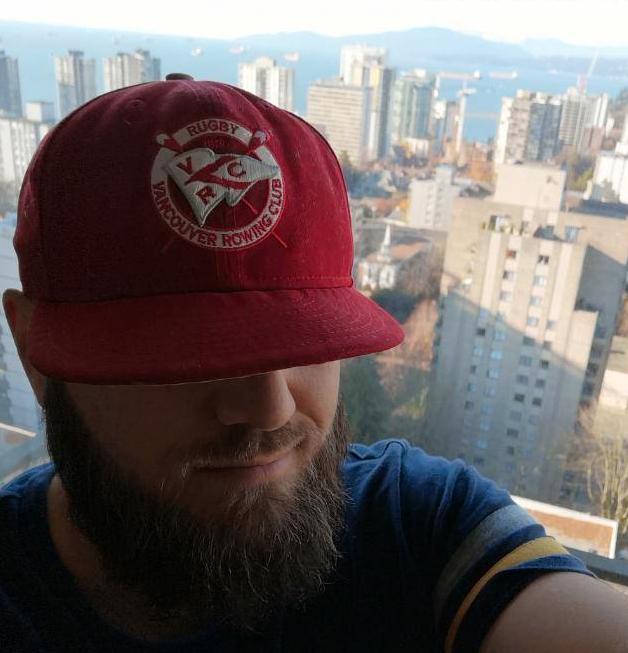 Braden Maccke is a freelance writer from Vancouver, B.C.
You can read all of his Deep Dive articles here.
He can be reached at braden@fundamentalhype.com.