Mark Cuban-Backed Crypto Token Plummets to Zero Within 24 Hours
In another sign that the peak of the cryptocurrency craze may be subsiding, a token called Iron Titanium and is backed by billionaire Mark Cuban, crashed from US$65 to less than 0.01% of a penny over a span of 24 hours.
A sudden onset of panic selling Wednesday sent the price of Iron Titanium Token, or TITAN, plummeting to $0 come Thursday morning, after some of the token's largest investors starting pulling out at excessive volumes, sparking a massive cascade of selloffs. The token was linked to an algorithmic stablecoin project called Iron Finance, which uses a dual-currency structure to hold a peg by generating arbitrage opportunities between coins.
Iron Finance's project was trying to boot to a stablecoin called IRON, which is comprised of Coinbase's stablecoin (USDC), blockchain payments company Circle, and TITAN, and is pegged to $1. Given that TITAN provides collateral backing to IRON, crypto users are able to create new stablecoins via Iron Finance's network that consists of a system that locks up 75% in USDC and 25% in TITAN.
This means that the creation of new IRON stablecoins subsequently causes the demand for TITAN to increase, and push the price higher. On the other hand, when the price of the TITAN token declines, the peg is no longer stable. When TITAN skyrocketed to over US$65 and then began to retract back to US$60, the token's major holders began to pull out, sparking massive panic. This caused IRON to lose its peg due to the cascading drop in TITAN, prompting the entire mechanism to spiral out of control.
With major investors now eliminating their TITAN holdings, the market began to flood with an exuberance of tokens, sparking a bank run and driving the price of TITAN coins even lower. This caused the peg to drop since it's tied to TITAN prices, creating a vicious circle that cannot be undone unless the peg is recouped. With the widening difference in price between TITAN and IRON, an arbitrage opportunity was created, which in turn unleashed even more TITAN tokens into the market, and destabilized the price of IRON even further.
In short, TITAN can fall to infinity as long as IRON is not pegged, and IRON will not be pegged until TITAN stops declining. Now, TITAN sits at nearly $0, while the price of IRON is at whatever percentage is backed by stablecoin. The sharp plunge in TITAN and by default IRON, has now exposed a significant flaw in the token's design, which can only be remediated if TITAN's developers address minting protocol— which is likely impossible given that its the entire foundation that the IRON stablecoin is based off of.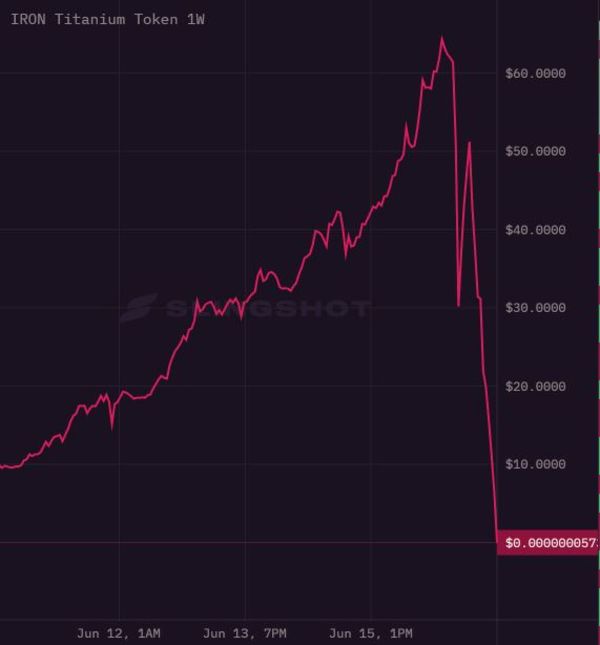 In the meantime, earlier this week, Mark Cuban revealed that he owned some of the token via a weblog post titled "The Brilliance of Yield Farming, Liquidity Providing and Valuing Crypto Projects." He had mentioned that he was a liquidity provider to "2 different tokens (DAI/TITAN) that enable QuikSwap to offer swaps between these two tokens."
Come Thursday, an onslaught of twitter users likened the TITAN crash to a rug pull, which refers to an exit strategy whereby the token's developers desert a project and keep investors' funds. Although it remains unknown how much of the TITAN token Cuban owned, the billionaire took to twitter to provide some clarity on the situation:
Did Cuban rug pull Iron Finance or did he himself get rugged on?
---
Information for this briefing was found via the companies mentioned. The author has no securities or affiliations related to this organization. Not a recommendation to buy or sell. Always do additional research and consult a professional before purchasing a security. The author holds no licenses.