Max Resource: Exposure To A Developing Copper-Silver District
Max Resource's (TSXV: MXR) wholly-owned CESAR Project is located in north east Colombia, one of the world's dynamic mining regions. Colombia has a rich mining history that suffered during the civil and drug wars in the 1980' and 1990's.
Once stability returned to the nation, the Colombian government successfully embarked on an aggressive program to revitalize its mining industry by providing incentives to attract foreign investment to accelerate economic growth, create jobs, and promote social development, with an emphasis on social responsibility and environmental protections.
The CESAR copper-silver project lies within Jurassic sediments and volcaniclastics that extend the length of northern South America. These Jurassic rocks also host significant strata bound copper-silver mineralization in both Ecuador and Peru, on the Andean Belt running through the Andes mountain range. CESAR lies along a historic 120 km copper-silver belt within a major oil and gas and coal-mining district. The region has excellent infrastructure, shipping ports, airports, townships, railways and roadways.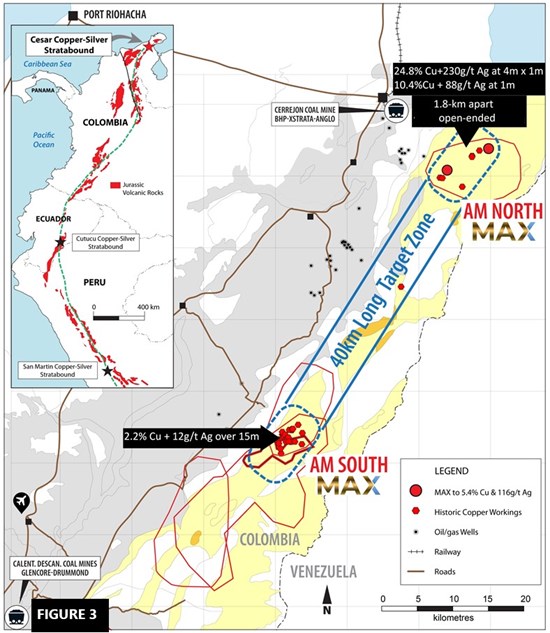 What makes Max a compelling investment opportunity is its recent collaboration agreement with one of the world's leading copper producers, and has brought in Fathom Geophysics to carry out a technical study of the sediment-hosted copper-silver mineralization of the CESAR project. The study by Fathom complements a research program initiated with the University of Science and Technology ("AGH") of Krakow, Poland.
AGH has a long history of cooperation with KGHM, the largest copper producer in Europe and the world's second largest silver producer. It is interesting that the CESAR project has attracted the attention of a major this early in the exploration process, and certainly enhances the Company's credibility. This added credibility in turn should help the Company with its future financing activities.
Max has sent surface rock samples extracted from the CESAR strata bound copper-silver mineralized horizons to AGH. From these samples, AGH will conduct various mineralogical and geochemical studies. AGH Professors and teaching staff have a long history of cooperation with KGHM Polska Miedz ("KGHM"), the largest copper producer in Europe and the world's largest silver producer.

AGH will leverage their extensive knowledge of KGHM's world-renowned Kupferschiefer sediment-hosted copper-silver deposits in Poland, on the academic study of CESAR. Kupferschiefer, established in Poland in 1968, is a world-class producer of copper and silver, as well as also producing, gold, palladium, platinum and rhenium as by-products. The scientific team from the Department of Economic Geology will play a significant role in identifying the similarities with Kupferschiefer and unlocking the ultimate potential of CESAR.
The Company cautions investors that mineralization at Kupferscheifer is not necessarily indicative of similar mineralization at CESAR. However, AGHs knowledge and experience with these types of deposits would be invaluable to deciding the most effective mining methodologies to use to maximize the economic viability of the CESAR project.
Comparable Companies
There are two other notable exploration companies that have similar copper-silver projects on the Andean Belt based on the Kupferschiefer geological model, Hannan Metals (TSXV: HAN) , and Aurania Resources (TSXV: ARU).
Hannan's property covers a 520 sq. km area in San Martin, Peru. Hannan had sampling highlights of 2.5% copper and 22 g/t silver over 3m, and 5.9% copper and 66 g/t silver over 2m located 20-km apart. The company has said specifically that its geological features are similar to that of the Kupferschiefer sedimentary deposit in Eastern Peru, much like that of Max. It has yet to file any technical report on the project. The Company has a market cap of $20 million.
Auriana's project covers 2000 sq. kms in Cutucu, Ecuador near the Peru border. It recently staked an additional 400 sq. kms across the border in Peru because they believe the mineralization trend continues into that land. Auriana's grab samples showed 1% copper with an average of 4.4% and 51 g/t silver. The Company has a market cap of $120 million.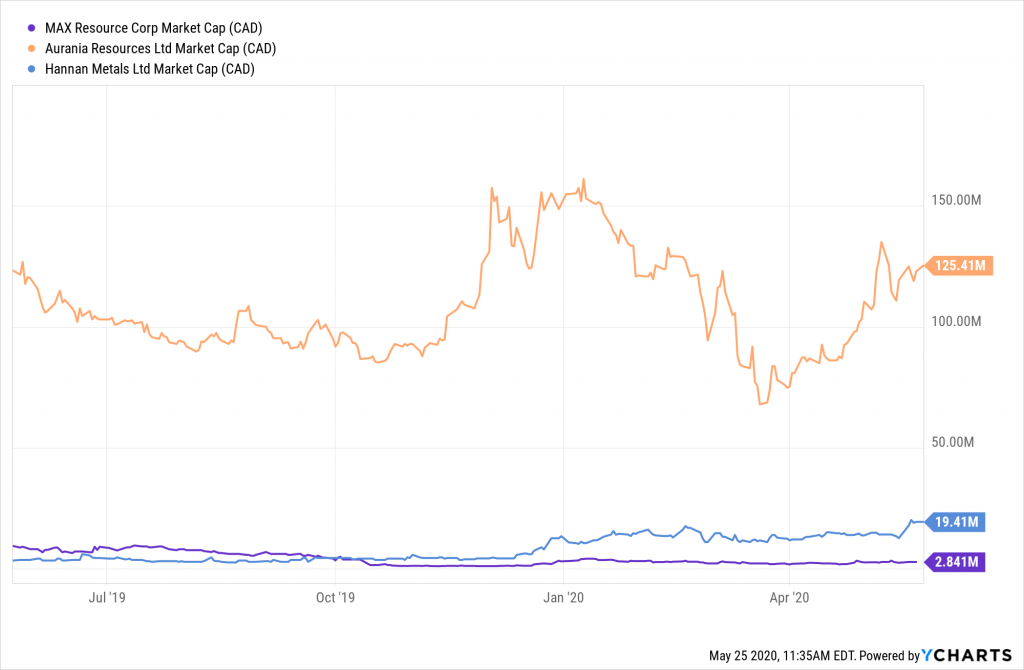 Max, by comparison, covers 120 sq. kms. Sample results on its AM North property 1.8-km horizon open on strike and down dip had discovery values of 24.8% copper and 230 g/t silver on 4m x 1m; AM South 2.4-km and 1-km horizons open on strike and down dip showed values to 5.4% Cu, and 63 g/t Ag, 0.1 to 25m horizon interval.
AM North is on trend 40 km NNE of AM South. The intervening area will be sampled to determine if this trend represents one long, continuous trend, which could be significant when evaluating the economic potential of the project.

These values are much higher than Hannan and Aurania, but Max's market capitalization by comparison is only $3 million. For investors contemplating exposure to South American mining opportunities, Max appears to offer a reasonable value proposition with compelling risk/reward potential. Much more work must be done before CESAR would be considered a mine.
Exploration companies such as Max typically develop projects like CESAR to a point where there is a resource calculation of mineral reserves and consideration is given to establish feasibility for extraction. At this point in development, the projects would be handed off to a major extraction company that has the expertise, resources, and infrastructure to build and operate a mine. Given that Max is already on a major's radar, any successful development of this project that would indicate a potential mine could make the project a potential acquisition target at some point in the future.
---
FULL DISCLOSURE: Max Resource Corp is a client of Canacom Group, the parent company of The Deep Dive. The author has been compensated to cover Max Resource Corp on The Deep Dive, with The Deep Dive having full editorial control. Not a recommendation to buy or sell. Always do additional research and consult a professional before purchasing a security.