Newfoundland: An Unexpected Gold Exploration Destination
Newfoundland is often overlooked by investors when searching for investment opportunities in the gold sector. The prolific Abitibi Greenstone Belt that runs through Northern Ontario and Quebec understandably attracts major interest, as does the Golden Triangle region of British Columbia with its many gold mines. Regions such as Newfoundland are off to the side of people's vision.
Although not often on investor's radar screens, Newfoundland has an extensive mining history. Small-scale mining dates back to the 1770's, but it became a major industry only in the 1860's, with the discovery of major copper at Notre Dame Bay and the Wabana iron ore deposits on Bell's Island.
In 1905 a major lead-zinc-copper deposit was discovered near the town of Buchans in central Newfoundland. It was difficult to mine because there were no known milling processes that could adequately separate the mineral sulphides. In 1925, though, ASARCO metallurgists developed an effective extraction process, gaining a 50% interest in the project. At its peak, Buchans hosted 5 separate mines and 17.5 million tons were mined over the 55 years of mining – until operations were shut down in 1984.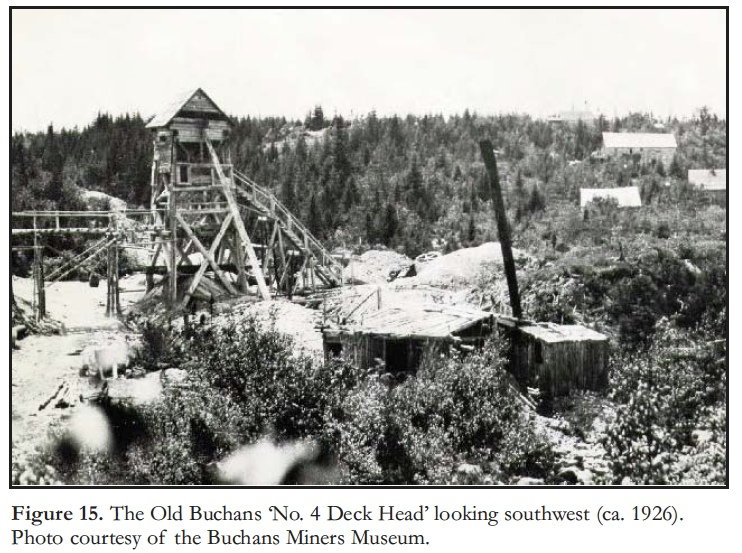 Although there were reports dating back to 1568 of iron ore at Bell's Island, a small island on Conception Bay at the northern end of the avalon Peninsula, it wasn't until the 1890's that the massive Wabana iron ore deposits were developed and brought major interest from the mining industry. Its close proximity to the steel mills in Sydney, Nova Scotia made the deposits very important.
Besides supplying the Sydney steel mills, ore was also shipped overseas to Germany, Holland and Belgium, and south to the US. Wabana produced 79 million tons of ore until its closure in 1966, making it the longest continuous operating mine in Canada during that period.
Mining, by nature, is affected by economic and price cycles and therefore volatile. During the mining industry's heyday, until the 1960's, the big four mines, Buchans, Schefferville, Labrador City and Wabash accounted for 90% of Newfoundland's gross production value. By contrast, gold has accounted for only 3%.
The industry had declined from the late 1960's until the Voisey's Bay discovery of the massive nickel-cobalt-copper deposit in 1994 – and subsequent mining by Vale Inc, since 2005. There are a number of companies that are actively exploring and/or developing base metals, copper, lead, zinc and other metals deposits in the Baie Verte Peninsula region.
Recent years have seen a sharp uptick in gold exploration, especially as a result of the run-up in gold prices to record levels. Several projects are in late-development stage, and could likely enter into production. An example of this is the application for an environmental assessment to develop a proposed gold mine by Maritime Resources Corporation near King's Point and Springdale.
Considered largely unexplored for gold, this has created opportunities for brave explorers. Newfoundland's government is considered mining-friendly, and the province has reliable infrastructure.
Newfoundland's Geology
North America was considered to be part of a much larger continent until it broke apart approximately 600 million years ago. Newfoundland can be characterized by 3 distinct zones. The Western Zone, a region also known as Laurentia, was considered to be part of the original North American continent and comprises the Canadian Shield, which constitutes most of Labrador and contains some of the earth's oldest rocks; a mix of intrusive igneous and metamorphic rocks, and some areas of sedimentary rock. Massive deposits of iron-ore, nickel and copper have been found in Labrador.
The Central and Eastern zones were created more recently during the Ordovician era around 490 million years ago that saw continuous volcanic activity and continental shifts that created volcanic and intrusive rocks found in the Central Zone. The Eastern Zone was formed even more recently about 200 million years ago during the Early Jurassic Era, when continents broke apart and formed the Atlantic Ocean, leaving some fragments attached to Laurentia, including the Eastern Zone. The Central Zone is characterized by sedimentary rocks such as sandstone, shale, and gypsum, which can often host gold-bearing mineralization.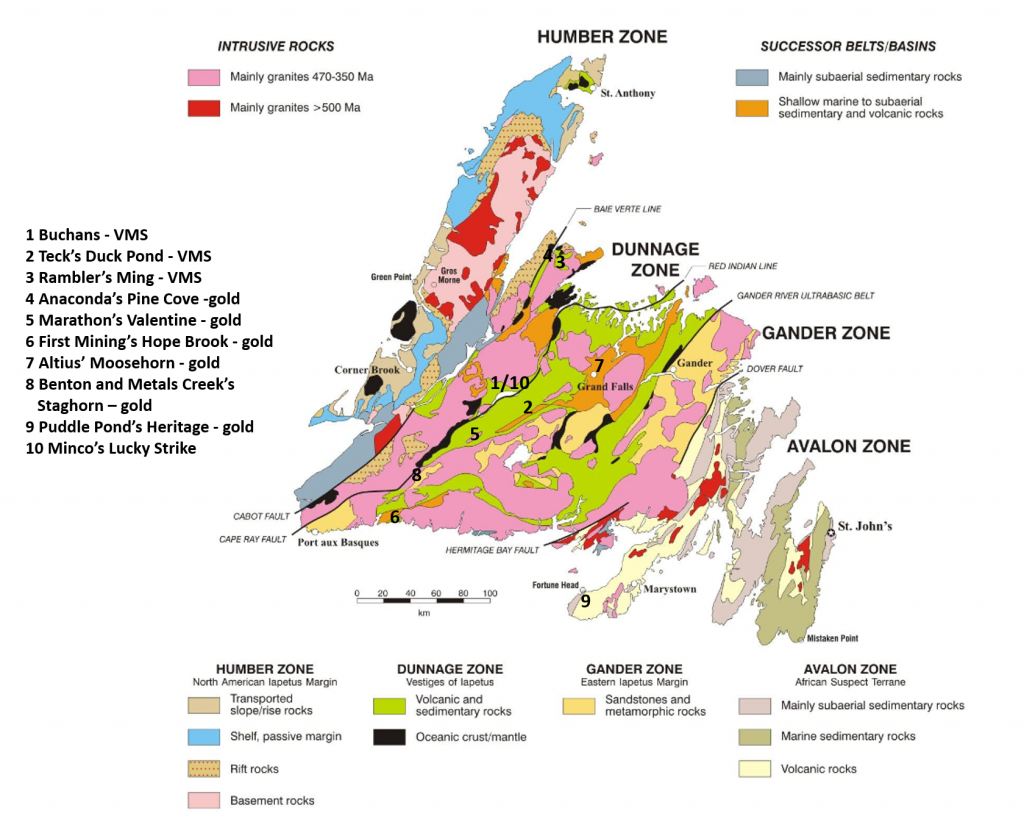 Gold Mining In The Province
Gold was not an integral part of Newfoundland's mining history until 1976, when significant gold mineralization was discovered near Cape Ray on the south coast of Newfoundland. The Hope Brook deposit was discovered in 1984 and became Newfoundland's first major gold mine, operating between 1986 and 1997, and producing over 752,000 ounces of gold. The Hope Brook discovery created a gold rush of sorts that lasted until the early 1990's, when the price of gold declined.
Now that gold prices have seen a significant resurgence, development companies have revisited the old mines with modern methods and technologies – and several projects appear to be heading towards production. There have also been several encouraging recent gold discoveries in the Gander Gold District that are being actively developed. This has all contributed to an influx of exploration companies looking to build upon these successes.
In 2019, the Point Rousse Project operated by Anaconda Mining (TSX: ANX), was Newfoundland's only producing gold mine. The mine, which is located in the Baie Verte Mining District, has been operating since 2010, and in 2019 produced 16,343 ounces of gold. Although the mine is depleting, the Company is doing extensive exploration work around the property to extend its mine life.  
Marathon Gold Corp. (TSX: MOZ) is working to put its Valentine Gold Project, located in central Newfoundland, into production. Their pre-feasibility study shows Valentine has proven and probable reserves of 1.87 million ounces of gold, resource estimates of 3 million measured and indicated ounces of gold, and .96 million inferred ounces of gold. It is expected to become Atlantic Canada's largest operating gold mine once operations commence in 2023.
In 2017, Maritime Resources Corp. (TSXV: MAE) completed a feasibility study to bring the Hammerdown Mine back into production. Located 15 kilometres from the Town of Springdale and 5 kilometres from King's Point, Hammerdown is one of four separate deposits that make up the Company's Green Bay Property. The Hammerdown mine is expected to have a 5-year mine life and is expected to produce 174,000 ounces of gold once operations begin in 2022.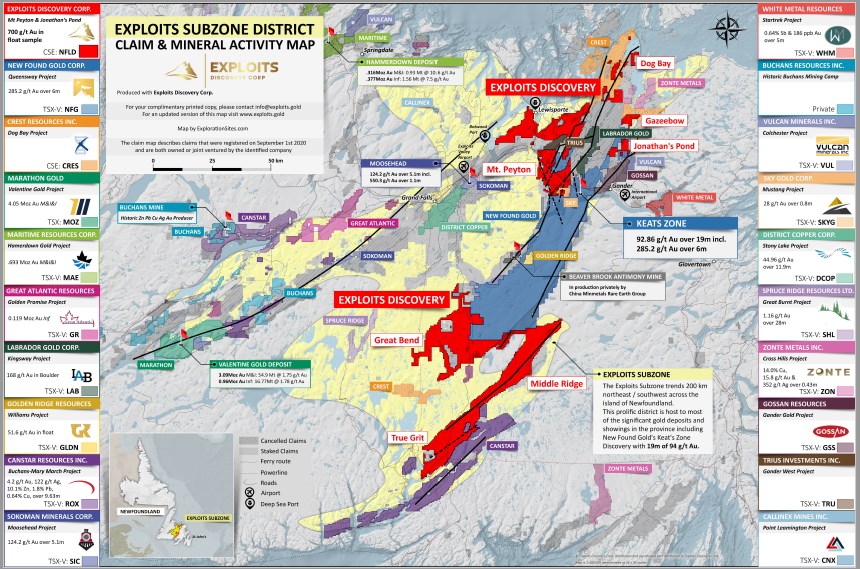 Newfoundland's Gold Exploration Activity
The recent surge in gold prices have led to a sharp uptick in gold exploration everywhere, and Newfoundland is no exception. Although it doesn't have a strong history of gold mining, there have been enough discoveries over the years to prompt exploration companies to revisit historic properties and conduct aggressive exploration programs.
On September 9, 2020, New Found Gold Corp. (TSXV: NFG) announced that it began drilling on its Queensway Project in central Newfoundland, 15 minutes from Gander. The drill program being conducted on its discovery zone, called the Keats Zone, is located in a broad fault zone parallel to the Appleton Fault that has a number of sediment-hosted quartz veins being tested for high-grade mineralization as a follow-up to strong gold showings in 2019.
On October 2, New Found Gold released that they had intercepted 41.2 g/t gold over 4.75 metres and 25.4 g/t gold over 5.15 metres in a new high grade gold discovery at the Lotto Zone, located 2 km north of the high-grad Keats Discovery. They currently have a 100,000 metre diamond drill program underway under the power of three drill rigs.
Exploits Discovery Corp (TSXV: NFLD) has assembled an impressive portfolio of 7 properties in central Newfoundland that have been explored in the past. Their projects are in the heart of the Gander gold district on the actively explored Appleton Fault and form what is essentially an area play.
Exploits has assembled a huge land package (see the map above), closed a $2.04M financing and is moving quickly towards properly working their property.
Another company actively exploring in central Newfoundland is Labrador Gold Corp (TSXV: LAB). Their 77 square kilometre Kingsway Property, 18 kilometres northwest of Gander, is close to New Found Gold's discovery on the Appleton Fault and also near Exploits' Dog Bay property. On August 6, 2020, Labrador Gold announced that it had initiated their 2020 exploration program that will include soil samples, mapping, and magnetic geophysics. The idea is to target gold anomalies and get a better understanding of the structural geology of the property – and to help identify potential drill targets.
On September 28, 2020, Spearmint Resources Inc. (CSE: SPMT) announced it commenced a work program on its 185 acre Goose Gold project adjacent to New Found Gold's Queensway project in the Gander District. The Goose project in its early stages and is a quintessential area play.
On September 21, 2020 Quadro Resources Ltd. (TSX-V: QRO) updated its shareholders on recent activities at its Long Lake Option, which is part of the Victoria Lake Project located within the Cape Ray Fault Corridor in central Newfoundland. This area hosts the Valentine Lake deposits being advanced by Marathon Gold Corp. and the Cape Ray deposits being developed by Australia's Matador Mining. Quadro holds 108 square kiloemtres between the Staghorn and Long Lake projects operated by Sokoman Minerals Corp (TSX-V: SIC).
Newfoundland may seem like an unlikely gold exploration destination, but the multiple discoveries of high-grade gold deposits is attracting significant interest. The province is a mining friendly jurisdiction with very reliable transportation and power infrastructure. Gold exploration investors would do themselves a service to stay abreast of developments here that could present exciting risk/reward investment opportunities.
---
Information for this briefing was found via Sedar and the companies mentioned. The author has no securities or affiliations related to this organization. Not a recommendation to buy or sell. Always do additional research and consult a professional before purchasing a security. The author holds no licenses.
FULL DISCLOSURE: Exploits Discovery Corp is a client of Canacom Group, the parent company of The Deep Dive. The company has been compensated to cover Exploits Discovery Corp on The Deep Dive, with The Deep Dive having full editorial control. Not a recommendation to buy or sell. Always do additional research and consult a professional before purchasing a security.