Nickel 28 Capital Corp: Corporate Overview
Nickel 28 Capital Corp. (TSX-V: NKL) is a Toronto-based nickel-cobalt producer that has an 8.5% joint-venture interest in the Ramu Nickel-Cobalt Operation in Papua New Guinea. Nickel and cobalt are two essential minerals being used in the rapidly expanding electric vehicle (EV) and energy storage industries. Nickel 28 is concentrating its core focus on "battery metals" that are being sought to fulfil the rapidly rising demand for these minerals. The Company also manages a portfolio of royalties from a number of development and mining projects in Canada and Australia, which will provide diversified income streams, increase profitability, and provide ongoing cash flow to fund future acquisitions
The future for nickel, cobalt, lithium, vanadium and other minerals appears bright as many countries around the world have set incentives for increased use of electric vehicles to reduce their carbon footprint and carbon emissions generated by gasoline-powered engines. Companies such as carmaker Tesla Motors have invested billions to build gigafactories to produce lithium-based batteries for its vehicles, and the scientific community is researching the potential use of a variety of other mineral combinations to support the rapid growth of this sector The demand has sparked a global exploration boom in an effort to meet the growing demand for these minerals. According to mining giant Glencore, it is estimated that demand from the EV industry will consume 59% of all nickel production output by 2030.
Nickel 28 is committed to socially-responsible mining and has purchased 52,500 carbon offsets on the Verra Registry, which will be used to offset Ramu's 2021 greenhouse gas emissions, making it the nickel industry's first carbon-neutral nickel-cobalt producer. This could be an effective method for addressing environmental impact concerns for governments worldwide when developing their mining codes and expectations for potential producers. This is particularly significant in Papua New Guinea, where the government recently cancelled the lease on one of the country's biggest and longest-running gold mines due to repeated pollution violations as well as human rights issues. While the move was also seen as largely political, it underscores jurisdictional risks and the importance of socially responsible mining practices on the part of the mining industry.
The Company's portfolio of royalties and streams provides Nickel 28 shareholders with diversified cash flows and the foundation for a strong, financially sustainable company. While royalty companies tend to trade at slightly lower price/earnings multiples, there is a lot less risk and more consistent profitability. The Company has been using cash flow from operations to pay down the debt it incurred when acquiring the Ramu project. Ramu generated revenue of USD $410 million, which enabled Nickel 28 to pay down $37.5 million, leaving a balance of only $10 million and a strong year-end cash position of USD 6.4 million.
The Investment Thesis
We base our investment thesis on the following factors:
The current global macro environment provides a bullish catalyst for the demand for nickel, cobalt, lithium, manganese, graphite, vanadium and other minerals for use in Lithium Ion batteries for the electric vehicle (EV) industry. According to Bloomberg's 2020 New Energy Finance study, it is expected that electric vehicles will account for 10% of global passenger vehicle sales by 2025 and 58% by 2040. China has the largest share of the global electric vehicle market and the Chinese government is aggressively promoting the shift to EVs to reduce its dependence on energy imports and to reduce its air pollution. European countries are also actively promoting a move away from gasoline-powered vehicles as the continent continues its shift to renewable energy technologies to meet carbon emission standards and achieve carbon neutrality by 2050. Tesla, the world's leading manufacturer of EVs is currently building Gigafactories in China and Europe to supply the increased demand.
The world economy has been negatively impacted by the Covid-19 pandemic, but China, which has largely eradicated the virus, has seen a strong recovery of its economy that we project could have a positive impact on demand for EVs. We expect the battery minerals market to grow significantly due to continuing growth of the electric vehicle market caused by a global shift to renewable energy sources, and continued improvement in battery technologies.
The post-Covid global economy is expected to strongly recover which will drive industrial demand for nickel, copper, and other base metals consumption., and when combined with the rapid growth in demand from the EV industry, the potential for significant price increases for these metals could be tremendous. As stated above, Glencore predicts that the EV industry demand could account for 59% of nickel supply by 2030. This bodes very well for metals producers such as Nickel 28.Capital Corp.
Mining is resource-rich Papua New Guinea's most important industry and mining friendly jurisdiction
NKL has an 8.56% interest in the long-life producing Ramu Nickel Cobalt Operation in Papua, New Guinea
NKL is the Nickel industry's first carbon-neutral nickel-cobalt producer..
Cash flow enabling company to quickly pay down debt
Ramu generated revenue of USD $410 million in 2020.
The company has an excellent, experienced management team with extensive mining and public company experience.
Royalty portfolio reduces risk and provides the company with diversified future income streams.
The Deep Dive views Nickel 28 Capital Corp. as a diversified battery metals company with producing assets that generate excellent cash flow, as well as a portfolio of royalties and streams from other projects. The Company is well funded and has a very experienced management team. The Company is steadily paying down the debt used to make previous asset and royalty purchases, and is poised to be cash flow positive in the near future. Shareholders can expect a degree of stability from diversified income streams and profitability growth as the debt is reduced. We view Nickel 28 Capital Corp. as a moderate-risk company with significant upside potential due to cash flow and profitability growth..
Projects
Nickel 28 Capital Corp has been using its strong cash position to build a portfolio of nickel-cobalt and other battery metals assets, which includes royalties, streams, and direct investments in producing mines, development projects, or highly-prospective exploration properties. The Company's management team has extensive experience in mergers and acquisitions, financial engineering, and together with its industry advisors and technical experts can identify suitable investment battery metals opportunities to continue to build a solid profitable company and increase value for its shareholders.
The Ramu Nickel Cobalt Operation
In May 2019, Nickel 28 completed a friendly acquisition from Highlands Pacific's 8.56% interest in the long-life Ramu Nickel-Cobalt Project in Papua New Guinea. The project is located on the north coast of Papua New Guinea near the town of Madang. Once construction and development loans are paid down, Nickel 28 will own 11.3% of the Ramu Project, which is the Company's principal flagship asset that generated USD $410 Million in 2020 from annualized production of 2,900 tonnes of Nickel and 600,000 pounds of cobalt, and once Nickel 28's ownership stake rises to 11.3%, its attributable annualized production will increase to over 3,800 tonnes of nickel and over 800,000 pounds of cobalt respectively.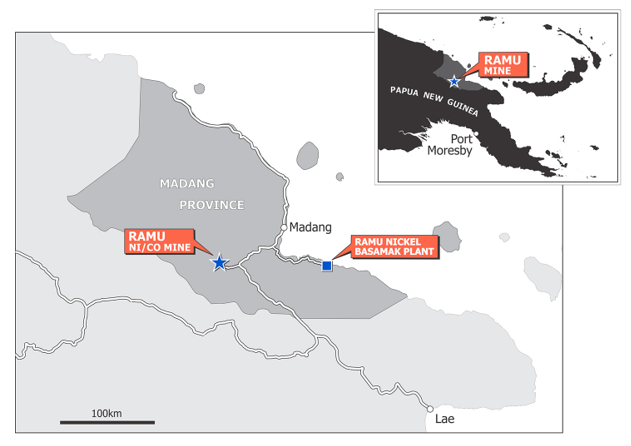 Royalty Portfolio
Nickel 28 Capital Corp has assembled a portfolio of royalties and metal streams as a means of diversifying its cash flows and profitability to reduce the risk of dependence on any given asset. The Company's strong cash flow and cash position enables it to seek strategic assets to add to its growing portfolio.
Streams
While royalties and streams have similarities, streams differ in that Nickel 28 enters into a contractual agreement to pay upfront for the right to purchase a pre-defined percentage of the mine's production, and to make additional payments over time. Streams provide a number of benefits to the mine operator including upfront cash, no fixed obligations for delivery, and the payments act as a non-dilutive form of financing which is also accounted for as deferred revenue, not debt on the balance sheet. For companies such as Nickel 28, while there is still potential exposure to falling metals prices and reduced output, streams are a good way to benefit from mine expansion, increased reserves, production, and leverage on metal price appreciation while reducing exposure to capital, operating, and other costs. The inherent advantages of a streaming model enable stream companies to create mutually beneficial financing options for producers that can allow streaming companies to enjoy higher valuations when compared to normal mining companies.
Royalties
Nickel 28 Capital Corp has assembled a portfolio of royalties from ten current and future producers in Canada and Australia that will enable the Company to benefit from increasingly growing cash flows from some significant mining assets while maintaining a level of geographic diversification. Four of the projects are considered world-class assets. The Flemington and Nyngan royalties in Australia were acquired for an aggregate of USD $4.5 million, consisting of USD $1.5 million in cash and a further USD $3 million worth of NKL common shares.
Dumont Nickel Project
The Dumont Project in Quebec's Abitibi district is considered to contain one of the world's largest undeveloped nickel-cobalt reserves. The fully-permitted open pit mine is expected to have a 33 year mine life with estimated reserves of 6.9 million pounds of nickel at a grade of 0.27% nickel and 278 million pounds of cobalt. The mine is expected to process 100,000 tonnes per day and would likely be the world's fourth largest nickel mine when it becomes operational in the not-so-distant future. Nickel 28 has a Life-of-Mine 1.75% Net Smelter Return (NSR) Royalty on the project.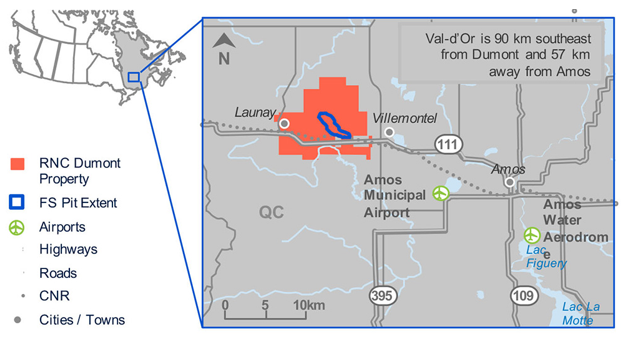 Turnagain Nickel-Cobalt Deposit
Nickel 28 Capital Corp owns a 2% NSR royalty on all future metal production from the Turnagain Nickel-Cobalt Project. It was acquired for USD $1 million plus 1.125 million shares. Turnagain is 100% owned by Giga Metals Corp. (TSX-V:GIGA) and is considered to be one of the world's largest undeveloped nickel-cobalt sulphide deposits, grading 18% nickel and 1% cobalt and the ore is considered to be perfectly suited to be refined to meet cobalt and Class 1 nickel requirements for the battery industry. According to the most recent NI 43-101 on the deposit, the project has Measured and Indicated reserves of 4.1 billion pounds of nickel and 253 million pounds of cobalt, and Inferred reserves of 4.3 billion pounds of nickel and 280 million pounds of cobalt. The project has advanced to the pre-feasibility stage and construction could begin later in 2021.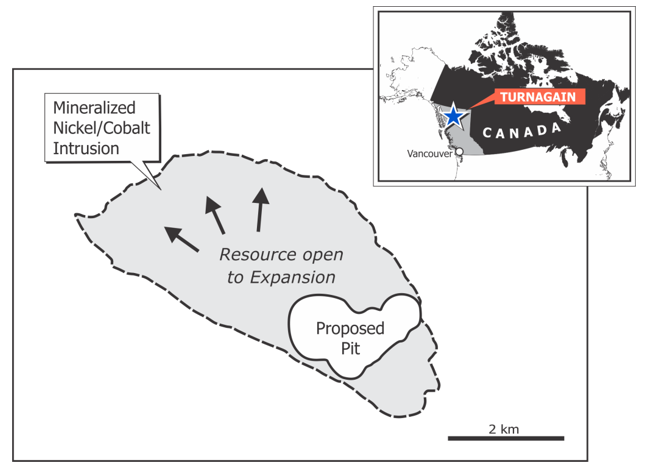 Flemington Cobalt-Scandium-Nickel Project
Nickel 28 Capital Corp. has a 1.5% Life-of-Mine 1.5% Gross Revenue Royalty ("GRR") on the undeveloped Flemington nickel-cobalt deposit in Australia, 370 west of Sydney, New South Wales.The project is operated by Australian Mines Ltd. The larger-scale project had an initial cobalt resource of 2.7 million pounds of 1.01 ppm cobalt that has only been tested on 1% of the property. The project is in the pre-feasibility stage and has secured its water allocation for mining, with the final environmental impact study and Mining Lease application underway.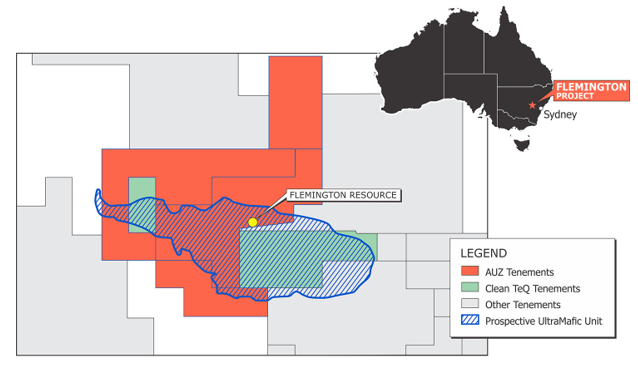 Nyngan Cobalt-Scandium-Nickel Project
The fully permitted and construction-ready Nyngan Project is located 500 km north-west of Sydney, New South Wales, Australia. It is 100% owned by Scandium International Mining and is considered to be the world's first scandium-only mine under development, with reserves of 1.43 million tonnes grading 409 ppm Scandium. The orebody is at surface and the expected mine life is over 20 years. Nickel 28 has a Life-of-Mine 1.7% GRR on the project, which is forecast to produce 38,000 kg per annum of scandium oxide. Some offtake agreements are already in place.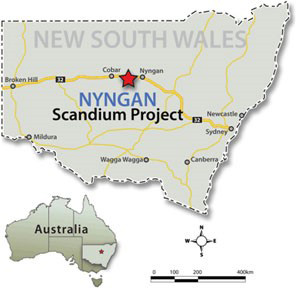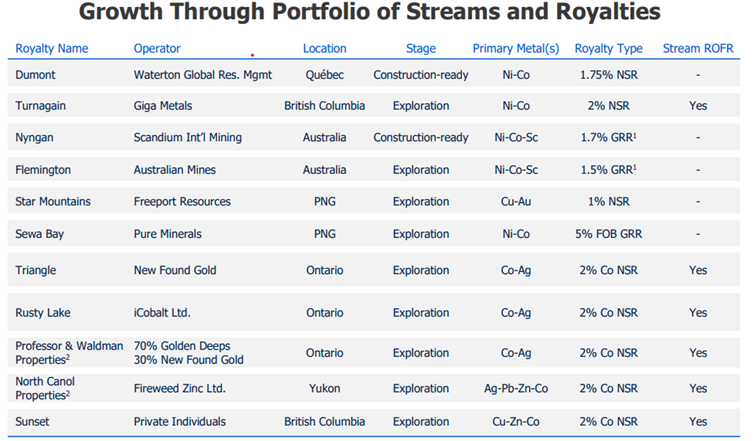 Management Team
Anthony Milewski – Chairman of the Board
Mr. Milewski holds a B.A. in Russian history from Brigham Young University, an M.A. in Russian and Central Asian Studies from the University of Washington, and worked in Moscow where his focus was advising on mining and oil transactions for Renaissance Capital and a major international law firm. He has managed numerous mining investments at various stages of development, including exploration, development, production and turnaround situations across a broad range of commodities. Mr. Milewski has served as a director for a number of private and public companies and became a Nickel 28 Board member with the closing of the Highlands Pacific acquisition. Since 2017, Mr. Milewski has served on the London Metals Exchange (LME) Cobalt Committee, which includes representatives from the largest global mining and commodities companies, representing the interests of the industry to the board of directors of the LME.
Justin Cochrane – President, CEO and Director
Mr. Cochrane is a Chartered Financial Analyst, is an expert in the structure, execution and funding of royalty and stream financing, and during his distinguished 20 year career has concluded transactions totalling over $2 billion. He is a licensed securities advisor in Canada, and prior to joining the mining industry, he worked in investment banking and equity capital, funding projects in the clean tech, energy tech, and resource sectors.
Martin Vydra – Executive Vice-President, Strategy
Mr. Vydra is a widely recognized expert in nickel and cobalt extraction, processing and refining including the development and application of advanced technologies to maximize the recovery of valuable metals such as nickel and cobalt from a variety of feeds. He had a 31 year career at Sherritt International and was responsible for engineering, maintenance and capital construction at Sherritt's nickel refinery and was considered one of Sherritt's top technical experts across its global operations. As Sherritt's Senior Vice President, Commercial and Technologies, he had oversight for the sales and marketing of nickel and cobalt, and marketing and commercialization of Sherritt's proprietary technologies, and played an instrumental role in gaining access to numerous markets, including large-scale commercial plants in China, Australia, and South America. Mr. Vydra was also responsible for the sales and marketing of cobalt, nickel, fine cobalt powders and chemicals, thermal spray powders and coinage with end users ranging from aerospace to lithium-ion battery manufacturers.
Conor Kearns – Chief Financial Officer
Mr.Kearns holds a B.A. from Brock University and brings two decades of accounting, auditing, finance, and tax experience to Nickel 28 Capital Corp. Over his career, Mr. Kearns has provided advisory services to a number of businesses, most recently as Vice President of Finance of Cobalt 27 Capital Corp.after a six-year stint as Chief Financial Officer of EFT Canada Inc. a provider of advanced electronic payment services and tools for businesses.
Craig Lennon, Head of Asia Pacific
An Australian registered Chartered Accountant by profession, Mr. Lennon worked for KPMG in Australia for 7 years. Subsequently, he has acquired over 15 years of mining and finance experience, including roles in corporate development, research, fund management and investment banking. Mr. Lennon has extensive experience in Papua New Guinea, working with Chinese partners and corporate transactions including joint ventures, mergers & acquisitions, capital raisings and debt funding. Mr.Lennon served 19 years with Highlands Pacifc Limited; 10 years as Managing Director and 9 years as the Company's CFO, and was part of the transition team for Nickel 28's acquisition of the Ramu project.
Catalysts
Some of the potential catalysts we see that could have a large impact on the share price include:
The price of Nickel and Cobalt. The most obvious variable for any metals explorer, developer, or producer is the price of the underlying commodity. As the prices of nickel and cobalt rise so does the net asset value of projects rise, which increases shareholder value. We expect nickel and cobalt prices to rise as demand from the electric vehicle industry overtakes the general global industrial demand over the next decade.
Broad economic indicators. Given the recent COVID stimulus packages which have seen a massive global effort to bring back millions of lost jobs and boost a return to a post-Covid-19 economic rebound, the assumption is that governments and central banks will take on debt funded through quantitative easing (money printing) to fill the gap. Eventually this will likely become inflationary; historically the price of gold and other metals increases with an increase in inflation as investors seek a hedge against inflation. In the interim, unexpected negative shocks to the global economy could impact the price of metals.The Chinese economy appears to be bouncing back from the Covid-19 pandemic closures earlier in 2020 and this could help drive a price rebound from increased demand for copper and other metals because China is one of the world's largest consumers of base metals and must import much of it. China is also the world's leader in electric vehicle manufacturing and will rely heavily on the availability of nickel and cobalt, as well as other battery metals.
Growth of the Electric Vehicle Market. The electric vehicle (EV) market will expand exponentially over the coming decades as global governments mandate their use as a means of replacing gasoline-based vehicles to reduce emissions and meet carbon targets.
Potential future Merger and Acquisition activity. The Deep Dive believes we are in the early stages of a secular bull market for metals. Due to NKL management's extensive experience, expertise, and credibility, it has the ability to identify solid assets to invest in, whether in royalties, streams, or direct investments into producing or near-production deposits. We see potential for NKL itself to become an acquisition target by a larger entity looking to expand into nickel, cobalt and other battery metals.
Risks
From our view the following risks are worth considering.
Price of Nickel and Cobalt. Just as nickel and cobalt prices can be a catalyst, a potential decline in price would have a negative impact on exploration and producer stocks.. We are of the mindset that as long as the EV industry is in full production mode over the next decade,there will likely be an influx of capital coming into the battery metals juniors. However, if prices drop due to some unforeseen circumstances, explorers could likely struggle. Base metals such as Nickel, Cobalt and Copper tend to mirror the economic cycle and poor economic conditions can depress metal prices. If the Chinese economic recovery stumbles, that could cause demand to slow and prices to decline. However, we believe the strong EV demand will help price stability..
Production Results. If there are poor production results reported from the Ramu project, this could adversely affect price performance of the stock. Shareholders would have to assess whether that would be a short-term issue or something that could signify greater problems at the deposit.
Jurisdictional Risk. While Papua New Guinea is a highly regarded mining friendly jurisdiction, it is environmentally sensitive and the government has the potential to block mining projects due to environmental concerns, as well as political expediency, as has previously happened.
Market Sentiment. Markets can fluctuate wildly as investor expectations can change rapidly depending on the two most common drivers; fear and greed. Currently global macroeconomic concerns due to the coronavirus pandemic and the corresponding economic impact has caused the world's central banks to flood the banking system with almost zero-cost money. Cheap money is continuing to pour into stock markets and fueling a sharp rise in prices, which tends to draw more investors to buy stocks. With the global economy gradually recovering as Covid vaccination rates improve, there is a danger of inflation returning, and this could lead to increasing market volatility. We believe part of the explanation for the sharp rise in gold prices is due to concerns about an eventual return to inflationary conditions caused by the extended period of cheap money and rising global government debt and deficits. This could enable gold and base metals stocks to better withstand market volatility as investors seek to own gold as a hedge against global uncertainty. Base metals stocks will benefit from increased industrial demand as well as an inflation cycle.
Supply of Nickel and Cobalt. The supply of nickel has declined in recent years as mines have depleted reserves and not very many new mines have come on stream, or are even in the pipeline. Demand by the electric vehicle industry has sent explorers seeking to find new deposits to fill the rising demand. We are seeing exploration companies revisit older, shuttered mines, and reactivation of promising development projects which were abandoned when metals markets declined and the economic viability of the projects declined. We believe we are at the early stages of a new metals market, and as the cycle ramps up, supply will ramp up. NKL is well positioned to benefit from this cycle as it has a major producing asset in Ramu, as well as a portfolio of solid royalties and streams which should help mitigate risk for shareholders.
Conclusion
At the Deep Dive, we like the macro prospects for nickel and cobalt and other battery metals, and the underlying fundamentals would suggest we are in the early stages of a metals bull market. We especially like projects in safe, mining friendly jurisdictions. When juniors get frothy they often trade up to 10% of the price of the metal they have in the ground. Nickel and cobalt are benefiting from the recovering post-Covid economy as well as extraordinary demand from the EV industry that is expected to consume 60% of available supply by 2030. This should bode well for nickel and cobalt prices and other industries compete for their supplies.
We view Nickel28 Capital Corp. as an extraordinary situation due to its position as a nickel-cobalt producer and its royalty and stream portfolio. This differentiates it from other junior exploration and development companies as it is largely de-risked. Its ownership in the Ramu project spins off a lot of cash flow, which has enabled the Company to dramatically reduce the debt it used to purchase the stake in Ramu, as well as the debt it took on when purchasing its royalty and stream assets. This will accelerate the Company's progress towards becoming cash flow positive and the potential for shareholder dividends at some point in the not too distant future. Its strong cash position also enables it to seek to acquire other strong royalty and stream assets to further enhance its portfolio.
We view Nickel 28's move to ensure the Ramu project is carbon neutral as a very intelligent move to increase its credibility with the Papua New Guinea government, and it underscores the need for extraction companies to be mindful of being committed to responsible mining and environmental practices. The Company has a strong, experienced and well respected management team that has the expertise to build shareholder value through royalties and streaming. While traditional royalty companies often trade at a slight discount to producers, streaming can help infuse a premium to share valuations relative to producing companies..With 85.7 million shares outstanding and a modest market capitalization of 63.68 million, we like the prospects for Nickel 28 Capital Corp. We believe that management has greatly de-risked the Company and its increasing cash flows should accelerate growth in profitability over the coming years, which will enhance value for the Company's shareholders.
---
FULL DISCLOSURE: Nickel28 Capital Corp. is a client of Canacom Group, the parent company of The Deep Dive. The author has been compensated to cover Nickel28 Capital Corp. on The Deep Dive, with The Deep Dive having full editorial control. Not a recommendation to buy or sell. Always do additional research and consult a professional before purchasing a security.