Only Fans Banning Content Explained
If you didn't know who OnlyFans was a month ago, we can forgive you. However, if you hadn't heard of them and you follow the news, you probably read about them last month when they made headlines for attempting to take a hand grenade to their business model by banning sexually explicit content.
Of course, this was newsworthy because the core of their business is offering fans sexually explicit content. And quite frankly they have reached a size statistically speaking where just about every adult male between the ages of 18 and 50 in the US either has an account or has a close acquaintance with an account.
OnlyFans is a startup that has gone absolutely bonkers. From an MVP launch in 2016 with just 10 content creators to over 1 million content creators today; and 130M users spending at a $4.5B run rate in annual transaction revenue. The story of OnlyFans is interesting from a startup perspective because the platform's growth puts it amongst the top tech startups of the last decade.
The Business Model
A decade ago, if you wanted to be a content creator and distributor of sexually explicit content you were limited by expensive barriers. To independently produce and sell this category of content you needed to reach a certain level of scale. You would have to hire talent, find distribution, have production teams, pay agents, process payments, and build all the infrastructure required to go from production to consumer.
Just like how YouTube has largely empowered the individual to start making their own content – OnlyFans has done this for the adult entertainment industry. Sure there were other platforms before, but none of them reached the size of the user base of OnlyFans.
How It Works
So a content creator signs up on the platform, starts posting content, and charges a monthly subscription fee for their followers to subscribe. And from the user's perspective, they sign up on an easy-to-navigate, Twitter-like platform, where they can start signing up to follow their favorite creators. Of course, the model requires a credit card to follow anyone who charges monthly fees. More on this later.
The model sees the creator keep 80% of the fees while the platform retains a 20% commission. So we are left with a modern-day mostly pornographic platform, where the users pay the talent directly, but also have access to communicate with the performers like never before.
How They Built Their User Base
The strategy to build their user base is summed up in a great article on SubStack by ConsumerStartups. They break down the referrer into 4 main components:
Social Capital – Confidence of being socially rewarded.
Social Risk – Risk of being ignored or poorly perceived for making the recommendation.
Referral Incentive – How much are you being compensated for making the recommendation?
Effort Required – How much work is it to make the recommendation?
The referral incentive here started out huge where a referrer was promised 5% of a referral's lifetime revenue. Let's assume Deep Dive contributor Young Justin joined OnlyFans to show pictures of his dirty socks and generated $100,000 in subscription fees per year. If he signed up using my referral link, I'd suddenly start making $5,000/year off his hard work. And the best part is that those referral fees are taken out of OnlyFan's cut. So Young Justin has no reason to resent me for making a commission off his hard work.
The challenge here is obviously Social Risk. To get around this, the company had a very simple image preview used on social media where they just discussed the value proposition of making referrals. Not anything remotely putting the referrer at risk of promoting a product or creator they didn't want to.
Next, the company largely picked on Twitter, because Twitter is generally the most favorable of the mainstream platforms towards adult entertainers. As Ben Hunt once put it, there is no platform for growing an audience on another platform better than Twitter.
An interesting thing about adult entertainers is that many of them have massive followings on platforms like Twitter and Instagram, where they can't directly monetize. Naturally, when a user-friendly platform arrives, with mass adoption, where the performer or content creator can set the terms of service with their audience, we see one of the fastest-growing tech stories of the decade.
The First Time OnlyFans Screws Their Partners
The OnlyFans referral program was supposed to be 5% of lifetime revenue shared to the referrer. In 2020, they cut this program down to a maximum of one year or $50,000 in referral fees. This wasn't grandfathered in, it was just revoked. Effectively stealing future cash flows from those who participated in the early stages of growth for the platform.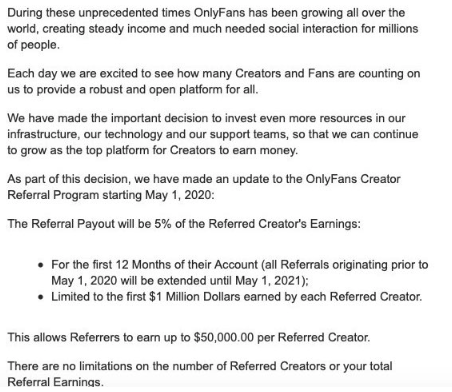 Going back to my previous example, with my referral link to make money off Young Justin's sweaty feet. I was expecting 5% of user revenue for the life of his content. I just got cut off at the knees, all because the company decided they don't want to pay anymore. I joke about Young Justin and his sweaty feet patrons, but this is serious, and it doesn't matter what industry we're talking about. This should be viewed as theft and an extremely greedy look for ownership.
OnlyFans defense was they needed to put more cash on the platform's balance sheet to support itself, but this is hard to believe when they are generating $900 million in gross commissions (less referral fees) with only 765 employees, as per their LinkedIn.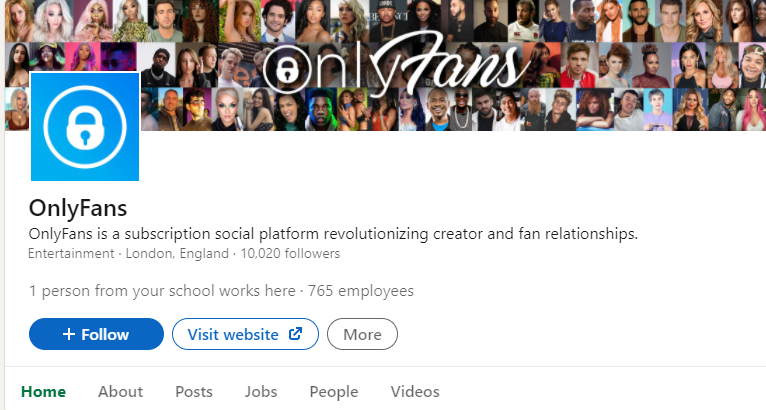 Oddly enough, there doesn't seem to be much outrage over this online other than an online petition which has reached 1668 signatures at the time of publishing.
Who is the Ownership Group?
The company was started by Tim Stokley, son of an investment banker at Barclay's. Tim previously founded GlamWorship and Custom4U which gave access to users of fetishes that could communicate directly with content creators. So for weirdos that want to pay a dominatrix money, without ever meeting them in person, these platforms were great.
Stokley then left the adult entertainment world to attempt to create a platform called 121with. This platform was like an OnlyFans but for tradespeople to share know-how. On 121with, a plumber could share knowledge on how to fix a pipe, as opposed to OnlyFans, where the plumber would simply share a picture of his pipe.
121with wasn't a huge success – but the idea seemed sound. Stokley, who isn't afraid to make adjustments, then made his triumphant return to the adult entertainment industry like Rocky Balboa coming out of retirement to avenge the death of Apollo Creed.
He started the platform out with 10 users on the minimum viable product in 2016 including Dannii Harwood. Today Dannii has parlayed her on-camera work into running a management company with more than 200 OnlyFans creators as clients. She was recently found defending the company to NYTimes, stating that OnlyFans, "didn't have much choice," in regards to the explicit content ban.
Founder Tim has since sold 75% of the company to Florida-based internet porn baron Leonid Radvinsky. He is known for starting MyFreeCams and has a history with referral sites like UltraPasswords, which was a site where people thought they were getting hacked passwords, but it was actually an affiliate marketing website to drive traffic. Which upon further research, is probably one of the more savvy digital marketing schemes we've ever run across.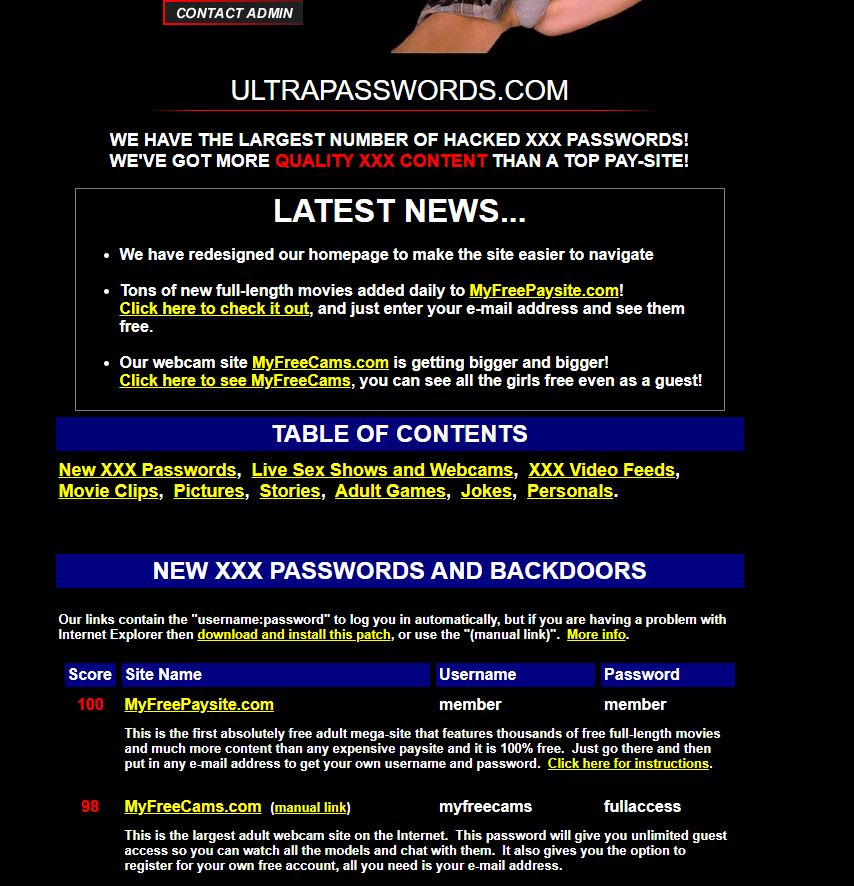 The platform started to go mainstream when Cardi B, Bella Thorne and Michael B Jordan joined. And briefly, we saw Tyga join, who left shortly after to create a platform called Myystar; essentially the same thing as OnlyFans, but with half the commission at 10% of a performer's revenue.
Aside from having mainstream celebrities hop on, we have seen other moves where the company has attempted to distance itself from its porn-friendly reputation. On August 17 in the middle of the proposed illicit content ban, they announced the launch of OFTV, a streaming platform, and app which excludes sexually explicit content. OFTV can be distributed across operating systems which do not permit porn, such as iOS and Android.
So why did OnlyFans Suspend Sexual Material?
The short answer we are told is banks and the reputational risk associated with being affiliated with OnlyFans.
So one example of a bank getting involved, was when BNY Mellon specifically "flagged and rejected" every wire transaction involving OnlyFans, threatening its ability to pay creators. Another example is JPMorgan Chase, who is "particularly aggressive in closing accounts of sex workers" or any business that supports them. And Metro Bank closed OnlyFans' account on short notice in 2019.
Bloomberg later reported that banking partners pressured OnlyFans into banning the promotion of sexually explicit material starting October 1st, 2021. The proposed restriction affected anything showing, promoting, publicizing or referring to real or simulated sex and body fluids. Although nudity will still be allowed, an email to developers of OnlyFans cautioned that zooming in too close to body parts would break the regulations.
Pornhub dealt with the same issue. In December 2020, Mastercard and Visa prohibited the use of their cards on the site, following an investigation in New York Times that revealed photos of rape and child sex abuses on the platform.
OnlyFans has had some scrutiny. For example the Canadian Center for Child Protection told Forbes their office often receives notifications about OnlyFans' models potentially being underage. And describes OnlyFans' efforts to protect underage performers as minimal.
Despite the efforts made by OnlyFans to prevent a similar fate to Pornhub, the company apparently struggled to raise funds at a valuation north of $1 billion from external investors.
Anyways, I digress….
On August 25, OnlyFans declared they would cancel the new proposal on explicit content. They stated via Twitter that, "We have secured assurances necessary to support our diverse creator community and have suspended the planned October 1 policy change."
While OnlyFans can continue to sell users sexually explicit content, many sex workers who reported that they lost subscribers after the news were upset by the actions of the corporation. Despite assurances from OnlyFans, many sex workers believed that it had abandoned its main creative base seeking some sort of capital market play, to raise money under a legitimate operation.
The events stressed the hurdles that many sex workers face when trying to create online content. Although Pornhub now relies on bank transfers and crypto-monetary payments, OnyFans will continue to pay for sexually explicit content via credit card – for the time being at least.
There are two areas of this story we find perplexing. One, the company uses CCBill for its payment processing. And as competitor AVNStars pointed out on Twitter, blaming credit cards is questionable, because CCBill specializes in dealing with credit card companies for adult entertainment companies.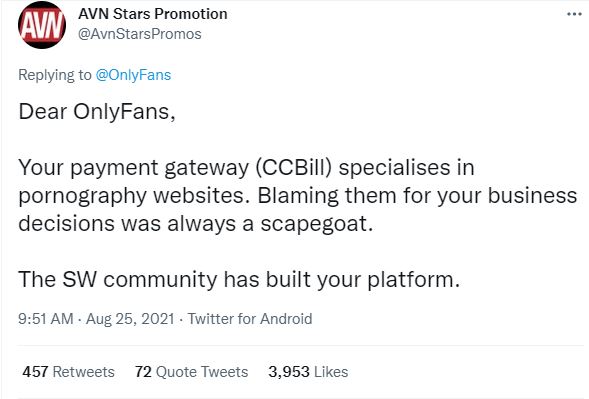 Secondly, in an article published by the Financial Times, the company claims to be sending users $300M in fees each month. This would work out to user-generated revenue of $4.5B, or commission fees of $900M annually (less referral fees). How does a company with this growth profile that grosses $900M with over 130 million users struggle to raise funding at a $1B valuation? We get it, it's porn. But being able to invest in a company that generates that much cash flow, at a valuation that likely equates to less than a 2 year payback period, sounds lucrative enough that Buffett might throw some chips on the table.
After reading this, we can't help but wonder if the recent news has everything to do with Tim and Leonid being turned down by mainstream investment bankers while seeking a go public campaign.
SmallCapSteve Final Thoughts
I am not a moral arbitrator on what is right or wrong. If anything, I hope that OnlyFans uses this as an opportunity to be stewards of creating a safe environment for their content creators who often are exposed to dangerous and toxic work environments. I get the sense OnlyFans ownership doesn't see it that way.
For every Mia Khalifia, Aaron Carter or Brandi Love there are thousands of regular folks trying to generate income to live. These creators are real ordinary people stressed about paying rent, healthcare, groceries, tuition, or their kid's karate lessons. Every time OnlyFans cancels an agreed referral fee or discusses banning the core of their community people are hurt.
Perhaps Leonid and Tim were chasing some big NASDAQ dream while trying to take their platform mainstream. Maybe they think life could be like the show Billions and they would lose the stigma of being "porn guys." But they did so without fooling anyone and causing undue stress for all their creators.
If I were them, I'd embrace who I am and what I built. I'd work to create an environment for those who choose this profession to be proud of what they do and feel safe doing it. Why? This community made them a cash flow machine that most NASDAQ tech IPOs of 2021 can only dream of. They owe it to their community.
---
Information for this briefing was found the links referenced in the piece. The author has no securities or affiliations related to this organization. Not a recommendation to buy or sell. Always do additional research and consult a professional before purchasing a security. The author holds no licenses.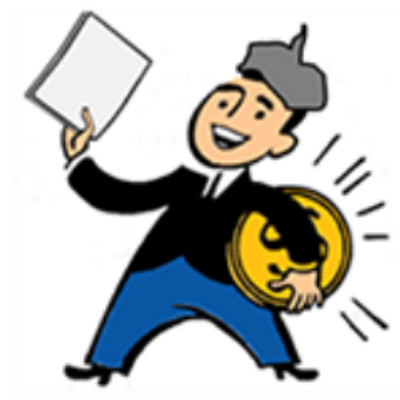 SmallCapSteve started blogging in the Winter of 2009. During that time, he was able to spot many take over candidates and pick a variety of stocks that generated returns in excess of 200%. Today he consults with microcap companies helping them with capital markets strategy and focuses on industries including cannabis, tech, and junior mining.