OpenAI Power Struggle: Employees Vs. Board Vs. Sam Altman, Explained
While the real reason behind Sam Altman's sudden dismissal as CEO of OpenAI seems to be still undisclosed, it's become an open secret that majority of the company's workers aren't taking the situation sitting down. Reportedly, more than half of the firm's employees have refused to attend meetings and have displayed blatant insubordination to the new boss, with some even threatening to leave the artificial intelligence firm.
Over the weekend, Altman was removed from the role of chief executive officer of OpenAI and also left its board, following a review by the firms board of directors. The decision is said to follow a "deliberative review process" which determined that Altman was "not consistently candid in his communications with the board," which thereby hindered its abilities to exercise its responsibilities. As a result the board is said to have lost confidence in his abilities to continue leading the company.
"OpenAI was deliberately structured to advance our mission: to ensure that artificial general intelligence benefits all humanity. The board remains fully committed to serving this mission. We are grateful for Sam's many contributions to the founding and growth of OpenAI. At the same time, we believe new leadership is necessary as we move forward," commented the board on its decision.
The move wasn't taken lightly by OpenAI employees. Several staff reportedly had sent in notices of resignations as well should Altman not return to the helm, with a 5 PM PST deadline on Saturday set for those resignations to take effect.
These actions reportedly led the board to reconsider their decision, which brought about rumors that Altman was in discussions again with OpenAI for his return 24 hours after being let go.
Set for a larger role?
The choice to not reinstate Altman as the CEO of the company responsible for ChatGPT has bewildered attempts by investors and employees to stabilize the organization by reappointing him. His dismissal on Friday, a sudden and surprising move that sent shockwaves through the tech industry, raised concerns among stakeholders. There is a worry that this abrupt decision could result in a significant loss of talent and potentially affect an upcoming $86 billion share sale.
OpenAI has chosen Emmett Shear, former Twitch executive, as the new leader of the startup, while Altman is said to be set to join Microsoft, the company's primary supporter, to head a newly established advanced AI research team.
"We look forward to getting to know Emmett Shear and OAI's new leadership team and working with them," Microsoft CEO Satya Nadella posted on social media platform X, adding that the tech giant's partnership with OpenAI is intact.
Altman and Greg Brockman, who resigned as chairman from the OpenAI board in the recent management reorganization, convened with executives at the company's headquarters on Sunday. Nadella also said that Brockman would also join Microsoft.
On Sunday, Altman shared a photo of himself on X, donning an OpenAI guest badge, accompanied by the caption: "first and last time I ever wear one of these." Additionally, in a separate X post, he echoed Nadella's message with the comment "the mission continues."
It is unclear what had transpired to make the board definitively say they lost confidence in Altman, only for a full day later for its primary backer Microsoft absorb him to lead its AI arm. OpenAI board member and chief scientist Ilya Sutskever posted on X that he deeply regrets his "participation in the board's actions."
"I never intended to harm OpenAI. I love everything we've built together and I will do everything I can to reunite the company," he said.
However, it is worth noting that a month ago, Altman's family issue with his sister, Annie Altman, received critical attention after Annie said she experienced various forms of abuse, including sexual, from her brother in a series of posts on X.
"I'm not four years old with a 13 year old 'brother' climbing into my bed non-consensually anymore. (You're welcome for helping you figure out your sexuality.) I've finally accepted that you've always been and always will be more scared of me than I've been of you," Annie wrote in a tweet.
Taxes and nonprofits
In fact, there's a huge pouring of company love among those who were thought feuding for control of the AI firm. Mira Murati, firm's CTO and the one who took the interim CEO position before it was hand over to Shear, replied a heart emoji to Altman's post professing love for the OpenAI team.
Brockman also reposted Murati's reply with a heart emoji. Seemingly, a number of OpenAI employees have followed suit.
Senior Research Fellow at Oxford University Toby Old offers a different take, however: "OpenAI was founded as a nonprofit. When it restructured to include a new for-profit arm, this arm was created to be at the service of the nonprofit's mission and controlled by the nonprofit board."
"Most coverage of the firing of Sam Altman from OpenAI is treating it as a corporate board firing a high-performing CEO at the peak of their success. The reaction is shock and disbelief. But this misunderstands the nature of the board and their legal duties," he explained.
However, due to this nonprofit status, the company's taxes have been virtually nonexistent.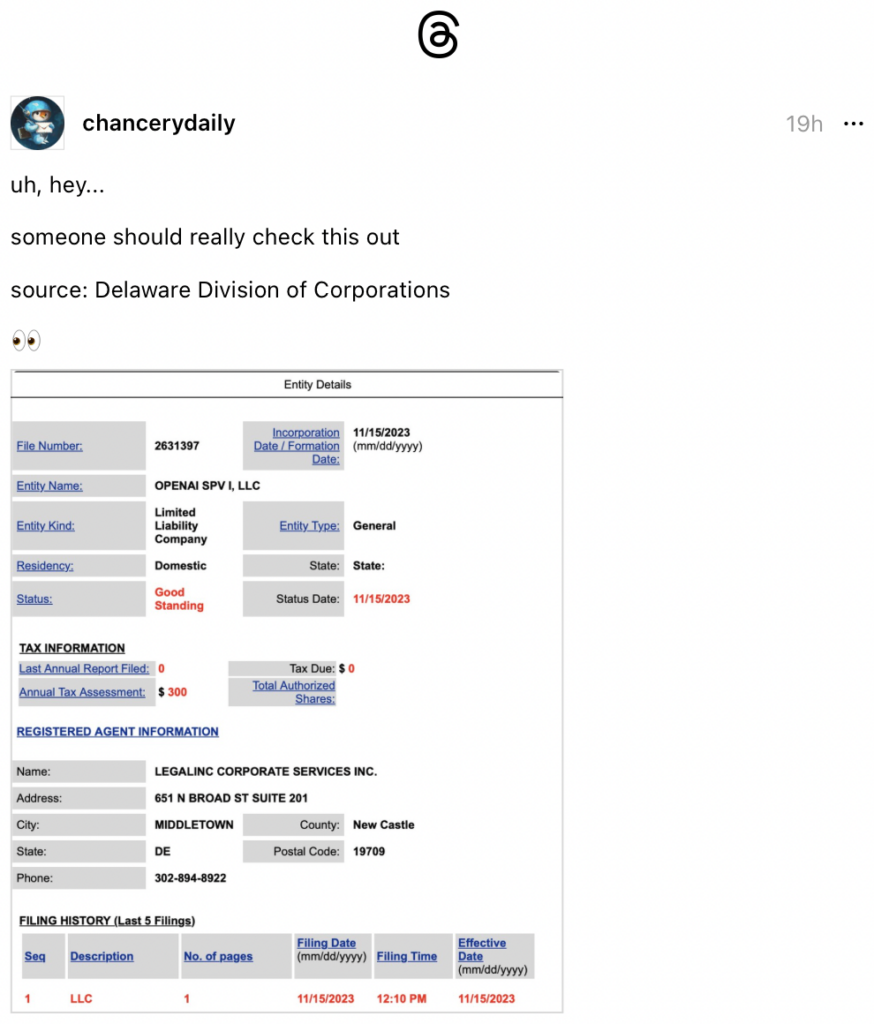 Nevertheless, it seems like all is well that ends well as Altman started posting rhetoric about unity and solidifying his commitment with Microsoft to the so called "mission."
---
Information for this briefing was found via Reuters and the sources mentioned. The author has no securities or affiliations related to this organization. Not a recommendation to buy or sell. Always do additional research and consult a professional before purchasing a security. The author holds no licenses.