Organigram Holdings: Numerous Analysts Cut Price Targets On Poor Earnings
Yesterday, Organigram Holdings (TSX: OGI) (NASDAQ: OGI) released its financial statements for the third quarter of 2020. The company reported net revenue of C$18.0 million, down ~22% quarter over quarter and below many estimates. Many analysts attributed the lower estimates to losing market share and complications from the temporary layoff of 400 employees at the start of COVID-19.
As of this morning, 7 analysts have lowered their 12-month price target, and two analysts have changed their rating on the stock.
Cormark Securities cut their price target to C$2.25 from C$3.50
CIBC cut their price target to C$2.00 from C$2.75
Canaccord Genuity cut their price target to C$3.00 from C$5.00
ATB Capital cut its rating to Sector Perform from Outperform and their price target to C$2.30 from C$4.10
Haywood cut their price target to C$2.75 from C$3.50
PI Financial cut its price target to C$3.75 from C$5.50
Stifel GMP cut their rating to Hold from Buy and their price target to C$1.75 From C$6.00
Below are the updated price targets on Organigram. The highest price target is from Raymond James analyst Ruhal Sarugaser with a 12-month price target of C$5.00, or an upside of 172%, while the lowest 12-month price target is from Andrew Partheniou from Stifel GMP with a C$1.75 target, or a downside of 5%.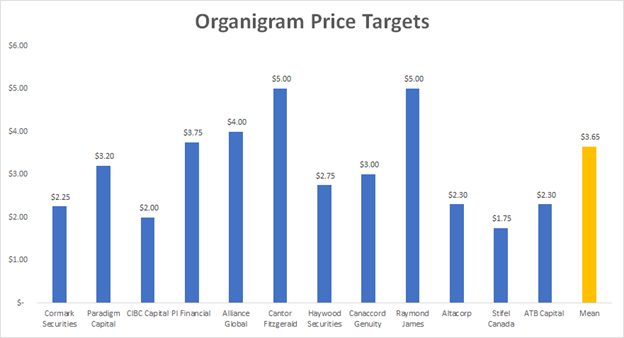 Organigrams' financials were lower than PI Financial's estimates of C$26.5 million revenue & C$0.1 million in EBITDA. Analyst Jason Zandberg notes that even though cannabis sales March to May were strong, Organigram did not benefit.
Zandberg also notes that the layoff of 400 workers at the start of the pandemic and Organigram's lack of large-format dried flower were two main reasons for the revenue decline. Writedowns were also material on the indefinite delay of Phase 4c, worth C$37.7m, with capacity now estimated to be 19 tons versus the 24 tons of capacity anticipated before the write-down.
PI Financial lowered its price target to C$3.75 from C$5.50, while reiterating its buy rating. They now forecast revenue for FY20 and FY21 to be C$85.4 million and C$142 million respectively, down from C$116.3 million and C$228.2 million, EBITDA forecasts are -C$51.6 million and C$20.5 million for the same period, adjusted from C$20.5 million and C$61.2 million.
Raymond James said they expected this quarter to be a "tough one but not quite this tough." Raymond James analyst Ruhal Sarugaser estimated revenue at C$19.4 million and an EBITDA of -C$2.6 million. In their follow up note, they title it "Mea Culpa: Resetting Our View on Organigram, Defensive During 2020, Mkt Share-Capture Through 2021," saying that they have been overly optimistic about Organigram's 2020 outlook.
Sarugaser states that Organigram missed its shot to capture market share in the high-volume, deep value cannabis segment with its single strain 28g bag, which is different from the "blended" 28-gram packs that other producers offer. Raymond James believes that they are beginning to recapture lost market share in Q4FY20 through 1H21.
Sarugaser also says that they are building a reputation as a quality 2.0 cannabis producer. Organigram's chocolate products stand out among its peers, and the company is bringing a variety of high-quality vapes to the market. The firm then goes on to say that as the market matures and consumer tastes mature, the quality products will win consumers over. Raymond James maintained its price target of C$5.00 and their Market Perform rating.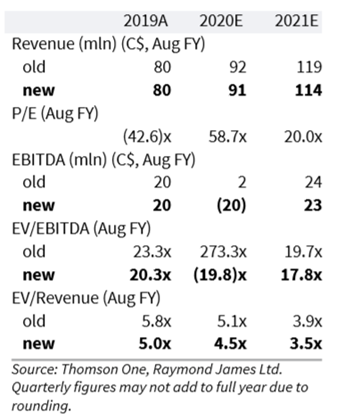 Stifel GMP analyst Andrew Partheniou notes "Q3FY20 a trough with offering to need a refresh," saying that Organigram missed all their estimates, while downgrading their outlook on the stock from a cozy C$6.00 price target to C$1.75 and rerating Organigram to Hold from Buy.
Stifel changed their FY20 and FY21 estimates as well, with a new forecast of C$84.9 million and C$165.3 million in revenue, respectively, down from their previous forecasts of C$108.2 million and C$203.2 million. EBITDA is expected to come in at C$7.7 million and C$23.7 million for FY20 and FY21 respectively, down from C$8.4 million and C$69.8 million.
Organigram also came below Canaccord Genuity's estimates of C$21.1 million for revenue, saying the large miss is because of the delay in launching its value offerings, brand changes to its Trailer Park Boys brand, and the elimination of wholesale sales to other licensed producers.
Canaccord Genuity cut their price target to C$3.00 from C$5.00, while reiterating their Speculative Buy rating on Organigram while also lowering their estimates. They state that the company's cautious near-term outlook made Canaccord flatten their domestic revenue for the rest of FY2020 and 1H21, decreasing their long-term market share in Canada from 10% to 9%, lower gross margin as more right-sizing happens, and assuming more dilution in the future.

---
Information for this briefing was found via Sedar, Refinitiv and Organigram Holdings. The author has no securities or affiliations related to this organization. Not a recommendation to buy or sell. Always do additional research and consult a professional before purchasing a security. The author holds no licenses.