Private Equity Losses Expected To Crush Pension Plans In 2023
Disappointing private equity returns in 2022, and the lag in reporting those returns, may represent a threat not just to investors, but to pension plans' ability to pay retirees in 2023. More specifically, private equity returns are typically reported with a lag of up to six months. This means that the degree to which pension plans are currently funded (or more correctly, underfunded) likely does not reflect potentially large losses incurred in the difficult second half of 2022.
This issue is especially important because private equity comprises about 11% of the assets of public pension portfolios, per a 2022 study by the American Investment Council, which analyzed 176 public pension funds representing more than 30 million public sector workers and retirees.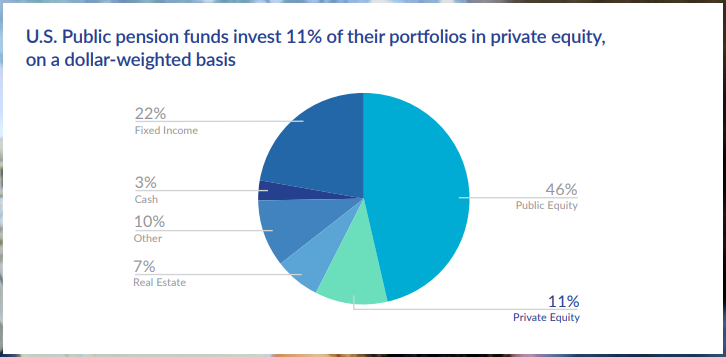 To further underscore private equity's potentially significant impact on pension portfolios, the Equable Institute reports that CalPERS' giant pension portfolio assets were at one time in 2022 down US$80 billion from a start-of-the-year asset value of US$500 billion. CalPERS manages the pension plan for 1.5 million California public employees, retirees and their families.
SoftBank's just-reported US$5.8 billion loss in the quarter ended December 31, 2022 on its startup fund division highlights this lag in the recognition of private equity losses. While SoftBank or a pension fund books a loss on a publicly traded stock it owns immediately upon a decline in the share price, private investments are much trickier to value. 
READ: What Are Current Bond Spreads Telling Us About The Economy?
A skeptic might say they are much more flexibly valued. Typically, a fund books a loss only if the private company misses internal targets or if the implied valuation from a new funding round implies the entity's value has declined.
Stated another way, investment funds generally take losses on private investments over a much longer period than publicly traded stocks. In SoftBank's case, the firm booked a giant quarterly loss due to the erosion in private equity values even though many publicly traded, risky technology stocks have rallied sharply over the first five weeks of 2023.
Recall that another large private equity investor, the hedge fund Tiger Global Management, marked the value of its private equity portfolio down 25% in 2022, according to various media reports. Perhaps that firm chose to acknowledge lower private equity values before other industry participants.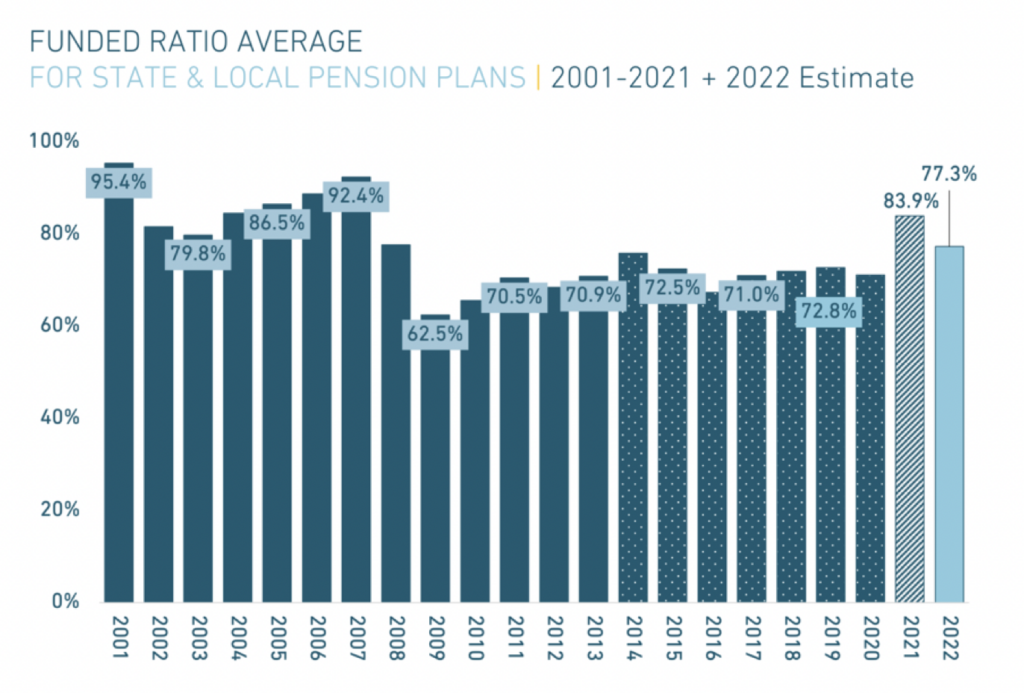 The Equable Institute projects that the top U.S. public pension plans are in aggregate just 77.3% funded as of December 31, 2022, down from 83.9% as year-end 2021. Despite U.S. states and cities making full contributions in 2022, and in some cases supplemental contributions, poor investment returns caused the steep reduction in overall funding. Furthermore, the true drop in the funding ratio may be more than 6.6%, as dramatic falls in private holdings may not be reflected in that figure.
Phrased differently, the dollar magnitude of public sector pension underfunding reached an estimated US$1.45 trillion at year-end 2022, up from US$987 billion a year ago. Before the Financial Crisis of 2008-2009, the gap was only US$240 billion.
The current situation is so bad that the Equable Institute directly stated that "most state and municipal pension plans in the United States are distressed or fragile." Fragile is classified as being anywhere from 60% to 90% funded, while distressed is classified as being 60% or less funded. At least six state pension funds fall into the latter category, while 37 state pension funds fall into the former category. Only three states – South Dakota, Washington, and the District of Columbia – are said to be 100.0% or more funded.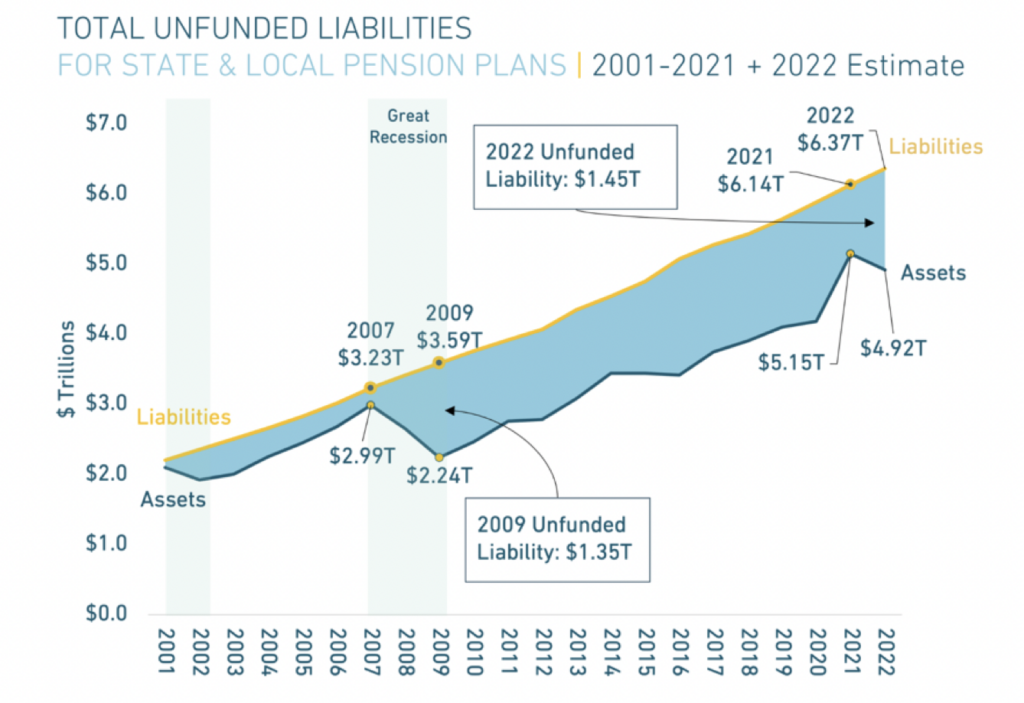 ---
Information for this briefing was found via Edgar and the sources mentioned. The author has no securities or affiliations related to this organization. Not a recommendation to buy or sell. Always do additional research and consult a professional before purchasing a security. The author holds no licenses.