Russia Mulls One-Time 200-Billion Ruble Tax From Businesses As Oil Revenues Decline
Russia is considering imposing a one-time, voluntary windfall tax on large corporations, an official said on Wednesday, as the country's monthly oil and gas revenues plummet to their lowest levels since 2020. According to three sources familiar with the discussions, authorities were discussing a one-time budget contribution from enterprises of around 200-250 billion rubles ($2.8-$3.5 billion).
"A voluntary contribution from business… is being discussed, a one-time contribution," First Deputy Prime Minister Andrei Belousov said. "The fact is that last year's financial results were very good and many companies, especially in the first half of the year… for the first three quarters, had results that were sharply higher."
Business groups, like the Russian Union of Industrialists and Entrepreneurs, counters with hiking the corporate income tax rates by 0.5% instead. But the finance ministry issued a public opposition to the business union's recommendation, claiming that while the core characteristics of the tax system would remain unaltered this year, corporations had made excessive profits in the previous two years, which needed to be examined.
"This is not a tax increase. It is a windfall tax, a concept in tax practice known as a one-time tax collection," Belousov said.
Since early December, when Western countries imposed a $60 price restriction on Russian oil exports, the price of Russian oil has dropped by roughly 20%. Urals oil is currently trading at around $56 per barrel, far below the $70 required to balance the budget.
Analysts at Credit Bank of Moscow cautioned last week that unless Russian oil prices recover in the next months, Moscow's budget deficit might reach 5.5 trillion rubles ($76.5 billion) this year, equivalent to 3.8% of GDP.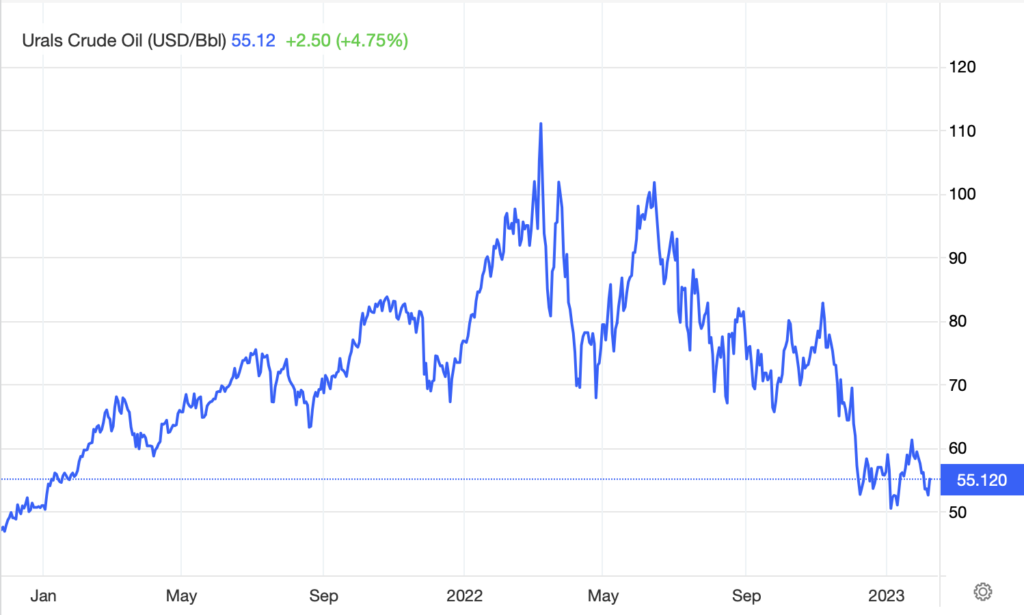 Despite this, Moscow is confident about its prospects on its oil prices. Rosneft CEO Igor Sechin said that Europe–Russia's biggest oil market–will no longer set the benchmark price for Russia's Urals crude, now that Asia has emerged as the main importer of Russian oil since the West imposed sanctions.
According to traders' early estimates and Reuters calculations, almost 70% of January-loading cargoes of Russian Urals oil are heading for India. For several months, the country has been a prominent importer of Russian production, filling the hole left by European customers.
"If Russian oil does not enter the European market, then there is no reference price. Reference prices will be formed where oil volumes actually go," said Sechin.
Russia's budget deficit increased to 1.76 trillion rubles ($25 billion) in January, as the Kremlin increased defense spending and Western sanctions began to reduce the country's oil and gas revenue.
According to the materials prepared by the Russian Union of Industrialists and Entrepreneurs, the union is attempting to fend off fresh claims. One of the primary arguments is that the budget already expects increased contributions from businesses as a result of last year's battle over exchange rate disparities. Based on the union's estimates, the entire Russian economy will have to pay 1.8 trillion rubles in income tax this year, with about 270 billion rubles going to the federal budget, due to currency differences since the ruble's collapse.
Given this huge tax, the Russian corporations now offer the government to either forget the one-time windfall tax of 200-250 billion rubles or go back to the earlier agreement to not take into account a positive exchange rate difference when paying income tax and let them pay instead via the proposed 0.5% increase on taxes.
The union stressed that the tax rate increase proposed will also deliver the desired 200-250 billion rubles.
As Russia's "special military operation" in Ukraine approaches its one-year anniversary, the government has already dramatically increased the tax burden on the oil and gas industry, the largest such increases in its history.
Expenditures increased by 59% year on year to 3.12 trillion rubles in January 2023, chiefly due to confidential plans to expand defense spending to 3.5 trillion rubles this year. Ukrainian officials have recently warned that they anticipate Russia will undertake a big offensive in the coming weeks to commemorate the first anniversary of the conflict.
The preliminary monthly numbers — the first since Western countries imposed a price restriction and partial embargo on Russian oil in December — show that the budget shortfall is already around 60% of what is predicted for the rest of the year.
Western sanctions imposed as a result of the conflict have disrupted some areas of Russia's economy, cutting off its largest banks from the SWIFT financial network, limiting access to technology, and limiting Russia's capacity to export oil.
While the Russian government and central bank have admitted "difficulties," Moscow claims its economy is resilient and that sanctions against the West have backfired by driving up inflation and oil prices.
Earlier, the European Parliament called on EU members to impose a tenth package of sanctions against Russia as soon as possible, as well as to prohibit European firms from importing uranium from Moscow.
---
Information for this briefing was found via Reuters, Financial Times, The Bell, The Moscow Times, Zawya, and the sources mentioned. The author has no securities or affiliations related to this organization. Not a recommendation to buy or sell. Always do additional research and consult a professional before purchasing a security. The author holds no licenses.