Slave Lake Zinc: Unlocking The Potential Of The O'Connor Lake Project
Slave Lake Zinc Corp. (CSE: SLZ) was formed to seek metals that are deemed essential raw materials for today's era of electric vehicles (EVs), renewable energy and other industries that are emerging to help fight climate change. The company is focusing on developing its O'Connor Lake zinc-lead project, located in the South Slave region of the Northwest Territories (NWT), found approximately 150 kilometres east of Hay River. The property includes the historic O'Connor Lake zinc, lead, copper and precious mineral deposits which were explored prior to 1952. 
What makes the O'Connor Lake property compelling is that it hosts zinc-lead-silver mineralization contained in an extensive vein fault system of hydrothermal origin. The underlying geology of the South Slave region is called the Talston Magmatic Zone (TMZ). These types of magmatic zones often host significant producing deposits of various essential minerals, including zinc. Historical data suggests that the O'Connor Lake deposit and the underlying TMZ region is highly prospective for a number of critical minerals but has been largely underexplored. Slave Lake Zinc will benefit from modern exploration methods and technologies to build upon the historic work on the O'Connor Lake Property.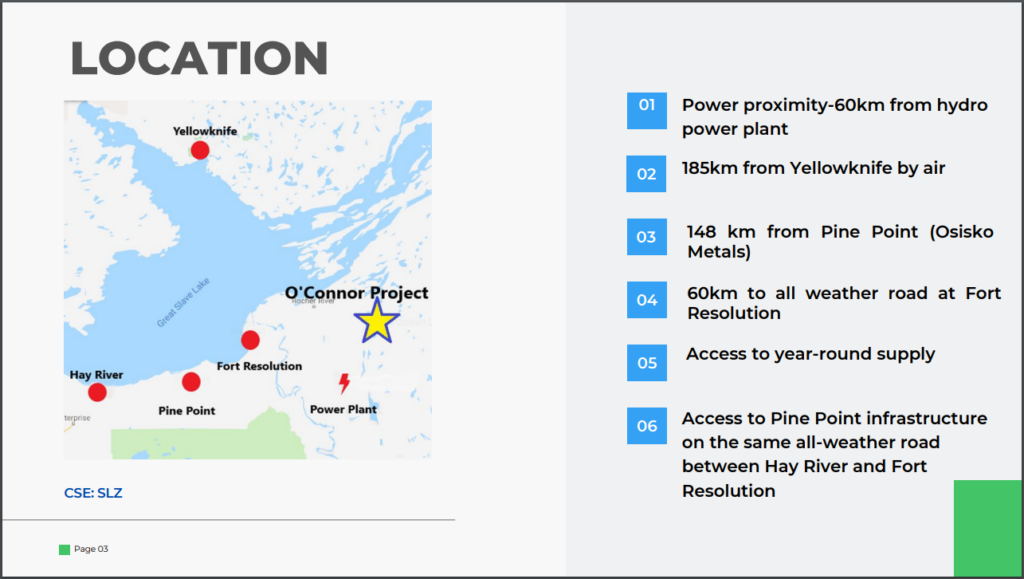 The Expanded Land Position
Slave Lake Zinc completed two very important steps in its efforts to expand its land position in the South Slave region.
Slave Lake Zinc was able to obtain the mineral rights through a "Collaboration Agreement" with the Northwest Territory Metis Nation and assistance from the NWT Territorial Government and the stakeholders in the local communities. The project now has the support necessary to advance the project, and it would be difficult, if not impossible, to have a successful operation without a buy-in from all stakeholders in the area.
As part of the support for Slave Lake Zinc, the Northwest Territory Metis Nation successfully applied to the Territorial Government to allow certain lands to revert back to the Crown (Government of Canada). With this support Slave Lake Zinc was able to acquire it's current land holding. The process took over two years to complete, but the company was then able to stake additional property claims around the O'Connor Lake property, expanding the company's holdings to approximately 76.25 square kilometers.
Land withdrawals originated in the 1990's when the Government of Canada commenced land claim negotiations with Indigenous communities and governments, and were used as a tool to protect land from development. No new mining or new oil and gas rights can be issued while a land withdrawal is in place. To free up the land, Slave Lake successfully worked with the Métis and other Indigenous communities in the South Slave region to identify properties of potential interest. Slave Lake Zinc and Osisko Metals (TSXV: OM) are the only companies that have successfully negotiated this land withdrawal process. Slave Lake now has staked a massive contiguous 76.25 square kilometre area.
Osisko is re-opening the past-producing Pine Point zinc mine, located 148 kilometres west of the O'Connor Lake property, which between 1964 and 1987 produced 58 million tonnes of ore with grades of 7% zinc and 4% lead. Previously one of Canada's largest mines, rehabilitation of the Pine Point mine will help create a railhead infrastructure that will complement the 18-megawatt Taltson hydroelectric plant that supplies low-cost power to the regional communities, including Fort Resolution, which is 60 kilometres south of the O'Connor Lake property.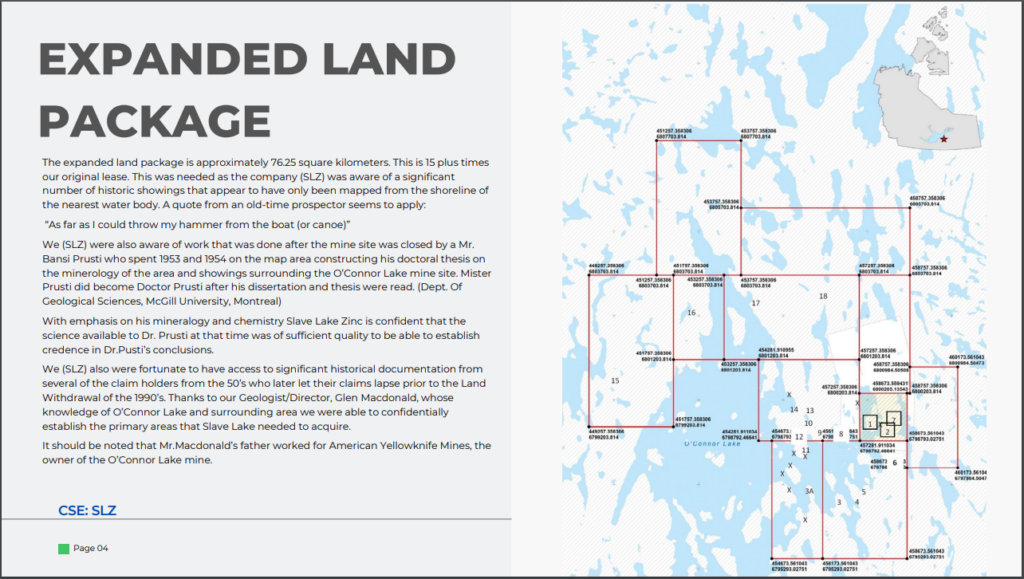 The Historics
Slave Lake Zinc's optimism about the O'Connor Lake property stems from the large amounts of historical data that was accumulated in the 1950's. In 1952, the property owner at the time, American Yellowknife Mines, indicated there was a geological resource of 67,950 tons grading 7.64% Zinc, 3.12% lead, 0.13% copper and 0.29 oz/pt silver at the property's Shaft Zone.
The Shaft Zone's historic workings include a headframe and underground drifting and has been traced by pits and diamond drilling for a length of over 400 meters. The Shaft Zone is open at depth with the deepest historic drilling intersecting mineralization down to 200 metres, which was the deepest known historic drilling. Samples from pits along the zone returned assays ranging from 10% to 27% zinc, plus lead. American Yellowknife sank a three-compartment shaft to a depth of 55 metres; and a drift station cut at 45 metres to access the vein system. Assays from a 24-tonne bulk sample returned grades of 55% lead, 13.5% zinc, and 84.4 g/t silver.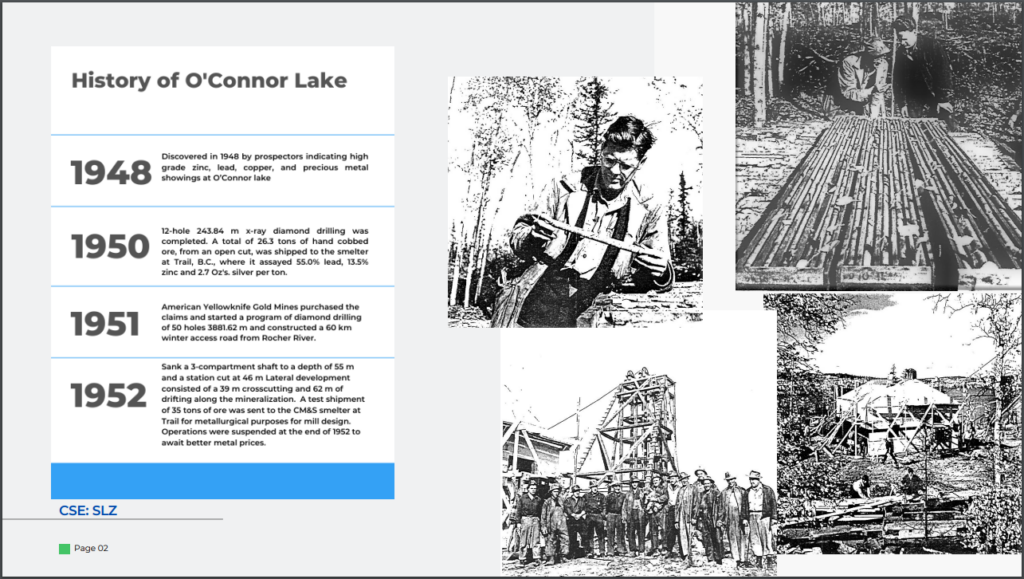 Recent Exploration
During the summer of 2022, Slave Lake Zinc conducted a short prospecting campaign to evaluate the property's newly staked claims, which cover a structural corridor trending at least 15 kilometers northwest to southeast, centered over the original lease where prior mine development was undertaken. Mineralization within the corridor is contained in North to Northwest trending structures and offset splay fractures, and there are at least 25 historic showings which require documentation, sampling, and geologic examination.
The 2022 program's trace element geochemistry from regional scale sampling of quartz vein systems over a distance of eight kilometres successfully demonstrated that a structural corridor trending North to Northwest hosts mineralization similar to the known deposit; and validates the regional scale deep seated hydrothermal magmatic source model that was postulated by American Yellowknife's geologist Dr. Prusti in 1954. Slave Lake Zinc's exploration strategy is largely based on Dr. Prusti's thesis and exploration work. The recent program also discovered a new zinc-lead mineralized zone approximately 5 kilometers north of the Shaft Zone.
Previous geophysical surveys completed by the Company identified a continuous mineralized trend over 1,100 meters in length and extending 700 meters southeast from the headframe area. Early indications are that the entire O'Connor Lake property appears to cover hydrothermal mineralized zones. A 900-line kilometre airborne airborne gradient magnetic and VLF electromagnetic survey of the property was recently completed and results will be released in the near future.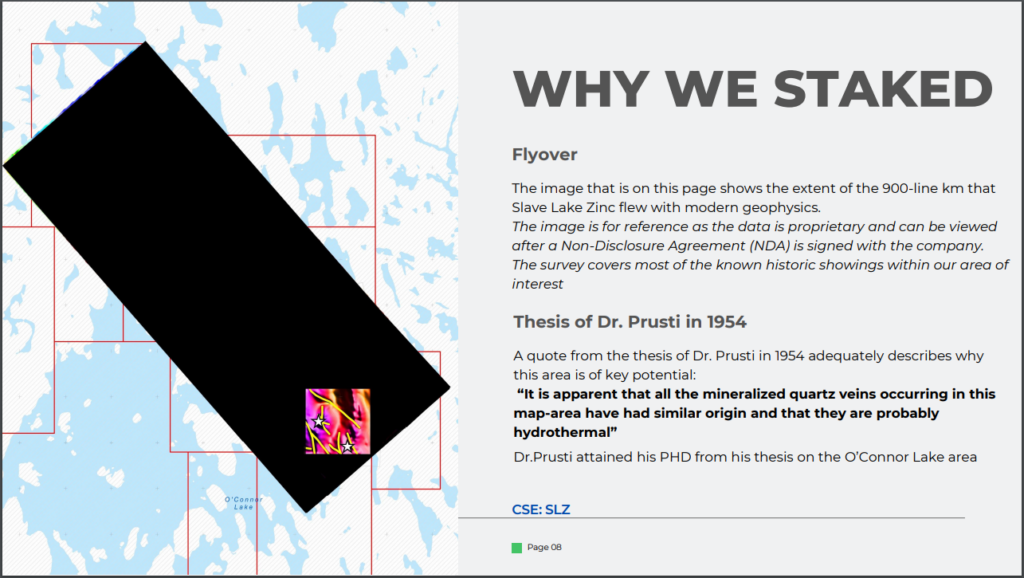 Planned Future Exploration
Once the most recent geophysical survey results are interpreted, Slave Lake Zinc will prepare for a major follow up prospecting and development program for 2023. The company will employ modern exploration techniques to follow up on the vein structures that were delineated prior to 1952 with only simplistic drilling, trench sampling, and underground methods. Due to the massive land position, SLZ will undertake a systematic approach to expanding and delineating the mineralized zones. Geophysical data supports the notion that there are many potentially interconnected mineralized vein systems, and that the O'Connor Lake property might be one huge deposit.
The company's management team has been involved in the project since 2002 and have developed strong working relationships with the region's First Nations communities and are seen as a trusted partner on the path towards creating economic growth in the region.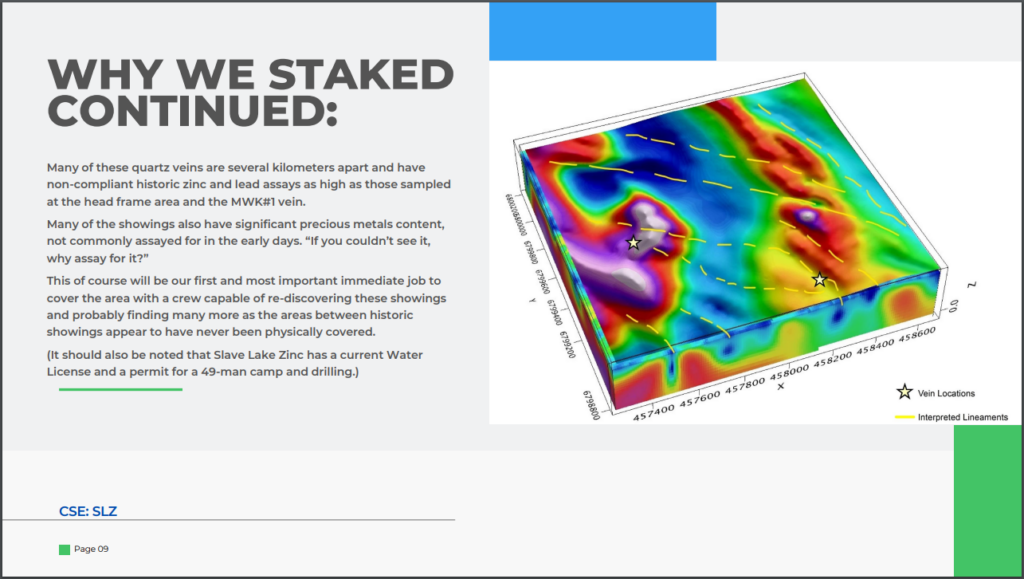 Slave Lake Zinc has 45.92 million shares outstanding and a small market capitalization of $4.59 million. If the company can demonstrate that the O'Connor Lake Property has the potential for becoming a large, economically feasible deposit, it could attract the attention of a major zinc producer and provide SLZ shareholders with a potentially lucrative exit. In the interim, more work will be needed to further develop the property.
---
FULL DISCLOSURE: Slave Lake Zinc is a client of Canacom Group, the parent company of The Deep Dive. The author has been compensated to cover Slave Lake Zinc on The Deep Dive, with The Deep Dive having full editorial control. Not a recommendation to buy or sell. We may buy or sell securities in the company at any time. Always do additional research and consult a professional before purchasing a security.