Syrian Chemical Weapons Scientist Found Living In Edmonton
In a shocking revelation, the presence of a scientist accused of aiding Syria's chemical weapons program was discovered to be in an unsuspecting Edmonton suburb. Declassified Canadian government documents suggest that Ahmad Haytham Alyafi, a chemical engineer, played a significant role in manufacturing chemical weapons for the Syrian regime.
First reported by Global News, Alyafi has been traced in a quiet cul-de-sac in Edmonton's west end.
According to Canadian government records, Alyafi worked at a military-run center responsible for producing chemical weapons for the Syrian regime from 1974 to 1994. The documents assert that Alyafi not only set up a plant dedicated to manufacturing chemical weapons but also made indispensable contributions to their production.
The Ghouta gas attack, a horrifying incident that occurred ten years ago, claimed the lives of up to 1,400 people, including numerous innocent children. It was an alarming display of the atrocities associated with chemical warfare.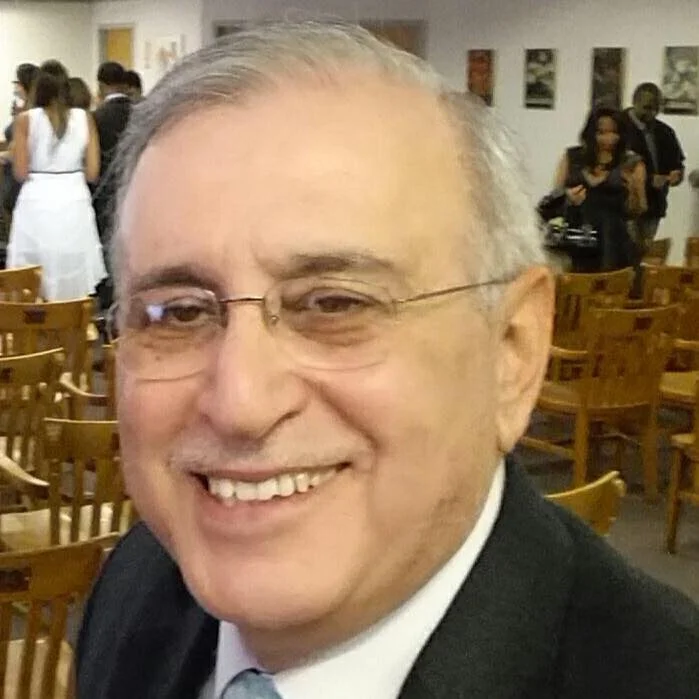 Interestingly, while rescue workers were grappling with the aftermath of the Ghouta gas attack, Alyafi had already established a comfortable life in his 2,500-square-foot home in Edmonton. His son's 2019 letter sponsoring his parents for permanent residence in Canada revealed that Alyafi actively participated in his grandchildren's lives, picking them up from school and assisting them with homework.
However, whether Alyafi still resides in Edmonton remains uncertain. Neighbors remember seeing him, but not in recent months. While his cell phone with an Alberta area code remains active, Alyafi has not responded to any attempts at communication.
Federal agencies involved in investigating Alyafi declined to comment on the case, maintaining silence about the accused scientist's activities and his presence in Canada.
Alyafi, in his bid to immigrate to Canada, vehemently denied any involvement in the production of chemical weapons, claiming that his life revolves around his son and grandchildren.
"I have no family left in Syria," Alyafi wrote in a statement as part of his bid to immigrate to Canada. "My life is my son and my grandchildren. They need their grandparents to give them extra emotional and mental development."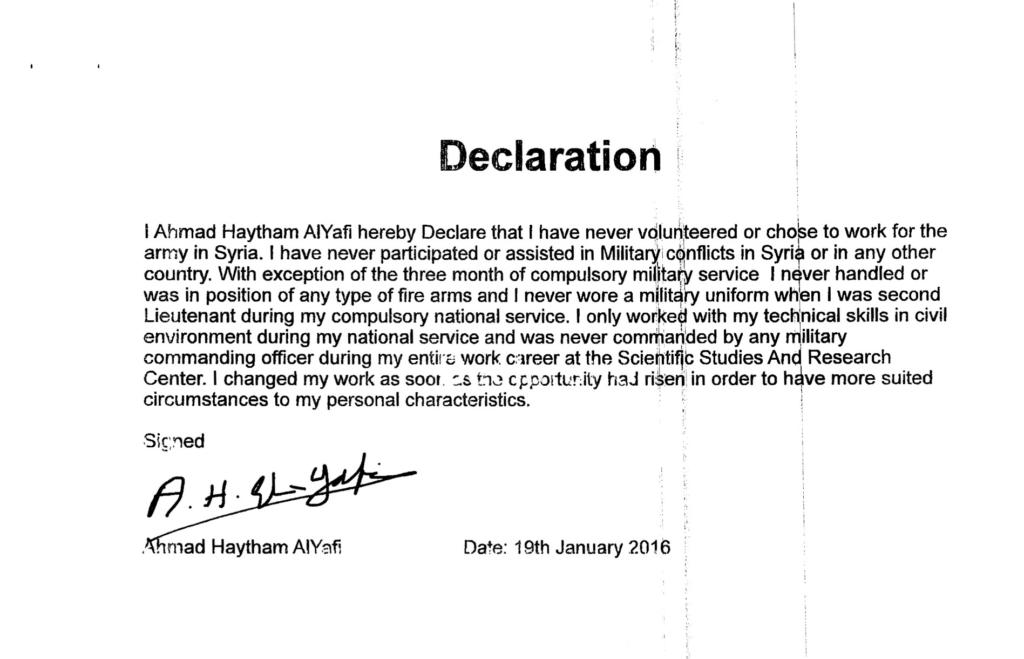 Nonetheless, Canadian government documents provide a conflicting account of Alyafi's role, clearly indicating his alleged contributions to Syria's chemical weapons program.
AlYafi and Syria
The development of chemical weapons traces back to the First World War when German forces first deployed them in 1915. Since then, chemical weapons have claimed millions of casualties worldwide, with the 1925 Geneva Protocol attempting to ban their use in armed conflicts. Nevertheless, Syria initiated a secret program in the 1970s, assigning the innocuously named Scientific Studies and Research Centre (SSRC) to develop various weapons technologies, including chemical weapons.
Alyafi's role at the SSRC, where he worked for two decades, has been described as holding a senior position. Reports from the Canadian Security Intelligence Service (CSIS) and the Canada Border Services Agency (CBSA) indicate his involvement in the pilot plant responsible for the production of chemical weapons.
Both CSIS and CBSA reports, produced in 2018 during Alyafi's application for permanent residence in Canada, contain redacted sections for national security reasons. Furthermore, documents reveal that Conservative MP Kelly McCauley's office contacted immigration officials several times about Alyafi's case, indicating awareness of the allegations.
McCauley, however, claims that such information was not shared with his office: "These are not shared with us… All we can do is check on applications."
Despite McCauley's attempts to support Alyafi's application for permanent residence, it was rejected based on his significant contributions to Syria's chemical weapons program. The CBSA deemed him a danger to Canada's security, citing concerns that his knowledge and experience could be shared with others involved in the production of chemical weapons.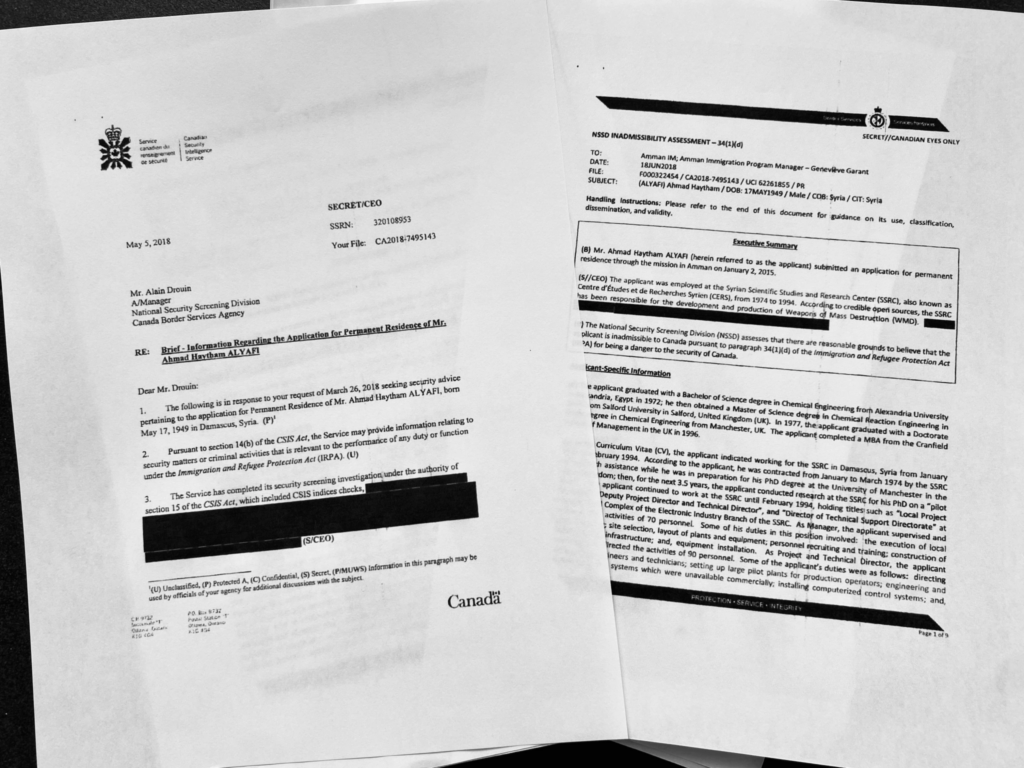 The revelations about Alyafi come at a time when chemical warfare remains a pressing concern globally. Recent incidents, such as the Russian government's poisoning of double agent Sergei Skripal and his daughter in the UK, have heightened fears of similar devastating attacks. The Canadian government, expressing support for holding perpetrators accountable, has condemned Syria's use of chemical weapons as morally reprehensible.
Efforts by the United Nations to dismantle Syria's chemical weapons program have been ongoing, and various countries, including Canada, have imposed sanctions on the Scientific Studies and Research Centre (SSRC) and its staff.
As the world grapples with the aftermath of chemical warfare, the presence of Alyafi in an Edmonton suburb raises questions about the potential for similar threats in unsuspecting locations. The full extent of his involvement and the implications for national security remain subjects of concern and investigation.
---
Information for this briefing was found via Global News and the sources mentioned. The author has no securities or affiliations related to this organization. Not a recommendation to buy or sell. Always do additional research and consult a professional before purchasing a security. The author holds no licenses.