The Rise And Fall Of Canopy Growth
"I believe every gram produced in Canada for the next five years will be sold. So it's who can produce the most grams."
That's a quote from Chuck Rifici, one of the founders of what turned into – at least for a time – the largest cannabis company in the world. Flash forward a few years and just last month, Canadian Investment Bank Eight Capital gave that same company, Canopy Growth (TSX: WEED), a $0 price target.
You heard that right, $0.
The once industry leader in cannabis stocks, who hit an all time high share price of US$55 and a market cap over $20 billion, is starting to look like a zero. What's the story? How did they become a market leader only to fizzle out? Why isn't cannabis that lucrative of an industry in Canada?
Let's dive in.
The beginnings of Canopy Growth
Lets go back to early 2013, when a small company by the name of Tweed was formed, with the hope and dream of capitalizing off the back of the idea that Canada might legalize recreational cannabis.
To start, Tweed acquired a 168,000-square-foot facility that in a previous life was a Hershey's chocolate factory, and the lifeblood of the small town of Smith Falls, Ontario. Soon after, Tweed received its medical cannabis license. It was one of only 13 at the time, which allowed for the company to cultivate and sell cannabis in what would become known as the "Pot Capital of Canada."
This was just the beginning, though, with the company electing to go public in April 2014 to easily access capital for further expansion. Tweed managed to raise $30 million as part of this effort, while pinning down a $90 million valuation.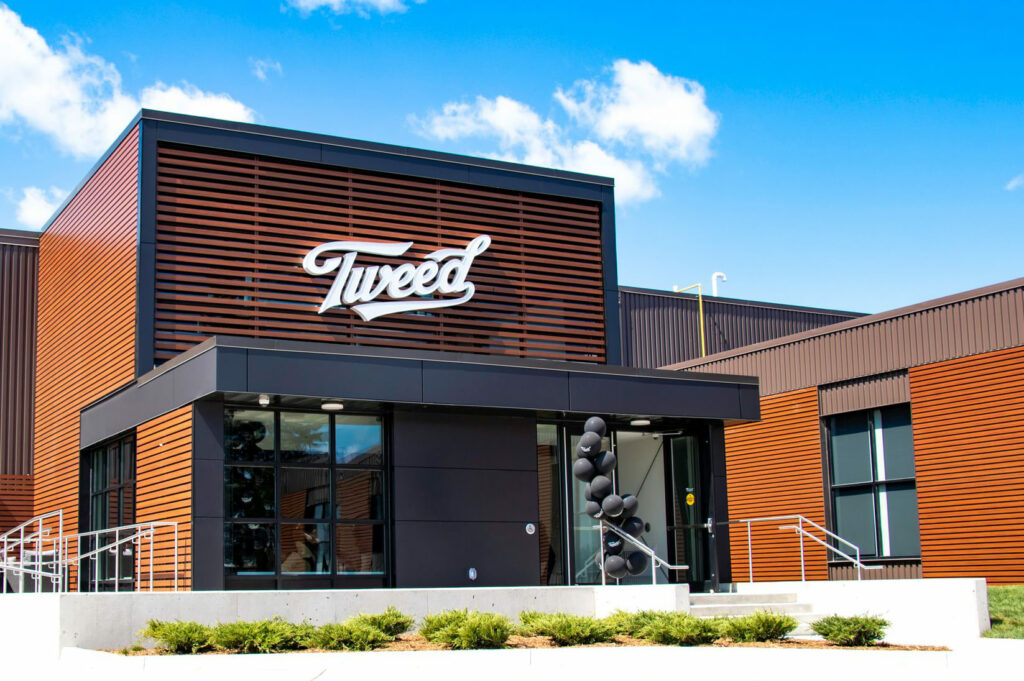 Despite the outward facing success, internally, there were struggles. Co-founder and CEO Chuck Rifici, whom notably was the former CFO of the Liberal Party of Canada, was kicked from his role by August, and from the board the following month, with fellow co-founder Bruce Linton replacing Rifici at the helm.
The internal turmoil hinted at the pressures of operating a startup in an emerging industry.
With Linton at the helm, it signaled a new phase for the company. A few short months later the company acquired Bedrocan Canada, its biggest competitor in the market, in an all-stock deal valued at $61 million. It was the first of countless acquisitions which set the stage for the company to be renamed to Canopy Growth in September of 2015.
Political change
Concurrently, political change was brewing. The Liberal Party, led by Justin Trudeau, showed strong support for the legalization of marijuana.
In September 2015, Trudeau declared that the Liberals were committed to legalizing marijuana to rectify a "failed system" and to eliminate the criminal element associated with the drug. Following Trudeau's election, he affirmed that a Liberal government would immediately start working on a policy for the legalization and regulation of marijuana. This political backdrop set the stage for Tweed's impending success.
Investors, not wanting to let other people make money, took to the Canadian public markets looking for investment opportunities. And they found Tweed, who didn't waste time capitalizing on the potential market expansion due to legalization.
By November of 2016 Canopy became Canada's first cannabis unicorn with a $1 billion valuation, positioning itself as having first mover advantage in a booming industry, while focusing on a growth at any cost model that saw them acquire countless peers.
Rise of Canopy Growth
This model proved successful. Canopy was catapulted to the pinnacle of the cannabis industry, viewed by all as the market leader amid a constant stream of new entrants hitting the markets with hopes of obtaining a license to grow the devils lettuce.
The success seen by the company culminated in a landmark investment from Constellation Brands in August 2018. Constellation invested $5 billion Canadian in Canopy, which remains one of the largest investments into a cannabis company from an external entity and was meant to legitimize the company's business model.
Canopy was not just idly raising funds; it was aggressively expanding its production capabilities and making strategic acquisitions. The company expanded to 5.6 million square feet of cultivation space across approximately 10 growing sites.
The momentum continued, and on October 15, 2018, Canopy reached its all-time high stock price of $73.75 Canadian, just two days before the legalization of cannabis in Canada.
The legalization of cannabis in Canada on October 17, 2018, was a watershed moment for Canopy and the industry at large. The Cannabis Act came into effect, legalizing and regulating the production, distribution, sale, import and export, and possession of cannabis for adults.
Canopy was at the forefront of this new era with the first legal cannabis sale in Canada made at one of Canopy's shops in Newfoundland.
While the moment was historic for the country, it signaled something much worse for Canopy – the beginning of reality.
The downfall of Canopy Growth
In the initial months following the legalization of cannabis in Canada, the country faced an unanticipated shortage of legal cannabis. At the beginning of 2019, there were projections that this shortage would last until 2022.
As time went on however, investor interest started to wane.
In an attempt to regain the investors' imagination, Canopy announced that it would be acquiring Acreage Holdings, which at the time was a leading multi-state American cannabis operator, for US$3.4 billion. The challenge to the deal was that they legally couldn't own an American cannabis company while being listed on senior exchanges like the NYSE and TSX.
So Canopy resorted to financial engineering to lock themselves into a series of assets they weren't legally allowed to own, and even worse couldn't capitalize to the extent they needed to, which didn't necessarily give the market the push they had hoped.
As the year progressed, production surged in Canada. By the end of 2019, the Cannabis Council of Canada stated that there was ample supply for the recreational market. This rapid escalation from a shortage to a surplus reflected the oversaturation of the Canadian cannabis market.
Canopy was particularly impacted by the fluctuations in the market. In 2019, the company reported a substantial quarterly loss of $374.6 million. The oversaturation of the cannabis market, combined with missteps in strategy, began to take a toll on Canopy's financial performance and would set the tone for Canopy's future.
CEO Bruce Linton, who had built the company under this growth at any cost model, was forced out in July.
After a short stint in the CEO role by Mark Zekulin, David Klein, a Constellation Brands veteran, was named as the new CEO. Many believed he got into this predicament as a result of suggesting Constellation's major investment into Canopy.
With the hype of legalization waning, the valuation of Canopy was hit hard. By December 2019, Constellation Brands indicated that it had no plans for further investment. The Canadian cannabis landscape was developing slower than anticipated, and Canopy was facing profitability challenges.
Cost cutting measures started to come into effect. Two facilities were closed in March 2020, impacting 500 jobs, a figure which grew to 800 by May. When that wasn't enough, in December of that year five facility closures were announced at once, along with a further 220 job cuts.
The impact on investors was significant. Canopy, which had a market capitalization of around C$24 billion at its peak in early 2019, saw 2020 close with the company valued at just $11 billion.
And finally, the investors who were convinced that the Canadian cannabis markets were going to make them rich when these companies could finally start to sell cannabis, started to wake up to the realization that expectations were set far too high.
Back to reality
The advent of 2021 did little to bolster Canopy's position within the market. With waning investor interest and less dollars flowing into the space, Canopy continued its efforts to achieve profitability but struggled to achieve its goals.
By October 2022, the company announced plans to break up parts of the business. It's US assets would be moved into Canopy USA, LLC, which would hold interests in Acreage Holdings, TerrAscend, Jetty, and Wana. It's Canadian assets meanwhile would see the sale of retail operations, which closed in January, while its Canadian cannabis operations would become a standalone business unit. This, naturally, resulted in the elimination of 55 more employees.
This series of layoffs and restructurings were indicative of the company's struggle to stabilize its operations.
Canopy today
Now here we are, the summer of 2023 and Canopy has been making desperate efforts to right the sinking ship.
In February, the company announced plans to lay off 800 workers and close some facilities, including its flagship production facility in Smiths Falls, Ontario. As part of its "asset-light" strategy, Canopy ceased all internal production of edibles, beverages, vapes, and extracts, opting to source these products from third parties.
A move that demonstrates just how strange the cannabis landscape has gotten to, when the company who spent more on capital expenditures than anyone, is using third parties.
The issues didn't stop there. The company came under scrutiny for its internal controls over financial reporting. After uncovering "misstatements" for the accounting of its BioSteel segment, it resulted in delayed 2022 financial results and the refiling of prior financial statements.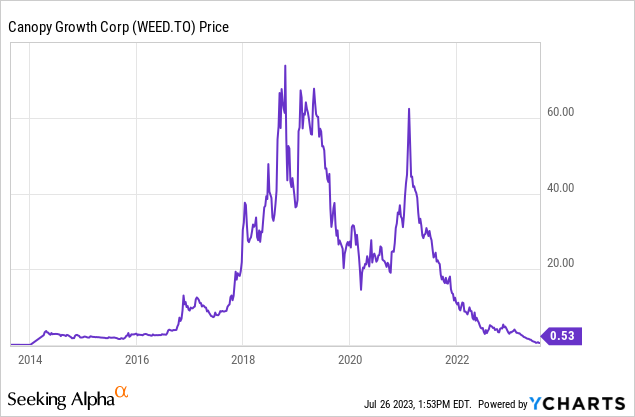 When the results were finally filed, they painted the picture of a rapidly deteriorating operation while also disclosing an SEC investigation over the BioSteel misstatements.
As of the most recent filings, Canopy has about $600 million in cash and cash-equivalents, and total debt of roughly $1.2 billion. Analysts predict that by March 31, 2024, the company's cash reserves will dwindle to $275 million, after having squandered billions in investment.
Multiple analysts meanwhile have ascribed $0.00 price targets to the company, with one analyst referring to the company as being on "the last puffs of the roach."
The company's valuation meanwhile has hit terminal velocity, dropping to just $378 million.
Wrapping it up
Lets wrap it up.
If ever there were a "rise and fall story" – this is it.
From humble beginnings betting on a legislative change, to a valuation of $24 billion, Canopy soared on insane optimism from naïve investors, and those who thought the company was going to – quite literally – change the world.
However when reality hit, investors couldn't get away from the sinking ship fast enough.
There are countless lessons that can be taken from the Canadian cannabis boom, for which Canopy was the poster child.
For many, it was their first time being exposed to the market, operating under the premise that a new industry would make them overnight millionaires. They heavily concentrated their investments in a single industry, naively refused to listen to detractors or experienced investors, and formed cults around their favorite stock pick or executive team member.
Today in Canada, zero public operators consistently generate meaningful positive cash flow. Sure there are a few that do a little better than breakeven, but still it pales in comparison to the billions and billions of dollars invested in a market that isn't that lucrative. Perhaps the industry is over taxed, perhaps the illicit market is too hard to compete against, or perhaps growing something called 'weed' isn't meant to build a Coca-Cola style brand around.
The reality is, is that investor demand in cannabis stocks was substantially higher than the demand to smoke the actual product. And now we can only hope their can be a rebound for investors who stuck around.
---
Information for this story was found via EDGAR, Reuters, CBC News, Globe & Mail, and the sources and companies mentioned. The author has no securities or affiliations related to the organizations discussed. Not a recommendation to buy or sell. Always do additional research and consult a professional before purchasing a security. The author holds no licenses.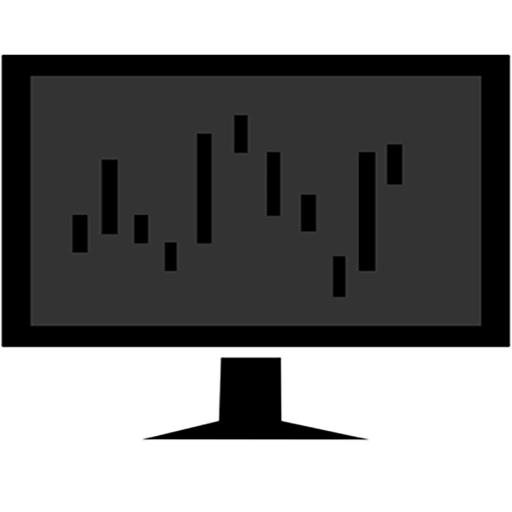 As the founder of The Deep Dive, Jay is focused on all aspects of the firm. This includes operations, as well as acting as the primary writer for The Deep Dive's stock analysis. In addition to The Deep Dive, Jay performs freelance writing for a number of firms and has been published on Stockhouse.com and CannaInvestor Magazine among others.