The Tesla Investor Day That Wasn't For Investors
Tesla (Nasdaq: TSLA) shares fell more than 5% in after-hours trading on Wednesday following the electric vehicle maker's 2023 Investor Day presentation in Austin, Texas where it teased a "next generation" platform but did not reveal many details at a much-anticipated event.
Elon Musk, Tesla's CEO, took the stage to describe his "Master Plan 3" and how the company aims to scale up in the face of increased competition. He began with a wide, all-encompassing vision of how to lead humanity to a more sustainable future.
"There is a clear path to a fully sustainable earth, with abundance," Musk said. "What we're trying to convey is a message of hope and optimism."
Musk informed the audience at the opening that he envisioned an investor day for "anyone invested in Earth" and not just shareholders, adding that he intended to convey "hope and optimism based on actual physics and calculations."
Tesla shares have somehow recovered from its tumble in 2022 and are up more than 88% year-to-date. However, the price declined 1.43% on Wednesday prior to the event, and is currently down over 7% in pre-market trading this morning.
Some Tesla investors and shareholders have been increasingly worried about the company's stock performance, citing Musk's focus on Twitter since the buyout as a potential distraction.
Next gen?
Regarding the transition to EVs, Tesla displayed a slide of its future vehicles, and the presentation displayed two undisclosed automobiles: a van or SUV-like vehicle and what appears to be the generation 3 platform. Notably missing however was the Roadster, which the company has been taking deposits on.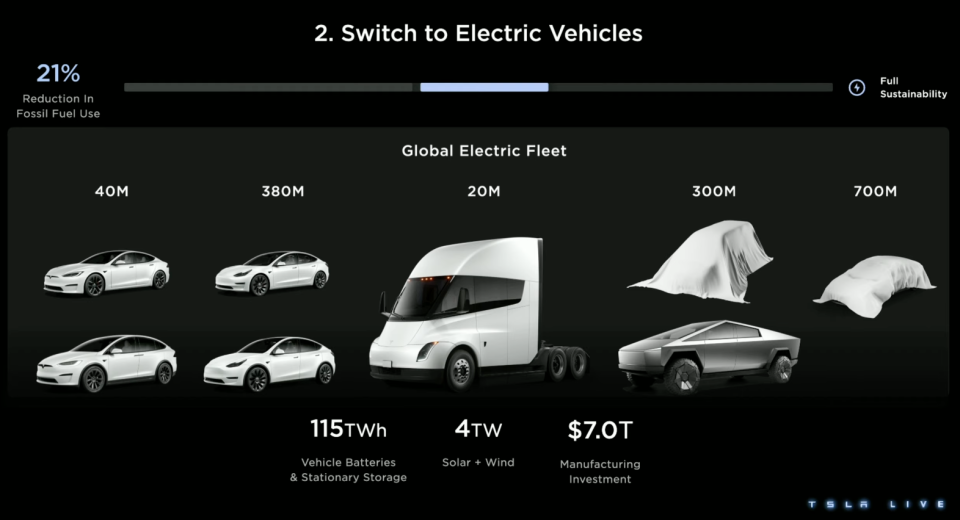 Tesla officials restated their ambition of producing 20 million electric vehicles per year by 2030. In 2022, the business reported full-year deliveries of approximately 1.31 million automobiles.
Tesla's China chief Tom Zhu also stated that as of Wednesday, Tesla had produced 4 million vehicles.
"It took us 12 years to build the first million, and about 18 months to the second million. The third million, 11 months. Then less than 7 months to build the 4 millionth," he touted.
The talk then moved on to vehicle design and discussion of the generation 3 vehicle. Tesla Head of Design Franz von Holzhausen disappointed investors by stating that the next generation vehicle will be unveiled at a later date and that Tesla will only be addressing the platform.
Tesla aims to reimagine production – it started with the Model Y, which included the battery as a structural component of the vehicle floor. This type of architecture, according to Tesla, will decrease costs by 50% and lower plant footprint by 40% – all as part of the generation 3 platform design.
Toward the close of a four-hour investor day presentation, Musk dodged a question regarding the new vehicles' performance and appearance, the prototype timeframe, and where Tesla would begin production.
"We will have a proper sort of product event, but it would be jumping the gun if we answer your questions [now]," Musk said, before asking for other questions from an audience of mostly Wall Street analysts.
Prior to the day, Reuters reported that according to three people with knowledge of the idea, Tesla is preparing a manufacturing overhaul of its best-selling Model Y.
According to two of the persons who asked not to be identified because the plans are private, the Model Y improvements encompass the appearance and inside of the crossover electric vehicle, with the project code-named Project Juniper at Tesla. Production is expected to begin in 2024.
This follows Tesla being forced to recall some under 363,000 vehicles equipped with full self-driving feature by the National Highway Traffic Safety Administration.
Home charging
Tesla charging leader Rebecca Tinucci stated that the business will supply 9 terawatt hours across all charging methods in 2022, including home charging and 40,000 Superchargers. She also stated that approximately half of the company's Superchargers in the EU are open to other vehicles, and that the company recently opened 10 Superchargers in the US to non-Teslas.
Related, Tesla reportedly plans to offer unlimited overnight home charging in Texas for $30 per month, mirroring the shift in mobile-phone bills.
Power traders have long predicted that power will become so cheap that earnings will be driven more by selling services than by selling megawatts. That may be happening now in Texas, and it corresponds to a long-ago transition in the mobile-phone market, from set numbers of minutes per month to unlimited contracts.
Gigafactory Mexico
At a press conference on Tuesday before of the 2023 Investor Day, Mexico President Andres Manuel Lopez Obrador announced that Tesla had decided to establish a big facility in Monterrey, Mexico. He stated that Tesla committed to use recycled water and take other measures to address the region's water scarcity.
Musk confirmed the plans for the factory on Wednesday, saying that production there would supplement, rather than replace, output at other Tesla locations.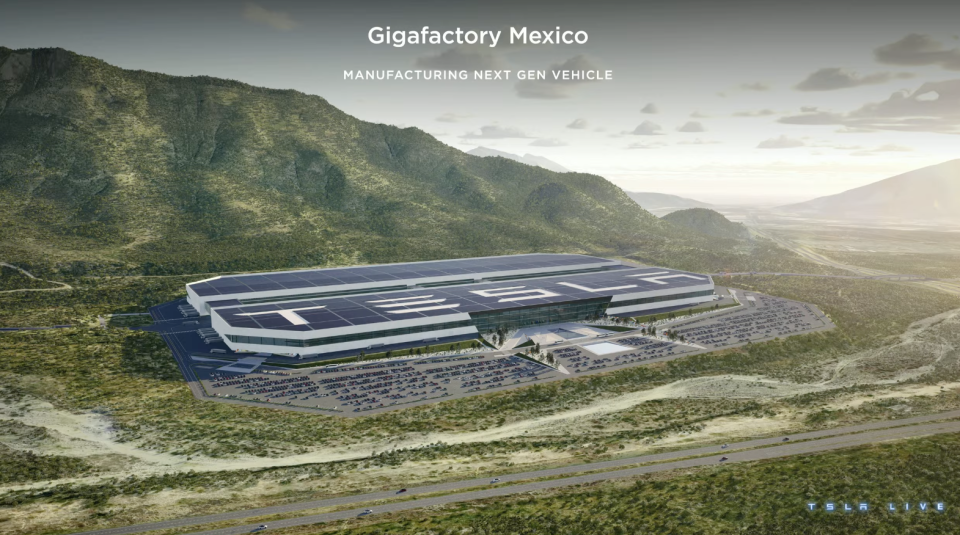 Tesla predicted an installed annual capacity of roughly 1.9 million vehicles by the end of 2022, and Musk has speculated that Tesla will require 12 gigafactories in total to create 20 million vehicles per year.
Promises
While Musk is already talking about the third phase of his master plan, Master Plan Part Deux, published in 2016, has yet to be completed. Some of its ambitious objectives include:
"Create stunning solar roofs with seamlessly integrated battery storage"
"Expand the electric vehicle product line to address all major segments"
"Develop a self-driving capability that is 10X safer than manual via massive fleet learning"
"Enable your car to make money for you when you aren't using it".
Chief Financial Officer Zachary Kirkhorn discussed how Tesla was decreasing costs and planning to minimize operating costs for owners of the next-generation but still-unreleased vehicle platform.
Kirkhorn did not discuss long-term financial targets, which is a regular provision during investor-day presentations, and the live stream on Musk's Twitter site was interrupted during his presentation due to a three-hour time constraint.
During a question-and-answer session following the three-hour presentation, executives were asked how Tesla could increase its market share in China.
Musk passed the question to Zhu, who said, "as long as you offer a product with value at affordable price you don't have to worry about demand." He added: "We try everything to cut costs… and pass down that value to our customers."
The chief executive echoed with, "Demand is a function of affordability not desire… Even small changes in the price have a big effect on demand."
The initial so-called master plan, published in 2006, highlighted Tesla's approach of beginning with an expensive and highly desired sports car as a launch pad and funding source for future affordable EVs.
Tesla posted mixed fourth-quarter numbers in late January, with revenue slightly below Wall Street projections, but injecting some optimism in its production outlook for 2023 and promising to cut costs quicker.
---
Information for this briefing was found via Reuters, CNBC, Market Watch, Yahoo Finance, and the sources mentioned. The author has no securities or affiliations related to this organization. Not a recommendation to buy or sell. Always do additional research and consult a professional before purchasing a security. The author holds no licenses