Tesla: Lost A Twitter's Worth In A Day, Dropped From US Top 10 Public Firms
But ARK Invest CEO Cathie Wood somehow sees something to still load up more than 25,000 shares of the electric vehicle giant.
Tesla (Nasdaq: TSLA) continues to plummet to record lows as the firm's shares last closed at $112.71, declining by 19% just in the last five days–which coincidentally are some of the firm's highest volume days. This is the lowest the firm has traded since August 2020.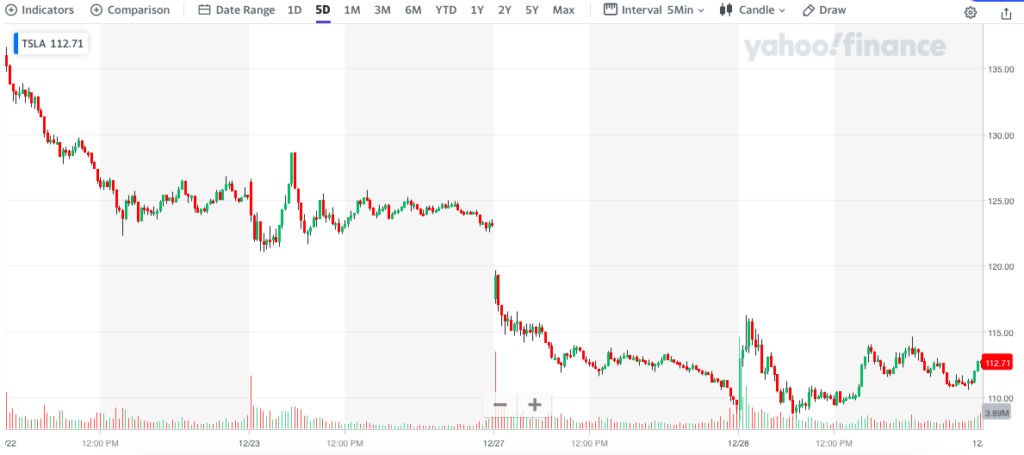 READ: Tesla Trades Like a Falling Knife, Yet It's P/E Multiple Is Much Higher Than Its Comps
Just on Tuesday alone, Tesla lost more than $45 billion from the decline in its valuation, which is more than what its CEO Elon Musk paid Twitter for at $44 billion.
Year-to-date, the firm has lost around 72% of its valuation, plummeting its market capitalizations down to around $353 billion. These latest declines unseated the electric vehicle maker from the top 10 biggest US public firms based on market cap.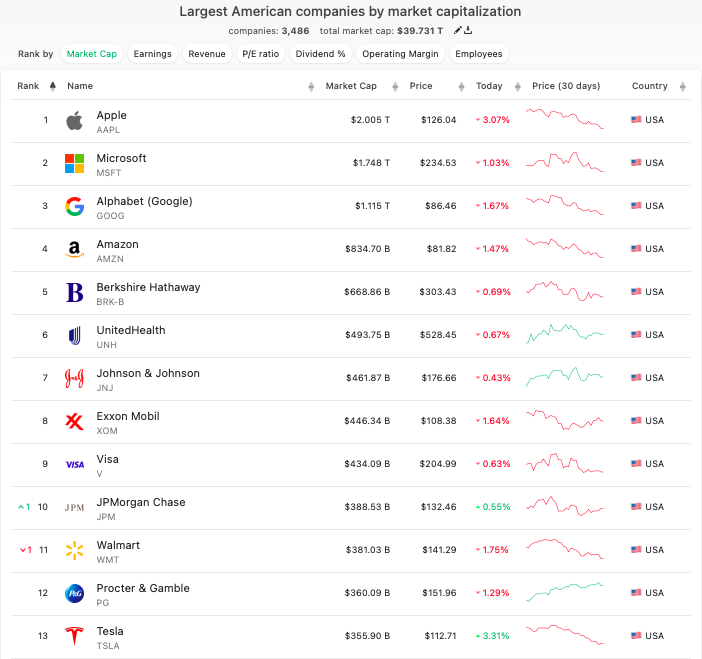 But ARK Invest CEO Cathie Wood remains unfazed. After loading up around 75,000 Tesla shares before Christmas in her flagship ARK Innovation ETF, the portfolio manager added 25,147 shares on Tuesday.
This puts the total number of shares purchased by Ark Invest during Tesla's seven-day losing run, which began on December 16, at 133,194 shares.
READ: Sinking ARK: Cathie Wood's Fund Lost $50 Billion So She Bought Some More Shares
Contrary to Wood, the falling share price does not sit well for some investors. While technology stocks suffered generally as the Federal Reserve raised interest rates to combat inflation, fears of Musk's focus shifting to Twitter away from Tesla continue to chip away at the confidence in the carmaker.
Musk, however, has made some gains, selling around $7.4 billion of his shares in just the past two months–coincidentally, the same period since he took over Twitter. Year-to-date, Musk has sold Tesla stock to the tune of nearly $40 billion.
The share sales have been particularly noteworthy after the CEO claimed before that no more "planned sales" will happen for the year.
READ: Tesla Wins In 2022, But Not For Its Investors
Musk, who seems to be preoccupied with managing his newly-bought social media platform, is feared to have been losing grip in managing Tesla. His controversial policies and engagements on Twitter–including the recent tirade branded as Twitter Files, which are particularly focused on Dr. Anthony Fauci–are viewed to be hurting his reputation that extends to the electric vehicle maker.
READ: Tesla Taking A Hit As Elon Musk Focuses On Twitter
However, Musk seems not a bit worried about the declining valuation, saying that it is the "legacy media [who] should worry about its reputation."
Used Tesla prices are falling faster than those of other carmakers, and the clean-energy status symbols are staying on dealer lots for longer, according to industry statistics provided to Reuters.
In November, the average price for a used Tesla was $55,754, down 17% from the July peak of $67,297. The overall used car market showed a 4% dip throughout that period, according to Edmunds data. Used Teslas were also in dealer inventory for an average of 50 days, compared to 38 days for all used automobiles.
Rising gasoline prices, a result of the Ukraine crisis, spurred demand for Teslas, one of the market's few long-range electric vehicles. The carmaker boosted its pricing quicker than competitors, increasing its profit margins, with customers of some new Teslas took advantage of the surging market to profitably sell their relatively new cars, then order new ones, increasing demand for Tesla's new automobiles.
Now that gasoline prices are falling, interest rates are rising, Tesla output is increasing, and EV competition is expanding, used Tesla prices are falling faster than the market, causing a cascade effect on new Tesla prices.
On top of the falling valuation and prices, Tesla continues to face production hurdles–specifically at its Texas gigafactory–due to recruitment hurdles and a problematic employer image. Comparatively, when the Berlin gigafactory first launched in March, the goal was to build 5,000 vehicles per week by the end of the year–even stretching this out to construct half a million Teslas in Berlin in 2022, as Musk told German media. However, it is far from meeting its objectives due to serious recruitment issues—the company has only hired 7,000 individuals out of a planned 12,000. 
READ: Tesla Misses Berlin Gigafactory Production Target As Hiring Continues To Be A Problem
According to sources who told Electrek, Tesla informed its staff that it is adopting a recruiting freeze and has confirmed that another round of layoffs will occur in Q1 2023. The carmaker's chief has provided different explanations for the layoffs to different persons, including that he has a "very bad feeling" about the economy.
The reported move comes after Musk told Tesla executives in June to "pause all hiring" and cut 10% of staff, only to reverse the decision and started growing the workforce again towards the second half of the year.
The carmaker is also reportedly halting the production at its Shanghai facility, after planning to reduce output by at least 20% to bring capacity levels just on par with October and November.
---
Information for this briefing was found via Reuters, Seeking Alpha, and the sources mentioned. The author has no securities or affiliations related to this organization. Not a recommendation to buy or sell. Always do additional research and consult a professional before purchasing a security. The author holds no licenses.