The Totally Practical, Not Even Slightly Sarcastic or Frustrated, Investor's Guide to SEDAR – Part Two
Welcome back!
The first step to using SEDAR is figuring out how to find the information that will help you in your research, analysis, and/or social media shit posting.
Unfortunately, you can't just type "Aurora Cash Position" or "Canopy Executive Pay" into the search bar to get the answers you seek. Rather, each company has their own Profile Page, which links you directly to their comprehensive list of documents. The first part of learning how to use SEDAR is figuring out how to arrive on your target company's profile page – don't worry, there will be pictures.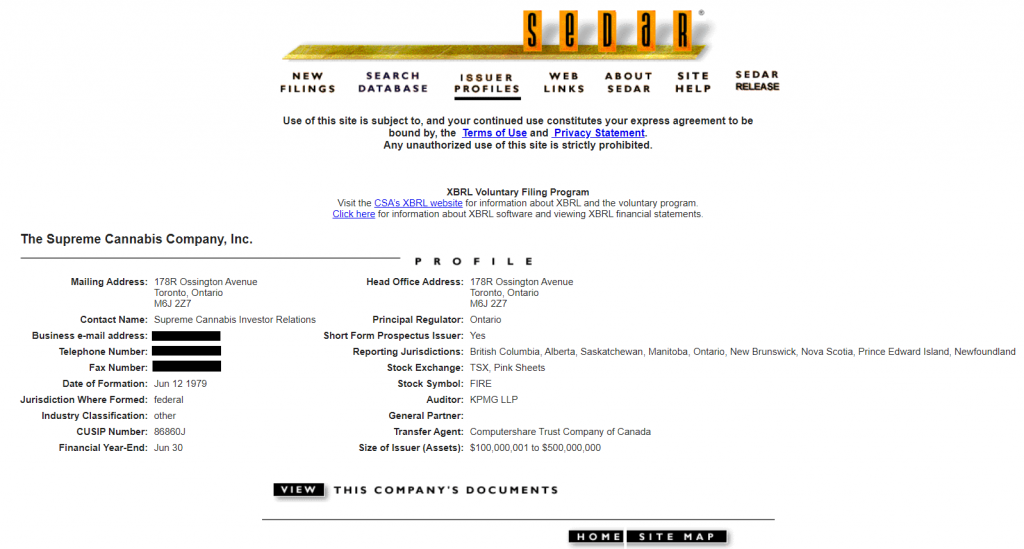 Before we get started though, you might want to open a new tab and look up the legal name of the company you are researching. On SEDAR, you can't search by a company's stock ticker, and many companies have similar names to one another. For example, looking up just "Aurora" would pull up 9 different companies, while looking up "Pacific" would pull up no less than 38 companies! A big reason to confirm the company's official name is that several companies with similar names operate in the same industry, and you don't want to inadvertently research the wrong company.
If looking up the legal name of a public company you are researching sounds difficult, I assure you, it is not. Just punch the ticker of the company you are researching into TMXMoney, Yahoo Finance, or another major finance site, and you'll notice that the legal name of the issuer is included in the company profile. Once you have your target company's legal name on hand, you can quickly use one of two methods to pull up a company's profile page. Let's check them out.

Method #1: Search Database
If you've already looked up the legal name of the company you are looking for, this method is exceptionally quick and easy.
Just click the 'Search Database' text at the top of SEDAR, and then punch the legal name into the 'Company Name' bar and hit 'Enter'. If you did everything right, you should find yourself looking at a table with links to documents in blue from your target company that are in alphabetical order.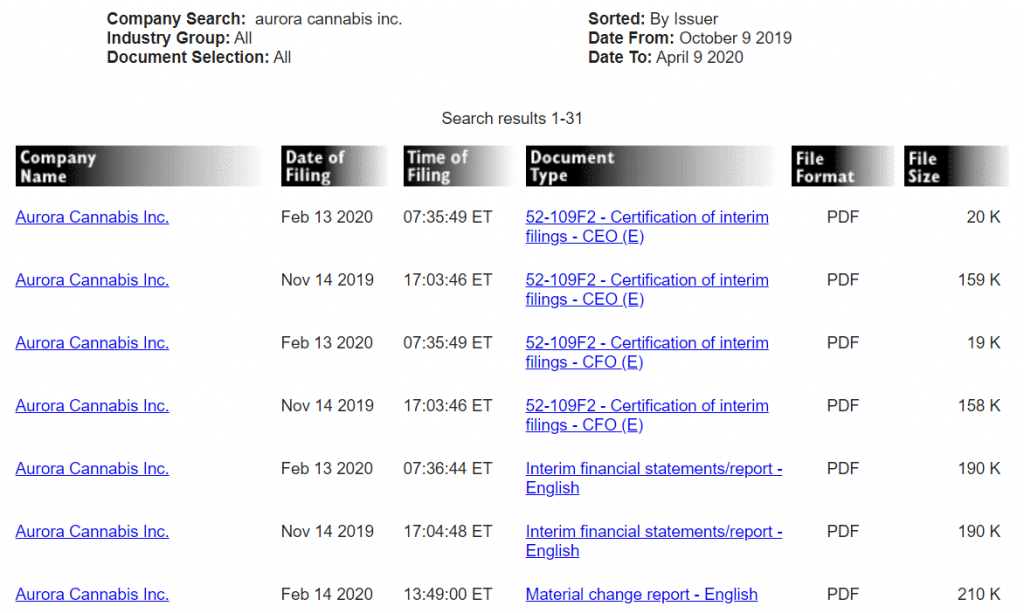 A very common misconception at this stage is that you have already arrived at the comprehensive list of documents, but that is not the case. To make it to the profile page, which will take you to the actual comprehensive list of documents, you need to click on any of the company name links in blue. If you didn't have the company's legal name and just punched in a more generic term such as "Aurora", you may notice several other companies' names in blue, so you will need to select the right one.
If you were trying to look up information about a company that is no longer public, (perhaps because it was acquired and you were interested in its historic performance), you may be frustrated to find that the search bar pulls up nothing – even when you punch in the proper legal name. The reason for this is that the default settings on the search function are set to only pull up documents from the past six months. This means if you wanted to pull up details on a company that is no longer public, such as MedReleaf Corp., you would need to adjust the search settings to go back more than six months – or move on to the second method.
Method #2: Issuer Profiles
Once again, if you have already looked up the legal name of the company, this method will also quickly direct you to your target company's profile page.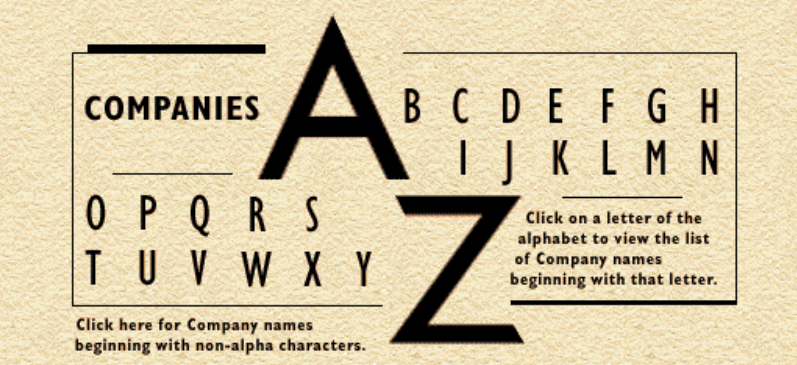 Just click the 'Issuer Profiles' text at the top of SEDAR and you'll come to a page with two sets of large capital letters – one set that links to 'Companies' and one set that links to 'Investment Fund Groups.' The top set of letters link to the list of companies whose names start with that letter. (Note that if your company's name starts with "The," you don't go to the "T" section, but the first letter of the first word after that. For example, if you were looking up "The Supreme Cannabis Company Inc." you would search under "S", not "T".)
When you click the letter, you will be taken to what can be an exceptionally long list of companies, with some letters listing over a thousand companies. As long as you have the legal name of your company, scrolling through and clicking the correct link to the profile page should be quick.
I should tell you now that one of the reasons there are so many companies listed under these letters is that SEDAR doesn't just contain mandatory filings from current and former public companies, but several private ones as well. Speaking of which, if you own a private company that has been raising money from investors and were previously unfamiliar with the notion that some private companies need to file on SEDAR, now would be a REALLY good time to phone your corporate lawyer. I'm actually quite serious; please stop reading this article and phone them now.
The Profile Page
Whether you choose to search the database or scroll through the long list of issuer profiles, your search should land you on your targeted company's profile page. Here you'll notice some basic information including who the company's auditor is, when their fiscal year ends, and a rough range of the company's total assets. All you need to do now is click the black 'VIEW' button at the bottom and you'll be off to your company's key documents! Oh, that reminds me, I should probably warn you…
You know all that basic information I just mentioned that you can find on the company's profile page? Well, it isn't always that accurate…

As it turns out, companies are responsible for updating the information on these pages, and many don't keep their pages up to date (assuming they haven't forgotten that this profile page exists). For example, The Green Organic Dutchman Holdings Ltd.'s ("TGOD") profile page shows that the company has "Under $5,000,000" in assets. If you were to go to their most recent financials, however, you'd quickly notice that as of December 31, 2019, they actually have over $342,000,000 in assets. Even if you were to deduct their debt, you'd notice their net assets are still well into the hundreds of millions – a far cry above $5,000,000.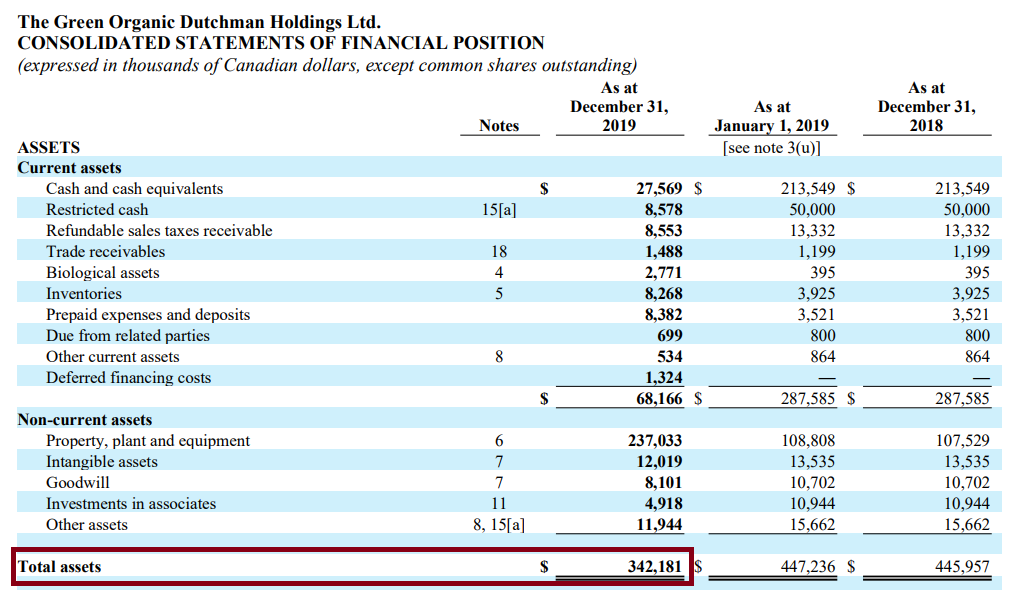 Unfortunately, it isn't uncommon to find errors on these profile pages. For another example, companies may change their auditor and upload the proper documents, but simply forget to change it on their SEDAR profile page. This can understandably be a little confusing for you as it may lead you to believe you've arrived on the wrong profile page, because you know for a fact that your target company has far more in assets or uses a different auditor.
Now that we've gotten that cleared up and raised a few doubts about the quality of information here – just click the "VIEW" button and we'll be off to Part 3, coming out later this week.
---
Information for this commentary was found via Sedar. The author has no securities or affiliations related to this organization or any organization mentioned. Not a recommendation to buy or sell. Always do additional research and consult a professional before purchasing a security. The author holds no licenses.