TMTG: Trump Media Files $3.78-Billion Lawsuit Against Washington Post For Defamation
Trump Media & Technology Group (TMTG) filed a lawsuit in a Florida civil court against The Washington Post, allegedly claiming the media outfit defamed the company in one of its articles. The firm is seeking $3.78 billion in damages.
The news firm, also referred to as WaPo, allegedly "published an egregious hit piece that falsely accused TMTG of securities fraud and other wrongdoing." The said article, released on May 13, 2023, was claimed to be reported in concert with a former TMTG employee.
"WaPo has been on a years-long crusade against TMTG characterized by the concealment of relevant information in its possession—a bitterly ironic truth for a publication whose motto is 'Democracy Dies in Darkness'," TMTG said in its filing. "WaPo's latest defamation creates an existential threat for TMTG, causing enormous loss."
TMTG claims that WaPo worked with former employee Will Wilkerson, who the firm said was terminated for cause. The said article claims that "an obscure financial entity… would gain a sizable stake in former president Donald Trump's media company if its merger deal proceeds."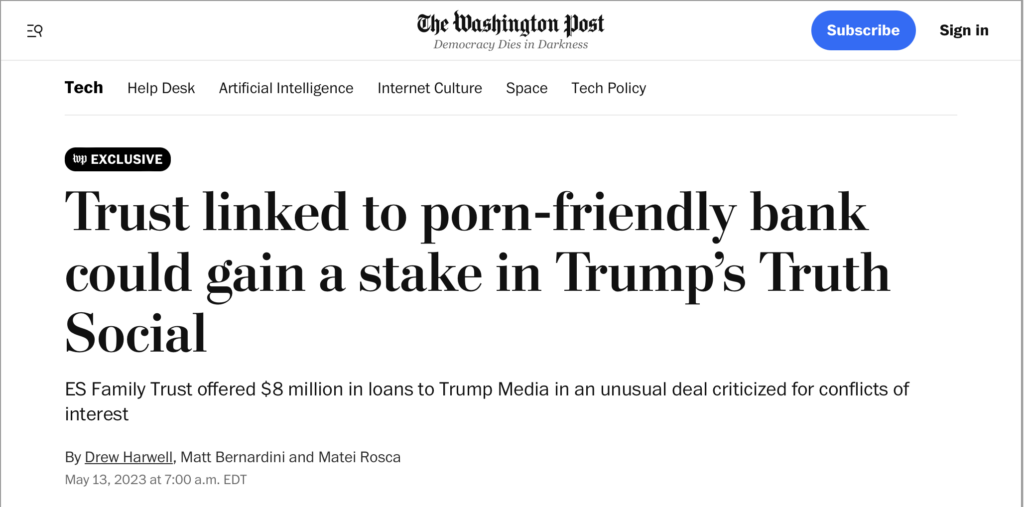 The said financial entity, named ES Family Trust in the article, is said to have "connections to a Caribbean-island bank that bills itself as a top payment service for adult entertainment sites." The role of the entity is said to have "never been officially disclosed to the Securities and Exchange Commission or to shareholders in Digital World Acquisition (Nasdaq: DWAC), the special purpose acquisition company… that has proposed merging with Trump's company."
The article also added that the companies have also failed to disclose to shareholders or the SEC that TMTG paid a $240,000 finder's fee to assist in the arrangement of the $8 million loan agreement with ES Family Trust — or that the receiver of that amount was an outside brokerage linked with Patrick Orlando, then CEO of Digital World.
WaPo said that it couldn't find any registration documents for ES Family Trust. The bank which transmitted the loan, Paxum Bank, is partly owned by Anton Postolnikov. The bank, according to the article, "has promoted itself online as a way for video streamers of adult content to coordinate financial transactions across international borders," with its then CEO claiming that the bank was "proud and happy to be considered the #1 trusted payment service for the adult industry!"
The company noted that Wilkerson was also the source of The Guardian's previous article claiming that TMTG is reportedly being examined by federal investigators for money laundering.
In addition, TMTG also cited that the article's author, Drew Harwell, also retweeted the article, while WaPo "boosted" it on the Mastodon social media network.
In its filing, TMTG claims that all these statements are "materially false."
"Contrary to WaPo's Statements, TMTG did not conceal from or improperly fail to disclose (or cause DWAC to improperly fail to disclose) to the SEC or DWAC shareholders that ES Family Trust would gain a stake in TMTG if TMTG consummated a merger with DWAC," the firm said. "In truth, DWAC properly disclosed TMTG's debt in its registration statement filed with the SEC. TMTG did not conceal material facts from any shareholder or the SEC."
The Trump-owned media firm also belie that it paid a finder's fee to anyone for arranging the $8-million loan, as well as Orlando receiving a fee for the transaction.
TMTG is filing the suit on defamation and conspiracy, as it claims WaPo worked in concert with Wilkerson and others in a joint scheme "the unlawful purpose of which was to publish and republish false and defamatory statements about TMTG in order to harm TMTG's business."
Trump's lawsuit against the New York Times
The suit comes after a New York Supreme Court judge earlier this month tossed out Trump's lawsuit against The New York Times. The former president alleged that the media outfit worked together with his niece, Mary Trump, on "an insidious plot" to secure his tax records for a story on his tax issues, which went on to win a Pulitzer Prize.
According to the lawsuit, encounters between three Times reporters and his niece constituted a "breach of contract" under a 2001 family confidentiality agreement. New York Supreme Court Justice Robert Reed ruled that Trump's claims failed "as a matter of constitutional law."
"Courts have long recognized that reporters are entitled to engage in legal and ordinary newsgathering activities without fear of tort liability," the judge said.
The businessman-turned-politician has been ordered by the court to pay all attorney's fees, other legal expenses and associated costs.
Trump himself was recently found liable for battery and defamation stemming from an incident at a department store in the 1990s with E. Jean Carroll. While the jury members agreed that Trump didn't rape Carroll, they concluded that the former president did sexually abuse her in the dressing room of luxury retailer Bergdorf Goodman in 1996. The trial also concluded that the former president defamed Carroll when he repeatedly denied the allegations when they surfaced in 2019.
The current Republican nominee frontrunner for the 2024 national elections was ordered to pay $5 million in damages.
---
Information for this briefing was found via the sources mentioned. The author has no securities or affiliations related to this organization. Not a recommendation to buy or sell. Always do additional research and consult a professional before purchasing a security. The author holds no licenses.