Twitter v. Elon Musk: The Incredible (And Sometimes Ridiculous) Highlights Of The Text Messages
From "staying off" to "buying" Twitter, then pulling out of the proposed buyout — the controversial billionaire has made a full, eventful circle with the social media giant.
Redacted copies of the court exhibits in the ongoing court battle between Twitter (NYSE: TWTR) and Elon Musk shone a proverbial light on the conversations that happened related to the billionaire's buyout deal of the social media platform.
The tech firm is suing the Tesla CEO at the Delaware Court of Chancery for breaking the buyout agreement when Musk unilaterally withdrew from the deal.
The messages disclosed by Musk's team are part of the documents requested by the prosecution, the supplication of which seems to be not enough for Twitter's team. The latter claims that the defendants produced a minuscule slice of the whole population of documents requested based on agreed upon search terms.
For instance, Twitter's counsel cited that Musk's team "identified a review population of 50,435 documents" for his and his adviser, Jared Birchall's, custodial records. However, the defendants are said to have only produced 1,660 documents, "yielding a responsiveness rate of about 3%."
But for Musk's camp, it's the other way around. They claim that Twitter appears to be "withholding obviously relevant and responsive documents," also basing their observation on the mismatch between search term yields and actual documents produced.
"Twitter has produced only 4,144 documents hitting on the term "mDAU," even though, according to Twitter's hit count, 17,527 documents hit on that term," said Musk's lawyers in an email.
Nevertheless, the redacted messages are enlightening as it is, painting a picture of how the conversations–and thought process–went on behind the public's eye.
Musk reset his Twitter account through Alex Stillings
Like with anything he does, Musk's dealings with Twitter seemed to have started on a personal note. In January 2022, the billionaire was able to reset his Twitter account from the two-factor authentication to an SMS-based one through his IT Support Manager from SpaceX, Alex Stillings, who seemed to have leveraged his previous stint as an IT Manager at Twitter.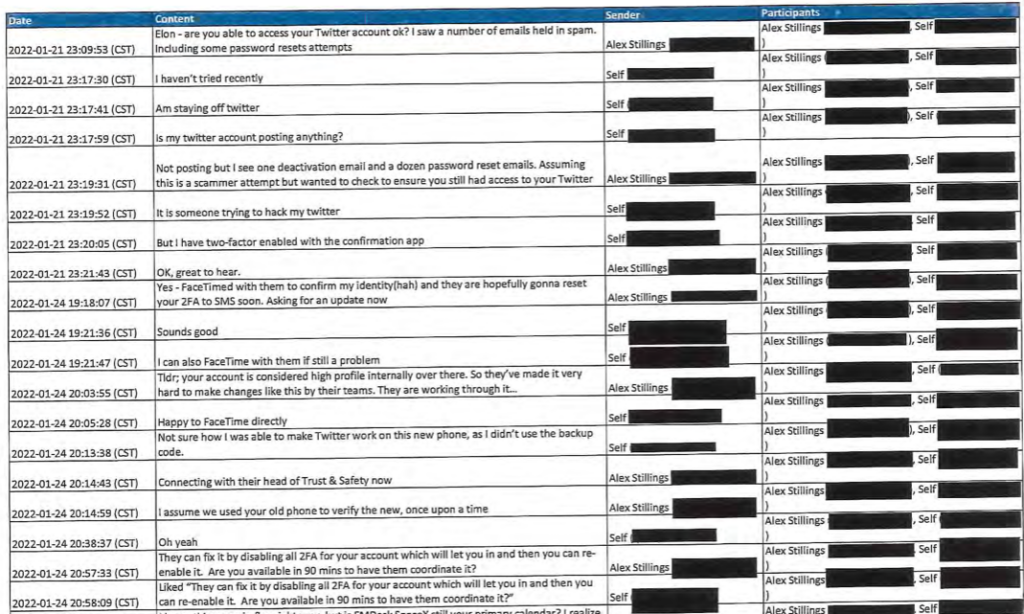 TJ first floated the idea of buying Twitter to Musk
Based on the conversations disclosed, it seems Musk was conditioned to make the US$43-billion Twitter buyout offer by the people surrounding him. The first time the idea of buying the social media app was floated in March 2022–seemingly as a joke–by a certain person labeled "TJ".
Musk replied by saying he would "maybe buy it and change it to properly support free speech."

Meanwhile, as Musk worked out with the Twitter board his pending inclusion, media group Axel Springer CEO Mathias Döpfner also urged him to buy the platform and the latter will run it for him. The billionaire replied by saying it is an "interesting idea."

Joe Lonsdale and Musk agree on "hidden corruption"
At the same time, Musk had an exchange with Palantir founder Joe Lonsdale after he tweeted about how "Twitter algorithm should be open source." The billionaire replied by describing the current platform situation as "hidden corruption."

Musk got introduced to Sam Bankman-Fried, then apparently forgot who he is
Oxford philosopher William MacAskill–whose book was tweeted by Musk as "a close match for [his] philosophy"–referred him to FTX CEO Sam Bankman-Fried for the possible deal of buying out Twitter.
Musk's immediate concern: if the crypto billionaire had "huge amounts of money." MacAskill replied that Bankman-Fried is worth US$24 billion and could possibly contribute US$8 – US$15 billion to the purchase.





He would then be reintroduced to Musk at least twice.



After a series of cursory exchanges in the group chat, Bankman-Fried seemed to have started personally messaging Musk. At one point, the Tesla chief seemed to have forgotten who he is.

Nevertheless, Bankman-Fried nor his company appeared in any of the financing documents Musk disclosed during when he was firming up the plan to buy Twitter.
Twitter board schedule is apparently "super flexible" for incoming board member Musk
Egon Durban, one of the platform's board of directors and Musk's backer, hooked him up with the Twitter team. Chairman Bret Taylor, CEO Parag Agrawal, and Nominating and Corporate Governance Committee Chairman Martha Lane Fox were all eager to have a one-on-one with him related to his pending board nomination.





Taylor, Agrawal, and Musk had their first meeting with "donkeys and dystopian surveillance helicopters"
Taylor and Agrawal made a separate group chat with Musk to schedule their meeting. Based on the conversations, the trio were eager to push through with the meet up.



Leading up to the scheduling, Musk mentioned that spam on Twitter "really needs to get crushed."

Finally, Taylor's staff was able to book the three of them in a private residence–seemingly an Airbnb listing that he described as having "tractors and donkeys."


The trio was able to meet, ending at around past midnight. It seems from the conversation that the meet up place was "definitely one for the memory books."

It is worth noting that at this point, Musk already had a 9.2% stake in the company–making him the largest single shareholder–but hadn't disclosed it yet despite SEC guidelines.
9.2% equity announcement: Lots of DM slides
When Musk finally disclosed his 9.2% equity, it seems everyone thinks he would soon takeover Twitter but him.





Interestingly, someone–identity fully redacted–sent Musk what seemed to be an outline for a strategic plan to "fix" Twitter, most of the suggestions are similar to what Musk's concerns are with the platform. The person even suggested to put someone as "VP of actual enforcement" who has a savvy cultural/political view, referencing someone like former Thiel Capital COO and current Republican nominee for the 2022 U.S. Senate election in Arizona, Blake Masters.

9.2% equity announcement: Twitter board shook
However, it was a different scenario for the Twitter board. The moment Musk's SEC filing on his 9.2% equity got around, it seems Taylor was adamant to speak to him–even waking him up to a call.


It seems in between calls, both parties have agreed upon fast tracking Musk's appointment to the board in light of the recently disclosed stake that puts him as the firm's largest shareholder.

It is worth noting also that later on, the Twitter board adopted a customary shareholder rights plan "to protect its stockholders from 'coercive or otherwise unfair takeover tactics.'"
Musk backed out of Twitter directorship the same day of 9.2% equity disclosure
Apparently, Musk wasn't particularly happy with the agreement and notified the Twitter team of his intent to back out of the pending directorship.

But then, Musk approved the directorship agreement the next day
An updated agreement seemed to have satisfied Musk, making him turn 180o on the Twitter board appointment.



Agrawal tweeted the official announcement, saying the decision was reached "through conversations with Elon in recent weeks."
But then, Musk revealed he didn't even want to join the Twitter board
Hours after the announcement of his appointment, Musk relayed to venture capital firm DBL Partners Managing Partner and Tesla board director Ira Ehrenpreis that he "didn't even want to join the Twitter board."
Ehrenpreis, who incidentally is Tesla board's Chair of the Nominating and Governance Committee, even suggested that Musk–9.2% owner and a board director–was the one who got to suggest Twitter's edit button. The Tesla boss clarified that the platform was already working on it before him.

Gayle King–who's "not good in Math"–really wants that interview; Musk offered Oprah Winfrey to invest instead
CBS Mornings co-host Gayle King has floated the idea of an interview with Musk regarding his "Twitter play." The TV show personality even joked about requesting for an edit button, which the billionaire said is already in the works.
He added that "the whole Twitter thing [is] getting blown out of proportion" as many took it as him owning the whole company already.

King reached out again after the Twitter buyout proposal came out. Musk replied instead with the idea that Oprah Winfrey could join the board.


Agrawal and Musk were tech "besties" at first
Musk–who claims he "[hates] doing management stuff"–seems to love his conversations with Agrawal at first. The Tesla chief is apparently eager to talk "technical" and engineering-related concerns, which the Twitter CEO claims to be a match since he was the platform's former technology chief.
The billionaire even touted that he "wrote heavy duty software for 20 years."
The duo also discussed setting Musk up for an AMA ("ask me anything") session with Twitter employees, which partly aims to address a publicized outcry from the workers. However, Agrawal assured him that the leaked uproar "isn't representative" and there's a silent majority that wants Musk on the board.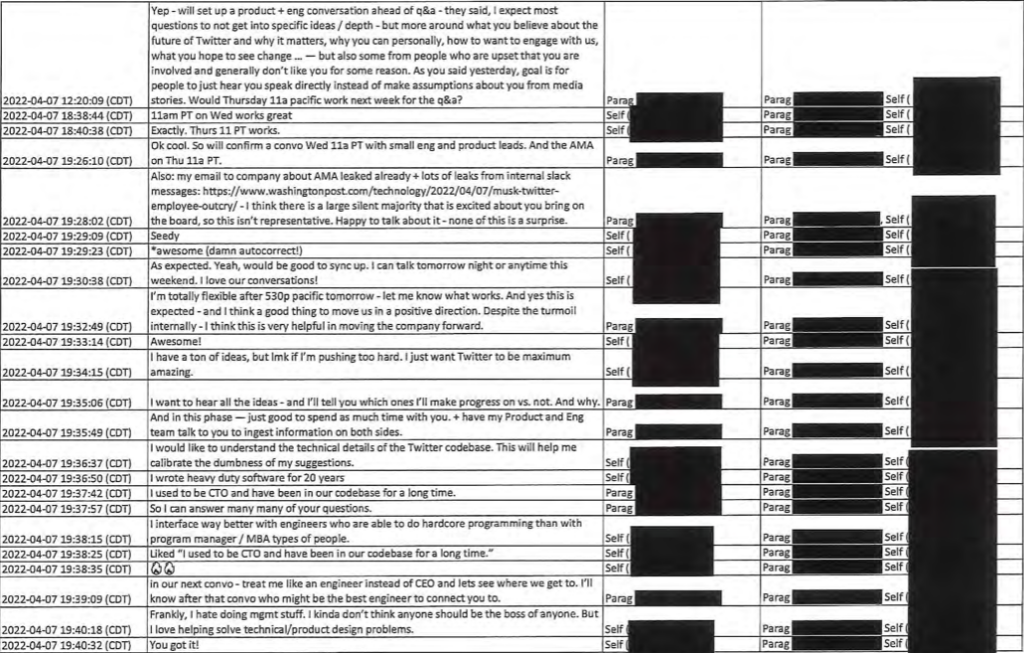 Musk conceptualized a "blockchain social media system" with Kimbal just after Twitter board appointment
While he was geeking out with Agrawal on technical details, Musk opened an idea with his brother Kimbal Musk about a "blockchain social media system." The platform, aimed to be decentralized, will include a "Twitter-like app" that accesses the database in the cloud.


Musk decided to pull out of the board and buy Twitter instead a day after the appointment
Just a day after being appointed to the board, after talking tech with Agrawal, and while conceiving a new social media platform with his brother, Musk decided to withdraw from the directorship and conjectured a buy out instead to take Twitter private. He added that being part of the board is "a waste of time."
The idea might have been in Musk's mind already–given that a lot of the people he converses with have treated him as the owner of the platform. But his acquisition plans seem to have been born after he was called out by Agrawal on his disparaging tweets about Twitter.
Musk was seemingly pissed off, asking the platform's CEO back "what did you get done this week?"
Taylor would try to smooth things over but Musk maintained that chatting with Agrawal–which seems to have lasted only days at best–is not enough and "drastic action is needed."
Taking the company private is the only way to fix Twitter according to Musk, as he cites founder and former CEO Jack Dorsey having the same opinion.





Hence, the much-talked about proposed takeover was born.
Twitter buyout announcement: Lots of DM slides (still)
Not too long after the buyout offer was announced, many from Musk's circle have been sliding a text to him either with a message of support or unsolicited ideas on how to improve Twitter.






Jason Calacanis pledges his "sword" to Musk, wants the Twitter CEO job
Probably the most voracious among the disclosed messages is the dot-com era's Jason Calacanis, a self-proclaimed fan of Musk. It's possible that the idea of the US$54.20 per share offer came from him.

Calacanis even broke it down for the billionaire: the seemingly low revenue per employee, missed opportunity with the Twitter Blue feature, and Agrawal's apparent lack of foresight. Musk concurred saying there's an "insane potential for improvement" on the workforce-revenue angle.
He even referred to the Blue features as an "insane piece of sh*t."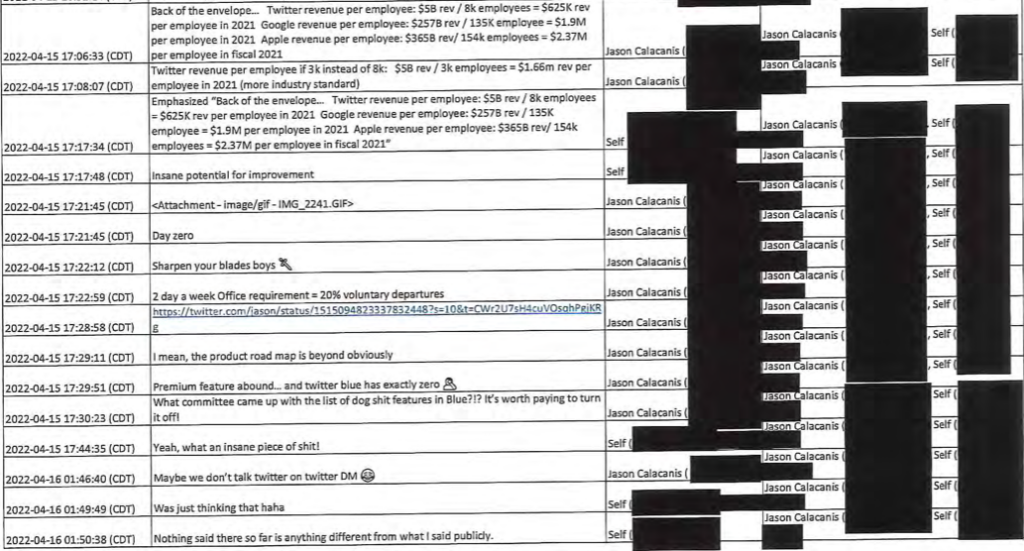 The angel investor went on to discuss some more ideas to implement once Musk takes over Twitter, including paid memberships, revenue sharing with creators, and moving the headquarters to Tesla's gigafactory in Austin.

Musk, apparently impressed with the ideas, offered Calacanis a strategic advisor post–at the same time that he offered the same to a certain Mike Pop.
Calacanis immediately accepted, saying Musk has his "sword." Eventually, he would reveal that his dream job is to be the CEO of Twitter.


Did Musk and Calacanis just "mean girl'ed" Agrawal?
Musk, who was just chatting technology with Agrawal a few days ago, chided that the Twitter CEO seems to only be doing "occasional zoom calls while drinking fruity cocktails at the Four Seasons."

Calacanis wants "Justin Beaver" to come back and earn US$10 million
In one of his barrage of ideas, Calacanis proposed that Twitter creators can pay a cent per follower to DM (direct message) them for promotion. He strongly believes in the idea, saying "who wouldn't pay for this?"
To illustrate, he told Musk to imagine if they can ask "Justin Beaver"–which this column assumes a reference to Canadian singer Justin Beiber–to come back and let him DM his fans and apparently earn US$10 million in merchandise and concert tickets.
Bieber has currently postponed his world tour citing health reasons as the primary issue.

Musk asked Calacanis to stop offering his SPV to "randos" and making him look "desperate"
The chummy conversation turned sour briefly after Calacanis seemed to have been marketing to anyone the special purpose vehicle set up to help fund the Twitter buyout deal. While he explains that he wasn't offering to "randos," Musk said that the act is seen by Morgan Stanley (who's handling the debt financing) and Birchall as using their friendship "not in a good way."


Calacanis immediately tried to smooth things over and reiterated he "only ever want to support" Musk. After pledging his "sword" before, he now claims he would jump on a "grande"–which this column assumes to mean "grenade"–for the billionaire.
Musk secured US$2 billion commitment from Larry Ellison just like that
Larry Ellison–whose trust has one of the biggest shares in equity commitments to finance the proposed takeover–apparently had a very easy decision to put in US$2 billion.



Musk–who doesn't own a LinkedIn account–said he is willing to make way for "friend" LinkedIn chairman Reid Hoffman on buyout deal
In searching for investors for the "oversubscribed" financing, Musk also approached LinkedIn co-founder and executive chairman, Reid Hoffman. He was even willing to cut back the commitment of other investors for the latter because he's a "friend" and he would "get priority."





However, Musk revealed in a separate chat that he doesn't own a LinkedIn account–the very platform founded by "friend" Hoffman.
Musk seems to be adamant about the "true user account" and revenue projections that are "disconnected from reality"
Close to a month after Musk announced his Twitter takeover plan, it seems he was looking for points for contention that will negate the deal, citing improper "due diligence" on the social media firm's part.
In one of his conversations with Morgan Stanley's Michael Grimes, Musk underscored that "an extremely fundamental due diligence item is understanding exactly how Twitter confirms that 95% of their daily active users are both real people and not double-counted." The bot issue has been one of his main concerns with the platform.

Musk even challenged Agrawal to a public debate on Twitter bot data.
In a separate conversation with someone who's identity was redacted, Musk highlighted the mismatch between Twitter's projected expenses and revenue, calling their projections "disconnected from reality."

The Musk-Twitter brouhaha may be connected to Jack Dorsey
It seems the whole idea of Musk coming in as Twitter's messiah could be traced to the platform's founder, Jack Dorsey himself. Their conversations seemed to have strengthened his belief that the social media platform needs fixing–especially when the former CEO himself intimated with him why he left the firm.
In it, Dorsey slammed the current board for being risk-averse, as well as referring to the platform becoming a company as "the original sin." He also conjectured that the advertising model wasn't the plan in mind for what he imagined Twitter would be.
"I'm off the Twitter board mid-May and then completely out of the company. I intend to do this work [open source protocol platform] and fix our mistakes," Dorsey told Musk.


When Musk got the board appointment, Dorsey was one of the first who congratulated him. He offered his thoughts on Agrawal, referring to him as "an incredible engineer," and relayed that he became emotional when the Tesla chief joined the Twitter board.


Aside from constantly referring to Dorsey's views when explaining his plans to Taylor and Agrawal, Musk also directly told the former CEO after the buyout deal announcement that he is following his advice.


Dorsey even arranged a conference meeting with Agrawal, Musk, and himself to make sure the Twitter CEO "is doing everything possible" towards the Tesla chief's goals. He even prepared the meeting agenda and the Google Meet link.


However, the meeting only revealed that Agrawal and Musk–the formerly tech "besties"–are not seeing eye-to-eye on some issues. After the meeting, Dorsey said that "it became clear" that the two can't work together.


Musk's counsel has recently subpoenaed Dorsey for the ongoing case, with the trial set for October 17.
---
Information for this briefing was found via the sources mentioned. The author has no securities or affiliations related to this organization. Not a recommendation to buy or sell. Always do additional research and consult a professional before purchasing a security. The author holds no licenses.