What Elon Musk Might Be Missing About "Free Speech"
In the age where information is at everyone's fingertips, disinformation is fast catching up. The pandemic and election-related violence–among other things–are definite proofs of how lethal false information can be.
As early as 2017, "fake news" was already so popular, it was deemed the word of the year by Collins Dictionary.
So, in an attempt to counter, platforms are being called out for false information. Social media firms–upon being urged to take responsibility of the content of their users–have installed crude measures to indicate any misinformation. Accounts were suspended for serially publishing irresponsible content.
But the needle on false information is moving. For one, when called out, it's rare for purveyors of misinformation to admit and apologize. Instead, they usually hide behind the "free speech" argument.
One perfect example is former US President Donald Trump. Due to his tweets that perpetuated perceived false information about election fraud during the 2020 presidential elections and its supposed connection to the January 6th Capitol Hill attack, Trump was permanently suspended on Twitter. Facebook, Instagram, and other platforms followed suit.
Vox populi, vox dei
That's until Elon Musk came to Twittter. The new chief Twit recently reinstated the former president's suspended account after a poll voted for it–quipping the maxim "vox populi, vox dei."
In a similar fashion, Musk also started offering "a general amnesty to suspended accounts, provided that they have not broken the law or engaged in egregious spam." Platformer reported that after Musk's poll, Twitter has initiated the process of reinstating about 62,000 accounts with more than 10,000 followers, including one account with over 5 million followers and 75 accounts with over 1 million followers. Employees have dubbed this occurrence "the Big Bang" internally.
This is despite Musk stating in October, days just after Musk purchased Twitter, that there would be "a content moderation council with widely diverse viewpoints" on the platform. He added that "no major content decisions or account reinstatements will happen before that council convenes."
In explaining Trump's reinstatement, Musk said it was to "correct a grave mistake in banning his account, despite no violation of the law or terms of service."
Musk tweets how Apple hates free speech using his iPhone
The free speech train did not stop there. In a fresh feud, Musk is now essentially claiming Apple hates free speech. The new owner of the platform ranted about Apple's reported pullout of advertising efforts on Twitter and he tweeted this series of barrage using.. an iPhone.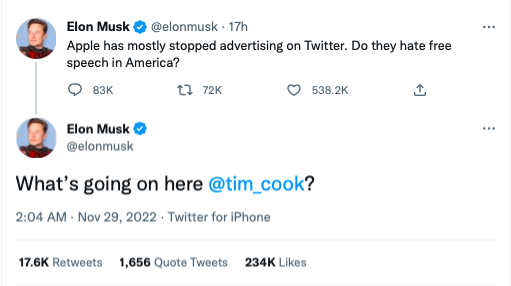 Essentially, his tweet correlates Twitter to free speech and pulling out advertising on the platform to hating free speech.
Musk went as far as disclosing that Apple threatened to pull Twitter from its App Store. In another poll, the Twitter chief is asking followers if the phone maker "should publish all censorship actions it has taken that affect its customers."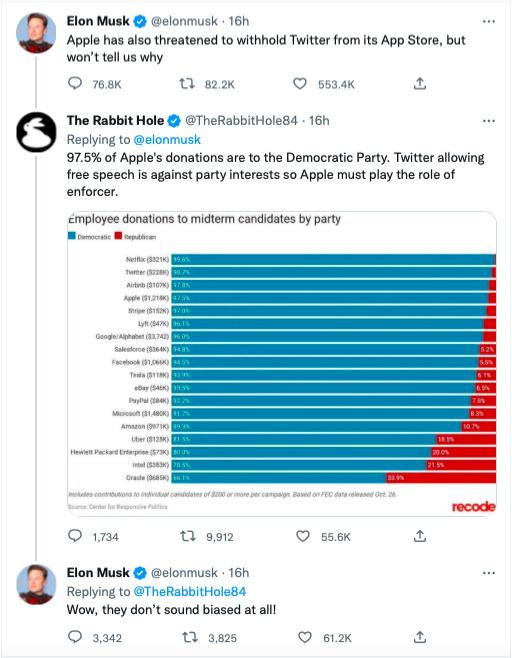 It's not only Apple who has threatened to leave, if it did. According to a report compiled by Media Matters for America, 50 of Twitter's top 100 advertisers have apparently ceased or significantly reduced advertising on the social media website, taking with them a substantial chunk of Twitter's advertising revenue. Chevrolet, Chipotle Mexican Grill, Inc., Ford, Jeep, Kyndryl, Merck & Co. and Novartis AG have all said they are halting Twitter ads going forward, while others have stopped showing ads on the site for a "significant period of time following direct outreach, controversies, and warnings from media buyers."
READ: Farewell, Twitter! 50 of Twitter's Top 100 Advertisers Have Left the Platform Since Elon Musk Takeover
But Musk seems to be centered on Apple as the latter's possible pull out of advertising investment and App Store listing could potentially have a drastic effect on Twitter's financials. According to a document acquired by The Washington Post that was generated from internal Twitter statistics, Apple was the biggest advertiser on Twitter in the first quarter, spending $48 million on ads on the social network. That quarter, Apple's spending amounted to more than 4% of Twitter's income.
In that sense, is Apple not advertising on Twitter really tantamount to hating free speech?
Musk's free speech
All these changes that Musk is implementing under the "free speech" banner have questionable execution. When he started talking about the platform's blue check mark, he referred to it as the "lords & peasant system."
In revamping the whole system, he rallied Twitter employees to meet his deadlines in shifting it to a subscription model–which he later scrapped after a surge of parody accounts purchased the monthly blue check mark and misrepresented official accounts.
READ: Elon Musk Removes $8 Subscription Option, Reinstates 'Official' Account Badges
Now, Musk is rehashing the verification system for paid users and will "tentatively" unveil it next week. He added that under the new system, subscribers will get a blue checkmark to prove their verified status, while government accounts will receive a grey checkmark, and companies will get a gold tick.
Has it gone far from the "lords & peasants system" he despises?
It's not like Musk is also an epitome of "free speech." Multiple reports have relayed his problematic employee management style, claiming he has fired employees who were found to have made fun of him or made critical comments privately on the company's Slack channels or publicly on Twitter.
READ: Twitter Vs. Employees: How Elon Musk's HR-Style Has Been So Far
What the billionaire might be missing about free speech is the responsibility of the content. Trump was suspended from the platform because he used his free speech to spread disinformation, which inadvertently added fuel to the violence-induced attack on the Capitol. If he would be playing Twitter God, he must understand that it also bears the responsibility of the world he's creating–and that includes the responsibility of what "free speech" would result to.
To start with, it might be beneficial to look no further than his own online backyard.
---
Information for this briefing was found via the sources mentioned. The author has no securities or affiliations related to this organization. Not a recommendation to buy or sell. Always do additional research and consult a professional before purchasing a security. The author holds no licenses.