Zack Morris And Gang Face Potential 25 Years In Jail For $114 Million "Pump And Dump" Scheme
However, the leader of the "Goblin Gang" is reportedly out on bail.
A federal grand jury in the Southern District of Texas delivered an indictment yesterday charging eight social media personalities led by Zack Morris with conspiracy to commit securities fraud in connection with a long-running, social media-based "pump and dump" operation.
The Department of Justice announced on Wednesday the court's arrest warrant for Morris (legally Edward Constantinescu), Perry Matlock, Thomas Cooperman, Gary Deel, Mitchell Hennessey, Stefan Hrvatin, John Rybarcyzk, and Daniel Knight. The indictment said that the defendants profited at least approximately $114 million from their scheme from January 2020 to April 2022.
"Securities fraud victimizes innocent investors and undermines the integrity of our public markets," said Assistant Attorney General Kenneth A. Polite, Jr. of the Justice Department's Criminal Division. "As these charges demonstrate, the department will continue to prosecute those who defraud investors by spreading false and misleading information, including over social media, to line their own pockets."
According to the indictment, the defendants had over 1.5 million Twitter followers to whom they allegedly distributed false and misleading information regarding the securities pumped and dumped as part of the criminal conspiracy. In addition to their Twitter presence, the defendants reportedly managed Atlas Trading, an online community for individual stock traders that they touted as one of the world's largest, free online communities for individual stock traders, and which had a chatroom named Atlas Trading Discord. In addition, the defendants allegedly used Atlas Trading Discord to spread false and deceptive information regarding stocks that they pumped and dumped as part of the accused scheme.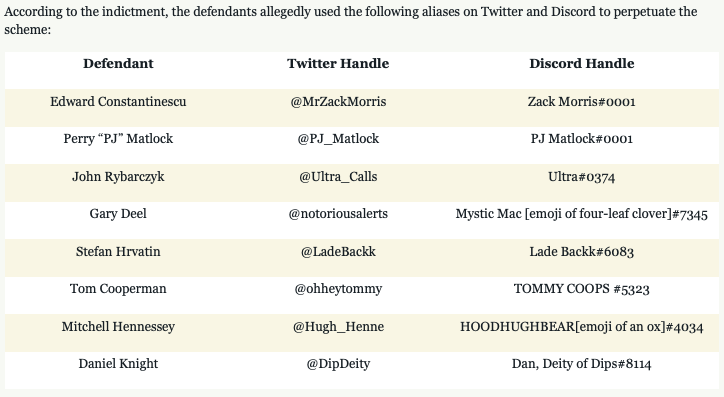 The indictment from the Justice Department comes shortly after the Securities and Exchange Commission filed its complaint of fraud charges against the eight men. Similarly, both court filings describe the scheme generally cascaded in three phases: purchase securities of a chosen stock to hype, promote the stock on their online platforms with false positive information, and then secretly sell their own shares of the security at a higher price to secure a profit for themselves.
The defendants, according to the indictment, used their social media credibility to maximize their own profits at the expense of their followers, portraying themselves as skilled stock traders by posting pictures of their profits and extravagant lifestyles and encouraging people to follow them on social media in order to share in their financial gains.
DOJ quoted Knight in the indictment when he claimed that they had so much credibility, "they own fintwit"–a portmanteau for Twitter community centered on finance and stock trading.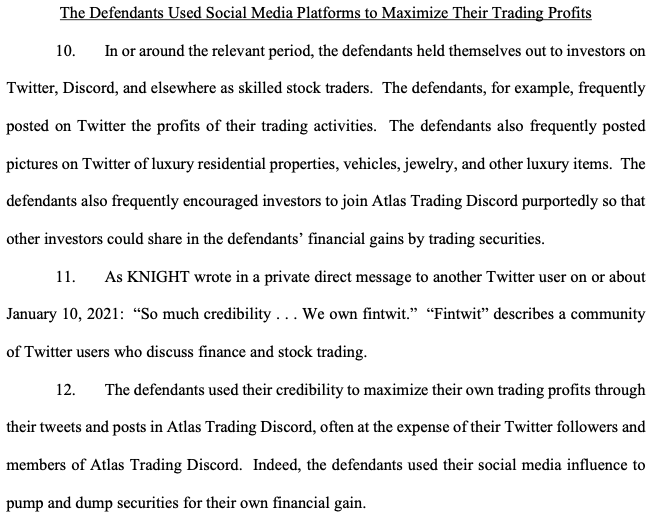 Each defendant faces one count of conspiracy to conduct securities fraud. Constantin is also charged with three counts of securities fraud and one count of engaging in monetary transactions in property derived from specified unlawful activity; Matlock and Deel each face five counts of securities fraud; Rybarczyk faces four counts of securities fraud; and Hrvatin, Cooperman, and Hennessey each face two counts of securities fraud.
The defendants appeared in court for the first time yesterday. Each defendant faces a potential sentence of 25 years in prison if convicted of conspiracy to conduct securities fraud and each act of securities fraud. Constantin risks a possible prison sentence of ten years if convicted of engaging in illegal monetary transactions. Any sentence will be determined by a federal district court judge after examining the U.S. Sentencing Guidelines and other statutory considerations.
Out on bail
Recent reports have said that at least three of the eight men have posted bail. Morris is reportedly out on an undisclosed bail amount with certain restrictions, including prohibitions on using social media and disposing of assets.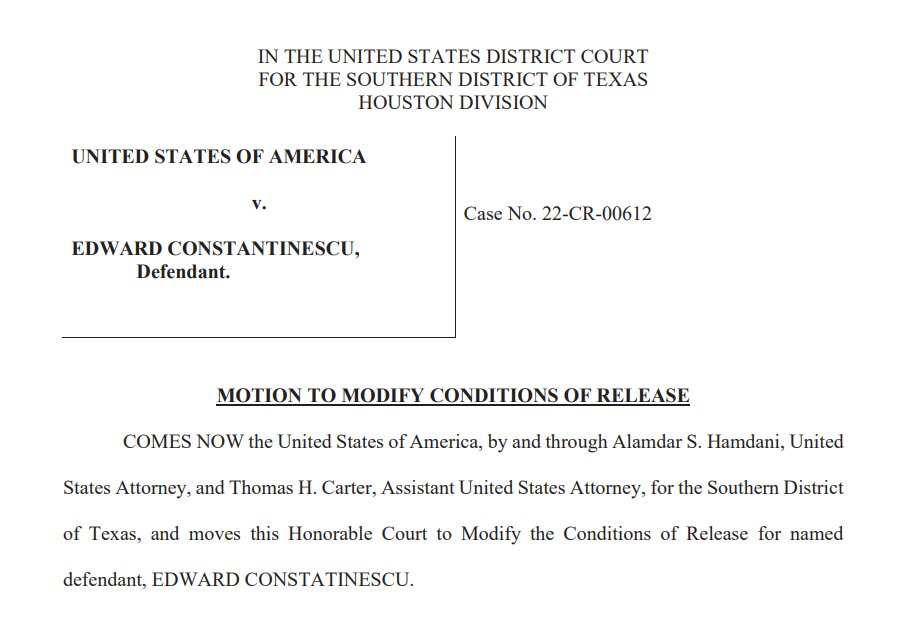 Meanwhile, Matlock is said to be out after posting $500,000 bond while Knight also posted $200,000 bail.
---
Information for this briefing was found via the sources mentioned. The author has no securities or affiliations related to this organization. Not a recommendation to buy or sell. Always do additional research and consult a professional before purchasing a security. The author holds no licenses.