Zoltan Pozsar: Put 20% Of Portfolio In Commodities, QE Expected By End of 2023
Capping his "war" series in his latest analyst note, Credit Suisse contributor Zoltan Pozsar highlighted that the real "hot war" threat to geopolitics is the final piece that's intended to shake the economic order–something the investors should account for in pruning up their portfolio.
Still on his Bretton Woods III postulate where commodities will dictate the new world order, Pozsar summarized the geopolitical shifts he highlighted in 2022 and how they could affect the movement in world order.
"In these, I identified six fronts (meaning "hot wars") in 'macro-land' (a 'cold place') where Great Powers were going 'at it' in 2022: the G7's financial blockade of Russia, Russia's energy blockade of the EU, the U.S.'s technology blockade of China, China's naval blockade of Taiwan, the U.S.'s 'blockade' of the EU's EV sector with the Inflation Reduction Act, and China's 'pincer movement' around all of OPEC+ with the growing trend of invoicing oil and gas sales in renminbi," the author noted.
In the first installment about war and interest rates, Pozsar theorized that if the "economic war is the right context to understand inflation, then Western central banks will not have any good options to slay inflation."
READ: Zoltan Pozsar: "We Need A Recession To Curb Inflation"
In the next one on war and industrial policy, he noted that the West should revamp its industry policy to win the "great crisis of civilization": re-arming its weaponry, re-shoring its sources, re-stocking its inventories, and re-wiring the energy grid.
READ: Zoltan Pozsar: Here Are Where The West Should Focus Its Policies To Win The 'Great Crisis Of Globalization'
On war and commodity encumbrance, Pozsar expounded on China's growing influence in the East among the BRICS (Brazil, Russia, India, China, and South Africa) and GCC (Gulf Cooperation Council) countries, wisely demanding renminbi settlements and posing a serious threat to petrodollar.
READ: Zoltan Pozsar: G7 Investors Should Worry About Gold-Backed Renminbi Eclipsing Dollars, Commodity Encumbrance
And on war and currency statecraft, the author further expounded on the different methods of currency being launched to potentially de-dollarize the global economy, stating: "The world is splitting in two. So is the monetary system. The dollar is at a crossroads."
READ: Zoltan Pozsar Believes Statecraft Should Be Included In The Hierarchy Of Money
In his latest dispatch, dubbed "War and Peace," Pozsar shared that he thinks 2023 will still be full of geopolitical shifts marked by budding "hot wars." He enumerated some, including the expansion of the BRICS alliance and the rising popularity of central bank digital currency projects (CBDCs) which can diminish the role of the dollar in FX transactions.
"Monetary and fiscal responses were just that – responses to mother nature and geopolitics – and with geopolitics getting more complicated, not less, investors should remain mindful of the threat of non-linear risks in 2023," the author noted.
Pozsar cheekily quoted author of the novel War and Peace, Leo Tolstoy. In another book of his, The Kingdom of God Is Within You, Tolstoy wrote: "The most difficult subjects can be explained to the most slow-witted man if he has not formed any idea of them already; but the simplest thing cannot be made clear to the most intelligent man if he is firmly persuaded that he knows already, without a shadow of doubt, what is laid before him."
"Finance is about discounting the future, and in finance you can't get personal," Pozsar added.
While he admits that the war is deeply personal, he added that "taking sides can't blind your objectivity and judgement when it comes to your portfolio," adding that an investor should "keep an open mind, or get financially repressed."
QE in 2023
In explaining how "hot wars" can destabilize the investment scene, Pozsar looked back at "four prices of money"–which he expanded in his Bretton Woods III model to account for the growing importance of the real domain of commodities in the global economy.

"For the first three prices of money (that is, par, interest, and FX) to be stable, the fourth price has to be absolutely stable," explained Pozsar.
But, as the author showed, the price level has been unstable in 2022, with inflation being "above target and off the charts."
"That's been the story of 2022: no hikes; hikes; string of hikes; string of 25 bps; string of 50 bps; string of 75 bps; string of 75 bps first with forward guidance, and then without," he said, adding that this price level instability also made interest unstable, which led to parity and foreign exchange instability.
Pozsar noted that despite the "war" theme in recent macroeconomics – "trade war with China, the war on COVID-19; war finance (quantitative easing) to deal with lockdowns; war on inflation, as we overdid war finance; and war then spread to engulf Ukraine, finance, commodities, chips, and straits" – the Federal Reserve now continues to do quantitative tightening, doing the opposite of "war finance."
He then cited a Bridgewater report saying that "the amount of government debt that will need to be absorbed by the private sector in the coming months is larger than at any time outside of world wars (when the central bank engineered a safe risk premium on bonds) and the global financial crisis."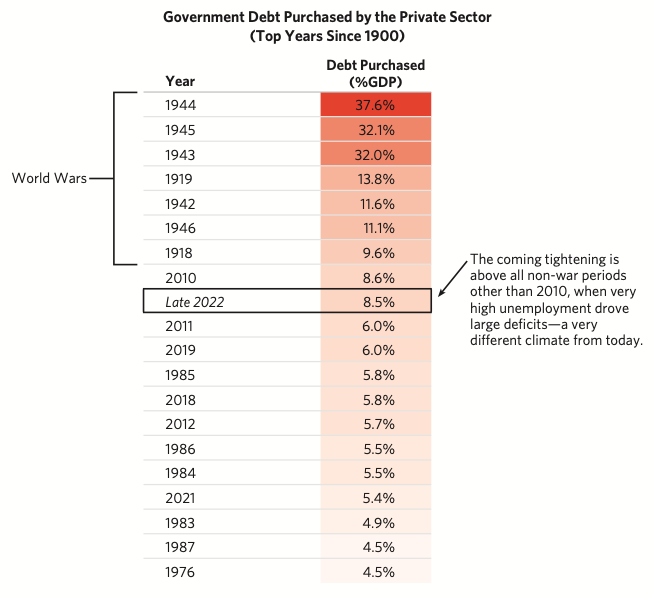 The author explained that while "there is $2 trillion in the [overnight reverse repurchase] facility to absorb the Treasuries to come," there would be a short supply of buyers. He argues that Treasuries have to be cheapened significantly relative to overnight indexed swaps for the RV funds to want to buy. While given that bank reserves are down, they likely will have a preference to tap the funding market instead.
FX-hedged buyers will not be likely buyers, too, according to Pozsar, as "they got priced out," coupled with how geopolitical events last year "have fundamentally re-shaped global financial flows and reduced large FX reserve managers' appetite for US Treasury debt."
"My sense is that this is a 'checkmate-like' situation: the Fed won't be a pivot and the terminal rate may have to go higher still (see here), neither of which augurs well for either risk assets (sell-off, then into Treasuries) or Treasuries," Pozsar said, adding that "hot wars in cold places and cold wars in hot places need 'war finance', not QT."
The solution to the dwindling Treasuries demand: QE under the "guise" of yield curve control, which Pozsar believes "will come by the end of 2023." But, "unlike QE in the context of low interest rates and a risk asset put, the coming QE will be in the context of Treasury market disfunction."
"The coming QE will aim to police swap spreads at high levels of interest rates, not to depress yields to inflate risk assets. The next round of QE will aim to "keep the wheels on the cart" amid high inflation, growing geopolitical tension, and an ugly financial divorce between the West and the global East and South," Pozsar added.
READ: Zoltan Pozsar: "The Fed Will Do QE Again By Summer 2023"
Put 20% in commodities
As he winds down his "war" dispatches, Pozsar doubled down on reiterating that "the Great Power conflict" will define the macro and investment landscape this decade, and thus, something that investors should incorporate in planning their portfolio.
"Great Power conflict is not a 'joke'. It is quite real. President Xi refers to it as a 'struggle', a word which he used 22 times at the latest congress of the CPP," Pozsar noted. "In the West, we tend not to think of what's coming this decade as a 'struggle', but we should."
For Pozsar, this means that the usual 60/40 method in portfolio investment won't cut it anymore. Instead, he suggests 20/40/20/20 – cash, stocks, bonds, and commodities.
For investments on the latter, he added that this should include three types: yellow gold (gold bars), black gold (oil), and white gold (lithium for EV). This should also include other ranges like copper and cobalt.
On the dollar, while it won't be retired overnight, the "de-dollarization and digitization (CBDCs) by BRICS+ central banks will reduce dollar dominance and demand for Treasuries."
"The dollar's strength or weakness should be thought of in the context of the four prices of money: the US dollar will remain 'FX' strong versus other DM currencies but will be become 'price level' weak (that is, outright devalue) versus commodities and 'FX' weak versus most BRICS currencies," Pozsar added.
All these "will guarantee plenty of volatility in all four prices of money this decade," further supporting an argument for QE.
---
Information for this briefing was found via Credit Suisse. The author has no securities or affiliations related to this organization. Not a recommendation to buy or sell. Always do additional research and consult a professional before purchasing a security. The author holds no licenses.