After FTX, Is Crypto.com Next?
The exchange withdrew $80 million in USDC from Binance to pay withdrawals as its token CRO slumps amid the FTX crash
After the crypto industry suffered from the collapse of yet another major exchange, the investing public is growing increasingly wary on the other players in the space. Between placing money to legitimize the industry further and placing money to prevent further potential losses, investors in the nascent industry somehow seem to keep ending up on the wrong end of the deal nursing their investment losses.
READ: The Rise and Fall of FTX Explained
Better to be safe than sorry, as the old adage warns. After 2022 claimed the businesses of three (or more) major crypto firms, it is understandable to be on the lookout for where the next trainwreck will be. And for some, it seems to be headed for Crypto.com.
FTX and Crypto.com
Singapore-based crypto exchange Crypto.com was founded more than six years ago, then as Monaco. Come 2018, the firm rebranded to its current name after the domain was purchased. According to reports, the company had 50 million customers and 4,000 employees as of May 2022.
The firm had, so far, a recognizable success–tapping actor Matt Damon as ambassador in October 2021 and acquiring the naming rights to Los Angeles's Staples Center, renaming it Crypto.com Arena for 20 years. Sound familiar?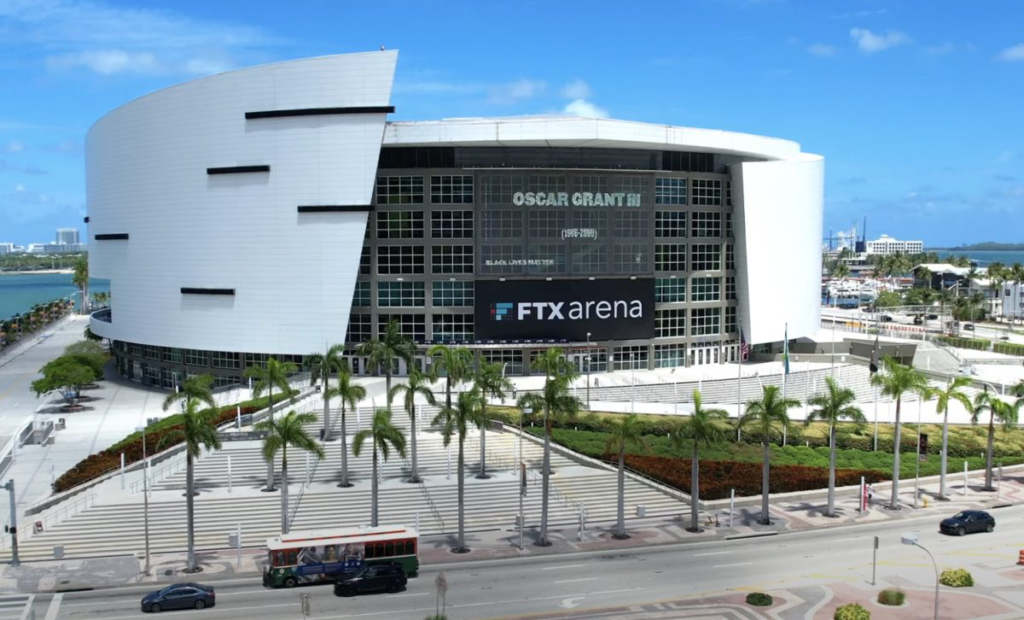 The exchange issues its own token, Cronos, which is estimated to have 150,000 tokens in circulation. However, as expected, the token's price also has fallen since the whole FTX debacle unfolded.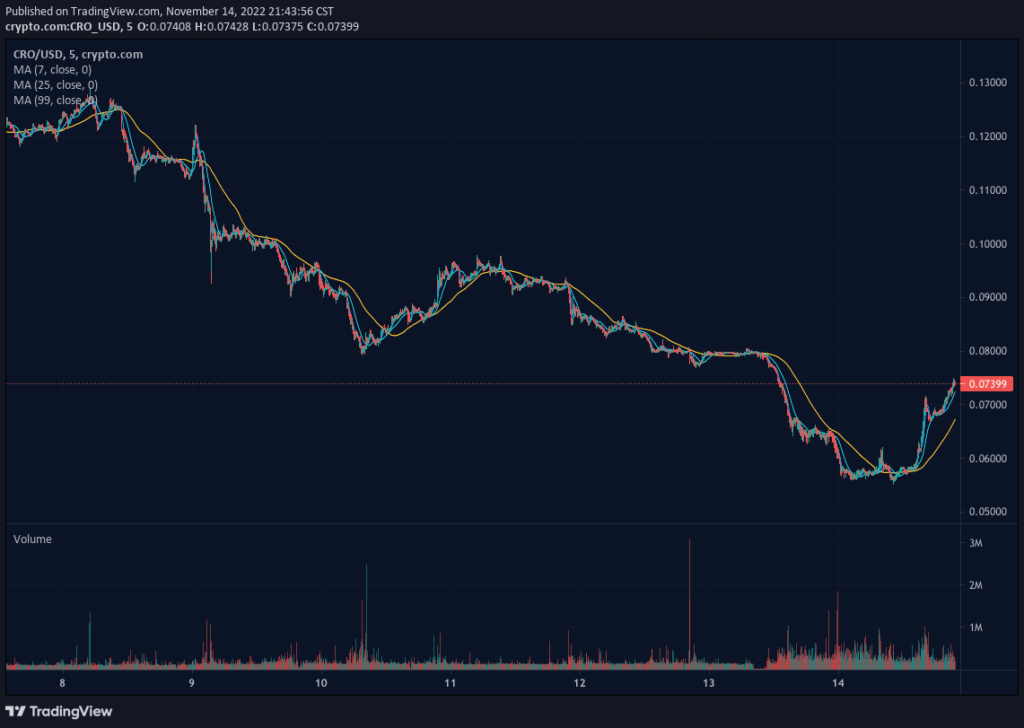 Amid the FTX implosion, Crypto.com CEO Kris Marszalek has been clarifying that his exchange's exposure to the former is "minimal."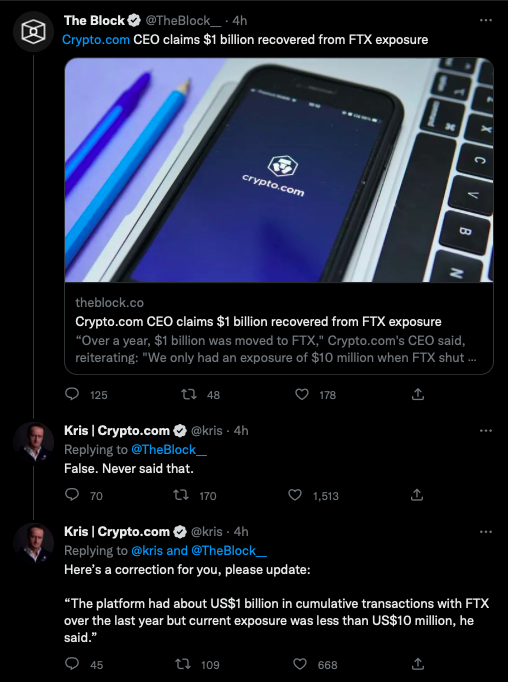 As FTX and its CEO Sam Bankman-Fried filed chapter 11 bankruptcy, it's understandable as to why Marszalek would want to distance his exchange from FTX as far away as possible.
On bank runs
As we mentioned, the investing public–after having been burned by crypto firm crashes this year–is understandably wary of any irregular activities among the exchanges.
Similar to FTX's early days of the whole crash, Crypto.com is reportedly facing a potential bank run as "nearly 90,000 unique transactions have been processed in the last few hours," mainly due to the reported FTX exposure and the reported wrong transfer of its ethereum holdings to another exchange.
The exchange is also said to have withdrawn around $80 million in stablecoin USDC out of its Binance addresses–a fellow exchange–"to pay out withdrawals."
It's quite unclear if the exchange can handle the surge in withdrawals but–unlike FTX–a majority of its holdings are reportedly not tied to its own token. Marszalek shared proof of reserves from its cold wallets as the firm's "audit preparation is underway." Around 31% is invested in bitcoin while 20% is in shiba coin–the so-called "doge killer."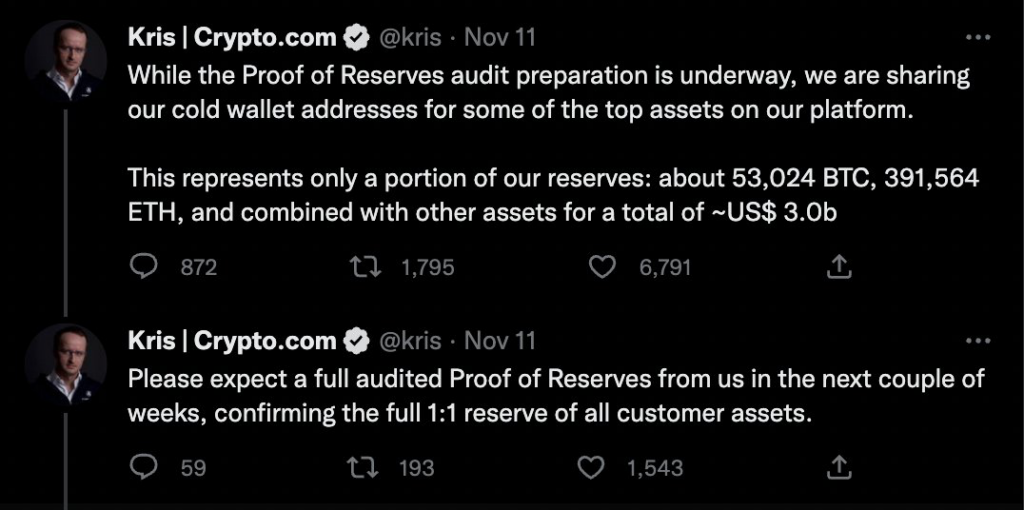 When asked about the sizable asset holdings in shiba coin, Marszalek explained that these are meant to secure 1:1 the customer deposits.
But of course, Binance CEO Changpeng Zhao has something to say about the matter; however, he did not particularly name any exchange.
On wrong sends
Another activity that triggered concern for investors is what could be considered as the costliest "wrong send" in history. Crypto.com recently admitted to sending 320,000 Ethereum ($416 million) to another cryptocurrency exchange called Gate.io about three weeks ago by mistake.
After researching Crypto.com's activities, user Conor Grogan discovered that the exchange paid 320,000 in Ethereum to Gate.io on October 21st, accounting for almost 80% of the company's Ethereum holdings.
Marszalek clarified that the entire ethereum transfer was eventually recovered and returned to cold storage. Users watching the addresses confirmed the recovery as the exchange transferred 285,000 Ethereum ($350 million) into one wallet and putting the remaining 35,000 Ethereum ($43 million) into another a week later.
This is not the first time the exchange made a clerical error. In August, Crypto.com accidentally sent a customer $7.2 million instead of a $68, which it is currently suing to recover.
On concerning past
Beyond the crypto assets, the exchange's executives have had some questionable issues in the past. Marszalek ran online discount retailer Ensogo for close to two years as CEO.
In June 2016, the firm announced a full shutdown of its South East Asia operations, along with Marszalek's resignation. The unprecedented suspension impacted operations in multiple countries: workers in Singapore discovered the office was closed, Hong Kong sellers requested a police inquiry into alleged fraud, and several stores in Thailand rejected consumer purchases.
Early on in January 2022, Crypto.com itself was the victim of a hack that stole its ethereum holdings. The firm had to pause withdrawals as it investigated the alleged hacking, but later restored operations claiming that no customer funds were lost–however, the firm has been figured to have already lost around $15 million.
Like other crypto firms, Crypto.com has also started laying off employees towards the latter part of the year as "crypto winter" continues to bite. However, according to numerous sources who told Ad Age, slightly over 2,000 employees have departed the company since layoffs began, double that of earlier estimates.
These figures portray an even bleaker picture than the firm's earlier announcement of 260 cuts in the summer.
---
Information for this briefing was found via The Verge, Fortune, Ad Age, and the sources mentioned. The author has no securities or affiliations related to this organization. Not a recommendation to buy or sell. Always do additional research and consult a professional before purchasing a security. The author holds no licenses.