Billy McFarland, Known For Fyre Festival Scam, Wants To Help Firms With "Viral" Marketing
Startups and firms looking to launch a game-changing marketing campaign are presented with an unusual and risky choice–tap Fyre Media CEO Billy McFarland.
McFarland founded Fyre Media Inc., the company behind the failed Fyre Festival in 2017. The festival, which was marketed as a luxury event in the Bahamas, was plagued by a variety of issues and ultimately led to McFarland being arrested and charged with multiple counts of fraud (and a Netflix documentary!). In 2018, he pleaded guilty to two counts of wire fraud and was sentenced to six years in prison.
"I was just so stupid and so wrong," McFarland said in an interview with Vanity Fair. McFarland was released early from prison due to good behavior and has been working to pay back debts from the failed Fyre Festival, including court-ordered restitution to investors.
The polarizing personality–who became a poster boy for scam events–reportedly still owes money to workers in the Bahamas and there are still outstanding lawsuits from festival attendees. The exact amount and status of these debts and lawsuits is unclear but Vanity Fair puts it around $300,000. McFarland says he's "still trying to get [his] hands around it," hoping to address it in the next three or four months.
In a recent Twitter thread, McFarland seems to have referred to the festival as "one of the most viral social media campaigns," while acknowledging that he also "broke the law." During his time in jail, he said that he plotted "how to make it up to everyone."
McFarland described his business model as mainly based on his social and PR capital: "a 19 year-old kid touting himself as a tech CEO touring the most expensive places raised the antenna of these top brokers." He gained the network via brokers who would introduce him to landlords and top executives in exchange for advisor equity.
"So when I launched Magnises a little over a year later, not only did I have an incredibly viral product in a physical black card (more on that later), but I had a space that blew the mind of my 25 year old customers," McFarland wrote.
Magnises is a members-only social club founded by McFarland. It provides access to exclusive events, travel experiences, and a personal concierge service, among other perks. The club faced criticism and controversy, including allegations of deceptive marketing practices, and eventually shut down operations in 2017 shortly after the Fyre Festival debacle.
"So now I gave my customers: 1) a multimillion dollar apartment that they could never fucking afford, let alone even get into, without me, 2) a place to show off to their friends," he added, saying these connections became part of his circle and repeated the cycle.
He then reiterated his offer to make the same "success" for other companies. However, this has been met with mixed reactions.
McFarland turned to TikTok in October to preview his ambitions for his next endeavor, PYRT (pronounced "pirate"), while winking at his celebrity. He bills PYRT as a "virtual immersive decentralized reality," and it appears to combine communal geocaching with tourism, content creation, and a crowdfunding ability for viewers at home to chip in $5.
He also appears to be working an AI-powered dating site. But currently, McFarland's known revenue stream is his offers in Cameo, where a person can get a personalized video from him for around $90.
But if you're still on the fence on McFarland, maybe Google can help you.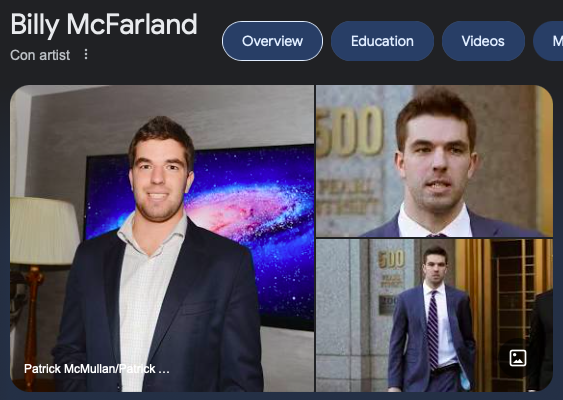 ---
Information for this briefing was found via the sources mentioned. The author has no securities or affiliations related to this organization. Not a recommendation to buy or sell. Always do additional research and consult a professional before purchasing a security. The author holds no licenses.