BRIEF: 3 Signs that Data Deposit Box is Likely a Pump Job
Data Deposit Box Inc (CSE: DDB) certainly saw some irregular movement last week. For one reason or another, the stock has seen a massive influx of trading volume. This is an understatement. Let's elaborate. In the last four sessions, Data Deposit Box has seen more shares trade hands than it has collectively seen prior to last week. Approximately three years worth of shares trading hands has not totaled the volume from the last four days. The kicker? There has been no material change.
If you're currently an investor, let that sink in for a moment. While many are calling for the share price to continue to rise, nothing has materially changed since the stock bottomed out at $0.02 on October 13, 2017. Well, aside from a few options that were issued earlier this month.
Thus, it appears that the stock has been taken over by a "pump crew". Whats this? Its essentially a team of stock traders that work to create hype around a stock, in order to make their share value rise. This works particularly well on low float stocks that are sub $0.10, as any amount of hype can cause a rapid increase in share price. Lets take a quick look at Data Deposit Box, and see the signs that it indicate it is currently being pumped.
3 Signs that Data Deposit Box is Likely a Pump Job
1. There has been no material change to Data Deposit Box
Typically, the biggest indication of a stock being pumped revolves around news issued by the company. If new data related to the company is scarce, there is no reason for share price to increase rapidly. Certainly, there are instances where the sector as a whole may be on the move – a rising tide lifts all boats. However, that is not exactly the case for Data Deposit Box. Its currently focused on data security, which isn't exactly a hot industry. Should it mention the word "blockchain" anywhere it might be a different story, however that is not the case.
With respect to recent news issued by the company, there is none. The latest news release issued by the company was put out to the public on December 5, 2017. This release in particular was alerting investors that options had been issued to insiders and consultants. When we checked it out, it appeared that these were legitimate consultants – all LinkedIn profiles for the individuals list some form of employment at one point with Data Deposit Box. Furthermore, no options appeared to have been issued to nondescript companies.
Prior to this, the most recent release was in September, which pertained to a change in management. In fact, the last four of five news releases pertain to a change in management. This does not include the most recent release by the company stating that they have no idea why the stock has moved so drastically.
Thus, it is clear that no material change has occurred to Data Deposit Box. The inherent value of the company itself has not changed over the last week due to a recent development. Its the same old bumbling along company that it's always been.
2. Data Deposit Box's chart & volume
After checking out the news on what may be flagged as a potential pump job, consult the chart. This will typically tell you all that is needed to know. Line up the dates of the latest news, with that of the price movement of the company. This will give a clear idea as to what caused the stock to move, and in what direction.
With respect to Data Deposit Box, it's clear that nothing has changed. Take a glance at this daily chart, and see what it tells you.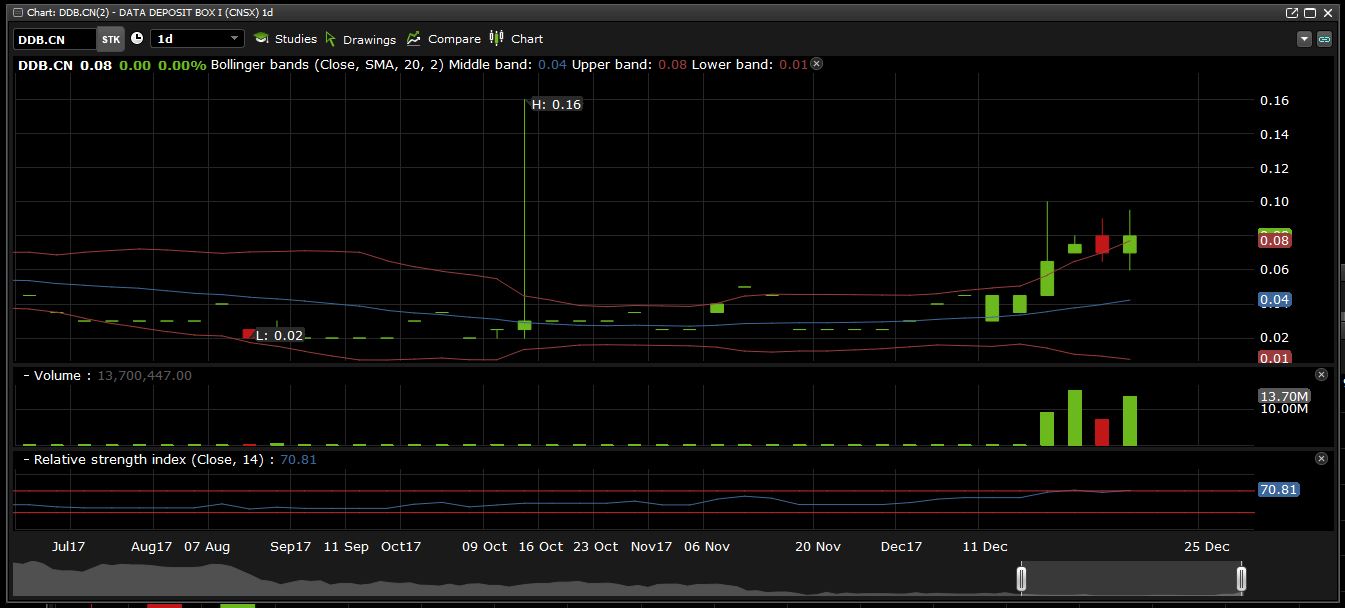 In this instance, there isn't a whole lot to look at. The stock has literally bumbled along for months on end, often having days with zero volume altogether. On the 18th of December, the stock saw approximately 106,000 shares trade hands. The following day, over nine million shares were moved about in the market. With no material change.
This should set off alarm bells to investors and traders alike. Often, we catch ridicule stating that we "don't understand momentum." The truth is quite the opposite. Look at this here. In the case of Data Deposit Box, once the momentum dies, traders are in trouble. With the utter lack of average trading volume, once the momentum dies on this stock expect to hold your shares for a long period of time before you are able to sell for a loss. The volume will likely dry up just as quickly as it appeared.
Typically, stocks that are taken control of by pumpers have some level of above average volume before the true volume spike. The only difference is, this happens when no one is paying attention and thus the share price is hardly affected. This doesn't appear to be the case here entirely. Due to the lack of average volume individuals haven't had the chance to collect large positions. However, the sudden burst of volume on December 19 still points largely to manipulation.

Of particular note for Data Deposit Box, is this single three minute candle. Within, exactly 1,800,000 shares were traded. This a suspiciously large, round figure for a stock that has hardly seen this many shares trade hand all year. This is also the purchase that set off the trading frenzy seen over the four following sessions. The three minute chart was used as a result of it being too late to pull the 1 minute chart data at the time of writing.
3. Social media's reception to Data Deposit Boc
When identifying a potential pump, the last thing we do is look towards social media. Typically, this consists of the Stockhouse bullboards, and Twitter. If there has been a significant amount of sudden discussion around a stock, particularly with fresh accounts, then its safe to assume there are pump aspects present at the very least. Yes, there are some stocks that generate plenty of discussion consistently – such as Canopy Growth or Aurora Cannabis. This is why we state the word "sudden".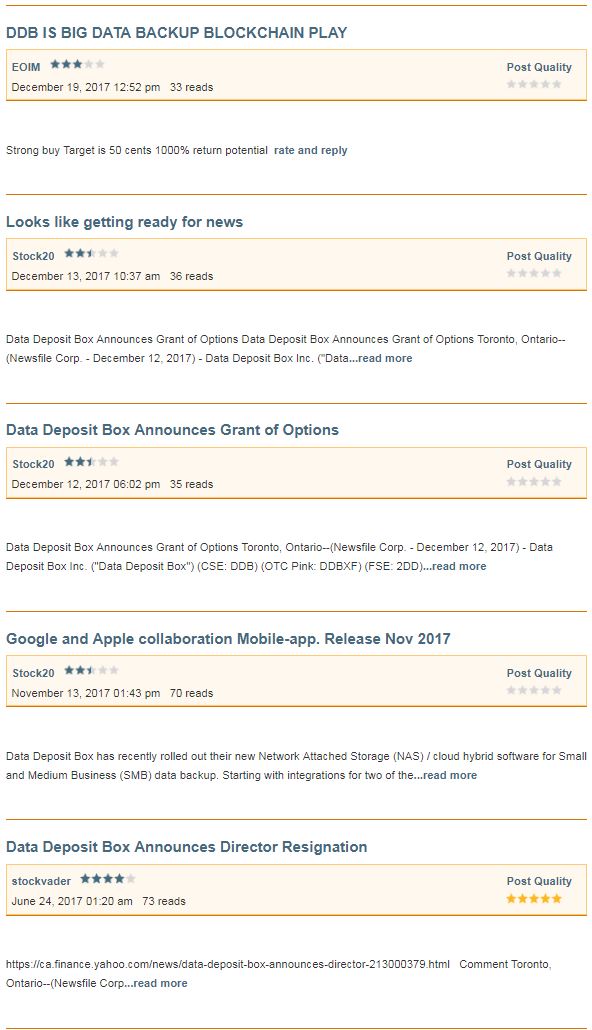 In the case of Data Deposit Box, between June 24, 2017 and December 19, 2017, only four threads were created for discussion on the equity. This is just another example of the lack of attention the stock has received during this time frame. However, since that first initial thread on the 19th, there have been seven pages worth of threads created for discussion on the company. Many of them are by new users.
In terms of the Twittersphere, the tag $DDB.c was used for the first time on December 20. As for the tag $DDB, the last time prior to December 19 that it was used for Data Deposit Box was on October 19. After the initial recent use, the tags have been used numerous times in reference to the company. Strike three for a potential pump on Data Deposit Box.
Closing Remarks
Although it is highly likely that there is a potential pump ongoing for Data Deposit Box, there is one other scenario that may exist: news was leaked. This is entirely possible, however with the massive surge in volume it is likely that management would have some explaining to do to regulators should this be the case. They do have an organization that could seemingly pivot to include blockchain technology. With the hot sector that this is, it could send the stock soaring. Especially with the tight float exhibited by the company.
It's unclear how likely this scenario is however. As it stands, all signs point to a pump currently being underway, whether or not it was sanctioned by the company. It could just be a case of a few individuals finding a company with a tight share structure that wanted to capitalize on the opportunity. The data presented clearly appears that way. If it is in fact a case of leaked data, those that bought in may have just found their winning lottery ticket. Regardless of the situation, this is a very high risk speculative play based on the information presented. May the odds be in your favour.
Analyze the data presented. Calculate the risks. Dive Deep.
---
Information for this analysis was found via The CSE, SEDAR, Stockhouse, Questrade and Data Deposit Box. The author has no securities or affiliations related to this organization. Not a recommendation to buy or sell. Always do additional research and consult a professional before purchasing a security.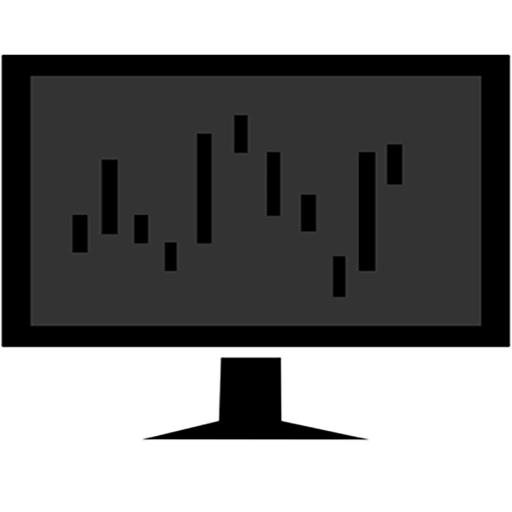 As the founder of The Deep Dive, Jay is focused on all aspects of the firm. This includes operations, as well as acting as the primary writer for The Deep Dive's stock analysis. In addition to The Deep Dive, Jay performs freelance writing for a number of firms and has been published on Stockhouse.com and CannaInvestor Magazine among others.