BRIEF: Catching Up With Namaste Technologies
Namaste Technologies Inc (CSE: N) has been extremely busy since the last time we visited the company. Since the data of our full analysis, which can be found at "Namaste Technologies: Over Priced, or Par for the Course?", the company has issued a total of fifteen news releases. Considering we first published this article on November 26, it's a pretty crazy figure. Certainly more than the typical company at the very least.
Within these news releases has been some quite significant information related to Namaste. For instance, the company is heavily focused on advancing the success of its NamasteMD app. With their sales only license nearing the final stages of approval, they've been moving along at a record pace developing this line of their business to ensure they are able to go live the minute their obtain their license from Health Canada. In other news, they've shuffled along two separate agreements with that of Aurora Cannabis, further diversifying their product portfolio.
With all these changes occurring to the company in such a short while, we elected to compile the most significant information that has been revealed to investors. In conjunction with our previously issued full analysis, investors should be able to maintain a good understanding of this company on a go forward basis.
Catching Up With Namaste Technologies
Namaste's Critical Pivot
Perhaps the most significant development for Namaste Technologies, is that the company performed a soft pivot two days after our full analysis was released. Whereas before the company was heavily focused on vaporizers and related ancillary products, the company now has a new focus.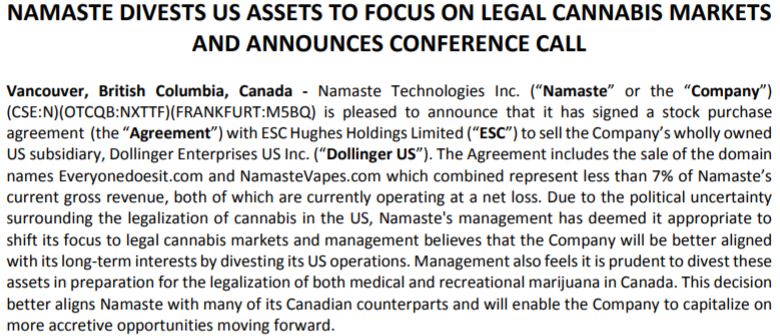 On a go forward basis, the company has removed its focus from the ancillary products sub sector of the cannabis industry. To get this initiative in action, it has entered the process of divesting its US assets, including the flagship "NamasteVapes.com" web address.
Although the company indicates that this is a result of the questionable state of cannabis legalization in the United States, this statement doesn't exactly hold up. Why not? Because the sale of vaporizers itself is not inherently illegal – they are commonly used for products other than cannabis. Namaste isn't actually involved in the sale of any cannabis products within the United States. Rather, it seems that the company is using the current federal status of marijuana in the US as a scapegoat to divest some unprofitable assets.
So where is the company pivoting to? It will now be focused on utilizing the Sales Only license that CannMart is currently waiting on. The company intends to use this subsidiary to grow the NamasteMD line of business, and will instead be centered around providing Canadian consumers with access to craft cannabis, as well as international varieties that can't be found elsewhere in the country. To do so, it will utilize its experience with website development to make its products available across the country.
Also of note, is that the company is divesting an asset that has its name attached to it – NamasteVapes.com. Due to the nature of websites, if this name were to be changed before the sale of the asset it would likely lose some degree of value, as the direct traffic would decrease substantially. It would also be a boat load of work from a search engine optimization standpoint, something not worth the effort for Namaste. As a result of the sub-sector pivot, it wouldn't be entirely surprising if the company as a whole changed its name to better reflect its current focus market.
The Acceleration of Warrants
Within our full analysis conducted on Namaste Technologies, we noted that there was a forced exercise clause written in to both private placements conducted this year. We also noted that investors should be aware of this figure, and anticipate it occuring. Well, we were right.

In fact, we couldn't have been more right. The company forced the exercise of these warrants the first day they became eligible for this clause. In total, there were 12,240,600 warrants still outstanding from the raise conducted in March. With an exercise price of $0.35, in total they would add $4.28 million to company coffers if exercised.
Considering the stock hit a high of $4.40 on December 28, it is extremely unlikely that all of these were not exercised. Private investors were in for a windfall last month thanks to their early backing of the company. Collectively, 24,244,405 warrants were exercised last month as per Namaste's recently filed Form 7 for the month of December. Although a dollar value was not indicated for what the company collected, all we know is that these private investors made bank.
If there are any warrants from this raise remaining to be exercised, they had until January 8 to do so. After this point the warrants effectively expired. Again, we don't anticipate that a single one expired. With the returns investors saw, even if they didn't initially have the funding to exercise the warrants it's likely they found a way to get the job done.
In short, the company is cashed up and ready to go.
Namaste's Agreement with O Cannabis
Recognizing that the company's strong suit is not with customer relations, Namaste Technologies recently signed a service agreement with O Cannabis We Stand On Guard For Thee Corporation. Within, O Cannabis will provide consulting and management services to that of Namaste's subsidiary NamasteMD. In total, they will be responsible for patient consultation, strain recommendation, education, and medical document issuing for Namaste's clients.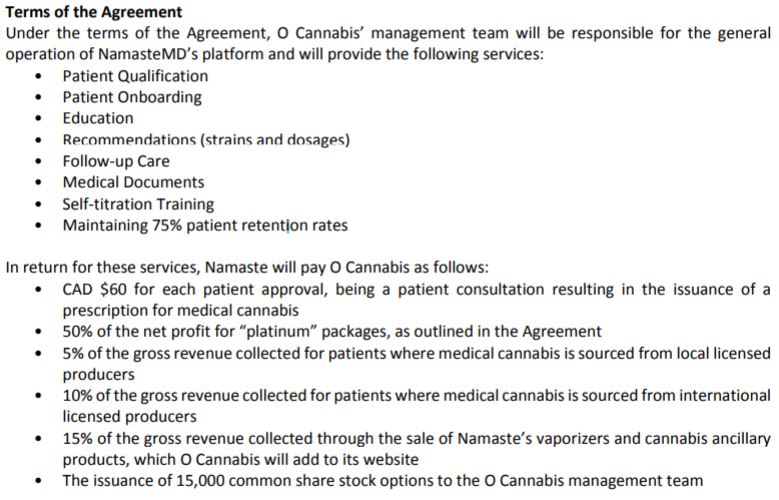 Essentially, O Cannabis will effectively run and manage NamasteMD. It's apparent that Namaste Technologies would much rather be on the technical side of operations, rather than the customer facing side. This has been apparent through other agreements that the company has signed as well.
Based on the current terms of the agreement, Namaste is still able to collect the majority of the profits, while not having to deal with the time consuming day-to-day activities of dealing with the subsidiary. Furthermore, it enables the company to remain vertically integrated, while not having to deal with such operations.
Partnerships Related to CannMart
Upon signing the above service agreement on December 12, Namaste was able to get down to business with what it actually cares about: supplier agreements. Throughout the month of December, the company managed to strike deals with three separate suppliers, setting the future of CannMart off on the right foot.
The first document that was signed, was with a well known and easily recognized brand: 7Acres. Owned by Supreme Pharmaceuticals, 7Acres is a part of a company that has an immense following within the marketplace. By signing such a flagship company as CannMart's first preferred supplier, Namaste instantly brought credibility to its operations.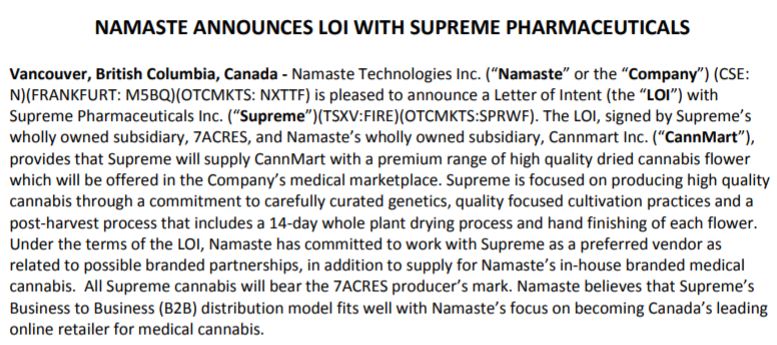 Being that Supreme has a focus on a business to business sales model, it was a perfect alignment between the two companies. Namaste is able to provide a premium product to the market that is not available directly from the producer, and Supreme is able to widen its current distribution network.
Next, Namaste looked to identify an international supplier. Doing so would enable it to truly set itself apart from the rest of the current marketplace, in that it would be able to supply strains of cannabis that no one else in the local marketplace currently offers. To do so, they found a partner in an Israeli based company known as BRLEV Agricultural Crops. BRLEV is the largest medical cannabis producer within the country of Israel. Similar to that of the Supreme letter of intent, the deal of BRLEV ensures that the company is able to keep its product branding in the form of its name and logo. By doing so it greatly diversifies the options that consumers have, and displays the international aspect of the cannabis.
Lastly, Namaste Technologies signed a third distribution agreement on January 9, 2018. This agreement though, is slightly different than the first two.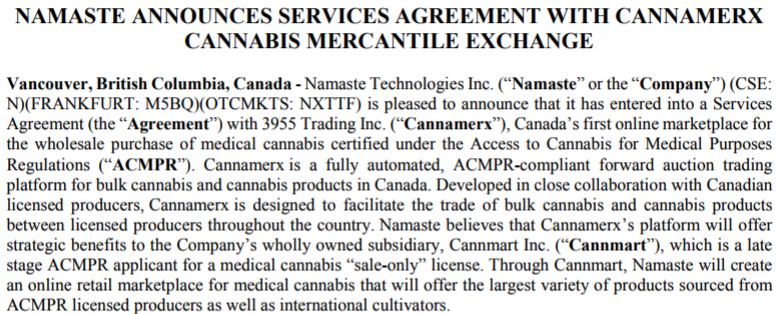 Rather than supply cannabis from one company, this latest deal opens the company to a plethora of new cannabis products. Through the Cannamerx Cannabis Mercantile Exchange, Namaste Technologies has access to bulk cannabis products, sold on a business to business basis.
Whats the significance of this? It allows the company to have easy access to craft producers, thereby enabling the company to be able to sell specialty strains. Furthermore, it has access to countless small producers that it may not have been able to get a deal with through other means. It's also a deal for craft producers, in that now they have another company available to distribute their goods to the end consumer. As per the latest proposed regulations by the government of Canada, craft producers are only able to sell their product to other licensed producers. This is one method by which these producers can sell these goods.
The Cease Trade Order
Lastly on our list, is the cease trade order that Namaste Technologies was subject to on January 8, 2018. The reasoning behind this order, was that the company failed to produce its annual financial statements by the deadline of December 29, 2017.

Seeing items such as this brings the ability of management seriously in to question. This isn't the first time this has happened for the company, so it's not exactly like this is a one-off event. The exact same thing happened exactly one year ago, but evidently the management team hadn't as of yet learned its lesson. For a company valued currently at $780 million, investors should by no means view this as acceptable, or simply give the company a pass. The large glaring question here is, does management know what it is doing? How do you forget about financials, twice?
Closing Remarks
Namaste Technologies has been on a wild streak for the last two months. In December alone it posted a massive monthly gain, giving very generous returns to investors. This was undoubtedly a result of general market excitement, in addition to the progress in which management has made with its NamasteMD subsidiary. It can confidently be stated that the market approves of the pivot the company has performed within the cannabis sector.
That being said, the company now has large boots to fill. Although it may have a significant market cap, in the coming months the company will be forced to justify these figures. It's current revenues of $11 million a year certainly don't justify the current valuation, nor does the $14 million in assets that the company has. Thereby the market has baked in severe future expectations for the company. Will this management team be able to deliver?
Know your investment. Question its performance. Dive Deep.
---
Information for this analysis was found via Sedar, The CSE, and Namaste Technologies. The author has no securities or affiliations related to this organization. Not a recommendation to buy or sell. Always do additional research and consult a professional before purchasing a security.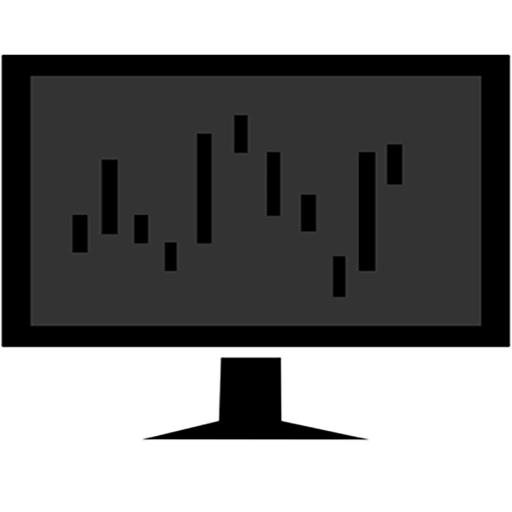 As the founder of The Deep Dive, Jay is focused on all aspects of the firm. This includes operations, as well as acting as the primary writer for The Deep Dive's stock analysis. In addition to The Deep Dive, Jay performs freelance writing for a number of firms and has been published on Stockhouse.com and CannaInvestor Magazine among others.