BRIEFING: Cannabis One Announces Definitive Agreements to Acquire Top Nevada-based Edibles Brand/Manufacturer, Evergreen Organix
Today Cannabis One announced they have executed a Definitive Agreement to acquire all the key assets surrounding Evergreen Organix.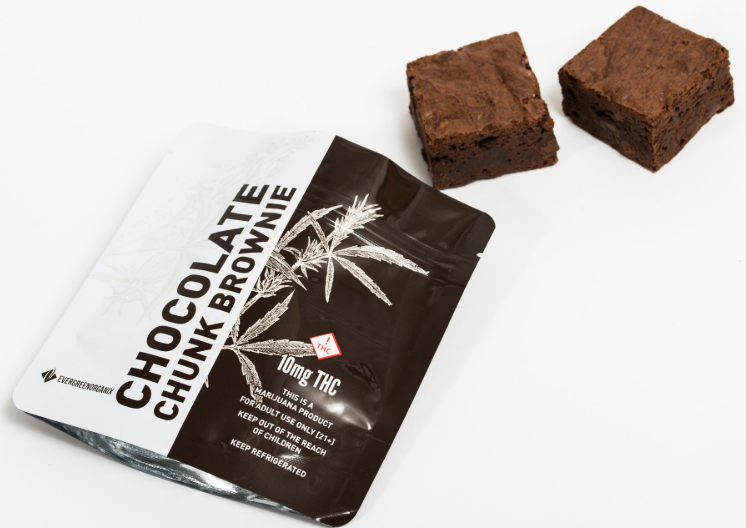 Evergreen Organix has won numerous cannabis industry awards for its branded product line, including Best CBD Flower for its Fleur-branded "Fire Angel" strain; Best Edible for its Evergreen Organix-branded "Chocolate Chip Cookie" at the 2018 Jack Herer Cup; and second place in the Best Edible category at the recent 2019 THC Classic hosted by Rooster Magazine.

"Evergreen Organix believes CBIS represents an exceptional value proposition and a valued industry partner through which to launch the next phase of our progressive state-legal expansion program."


Jerry Velarde, President of Evergreen Organix
Evergreen Organix has established manufacturing and distribution relationships for the production of its signature suite of brands across six (6) states: Nevada, California, Colorado, Washington, Oregon, and Montana.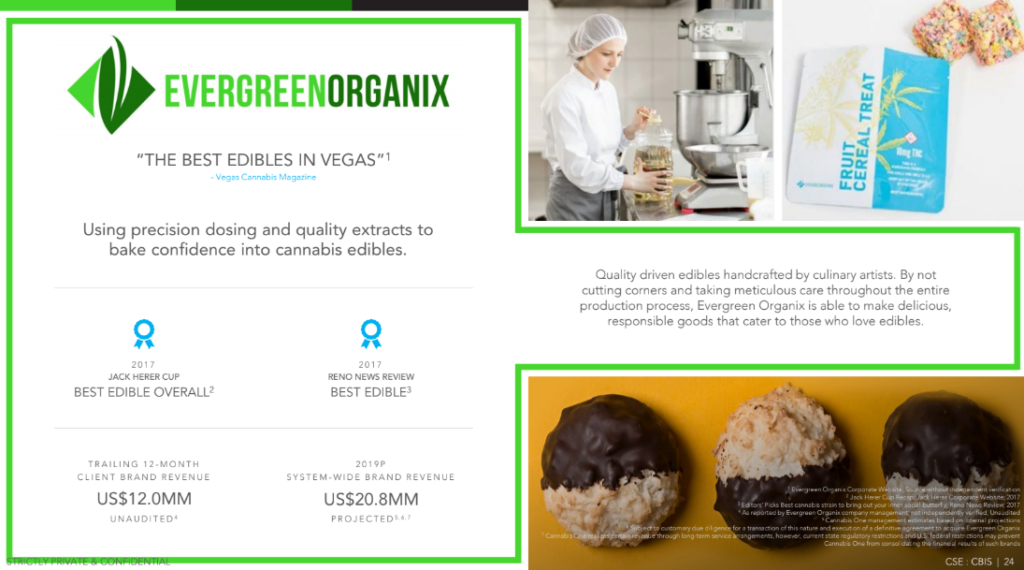 A breakdown of the transaction (for full details see here):
Evergreen Organix is essentially broken down into three main assets:
LV 3480 Partners LLC, 3480 Investors, and Argo Finance LLC.
Cannabis One will pay the following:

US$24,607,506 for LV 3480 Partners LLC in Class B Shares (proportionate to Class A at the above dollar amount).
US$645,000 in cash to 3480 Investors and assuming the remaining liabilities of US$14,355,000
US$8,103,117 in cash to Argo Finance

Some of the other interesting details about Evergreen Organix:
Evergreen Organix management-estimated retail penetration level for its brands in approximately 93.0% of Nevada State-licensed dispensary locations;

provide, through its newly-acquired Nevada Cannabis Licenses, more than 27,000 sqft of additional cultivation capacity to the Company, with another 6,000 sqft of active manufacturing space, facilitating the throughput of CBIS' growing brand portfolio (INDVR, Honu, Fat Face Farms, Fleur, Flav, West Edison, and Cheech's Private Stash).

generate an Evergreen Organix management-estimated, annualized US$15.0 million in annual system-wide brand revenue through the Evergreen Organix channel, during fiscal 2019, with an estimated EBITDA margin of between 23.0% and 30.0%.

further Cannabis One's vision to become a true multi-state operator for the manufacturing, distribution, and retail penetration of its proprietary brands and formulations.
The closing of the transaction contemplated in the Definitive Agreements is subject to receiving all necessary governmental and regulatory approval.
---
FULL DISCLOSURE: Cannabis One Holdings is a client of Canacom Group, the parent company of The Deep Dive. The author has been paid for this work and may or may not own shares of the company. Not a recommendation to buy or sell. Always do additional research and consult a professional before purchasing a security.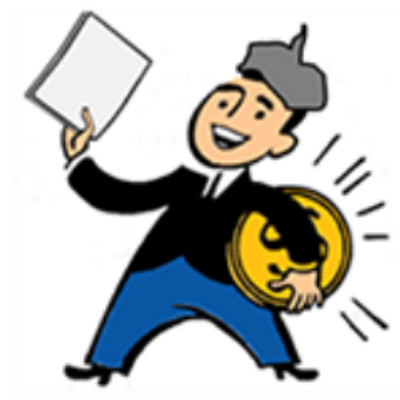 SmallCapSteve started blogging in the Winter of 2009. During that time, he was able to spot many take over candidates and pick a variety of stocks that generated returns in excess of 200%. Today he consults with microcap companies helping them with capital markets strategy and focuses on industries including cannabis, tech, and junior mining.