Cannara Biotech & Its Ties to FSD Pharma
Cannara Biotech (CSE:LOVE) is set to start trading today under the ticker symbol LOVE on the Canadian Securities Exchange. As a result of this event, we thought it fitting to provide some coverage to the equity given its connections to fan favourite FSD Pharma.
Similar to FSD Pharma, there are many misconceptions and exaggerations floating about related to Cannara Biotech. For instance, the size of their facility has been repeatedly stated as much larger than it is. There's also the issue of the share structure for Cannara, which retail investors are likely unaware of. Not only is it a dual class structure that favours the founders, but it is also built in a manner that takes certain rights from shareholders.
If you're a potential shareholder, ensure you've done your full diligence.
Cannara Biotech & Its Ties to FSD Pharma
To begin, lets examine the facility in which Cannara intends to operate. The facility, known as the Farnham Facility and located in Quebec, has an address of 1144 Magenta Boulevard East, Farnham, Quebec. It currently consists of 625,000 square feet of space, and is situated on a claimed 27 acres of land. The facility itself was purchased for $12.55mm on June 15, 2018. This was funded via a secured note, with the entire purchase price being due by April 6, 2021. The note has 11% interest attached to it as well which is payable monthly.
Following the purchase of the facility Cannara Biotech entered into a management agreement with a firm called Olymbec, which is 50% owned by Cannara director Derek Stern. Under the terms of the agreement, which has an indefinite term, Olymbec is privy to 5% of monthly rental income collected, a monthly fee that equates to 5% of the cost of operating the facility, and fees to cover the cost of all services provided to the Cannara facility by Olymbec. It should also be noted that the facility was purchased directly from Olymbec.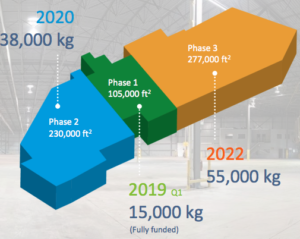 Although the facility is frequently advertised as being 625,000 square feet in size, the context of this is a bit misleading. Although the building may total this square footage, Cannara Biotech's access to all of that space is restricted – they currently lease out 70% of the building. To be fair a portion of this, 105,523 square feet, is leased to FV Pharma Quebec, a subsidiary of FSD Pharma, and the firms second site. The remaining leased out space is to two non-related entities which use the space for warehousing and distribution. Collectively, leases from the two non-related parties is expected to generate $2mm in revenues for Cannara in 2019.
Build out of the facility is expected to occur in three stages, with the first commencing in July 2018 with anticipated completion being Q1 2019. This first stage will cover approximately 120,000 square feet and consists of 18 grow rooms. At an estimated cost of $8mm for the first phase of build out, it is believed that Olymbec will be conducting the majority of the renovations. The second phase of buildout is expected to take place in 2020 with the completion of a lease agreement and will cover 230,000 square feet. The final buildout is currently marked to occur in 2022 for the remaining 277,000 square feet available at the facility.
What investors should take note of is that Cannara itself will not be applying for, or at least doesn't intend to apply for at this point in time, a license to produce cannabis. Instead, FV Pharma Quebec, the FSD Pharma subsidiary, has applied for a second site license to cultivate cannabis. This application was filed on August 18, 2018, and still remains in stage one of six to acquire such a license. As per the terms of their lease, FV Pharma will be conducting all cannabis cultivation, production, and sales activities at the facility. Meanwhile, Cannara, who has no license to deal with cannabis, will be providing "industry expertise" to FSD Pharma Quebec.
For those of you who are not understanding this clearly, Cannara Biotech's entire business plan is predicated on FV Pharma Quebec, an entity in which they do not control, receiving a license to cultivate and sell cannabis products at this facility. If you are curious about the success FV Pharma has seen at their other location, they anticipated receiving a license to sell cannabis in September, but as of yet have not due to their product failing to meet standards.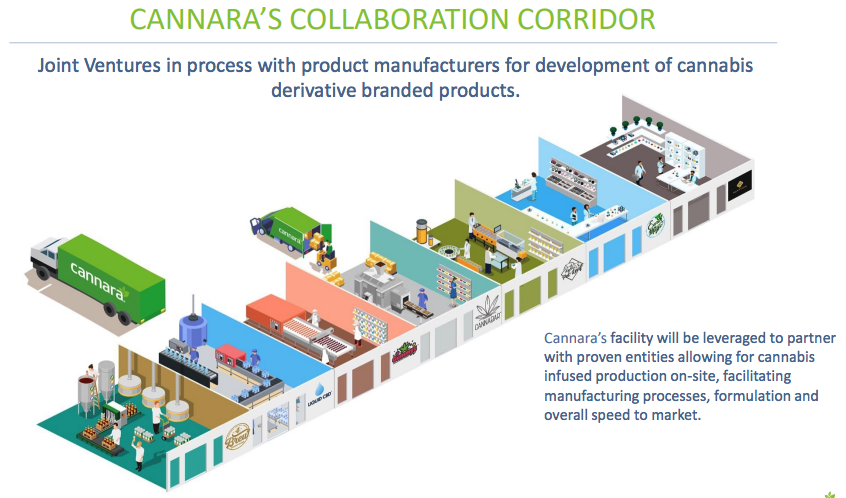 It should also be noted that the company intends to create downstream products from the cannabis supplied via the FV Pharma lease agreement. However, in this instance it is likely that Cannara will only be providing assistance with marketing and distribution of the product, as without the appropriate licenses it will be illegal for the firm to manipulate or sell cannabis products.
In an effort to limit the length of time we keep you here, we'll move on to our next bone of contention – the share structure of Cannara Biotech. As previous noted, Cannara has a dual class share structure. This consists of both Class A and Class B shares, similar to that of its partner FSD Pharma. However, one key difference, is that Cannara's Class B shares hold ZERO voting rights. Currently, there are 15,000 Class A shares in existance, while there are 476,652,330 Class B shares in addition to 207,640,374 subscription receipts for these shares for a total Class B share count of 684,292,704 shares – plus ~31.5 million potential shares in the form of options and warrants. Care to guess which shares will be publicly traded?
If that wasn't enough, here's a quick snapshot of the cost basis for some of those shares which are currently held by founders and insiders:

Yes, that is $15.00 and $300.00, figures are not being donated in thousands or millions for these figures.
Also, there is some misunderstanding out there related to FSD Pharma's ownership in the company based on the latest news release. Many appear to be under the understanding that FSD Pharma owns roughly 25% of Cannara Biotech due to the way things were worded by FSD's IR team. To be clear, FSD has control over 85,003,750 shares of Cannara Biotech in total. Of these, 75,003,750 are through the subsidiary FV Pharma. Here's a cut out from Cannara's filing statement for evidence purposes. It should also be noted that Thomas Fairfull, CEO of FV Pharma, and former CEO of FSD Pharma, is a director for Cannara Biotech.

Of the roughly 693 million shares of Cannara Biotech expected to become free trading on Monday, effectively 316 million are locked up by the two insiders listed above. However, keep in mind that the cost basis for this is extremely low – based on our estimates, FSD Pharma paid a nominal amount for it's investment in Cannara Biotech. This is based on a news release issued on June 19, wherein FSD stated that they owned 25% of Cannara Biotech. By this point in time, the only shares issued for Cannara were at a "nominal" value – not until two days later did the firm collect any significant funds from the closing of a financing. Nevertheless, FSD referred to it as a strategic investment.

At this point in time it is unclear whom currently holds the 15,000 Class A shares for the company. Filings on SEDI list only common shares, and it does not differentiate between the two classes of shares. Although there are plenty of shares outstanding, with insiders locking up all of the Class A shares and almost half of the Class B, its easy to see why it was priced so low in all raises – much like FSD Pharma, the company will be focused on how many shares trade in a given day and the swings that it can cause as a result of the low price.
If you're planning on staking a claim in Cannara Biotech, all the power to you. Just be aware that you have no say in the companies decisions or its performance. And the next shareholder vote, may just take place tomorrow with you being none the wiser.
---
Information for this analysis was found via Sedar, The Cse, Sedi, and Cannara Biotech. The author has no securities or affiliations related to this organization. Not a recommendation to buy or sell. Always do additional research and consult a professional before purchasing a security.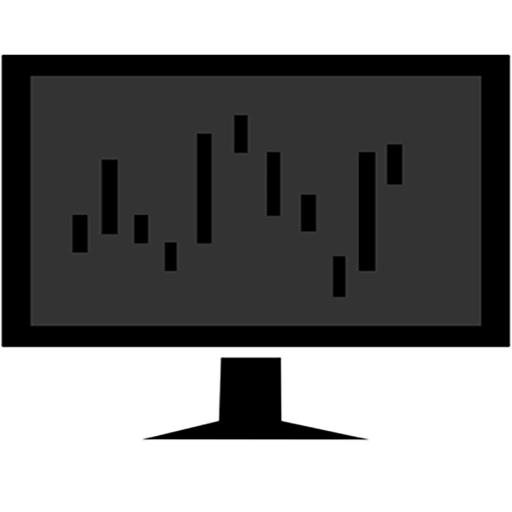 As the founder of The Deep Dive, Jay is focused on all aspects of the firm. This includes operations, as well as acting as the primary writer for The Deep Dive's stock analysis. In addition to The Deep Dive, Jay performs freelance writing for a number of firms and has been published on Stockhouse.com and CannaInvestor Magazine among others.