Car Dealerships are Scrambling to Entice Buyers as Sales Plummet to a Decade Low
The coronavirus outbreak has been causing rampant havoc across the globe; the rapidly exponential spread of the virus has now infected over 1 million people, even after half of the world's population has been ordered to remain under strict isolation measures. The destruction does not stop there, however. The economies of the hardest virus-hit countries have also taken a destructive hit, causing a ripple effect which is protruding with sudden soaring unemployment rates, financial market crashes, and collapsing industries.
One of those industries, which happens to be North America's largest, are the auto-making companies such as General Motors, Chrysler, and Ford. These large automakers employ a vast number of people throughout the auto supply chain. However, the growing concerns associated from the rapid spread of the coronavirus have caused these auto factories to shut down, temporarily laying off workers in the hundreds of thousands- further adding to the already-soaring unemployment rates.
Despite auto factories shutting down in effort to mitigate the spread of the virus, there are deeper inherent economic problems further down the supply chain than what meets the eye. According to data obtained from DesRosiers Automotive Consultants (DAC), the seasonally adjusted annual rate for car sales in Canada was hit with the lowest sales record for the month of March over the last 10 years. In fact, sales were so low that to the unsuspecting observer, the data point for March 2020 appears comparatively non-existent!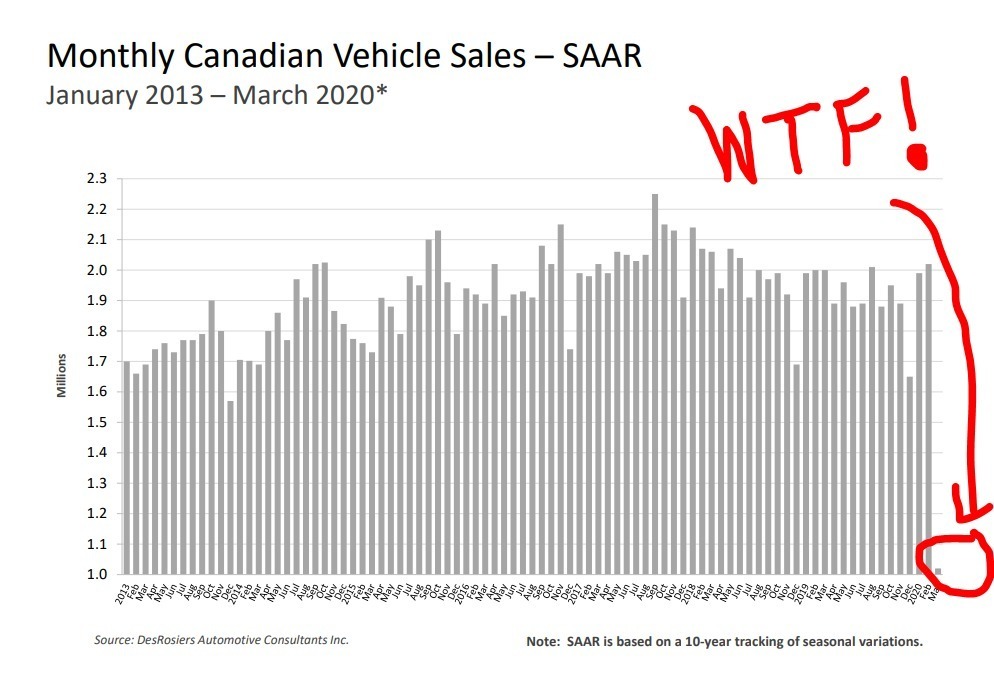 Diving into the detailed data, DAC reported an almost 50 percent decrease in auto sales in March 2020 compared to March of the previous year. Moreover, first quarter financials for Detroit's big three suggest much the same story; Chrysler sales in Canada fell by 18.8 percent, Ford sales down by 13.8 percent, and General Motors decreased by 12.8 percent. Analysts predict much the same decline for forthcoming April sales as well, citing lack of consumer demand and lack of disposable income.
With car dealerships being declared as non-essential businesses, dealers have temporarily closed their doors and are thus reduced to online sales and home delivery services. Many dealerships are digging into their tickle trunks of recession-proof goodies for zero interest loans and payment deferrals to entice customers, but the consumer base is just simply not intrigued- not even with falling gas prices! Many consumers are putting off extensive purchases altogether, and are focused on self-isolating in pajamas, steering clear of the deadly COVID-19 virus, and attempting to maintain their sanity whilst homeschooling their offspring.
Although it may seem the auto industry is on its knees sobbing for you to trade in your perfectly good three-year old SUV for a two-seater sports car given that you no longer need to drive the kids to hockey practice under quarantine, I am sure they will be alright in the end. Heads the auto industry gets bailed out, tails the auto industry gets bailed out.
---
Information for this briefing was found via DesRosiers, Sec.Gov, and Bloomberg. The author has no securities or affiliations related to this organization. Not a recommendation to buy or sell. Always do additional research and consult a professional before purchasing a security. The author holds no licenses.