Choke Points: The War on Inflation is Getting Pretty Selective
Inflation is too high, so central banks are raising interest rates to try and bring it down to tolerance, and that's got everyone pissed. The premiers, home owners, Elizabeth Warren… pretty much everyone hates this.
In Canada, the guy who keeps jacking them up, Bank of Canada Chair Tiff Macklem, sat down with the Globe and Mail recently to scratch his head.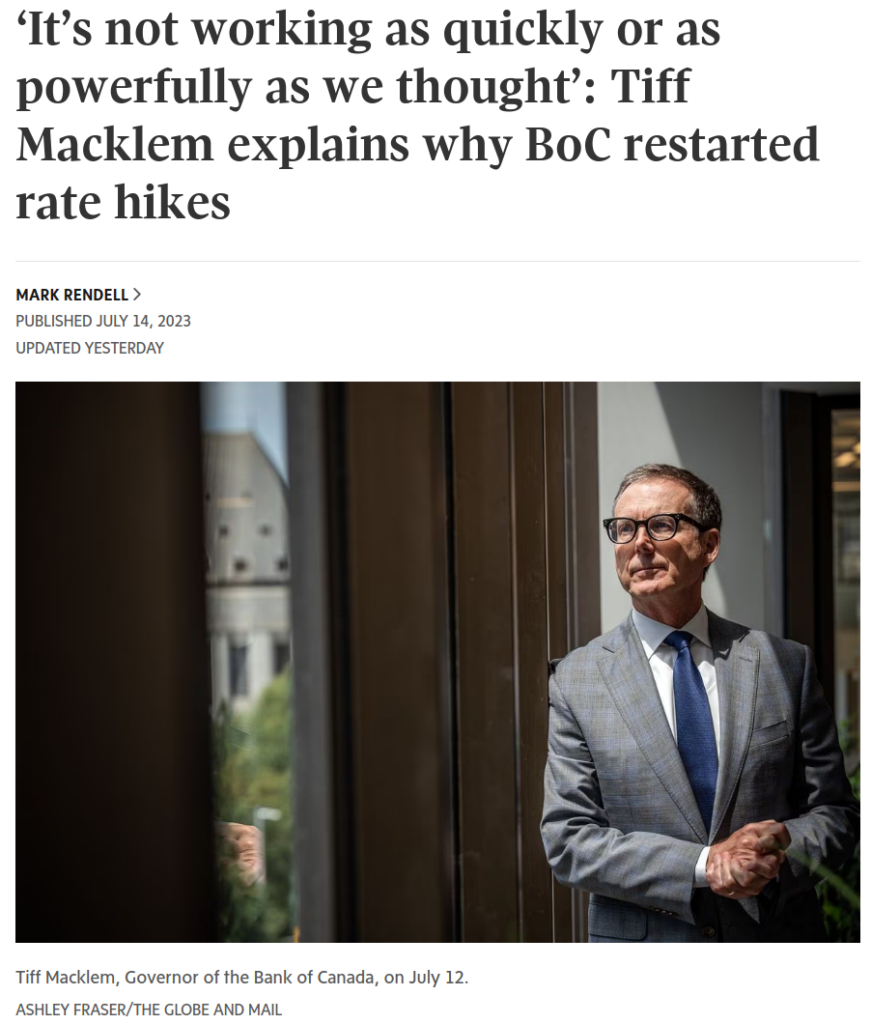 The editors at the Globe, who are probably pissed too, did him dirty with that headline, and he might deserve it, but this is macro-economics: "deserve" has got nothing to do with it.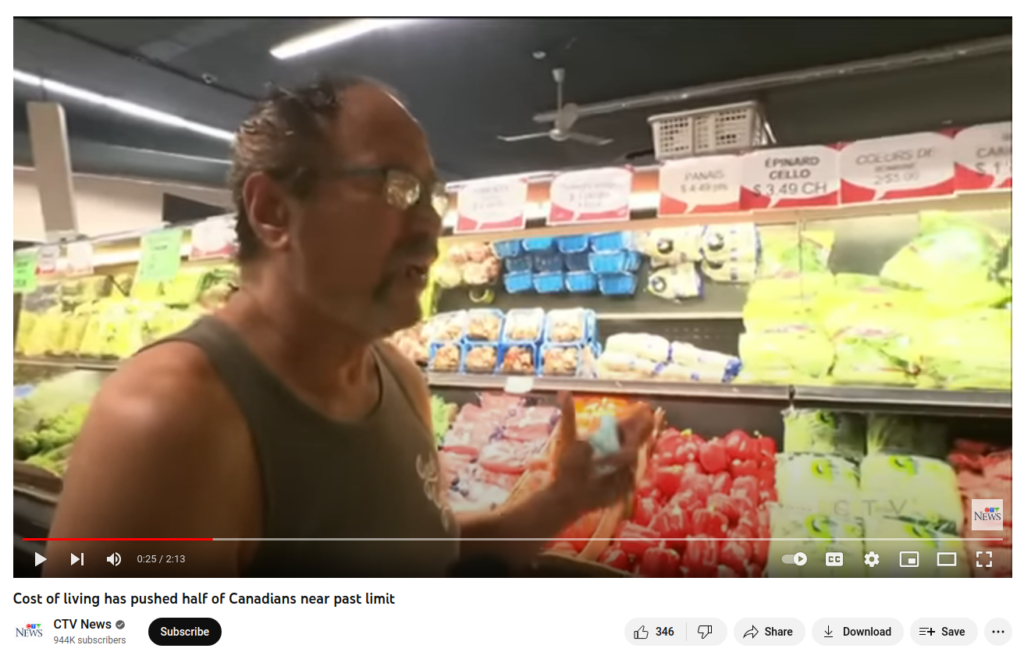 CTV News is running segments, like this one titled "Cost of living has pushed half of canadians near past limit," at what seems like regular intervals. This isn't news exactly. More of a confirmation. Everything costs more than people who aren't independently wealthy can afford to pay for it, and the best idea Macklem or anyone else in a position to address it can come up with is to raise interest rates. The latest raise came last week, and put the overnight rate at an even 5%.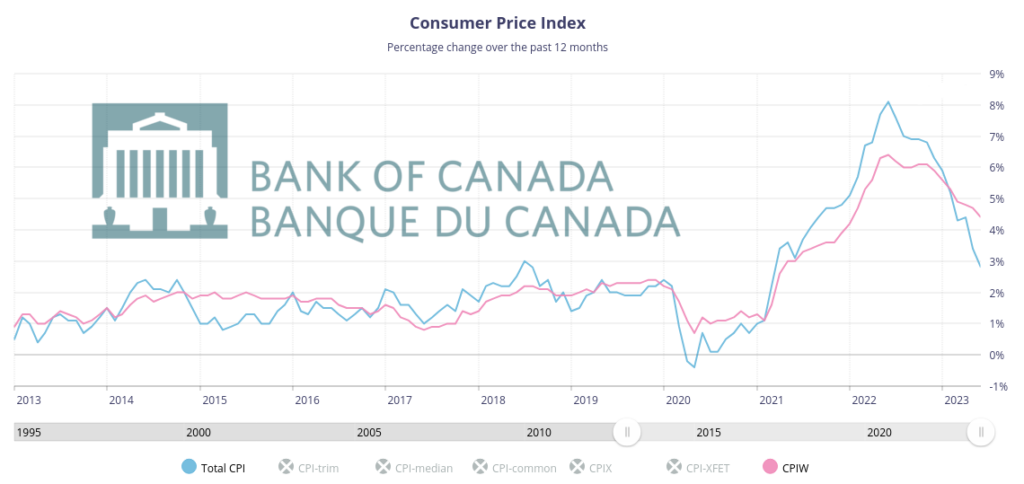 The idea here, for the uninitiated, is to drive the rate at which the cost of stuff climbs (inflation) down by pushing the cost of money (interest rates) up. Rate bumps work like a slow choke: constricting the windpipe of the economic organism, slowing the rate at which it can get the oxygen of capital. Once the capital-starved business organs adjust by laying off staff, or just plain folding, causing the formerly-employed to spend less (because they have less), prices will come down.
If that sounds like a convoluted and bad way to keep prices down it's because, in the near term, it is. The easiest and most effective way to keep prices from going up is to legislate a cap on them. Macklem can't write legislation, of course, but he's also a guy who can get a sit down interview with the only national daily paper worth reading. If he tells the government to do something, they can't ignore him.
Nixon capped prices in 1970, as part of the Economic Stabilization Act. Fed Chair Arthur Burns and Fed-Chair-to-be Paul Volcker were both on board with it. Nixon put a 90 day freeze on all price increases and wage increases, and put a 10% tariff on imported goods for good measure.
The Minister of Finance has asked grocers nicely not to raise prices. If they do it anyhow, she is prepared to ask them very nicely…
But that was then, over there, and this is now, over here. Canada's Finance Minister Chrystia Freeland, who can absolutely craft legislation that caps prices, is not interested. She phoned in a comment on apparently softening inflation from G20 meetings in India, telling CTV News: "I am really counting on Canadian companies, Canadian food retailers to be responsible right now and to support Canadians and the Canadian economy by a responsible approach to their pricing," but didn't discuss how that was working out so far.
"Get back to work, or you'll ruin the economy we're trying to ruin!"
An export economy like Canada's puts a lot of pressure on the ports, and makes the Longshoremen's Union one of the few organizations where the working class can assert their power the old fashioned way. A two week strike that snarled Canada's ports was ended last week by a federally appointed mediator, who determined that the parties weren't far enough apart to justify the preservation of the ILWU's continued right to strike.
UPDATE: The International Longshore and Warehouse Union has rejected the deal, and issued another strike notice.
FURTHER UPDATE: The Strike's back off again, following a very weird one line press release, issued later that same day.
The strike started July 1st, causing the British Columbia Maritime Employers Association, various board-of-trade and chamber-of-commerce types, and pretty much anyone who gets invited on the evening news to comment on the economy, to start crying as loud as they could to whatever's left of the country's financial press about the MILLIONS per DAY! in TRADE! that the strike was costing the Canadian economy! …without explaining why that's a problem at this particular time.
Isn't that what we're up to here with the interest rate hikes? Choke off the economy so that everyone's too broke to drive prices up? The dock workers being off work not earning, and jamming businesses up so bad they have to lay people off, sounds like it would be worth a few points of interest rate hikes all on its own. Why not leave them to duke it out, give the economy a bit of a chill, and bring inflation down?
For the same reason nobody is considering price caps as an inflation fighting measure: they both shift power to the labour class.
Landlord just asked me if I have a job. Motherf*cker, do you!?
The number one cost on everyone's monthly P&L, and the price that would have to be capped if anyone were to take this seriously, is the price of housing. We've spilled plenty of ink over why, and who benefits, because housing stories are popular, and relatable, and perpetually relevant.
A national housing strategy built around creating rental unit supply is also facing inflation headwinds, according to BC's home builders, who practically set the sob story they told to The Globe and Mail's Frances Bula about how construction costs and jacked up rates are "hobbling them," to violin music.
Bula played stenographer for a few different developers, but didn't think to ask any of them, or UBC economist Tom Davidoff, why developers aren't addressing their capital cost problems with the very attractive rates that the CMHC offers to developers of residential housing that is deemed to be 70% "affordable." Her colleague Matt Lundy did enough journalistic legwork last fall to make the CMHC redact the names of the developers to whom they lent up to 100% of project build costs at as low as 2%, and gave us an opportunity to make all sorts of snarky comments. For all we know, the developers Bula talked to are swimming in cheap CMHC construction loans and crying anyhow. Why wouldn't they?
A housing strategy that gave consideration to the homes that already do exist in this country might dovetail nicely with an inflation-fighting policy that adjusts the cost of goods and services, instead of just the cost of money. Twin caps on what landlords can charge for rent and what banks can charge for mortgage interest would give people some breathing room, and would also limit the return available to capital inclined to speculate on the secondary housing market. Some of it might end up doing something more economically useful instead …or taking advantage of the the 2% loans the CMHC is giving out for new housing starts.
None of this is discussed or even suggested, because the people crafting policy (including Chrystia Freeland) are landlords. Their idea of a national housing strategy, is to create as much rental housing as the lending mechanisms can support, and create a definition of "affordability," that floats with the income of a home's residents. They've worked hard to make landlording The Canadian Dream, in the most literal of senses.
It's hard to blame anyone out there landlording for their lack of imagination. It's the best and safest return on their money, and they didn't make this economy the way it is. The people who did are presently trying to squeeze the life out of the whole economy to keep their own part of it intact.
---
Information for this briefing was found via Reuters, Bloomberg, and the sources mentioned. The author has no securities or affiliations related to the organizations discussed. Not a recommendation to buy or sell. Always do additional research and consult a professional before purchasing a security. The author holds no licenses.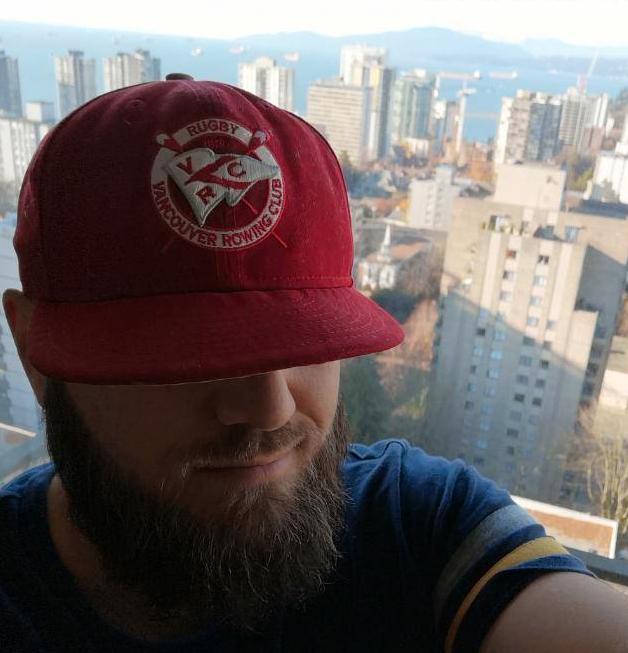 Braden Maccke is a freelance writer from Vancouver, B.C.
You can read all of his Deep Dive articles here.
He can be reached at braden@fundamentalhype.com.