Freeman Gold Corp (CSE: FMAN) is a Canadian-based mineral exploration company. They own the Lemhi Gold Project, which is located in Lemhi County, Idaho, United States. The Lemhi Project comprises 99 unpatented claims and 11 patented claims. It also owns the Comstock Property, located outside of Merritt, British Columbia in the Nicola Mining District.  The Company is primarily focused on the exploration and development of the Lehmi Gold Project.
The Investment Thesis
Our investment thesis can be broken down into the following key points:
The current macro environment has created a bullish catalyst for the price of gold with the world's largest central banks expanding their balance sheets to fill the gap in GDP from reduced productivity.
Freeman Gold has a large deposit with some historical estimates coming in over 1 million ounces of oxide, open-pit, heap leachable gold at the Lehmi Project in Idaho – and one that proves economic.
The property already has 355 holes drilled into the deposit area, giving the company strong data to expand the resource.
Mineralization is open at depth, with many holes being drilled to a max depth of 250m, often bottoming in mineralization, open along strike, and largely untested regionally.
The Lemhi property has seen some drill large results including 1.8 g/t Au over 193.55 m and 4.28 g/t Au over 54.96m.
Idaho was ranked No. 8 in the world on the 2019 Fraser Institute rankings of mining attractiveness index.
At the time of publishing, Freeman has favourable comparisons relative to other mining companies in the area currently trading at less than $30/oz in the ground (market cap to inferred resource).
Overall, the Deep Dive sees a potential setup for the greatest gold rush in decades within the near term. Companies with large deposits, in safe regions, that trade at reasonable metrics, in our opinion have favorable risk/reward profiles for investors. We feel that Freeman gold fits this framework perfectly.
The Lemhi Gold Project
The Lemhi Gold Project is located in Lemhi County, Idaho, U.S.A., within the Salmon River Mountains, a part of the Bitterroot Range which forms the Idaho-Montana border. As at the date of the Lemhi Gold Report, the Lemhi Gold Project comprised 10 patented mining claims (placer and lode), 1 patented millsite and 99 unpatented claims, totaling approximately 2,519 acres (1,019 hectares) of mineral rights and 616 acres (249 hectares) of surface rights.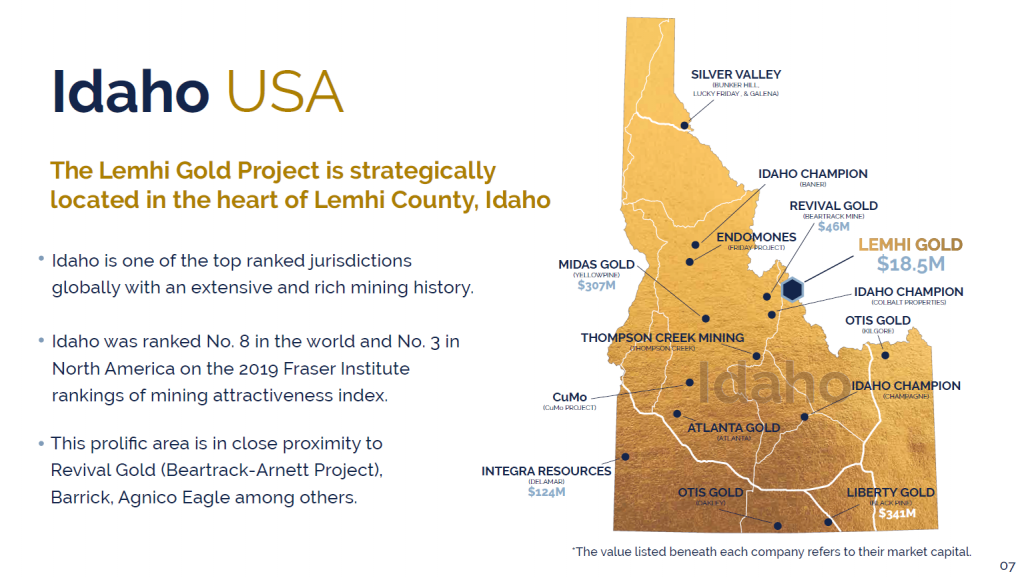 There have been over 355 holes drilled in the deposit area of the Lemhi Gold Project. On June 11, 2020, the Company announced the staking of 219 additional claims at the Lemhi Gold Project. Figure 1 below shows the patented claims staked at the Lemhi Gold Project by the Company.
The newly staked claims cover areas in the vicinity and along strike of the known near surface, oxide gold mineralization outlined by over 355 drill holes between 1980 and 2012. The Lemhi Gold Project now consists of 7,515 acres of ground that has gone largely unexplored despite the discovery of the historical resource. The deposit 8 at the Lemhi Gold Project remains open at depth and in most directions. The surrounding area is unexplored and has not had the feeder system or source of mineralization discovered yet. The Company believes a comprehensive work program is warranted to follow up on key drilling intercepts such as:
13.72 m at 15.19 g/t Au;
10.67 m at 8.41 g/t Au; and
19.81 m at 6.91 g/t Au.
The Company intends to undertake an initial twin, in-fill drilling program in order to prepare a maiden NI 43-101 compliant technical report in respect of potential mineral resources.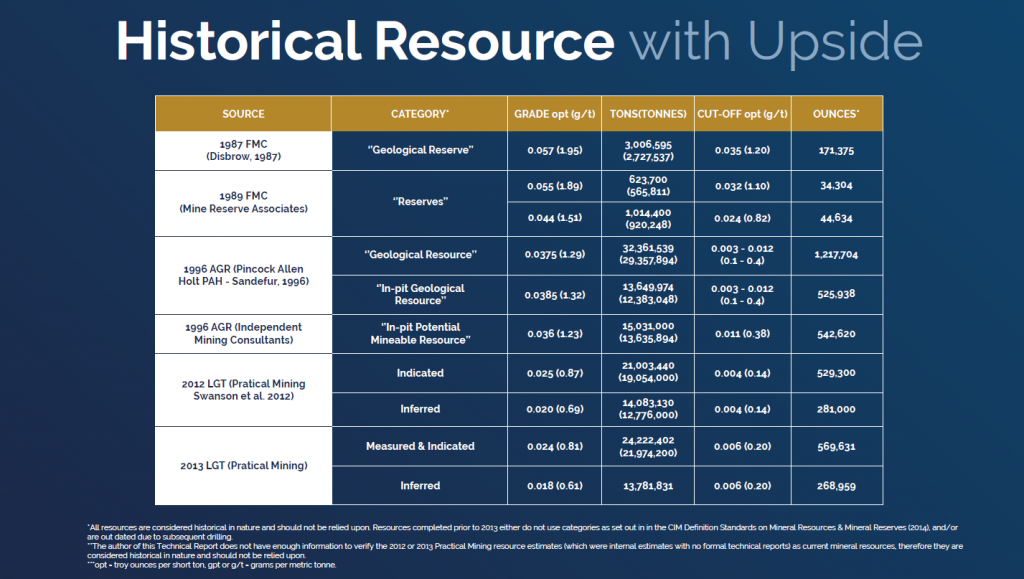 Management Team
Will Randall, President, CEO, Director
Mr. Randall is a professional geologist that has over 20 years of experience in the mining and mineral exploration industry. Will was one of the early movers in the lithium brine industry, where he acquired, discovered and developed the Sal de los Angeles lithium brine project in Argentina. During his time running Sal de los Angeles, approximately $70M was raised for the development of the project which he led through resource development, feasibility, mine permitting and initial construction before being sold in an all-cash deal for $265M. Will has been involved in the successful development of several mining projects, including joint ventures with majors and national governments. Mr. Randall was raised in Argentina, before moving to Canada where he completed a BSc (Geology) and MSc. (Economic Geology) at the University of Toronto.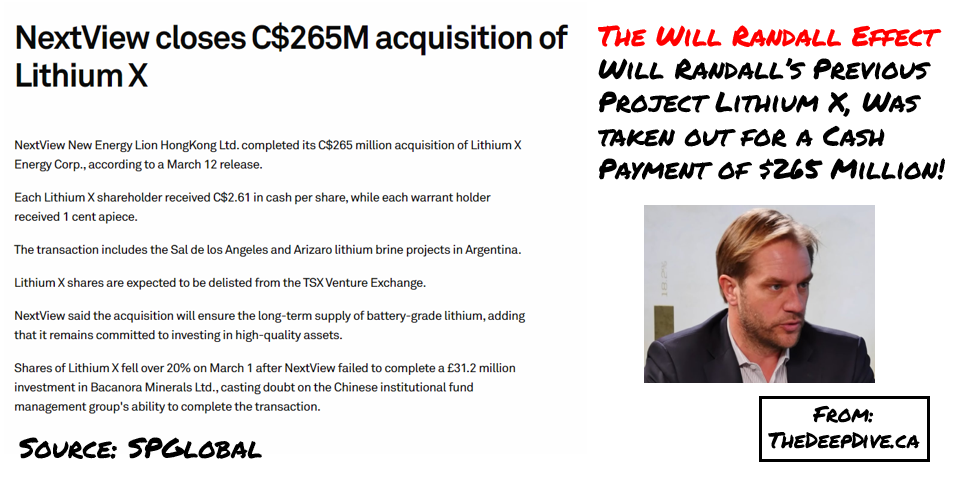 Victor Cantore, Director
Victor is a seasoned capital markets professional specializing in the resource and high-tech sectors. Victor has over 25 years of advisory and leadership experience, having begun his career in 1992 as an investment advisor and then moving into management roles at both public and private companies. Organized and structured numerous equity and debt financings, mergers and acquisitions, joint venture partnerships and strategic alliances. Serves on the boards of various companies both private and public.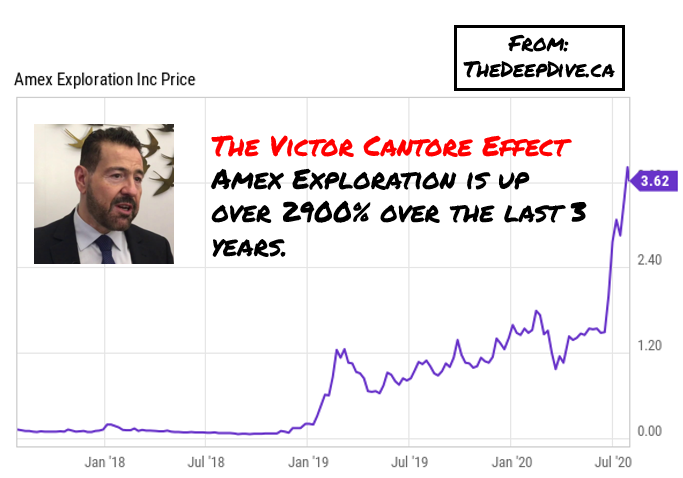 Simon Marcotte, Director
Simon was a partner of Cormark Securities for 4 years in institutional equity sales and also sat on their board of directors. He has eight years experience as a Director for CIBC World Markets and holds a B.A.A. from Sherbrooke University and is a CFA charter holder. Simon is currently a Director of Arena Minerals and has been involved, either as a director or an officer, with Mason Graphite, Belo Sun Mining, Alderon Iron Ore, Copper One and others.
Ronald Stewart, Director
Ronald has over 30 years international experience in the mining and capital markets industry, with over 20 years direct mining operations experience, including operations management, project construction and development, exploration, feasibility analysis and evaluations. Ronald has a wide range of hands-on experience in both underground and open pit mining operations including mine design and production planning, capital and operating budgets, feasibility and expansion studies, financial analysis and property valuation. Extensive experience in public, media and government relations and was directly responsible and credited with the greenfields discovery of a 3 million ounce gold mine in Ontario. Managed a team on the discovery of a 4 million-ounce gold mine in Western Australia.
Comparables
Gold has been found throughout Idaho and the State is home to a good number of mining districts, with both lode and placer deposits. The biggest gold discovery in the state was the Boise Basin gold strike of 1862 – with millions of ounces of eventual gold recovered in the region. It is considered a relatively easier jurisdiction to get permitted where large oxide deposits are often found; a cheaper way of producing gold.
Here we break down how much each Idaho gold company is trading at relative to ounces in the ground.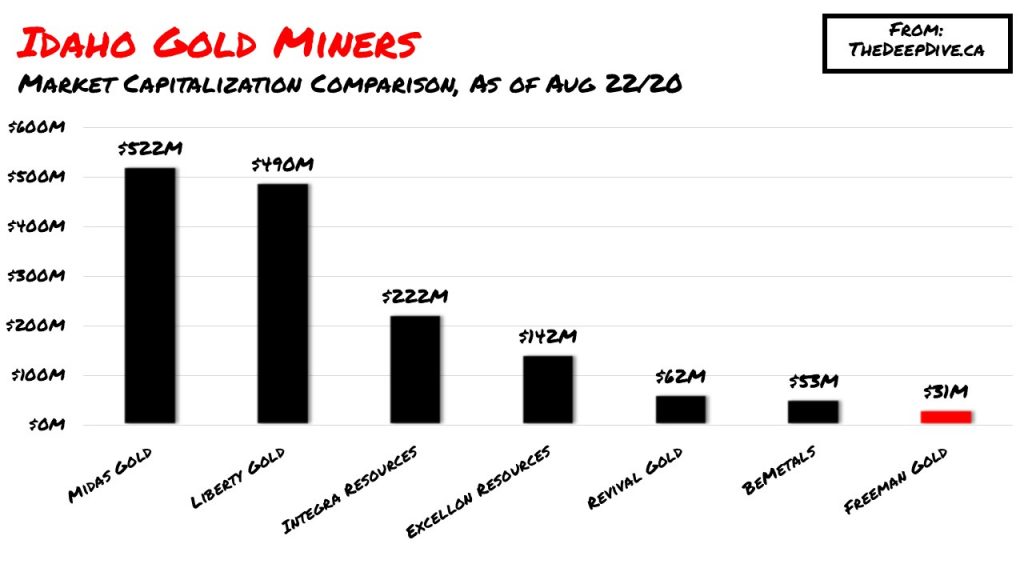 Catalysts
From our view some of the potential catalysts that could have a large impact on the share price include:
The price of gold. The most obvious variable for any gold prospector, explorer, developer or producer is the price of gold. Simply put, as the price of gold goes up, the net asset value of projects go up, which make the companies more valuable.
Broad economic indicators. Given the recent COVID stimulus packages which have seen a massive number of jobless claims, the assumption is that governments and central banks will take on debt funded through quantitative easing (money printing) to fill the gap.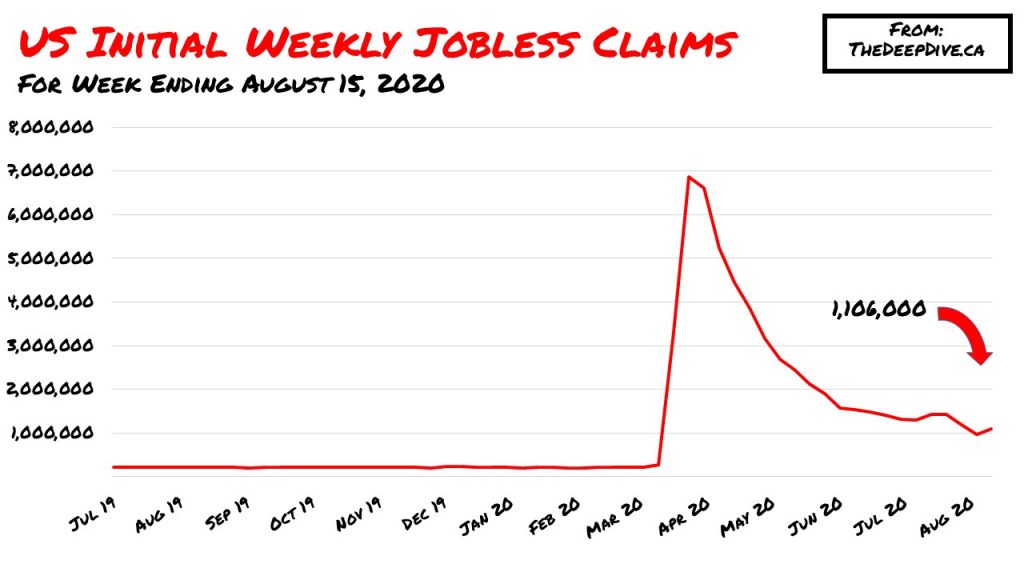 The results of a potential future drill program at the Lehmi Project. The company recently raised over $10M in an oversubscribed bought deal. The use of these proceeds will primarily go towards exploring and drilling to property with the goal of expanding the resource. Should the company find a material amount of more gold in the ground, it would serve as a catalyst for the common shares.
Potential future M&A activity. We are still early in what the Deep Dive believes will be a secular bull market for gold. Freeman has opportunities to take on additional projects through acquisition.
New management/board members joining the organization. With many of the same co founders as K92 Mining ($2m to $1.2bn from 2014-2020), we have a feeling there is still more to come to this management team and board. As asset like this is sure to attract more top tier executives.
Risks
From our view the following risks are worth considering.
Price of Gold. Just as gold price can be a catalyst, a potential decline in the price would have a negative impact on gold exploration stocks. We are of the mindset that if gold sits above $1800, there will be a flight of capital coming towards the juniors. However, if it drops below, explorers will likely struggle.
Drill Results. Poor drill results will not help the stock.
Market Sentiment. Having recently seen market sentiment explode in Canada for cannabis stocks, we feel that in order for gold and juniors to explode, there will need to be positive sentiment towards precious metals. From our observations on social media, this has largely been the case since the start of Q3/2020.
Supply of Gold. During every gold bull market a series of projects get revived, expanded or discovered. As the cycle ramps up, supply ramps up, we view it as essential that Freeman is able to move the project forward in a relatively efficient manner.
For a full list of risks, we encourage readers to look at the company's risk section of their most recent MD&A on Sedar.
Conclusion
At the Deep Dive, we like gold. We especially like projects in safe jurisdictions with large resource estimates. When gold juniors get frothy they often trade upto 10% of the price of gold for what they have in the ground. From our view, a company like Freeman trading at less than $30/oz in the ground is an indication of how early we are in the gold cycle. We feel that as market sentiment continues to change, governments continue to paper over the economic effects of COVID, and the price of gold continues to climb, investors will start to pour into gold like a modern day gold rush. Overall, we feel Freeman offers a very attractive risk/reward profile based on the historic work, current valuation, jurisdiction and most importantly the economic environment.
---
Disclaimer:
Freeman Gold is a marketing client of the CanaCom Group. This is not intended to be used as financial advice. This Report is meant for general information purposes only. This report is not a buy or sell recommendation. The authors are not licensed financial advisors. We encourage readers to seek a licensed financial professional in making investment decisions. Please do your own due diligence and understand the risks before investing.
The information collected for this Report is collected on a best-efforts basis, and/or may not accurately reflect up to date information. All charts and diagrams refer to the prices as of market close Thursday, May 28, 2020.
For more information, please email info@canacomgroup.com – or on twitter @thedeepdive_ca