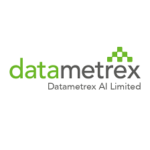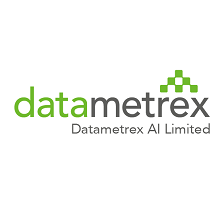 Datametrex AI Limted (TSXV: DM) is a Canadian based company that is focused on AI and Machine Learning through their wholly owned subsidiary Nexalogy, with a recent focus on COVID-19 testing kits.
Nexalogy unlocks valuable insights from social media data. Through its proprietary semantic clustering algorithms, it provides insights and analysis that aren't available through traditional business intelligence technology. This technology makes data more relevant and is the missing link in providing actionable social media intelligence to governments and organizations all over the world. Recently the company obtained the rights to import and sell COVID test kits from multiple South Korean vendors to Canada, Saudi Arabia, the European Union, Turkey and the United Kingdom.
The Investment Thesis
The overall investment thesis for DataMetrex in our view can be broken down into the following main points:
DataMetrex has a growing AI Business focused on Social Media Analytics; however the valuation proposition changed when the company recently announced their strategy to distribute South Korean COVID-19 test kits.
Chairman Andrew Ryu has extensive connections and ties to South Korea; the country which is known for the strongest handling of COVID-19.
The company has inked deals with 4 different South Korean COVID test kit manufacturers for global distribution rights.
DataMetrex has already announced various orders and indicated strong demand for their test kits. 
They have created infrastructure for testing; partnering with TransPharma Canada. And will also sell PCR machines which can do up to approximately  96 samples every 1.5 hours.
At the time of publishing, DataMetrex has three sales contracts, where they sold kits for approximately $50 each.
The company believes in the near term they can source (obtain supply of)  between 1 to 2 million South Korean test kits per quarter.
Overall, we feel DataMetrex is a company in transition; with a solid and growing legacy business in social media analytics. The main shareholder value proposition is the opportunity to be the leading global distributor for South Korean COVID test kits.
Business Model
DataMetrex overall business model can be broken into two main segments:
COVID Test Kits
Nexalogy
COVID TEST KITS
On April 16th, DataMetrex got approval to sell and import South Korean manufacturer iONEBIO's testing kits. Nearly one month later, they partnered with three other South Korean vendors to sell their products in various countries around the world. The company demonstrated to investors they were taking on a new objective that would drastically change the business model for the company.  They would attempt to be the world leader in South Korean test kit distribution. On May 15th the Company announced their first sale with a Canadian mining company. The purchase order included 10,000 kits and 1 PCR system totaling US$500,000. They then closed another. And another.
Understanding COVID-10 Testing
There are two main types of testing currently being used around the world today: 1) PCR based, and 2) Antibody tests.
The PCR Based Tests are considered the "gold standard" of diagnosis of COVID-19. These were the first test kits to be made and used and are thought to have the highest positive rate when the test is conducted from the lower respiratory system. PCR tests are mainly done on patients who are in the hospital because of how lengthy and costly these tests can be. There are other ways to be tested; using oral or nasal swabs. These two methods are less intrusive and take less time to conduct making them the preferred way to do rapid screening. DataMetrex is focused on this category.
The Antibody Test Kits are commonly referenced as being sold from China with poor results. The American CDC has warned that these tests are approximately 50% accurate. The Australian Therapeutic Goods Administration reported that the tests would not be accurate unless the patient has been symptomatic for at least 2 weeks, and even then will need further confirmation from a lab.
DataMetrex: PCR Based Testing
Currently DataMetrex has distribution deals for 4 different test kit manufacturers. The first testing kit is the Ezplex Detection Kit manufactured by SML-Genetree. They have a Nasal and Oral swab which are the ones you typically see in the videos of the qtip looking thing that goes far up your nose. These kits will detect COVID-19 from the nucleic acid of the swabs. The machines can hold upto 96 samples and take 90 minutes to conduct the tests. These tests currently only have a CE Europe license and are waiting on Health Canada, FDA and FDA Emergency Use Authorization approval.
The second test kit is manufactured by 1DROP; a spinout of Samsung. They have two different types of swabs, a nasal swab and an oral swab. They both look for and detect COVID-19 with the use of E and RdRp genes. The PCR machines take up to 90 minutes to process 96 samples. These tests are approved in Saudi Arabia, Sir Lanka, South Korea, EUA FDA and by Health Canada. 
The third test kit is Seasun Biomaterials U-TOP detection kit. This kit is administered via oral or nasal swabs like the others and detects COVID-19 by testing for RNA in patients. The machine will do 96 samples in 150 minutes because it goes through 5 different products to make sure there are no false positives. Further, this machine has FDA Emergency Use Authorization approval, alongside Europe CE approval and is currently waiting for Health Canada approval.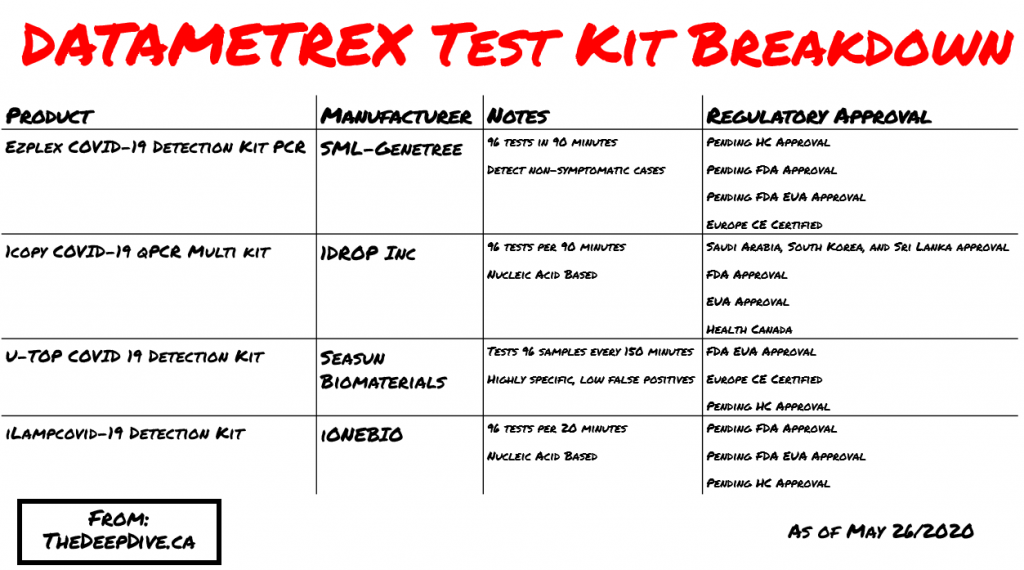 The fourth test kit is manufactured by iONEBIO and is called the iLampcovid-19 Detection Kit. This test kit is administered only by nasal swabs and will test for RNA which will then be put into LAMP's analysis machine. The machine will have to run for 20 minutes to read through 96 tests. Although this test does not have any approval just yet, they have applied for FDA and Health Canada approvals.
The last thing to make note of is their partnership with Transpharm Canada.  This allows for the processing of test results for companies that do not have the means to analyze the kits themselves. Currently their lab can process 2,304 kits every day, which can be scaled up to 10,000 kits per day.
Nexalogy: A Social Media Discovery Tool
Datametrex has a legacy business that showed strong growth prior to entering the COVID test arena. Nexalogy unlocks valuable insights from social media data. Through its proprietary semantic clustering algorithms, it provides insights and analysis that aren't available through traditional business intelligence technology. This technology makes data more relevant and is the missing link in providing actionable social media intelligence to governments and organizations all over the world.
NexaSecurity
Social-media discovery and monitoring platform for those who need to extract actionable insights out of discussions to inform decision-making. This app has been around for 5 years and has been made in conjunction with various government agencies such as the DRDC and OSINT as well as the software has been used by CAF, NATO and the Five Eyes countries. 
The technology utilizes various social media, RSS feeds, websites and forums to go through hundreds of thousands of unstructured text and turn it into actionable reports using AI. Part of their discovery process will allow you to find trends that are either starting to form or have not formed but are starting to gain traction on various websites, this allows action to be taken before things become a problem by changing the narrative, or getting to the root cause and stopping it there. 
NexaAgent
Includes novel entity extraction and text summarisation functions. This will allow users to input large amounts of text or social media data into the system and receive a digested synthesis with key terms.
The company's recent quarterly cash flow statements reflects Nexalogy, where we can see the company was working towards being cashflow positive on a regular basis.
Management Team
Marshall Gunter, CEO
Marshall has a robust engineering background, which is rooted in data analysis and machine learning. He worked with Sequola Capital and Lightspeed Venture Partners to bring their product Varagesale to market, during his time there he turned it from a 1 room shop to a department of over 60 people. He played an instrumental role in their 35 million dollar raise. He lead a team that builds iSentium's sentiment engine, which uses Natural Language Processing to gauge sentiment from social media and turns it into indicators that are used in different sectors around the world.
Steve King, CFO
Steve is a finance and accounting professional, has over 25 years of experience while working at a wide variety of companies such as Honeywell, LG Electronics, and other account firms and public companies in Canada. He served as the V.P. of Finance at Loyalist Group and spearheaded Datametrex's qualifying transactions in June of 2017. Steve holds a B.A. in Economics from Kora University and is a Certified Management Accountant (USA) and a Chartered Professional Accountant.
Andrew Ryu, Chairman of the Board
Andrew is an experienced entrepreneur of public and private companies with over 20 years of experience. Graduate of McMaster University and Toronto. Founder and CEO of TLA Inc, President of Business Development of Archer Education Group, Founder and former CEO of Loyalist Group Limited, Served as interim CEO and Chairman of Graph Blockchain.
Jeff Stevens, Advisory Board Member
Jeff is an experienced operator who brings 20+ years of experience in the Canadian capital markets. Jeff was the head of two sales and trading desks. Jeff's background was mostly focused on capital raising for micro and small-cap companies.
Comparables
Comparables are difficult to find for DataMetrex. There are various companies looking to sell antibody test kits. However we feel those aren't strong comparables, given that DataMetrex is attempting to sell test kits from some of the strongest manufacturers in South Korea. In this case, we chose various comparables who manufacture their own kits.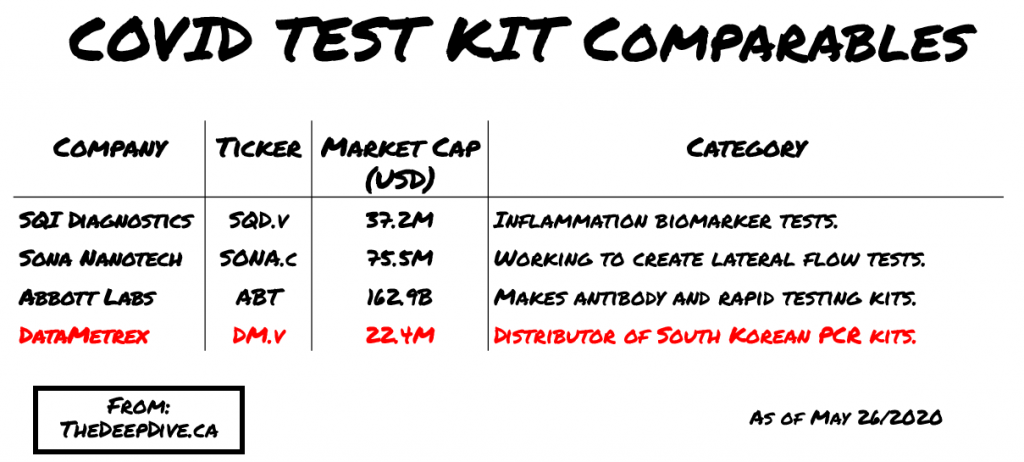 Catalysts
From our view some of the potential catalysts that could have a large impact on the share price include:
Test kit sales agreements with a major government.
Test kit sales agreements with large private organizations.
Further contracts for Nexalogy.
A second wave of virus infections.
Risks
From our view the following risks are worth considering.
Test kits sales. From our view one of the largest risks is the possibility that DataMetrex fails to sign deals with large organizations or governments. At a $33M valuation, the company will need to begin selling a substantial amount of volume to create shareholder value.
Regulatory Approvals. Obtaining regulatory approval from either Health Canada or foreign governments will be critical to generate sales volume and help satisfy global demand.
Lack of Supply. In order for DataMetrex to make this model work, they will need to access enough supply to satisfy demand. Given they don't control the manufacturing of test kits, this could create challenges.
Loss of Supplier. DataMetrex is being positioned as a distributor. They do not manufacture test kits or own any IP. As a result, challenges could emerge with suppliers who would like to circumvent the distribution model.
For a full list of risks, we encourage readers to look at the company's risk section of their most recent MD&A on Sedar.
Conclusion
When DataMetrex common stock started increasing our team was confused. We saw a market capitalization north of $50M with limited upside given Nexalogy's recent financial performance. With the recent pivot to COVID testing the company has found a path to create massive potential upside.
DataMetrex is looking to source between 1 to 2 million test kits per quarter, which they have previously sold for nearly $50 per kit.  They are sourcing kits from the country that is considered to be the leader in the handling of the virus. Overall, we feel the company's test kit business provides some near term upside and the artificial intelligence business provides some long term optionality for investors of the stock.
---
FULL DISCLOSURE: DataMetrex AI Limited is a client of Canacom Group, the parent company of The Deep Dive. The author has been compensated to cover DataMetrex AI Limited on The Deep Dive, with The Deep Dive having full editorial control. Not a recommendation to buy or sell. Always do additional research and consult a professional before purchasing a security.