Crypto Drama: FTX And Its Growing Red Flags
SBF is deleting tweets that assured firm has "enough to cover all client holdings", the so-called "liquidity crunches", the still contentious "insolvent" sister company, and to top it all off–the sudden acquisition by Binance
When we're in a relationship that had been so good for us at the start–fulfilling a need or exceeding expectations–we tend to be engrossed with the idea of staying in that relationship, so much so that we become oblivious to the red flags it presents.
Without a doubt, crypto exchange FTX might have started with the same dream of any crypto trader–push the digital currency space forward into mainstream use. However, given the nascent state of the industry, it is easy to fall into cracks in figuring out what are the good practices and the ones that scream beware.
The supposedly "fight-not-fight" exchange between FTX CEO Sam Bankman-Fried and Binance CEO Changpeng Zhao has sent crypto twitter ablaze. It's easy to get lost in the "drama" and forget that there are actual hard-earned dollars that are being put into these tokens–essentially, trust is being invested.
READ: The CZ-SBF Twitter Feud, Explained
SBF deleted tweet that assured firm has "enough to cover all client holdings"; FTX reportedly pausing withdrawals
Bankman-Fried reportedly deleted a tweet which relayed that FTX "has enough to cover all client holdings."
The crypto exchange is facing a huge volume of withdrawals and has been accumulating backlogs in the past days as investors were spooked of apparent poor fiscal management and the declining value of the FTT token. This was further aggravated when Zhao announced that Binance will be liquidating all of its FTT tokens, reportedly amounting to approximately $500 million.
While on twitter, Bankman-Fried and FTX have consistently assured that the exchange is working on catching up with the backlog, it has been reported that withdrawals were seemingly paused. The FTX chief addressed this and reiterated that withdrawals are live, but unconfirmed reports are surfacing that the withdrawals are effectively paused.
According to Etherscan data, the last withdrawal transaction is about 15 hours ago as of this writing.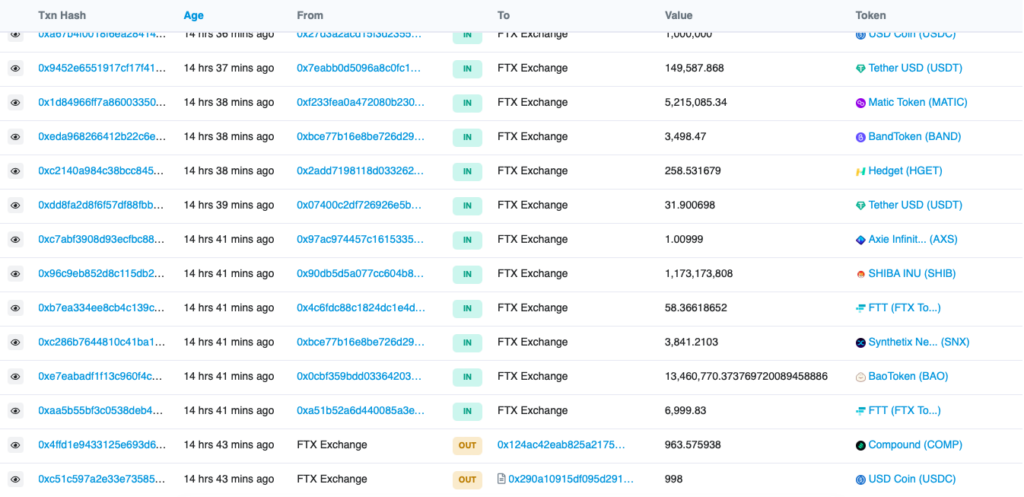 Insolvency and "liquidity crunches"
The apparent spat between the two crypto moguls started with a report claiming FTX's sister hedge fund, Alameda Research, is insolvent and projected to suffer the same fate as that of the bankrupt Celsius Network. A tweet linking to the report was liked by Zhao.
The report alluded to a leak of the balance sheet of Alameda, which is also run by Bankman-Fried. The document allegedly showed that out of the hedge fund's $14.6 billion in total assets, $5.8 billion is tied to FTT tokens–FTX's own digital asset. Hundreds of millions are also believed to be comprised of the fund's holdings in Serum (SRM), Oxygen (OXY), MAPS, and FIDA tokens–all of which are connected to Bankman-Fried in one form or another.
Somehow giving credence to the unverified report, Alameda CEO Caroline Ellison clarified the financial snapshot, saying that the reported balance sheet is "for a subset of our corporate entities" and therefore doesn't include more than $10 billion in assets that the fund has.
FTX's story is different, however. In announcing the Binance acquisition, Zhao and Bankman-Fried both relayed that there is a "significant liquidity crunch" that needs to be addressed–likely triggering the pause in withdrawals. This comes even after Bankman-Fried consistently assured that investors should be able to "do what you want and trade where you want."
According to a Reuters report, FTX has processed around $6 billion in withdrawals in the last 72 hours.
Binance "suddenly" saves the day
No matter how Zhao and Bankman-Fried assure followers of the feud that this is not a "fight or war," their shade on twitter tells a different story. Not to mention, Binance did liquidate all of its FTT holdings a year after pulling out its FTX equity. Zhao also described this move as a last resort comparable to the LUNA token of which the Chinese exchange still has holdings.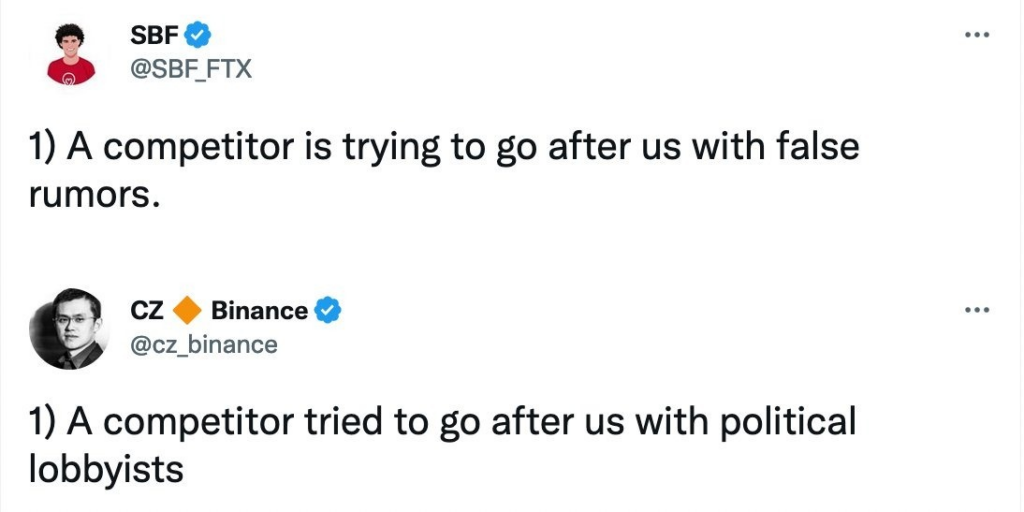 For all intents and purposes, the two crypto executives aren't exactly chummy friends. That is until the two crypto firms announced Binance's plan to acquire FTX after the latter sought help from the former.
"This afternoon, FTX asked for our help. There is a significant liquidity crunch. To protect users, we signed a non-binding LOI, intending to fully acquire FTX and help cover the liquidity crunch," Zhao started his tweet.
He later clarified that "Binance has the discretion to pull out from the deal at any time," given that it is non-binding–which might be a frail assurance for investors who still have money locked in FTT betting on the liquidity crunch being addressed.
"A huge thank you to CZ, Binance, and all of our supporters. This is a user-centric development that benefits the entire industry," tweets Bankman-Fried of the announcement. He reiterated that the holdings are "fully backed 1:1."
It is unsure if this statement still holds true after the FTT token value crashed in recent days following the feud. While it did have a momentary surge after the Binance acquisition announcement, the token has further slumped 74%–trading at around a two-year low of $5.00.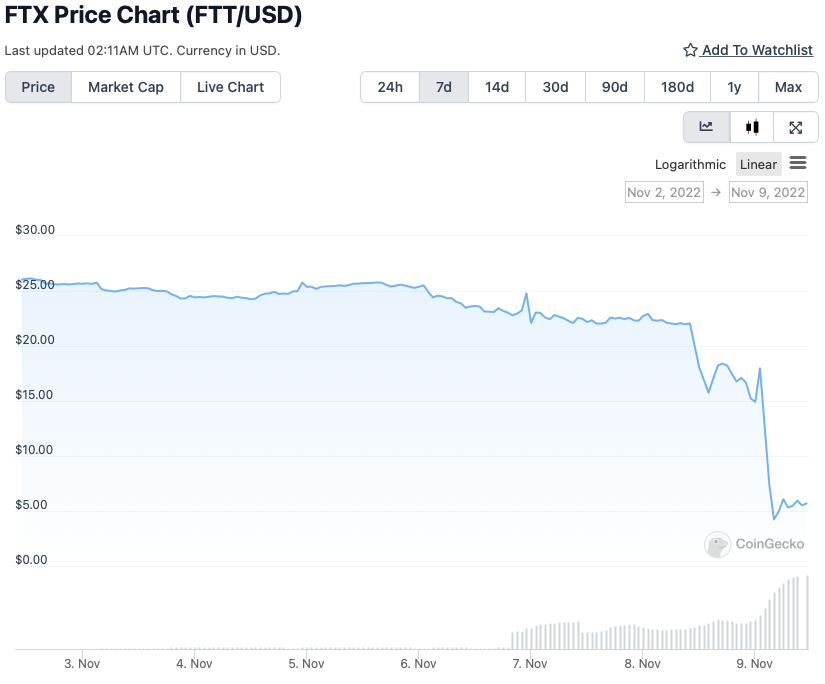 According to the Bloomberg billionaires index, Bankman-Fried is now worth $991 million, down from $16 billion just yesterday following the crash of FTT token.
It is also worth noting that FTX and Bankman-Fried are being investigated by Texas' securities commission for allegedly offering unregistered securities related to "crypto yield farming" accounts.
READ: FTX Investors Seem To Imply That Nothing Much Has Happened In Crypto Since The Start Of 2022
---
Information for this briefing was found via the sources mentioned. The author has no securities or affiliations related to this organization. Not a recommendation to buy or sell. Always do additional research and consult a professional before purchasing a security. The author holds no licenses.