Ex-Twitter Employees Sue Elon Musk For Not Paying Severance, Claim "Elon Doesn't Pay Rent"
A group of long-time former Twitter employees are suing the social media company and its CEO Elon Musk for allegedly violating severance agreements and flatly refusing to pay them after the chief executive conducted massive layoffs at the firm.
The suit was brought by Tracy Hawkins, Vice President of Real Estate and Workplace; Joseph Killian, who in his 12-year tenure started as a receptionist and ended his employment as Lead Project Manager of Global Design and Construction; Laura Chan Pytlarz, Global Strategy and Operations Lead for Food and Events; Wolfram Arnold, a Staff Software Engineer; Erik Froese, a Senior Manager in Software Engineering; and Andrew Schlaikjer, who in his 12-year tenure started as an intern rising through the ranks to become a Senior Staff Machine Learning Engineer.
The court filing said that some of the plaintiffs were in the "room where it happened" after Musk's takeover of Twitter, privy to and participants in high-level discussions and deliberations among Twitter's new leadership after the merger.
"Led by Musk and the cadres of sycophants who were internally referred to as the transition team, Twitter's new leadership deliberately, specifically, and repeatedly announced their intentions to breach contracts, violate laws, and otherwise ignore their legal obligations," the plaintiffs said.
"Elon told me he would only pay rent over his dead body"
Specifically, Killian was allegedly "forced to resign… after being repeatedly and specifically directed to violate California's building codes" to build Musk's "Twitter Hotel" for employees he reportedly wanted to work through the night.
In building the said "hotel," Killian was instructed to add a bathroom next to Musk's office so that he won't have to wake his security team and cross half the floor to use the bathroom in the middle of the night. When Killan informed Steve Davis–an exec in Twitter and the CEO of Musk's The Boring Company–of the necessary permits to make it happen, the latter replied, to paraphrase, "We don't do that, we don't have to follow those rules."
Killian was also asked to do a number of things that are in violation of building code and the lease agreement with the San Francisco headquarters landlord, including circumventing the lighting control system since it was motion-sensitive and "bothered" people living in the hotel rooms, installing space heaters, and placing locks on the hotel rooms that were meant to just be temporary rest spaces.
California code requires locks that automatically disengage when the building's fire suppression systems are triggered. But Killian was told that compliant locks were too expensive and was instructed to just install cheaper locks.
In one instance, Killian was asked to "break all of Twitter's leases and close offices regardless of Twitter's outstanding obligations on those leases."
"Elon doesn't pay rent," one member of the transition team told Hawkins.
"Elon told me he would only pay rent over his dead body," said another member to Killian.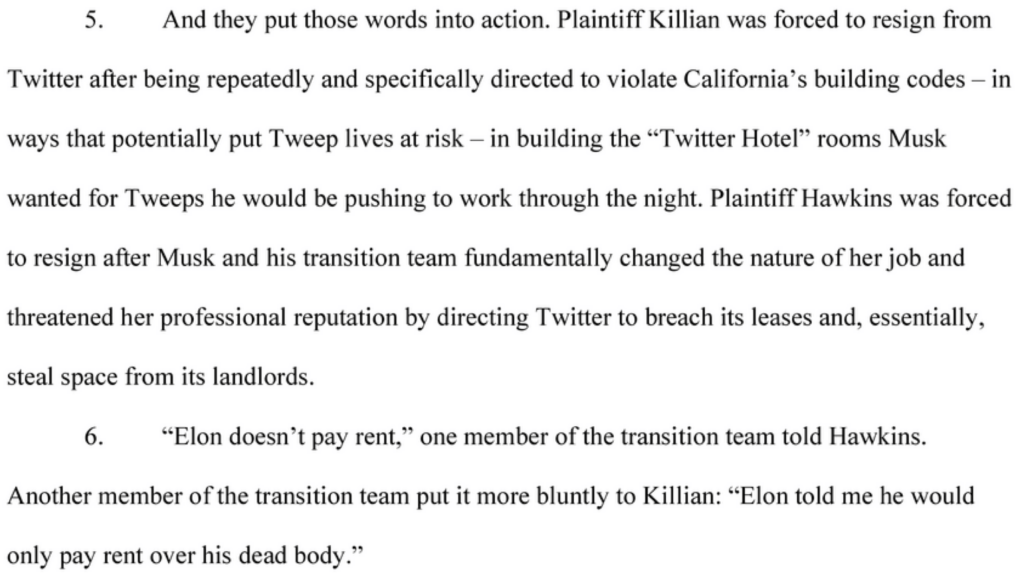 Hawkins was also forced to resign after her job was fundamentally changed and her professional reputation threatened "by directing Twitter to breach its leases and, essentially, steal space from its landlords."
At one point, Hawkins was instructed to identify leases for cancellation. Hawkins and her team took the effort to document the risk considerations involved in identifying potential venues and leases that may be terminated for cost savings, such as high termination fees.
When informed of the risks of termination fees during a meeting on November 3, Davis said, "Well, we just won't pay those. We just won't pay landlords." In the court filing, the plaintiffs cited Musk's lawyer Alex Spiro loudly opining that it was unreasonable for the landlords to expect the firm to pay rent since San Francisco was a "shithole."
Hawkins also stated that the transition team froze all payments to vendors until they could be "verified" without explaining or conducting any verification process.
"Instead, upon information and belief, the verification rhetoric was a way for the Transition Team to terminate vendor payments without immediately announcing to vendors that Twitter was deliberately breaching its contracts with them," said the court filing.
When vendors said they wouldn't be performing work until their invoices are paid, Twitter simply fired these vendors.
Robert Kaiden, then the company's Chief Accounting Officer, was also reportedly fired for making sure that the employees received their November restricted stock unit vests, according to the merger agreement, which Musk initially attempted to halt.
Both Killian and Hawkins were warned that it would be irrelevant to Musk that Twitter was legally or contractually bound to pay a particular sum when deciding whether or not to pay it when the time came. This is because Musk operated on a "zero cost basis" and that Twitter would therefore simply decide afresh, for each significant expense, whether or not it wanted to pay what it owed.
Earlier this year, the building owner of the San Francisco HQ, Sri Nine Market Square, sued Twitter for failing to pay the $3.36 million December rent and the $3.42 million January rent for its offices.
No severance
For Arnold, Froese, Pytlarz, and Schlaikjer, they were fired after Musk took over Twitter and "then flatly refused to pay them their contractually required severance."
"This was severance that Twitter and Musk had–in order to induce Tweeps to stay through the close of the merger–promised would be paid if Musk conducted a layoff, and which Twitter and X Holdings had bound themselves to pay under the terms of the Merger Agreement," the plaintiff added.
The plaintiffs described Musk's operation: "keeping his contractual promises is optional."
The court filing cited a Severance Policy email where the firm promised employees that "in the event of a position elimination," the severance package will include two-month worth of base salary, pro-rated performance bonus, cash value of equity held, and cash contribution for health care continuation.
But when Musk took over, around half of the staff, including executives, were fired almost immediately. The plaintiffs alleged that on information and belief, Musk refused to pay those executives the agreed-upon compensation.
Musk's first day at the Twitter helm involved firing top executives, including CEO Parag Agrawal, CFO Ned Segal, and Vijaya Gadde, head of legal policy, trust, and safety. But it seems the new "chief Twit" would get himself out of paying their severance packages as they were reportedly terminated "for cause."
The termination provides the executives a "golden parachute" clause equivalent to US$204 million in compensation and stock awards according to a US Securities and Exchange Commission filing.
They also alleged that Musk even went so far as to forbid Twitter from paying the janitors for work already completed after they protested about being sacked. For the rest of the laid off staff, including Froese and Pytlarz, the email informing that they were terminated outlined a planned severance package far less than what Twitter had repeatedly promised and contractually agreed to pay.
"[T]he Company is offering a severance package of one month base pay (or OTE for commission-based employees) to eligible impacted employees," the email read. The plaintiffs said that "all told, on information and belief, Twitter laid off, fired, or engineered the resignations of over 5,000 employees within less than two months."
"The reason Twitter sought to engineer resignations or excuses for for-cause firings is clear: were Twitter required to keep its word to all of the laid-off employees and actually pay them severance per the pre-existing policy, the total cost would easily be in the nine figures," the plaintiffs reasoned. "Instead, Twitter has simply refused to pay the severance it promised to the employees to convince them to stay through the merger, and which Musk bound himself to pay them."
The suit charges Musk and Twitter with 12 counts of violation, including breach of merger agreement, breach of contract, violation of the WARN Act, wage theft, and employment discrimination.
---
Information for this briefing was found via the sources mentioned. The author has no securities or affiliations related to this organization. Not a recommendation to buy or sell. Always do additional research and consult a professional before purchasing a security. The author holds no licenses.