Food Professor Says Galen Weston Jr. Isn't to Blame for High Cost of Living
In a recent op-ed for the Toronto Sun, Dr. Sylvain Charlebois, director of the agrifoods analytics lab at Dalhousie University, suggested that Loblaws (TSX: L) and its CEO Galen Weston Jr have merely become "the lightning rod of consumer frustration at the grocery checkout."
Charlebois carefully outlined the supporting narrative, saying that "other grocers have raised prices to the same extent as Loblaws," and explained that food inflation is "inherently a global phenomenon, mainly affected by supply chain woes, energy costs, higher commodity prices and climate change," pointing out that the rate of food inflation in Canada "remains the third lowest amongst G7 countries, including the EU."
And then he took to Twitter to enumerate how much more — and why — the cost of living would go up for Canadians this year. Opening with food, he picked up the $3.4 billion in net profit major grocers made together last year and compared it with how much more people will be paying for mortgages and credit cards, and how much bigger banks have actually made.
The food-industry commentator then rattled off other high cost-of-living factors such as "policy-induced inflation," the lack of competition, higher labor costs, lower productivity rates, higher taxes, regulations, interprovincial barriers, and finally closes with the country's "geographical vastness."
He especially wants people to look at the banks, because "any single Canadian bank profit last year trumps that of the COMBINED Canadian grocers who are 'gouging' Canadians."
Charlebois decidedly mocks "gouging," and is selective with some responses.
"The blame was mostly and unfairly directed at one company, one man. It's been a little silly," Charlebois says in his article.
He offers some reasons for Canadians to be "cynical" of grocers, pointing out price-fixing and how "some abuse may exist in the food industry" and surmises that Canadians "feel unprotected due to lingering unfinished inquiries."
He fails to acknowledge the possibility that people might angry because while they have had to internally debate buying bread with their budget, Weston, who has the power to ease the pain at checkout and not just pretend to, has doubled his wealth.
Some users also responded with examples of the price differences and hikes that go up to 40%: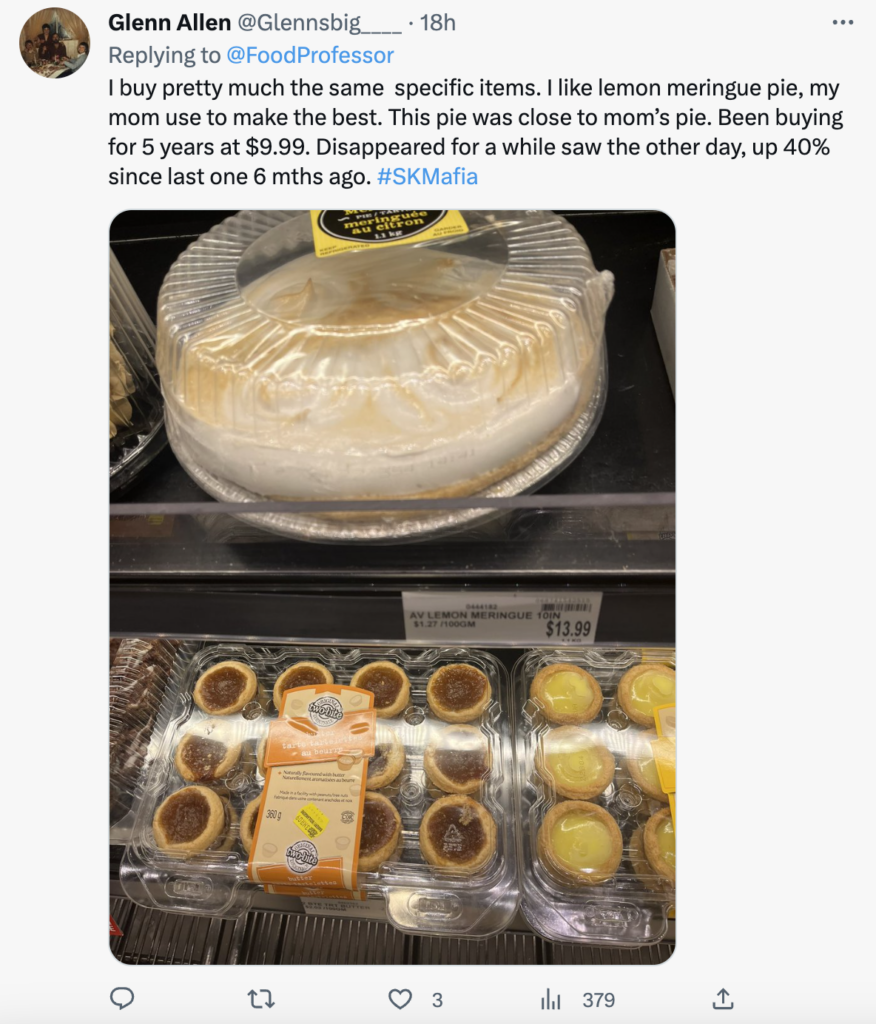 Charlebois maintains that "the 'greedflation' nonsense is simply not helping," missing the part where it's not really that "silly" when you learn that an entity like Loblaws has continuously found ways to pass on the burden of inflation to its customers.
---
Information for this briefing was found via Twitter, Toronto Sun, and the sources and companies mentioned. The author has no securities or affiliations related to the organizations discussed. Not a recommendation to buy or sell. Always do additional research and consult a professional before purchasing a security. The author holds no licenses.