Human Rights Group Reports Existence of Chinese 'Police' Stations In Canada, Other Places In the World
Canadian authorities are investigating reports of Chinese "police" service stations in Canada. According to a human rights group, individuals connected to these stations may have been involved in "persuading" Chinese nationals suspected of committing crimes to fly back to China to face legal proceedings.
Safeguard Defenders, the Spain-based human rights group that made the report, says that China had opened 54 of these stations in 30 countries, including the US, UK, Brazil, and Nigeria, with three in the predominantly Chinese communities of the Greater Toronto Area.
But in a response to an inquiry by CBC News, the Chinese embassy said that these service stations were set up by local authorities in Fujian, China to assist Chinese nationals abroad and are not manned by Chinese police officers, and are "not involved in any criminal investigation or relevant activity."
"Due to the COVID-19 epidemic, many overseas Chinese citizens are not able to return to China in time for their Chinese driver's license renewal and other services," they said in the statement. "For services such as driver's license renewal, it is necessary to have eyesight, hearing and physical examination. The main purpose of the service station abroad is to provide free assistance to overseas Chinese citizens in this regard."
The RCMP on other hand also released a statement saying that it is "investigating reports of criminal activity in relation to the so-called 'police' stations," as it takes "threats to the security of individuals living in Canada very seriously and is aware that foreign states may seek to intimidate or harm communities or individuals within Canada."
Conservative MP Michael Chong shared that there are reports of "threats directly targeting people who are advocating for minority rights in China, such as those from the Uyghur and Tibetan communities. These stations are now another tool that Beijing can use to repress Canadians here in the Chinese community in Canada."
Chinese authorities might also be using these stations to run after individuals suspected of fraud under their Anti-Telecom and Online Fraud Law. The law was only adopted in September but state-run Chinese newspaper Global Times reported that around 230,000 people suspected of telecom fraud were "persuaded to return to China from overseas to confess crimes from April 2021 to July 2022."
Laura Harth, campaign director at Safeguard Defenders, said that other than harassing and threatening family members living in China, to sending covert agents to directly coerce suspected individuals to go back home, "worst-case scenarios are those where they even lure or entrap people to a third country, from where they can have them returned — or even kidnappings."
Dissidents residing in Canada have become fearful of being targeted.
China's establishment of these overseas "police" service stations is "completely illegal under international law," according to Safeguard Defenders' campaign director Laura Harth. "It's a severe violation of territorial sovereignty."
In Ireland, the Department of Foreign Affairs on Wednesday ordered the shutdown of a station operating in the city center of Dublin.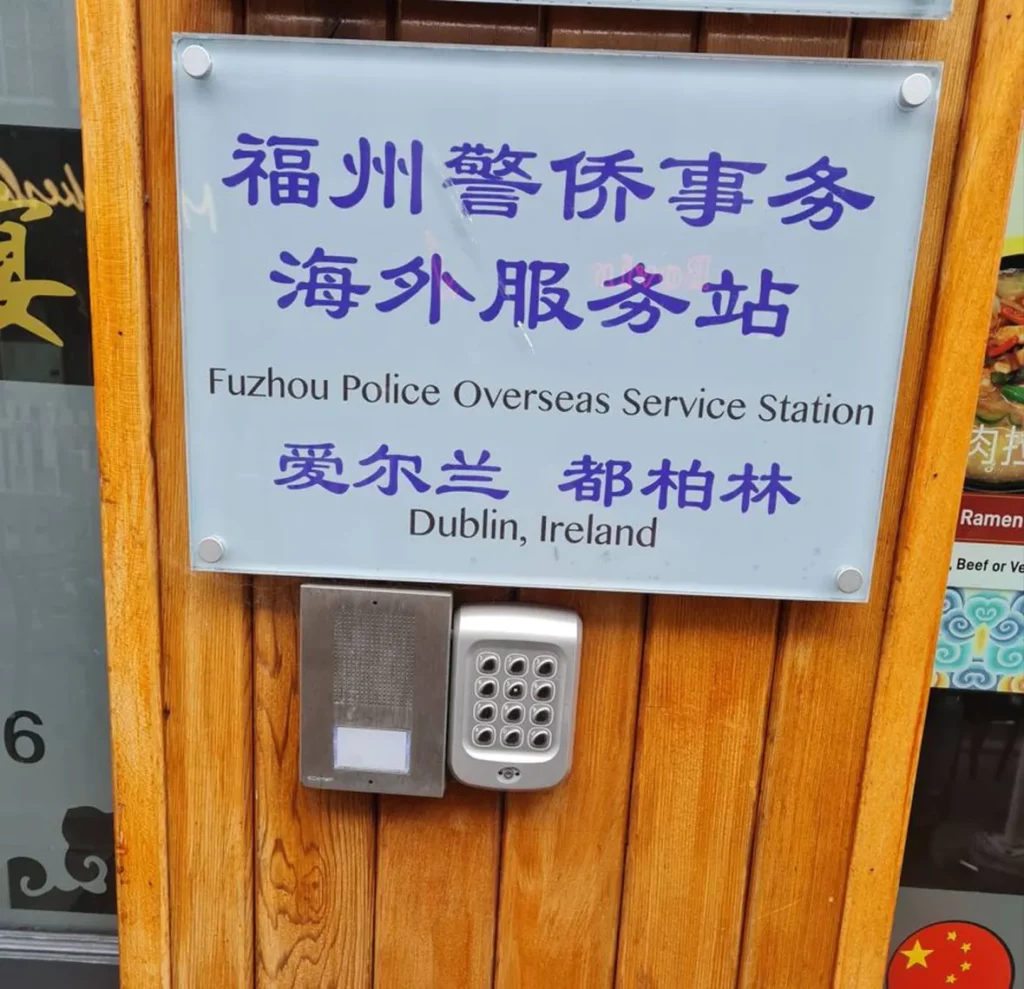 "The Department noted that actions of all foreign states on Irish territory must be in compliance with international law and domestic law requirements," a spokesman said. "On this basis, the Department informed the Embassy that the office on Capel Street should close and cease operations."
The Dutch government has also announced that it would launch an investigation into two similar stations operating in the Netherlands after they received reports that these stations were being used to monitor Chinese dissidents living abroad.
China has strongly denied growing allegations about these stations and has maintained the narrative that these stations exist to provide services like renewing driver's licenses to citizens who can't return home due to the coronavirus pandemic.
Foreign Ministry spokesman Wang Wengbin said at a press briefing on Wednesday that "the allegation is simply untrue."
---
Information for this briefing was found via CBC, The Irish Times, Politico, Safeguard Defenders, and the sources and companies mentioned. The author has no securities or affiliations related to this organization. Not a recommendation to buy or sell. Always do additional research and consult a professional before purchasing a security. The author holds no licenses.