HydroGraph Targets The Massive Lubricants Market
HydroGraph Clean Power Inc. (CSE: HG) is continuing the transition from a research and development company to commercializing its proprietary game-changing graphene production Hyperion System for its initial target markets.
The Hyperion System can produce 99.8% pure carbon-content graphene with consistent and identical production quality with minimal energy usage, no solvents, and zero carbon emissions, making it one of the cleanest graphene producers in the world. The company is one of only four graphene producers that have been verified by the Graphene Council, and the sole North American producer.
READ: HydroGraph Enters Final Testing Phase For Graphene Production Unit
Graphene is a single atom-thick, two-dimensional sheet of hexagonally coordinated carbon atoms and is considered to be a "super-material" that is stronger than steel, harder than diamonds, and more conductive than copper. It can be infused into existing products and technologies, therefore improving and/or enhancing their performance characteristics and lifespan while providing users with economic and technological advantages over their competitors. Vantage Market Research projects that the global graphene market will grow to a $2.5B industry by 2028.
Graphene can be infused into a broad range of products to greatly enhance product durability, strength, and performance. HydroGraph's Hyperion System is currently being commercialized with a focus on three initial target markets; resins, lubricants and coatings. HydroGraph CEO, Mr. Stuart Jara, has over 20 years of senior executive experience and credibility within these industries. As part of his January 12, 2023, shareholder update, Jara revealed that the company has shipped graphene samples and secured almost 12 active NDA's with potential customers that are testing graphene infusion in some of their products, with a view to entering into long-term graphene supply contracts.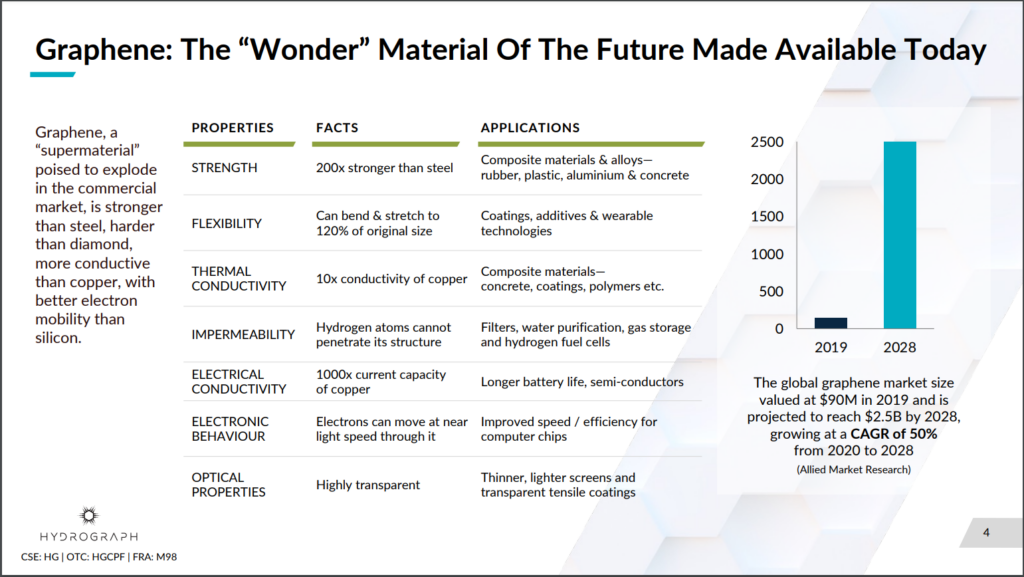 The lubricant angle
Graphene can help reduce the coefficient of friction, reduce heat caused by friction and increase efficiency and longevity of lubricants. Grandview Research projects that the US$128 billion lubricants industry will continue to grow at a 3.7% CAGR through 2028, due to rising demand for higher performance lubricants. The lubricants industry is massive and is dominated by large multinational corporations such as ExxonMobil, Chevron, British Petroleum, Royal Dutch Shell, Sinopec and many more.
To tackle the industry opportunity head on, Hydrograph has appointed Jennifer Carmichael as Director of Business Development – Lubricants and Specialty Chemicals, to lead business development activities within the segment. After graduating Summa Cum Laude with a Bachelor of Science degree in Industrial Chemistry from the University of Houston, she has accumulated over 13 years of experience in product development, commercialization, and business growth.
Before joining HydroGraph, Carmichael served in various strategic roles in energy and specialty chemicals, most recently with global oil services giant Schlumberger, as its Global Account Manager to ExxonMobil and Chevron, where she was responsible for developing and executing global business strategies for key accounts. As someone who has worked in the sector for many years, Carmichael has the industry knowledge, understands the addressable challenges, and has the relationships to accelerate market penetration, sales growth, and profitability.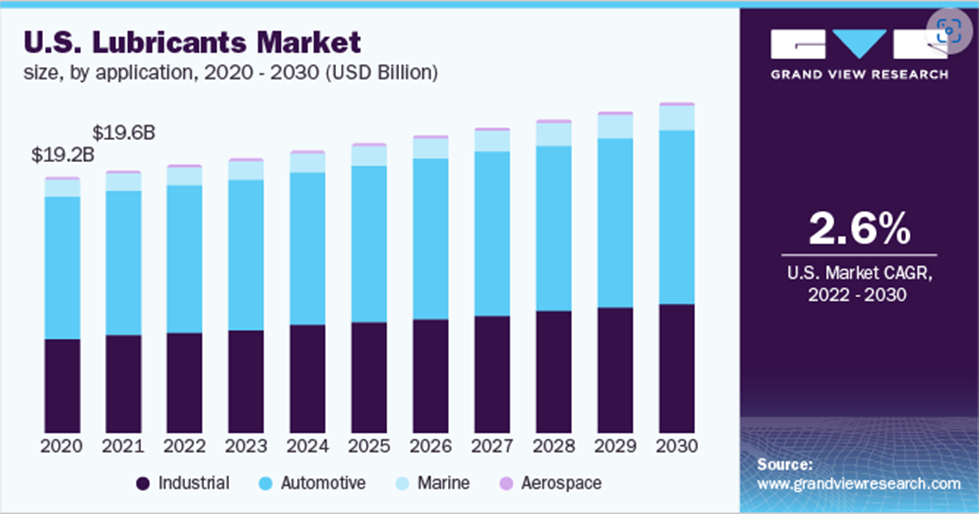 Engine oil is the largest segment of the lubricants market, and is necessary to enhance engine performance and efficiency, as well as conforming to constantly changing emission standards and other environmental protocols. According to a report by Transparency Market Research, automotive oils accounted for 54.6% of the lubricants market in 2021. Lubricants are used extensively in manufacturing, power generation and a multitude of industrial activities to reduce wear and tear of machinery, reduce maintenance costs, address safety, increase efficiency and productivity. Infusing lubricants with graphene can greatly enhance the performance and longevity of equipment in almost any instance.
A major benefit for graphene-infused lubricant applications is that a very small amount of graphene can be added to a lubricant to achieve the full impact of enhancing the lubricant's performance characteristics. This negates the need for multiple chemical additives that may or may not achieve the same desired results. On its own, graphene can improve lubricant and machine performance, safety, reliability, longevity, and cost, all with a favorable environmental impact versus alternatives.
Graphene can deliver the following enhancements for lubrication oils;
Reduce friction – testing has shown a friction factor reduction by up to 55%
Reduce mechanical and thermal wear – testing has shown decreased mechanical wear by up to 70%
Helps prevent corrosion
Improved lubricant stability and performance under elevated temperature, shear, and pressure conditions
Increases the longevity of the lubricant and engine components, thereby reducing the frequency of oil changes and engine maintenance
Improves fuel efficiency and machine performance
HydroGraph's graphene in particular has shown excellent performance in lubricant applications, including the reduction of friction by up to 55%, and a decrease in mechanical wear by up to 70%. Further performance data is expected to be gleaned from continued research and development being conducted by the company.
Other markets
More broadly and in addition to lubricants, HydroGraph and its potential customers are currently testing graphene in a variety of applications within other initial target market segments that could be rolled out commercially in the near future. To that extent, Hydrograph has appointed Randall Zajac to the role of Director of Business Development for Resins and Composites, who will be responsible for growing the resins and composite verticals.
According to Grandview Research, the global coatings market, which was valued at US$83 billion in 2021, is projected to grow at a 3.5% CAGR through 2030. The thermoplastic resin market meanwhile is expected to grow by a CAGR of 7.7% to US$40 billion by 2030. Thermoplastics have a higher heat tolerance, more fatigue resistance, and are 30%-40% lighter than aluminum.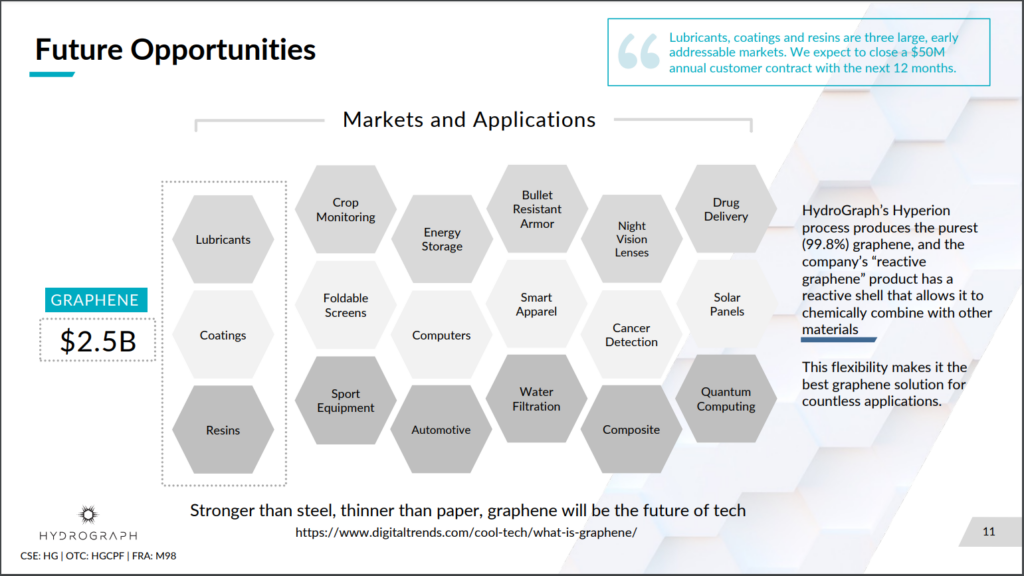 The modular model
One of the most significant and compelling aspects is HydroGraph's modular model. HydroGraph's Hyperion System can produce high purity graphene on the market at a negligible capital cost of less than 5% of one year's sales of graphene according to its current figures. This is due to the unique nature of its proprietary modular graphene production technology.
The Hyperion System is elegantly simple. It is compact, scalable, modular, customizable, with no rotating equipment and a cost-effective "reactor unit," which produces almost 100% pure carbon-content graphene with minimal energy usage, no solvents, and zero carbon emissions. A chamber is filled with a hydrocarbon and oxygen, the mixture is ignited with a small spark, and graphene is formed.
HydroGraph has a secondary bonding process that follows the Hyperion System to produce a unique reactive shell graphene on the outer layer which they call reactive graphene. That reactive graphene can chemically combine with other products and be easily integrated into a variety of products, including energy storage, lithium batteries, solar cells, supercapacitors, semiconductors, medicines and other applications.
HydroGraph has positioned itself as an enabler to help its customers grow their business, and will not be a direct competitor, simply a supplier of an essential raw material that makes products better. The road to revenue appears to be nearing.
---
FULL DISCLOSURE: HydroGraph Clean Power is a client of Canacom Group, the parent company of The Deep Dive. The author has been compensated to cover HydroGraph Clean Power on The Deep Dive, with The Deep Dive having full editorial control. Not a recommendation to buy or sell. We may buy or sell securities in the company at any time. Always do additional research and consult a professional before purchasing a security.