"I Wish I Had Remained Grounded" And Other Highlights Of Sam Bankman-Fried's Congress Testimony
Just before he was reportedly arrested in the Bahamas, FTX founder Sam Bankman-Fried was supposed to head to US Congress to testify on his knowledge on how the bankrupt crypto exchange went awry.
But timing is not on his side (or it was, depending on where you stand) as multiple reports now say that the former crypto wunderkind has been taken into custody by authorities. Reports are also coming in, however, that Rep. Maxine Waters, who chairs the House Financial Services Committee, was "surprised" by the news.
READ: Maxine Waters Won't Subpoena SBF to Testify Over FTX Collapse, But Senate Committee Feels Different
Despite the seemingly purported testimony, Forbes got a hold of a copy of Bankman-Fried's speech that he was supposed to give at the House committee hearing.
"I would like to start by formally stating, under oath: I fucked up," the transcript started.
"I wish that I had remained grounded"
In ascertaining the chronology of events that led to the FTX implosion, Bankman-Fried emphasized that it was via "a large number of things" that went wrong for the downfall to happen–seemingly, most of them are out of his control.
But he maintains he had a responsibility; however, the "mistakes" he admitted to seems to be centered around him just not working hard enough.
"I believe that the thread that most ties them together is that, for much of 2022, I was less grounded in operational details than I had been before," Bankman-Fried explained.
He relayed that he took pride in being grounded when it comes to work, "staying in the weeds, day to day," but much of his time in 2022 has been dedicated to lobbying, branding, and employee management.
"I also prided myself on having a strong work ethic; I began FTX by routinely working 18 hour days. But for much of 2022, I believe that I was working about 30% less than I was used to. And even when I was working, I was less focused and disciplined than I used to be," he added.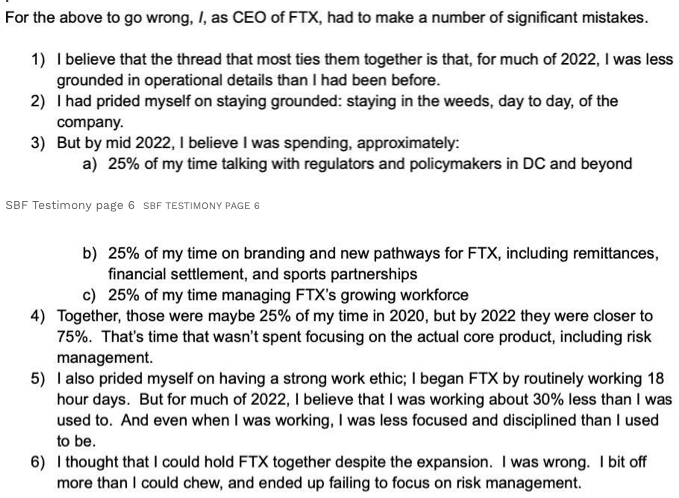 It was Alameda
But for the factors that led to the FTX implosion that are seemingly out of his hand, sister hedge fund Alameda Research tops the list.
"Because I was not running Alameda, I was not aware of some of the critical events at the time," Bankman-Fried opened.
The former FTX chief then enumerated the events at Alameda that affected the solvency issue at the crypto exchange, including the change in economic environment and the failed hedge bets by the fund.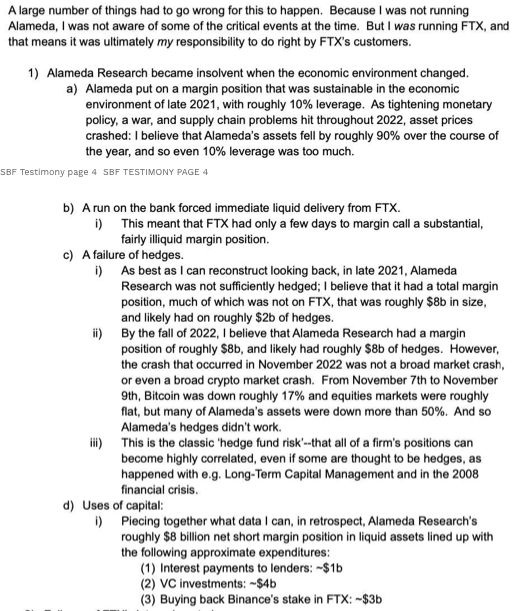 According to four people acquainted with the situation, Bankman-Fried maintained a somewhat secluded existence in the Bahamas, surrounded by a small clique of colleagues, some of whom were in intimate relationships with other FTX employees. He and his top lieutenants shared a penthouse at Albany, a 600-acre oceanfront resort on the Bahamas' island of New Providence.
Two people have said Bankman-Fried and Ellison were at times romantically involved–which the FTX founder confirmed although they are not in a relationship anymore.
Ellison ran Alameda, but Bankman-Fried was also active, contributing to important trade decisions, according to a source familiar with the company's inner workings. There did not appear to be much of a barrier between the enterprises at times. A Wall Street Journal source reported later on that the FTX founder confirmed Alameda owes FTX about $10 billion–presumably what the hedge fund used on "risky bets."
READ: In A Nutshell: How FTX Fell From Grace, According To Sam Bankman-Fried Himself
It was Binance CEO Changpeng Zhao
Aside for Alameda, Bankman-Fried also described how fellow exchange Binance and its chief Changpeng Zhao figured in the collapse of FTX.
"Alameda's assets fell precipitously in value beginning on Nov. 6th 2022, hours after Binance's CEO (CZ) tweeted his intent to sell his holdings in FTT," said Bankman-Fried. He added that the tweet also triggered the so-called "run on the bank."
READ: The CZ-SBF Twitter Feud, Explained
The FTX founder also claimed that the tweet is a part of "a month of sustained negative PR on FTX largely being driven by Binance."
Bankman-Fried also narrated how the short-lived Binance buyout plan came to be, claiming that they learned about Zhao pulling out of the deal from "their Twitter post."
"As best I can tell, Binance never intended to go through with the deal," he added.
He also noted that FTX used to be Binance's "most significant competitor" until the collapse and subsequent bankruptcy. With his exchange falling, Binance's share of the crypto industry grew and, according to Bankman-Fried, "there are reports that… Binance might be able to avoid regulatory enforcement" because of this.
"There is so much more to say about Binance… but this is neither the place nor the time for it," he added.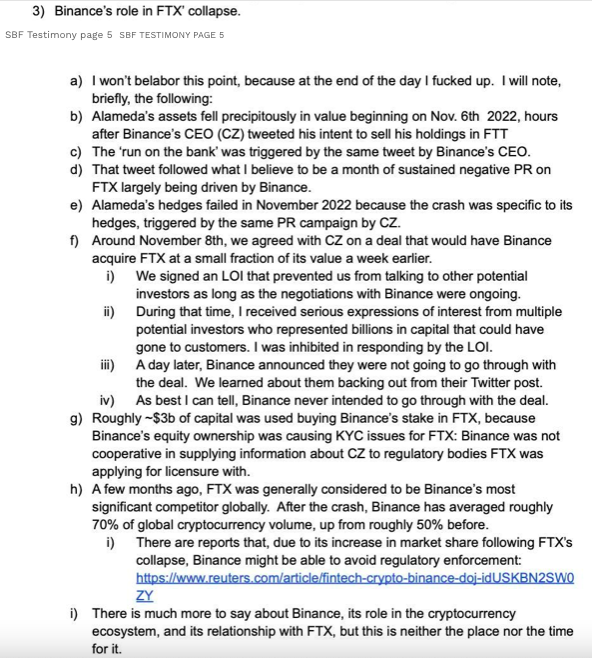 Recently, group messages among crypto chiefs–including Bankman-Fried and Zhao–were leaked. Specifically, the exchange where the Binance chief castigated him for trying to destabillize the stablecoin tether and the crypto industry at large.
READ: CZ Accused SBF Of Depegging Tether Stablecoin Before FTX Bankruptcy
---
Information for this briefing was found via Forbes and the sources mentioned. The author has no securities or affiliations related to this organization. Not a recommendation to buy or sell. Always do additional research and consult a professional before purchasing a security. The author holds no licenses.