Jack Dorsey Sounds Alarm Over Hyperinflation After Twitter 'Mistakenly' Sensors GOP Lawmaker's Post About… Inflation
Jack Dorsey may have to flag his own tweet as "sensitive content," after the Twitter CEO took to the platform to exclaim that the world is headed for a head-on collision with hyperinflation that will change everything.
In a tweet posted Friday night, Dorsey said that "hyperinflation is going to change everything," adding that "It's already happening." Nigerian businessman Tayo Oviosu— a crypto enthusiast much like Dorsey himself—responded to the tweet, acknowledging that inflation in his country has already hit an annual rate of 16%, to which the twitter CEO replied, "It will happen in the US soon, and so the world."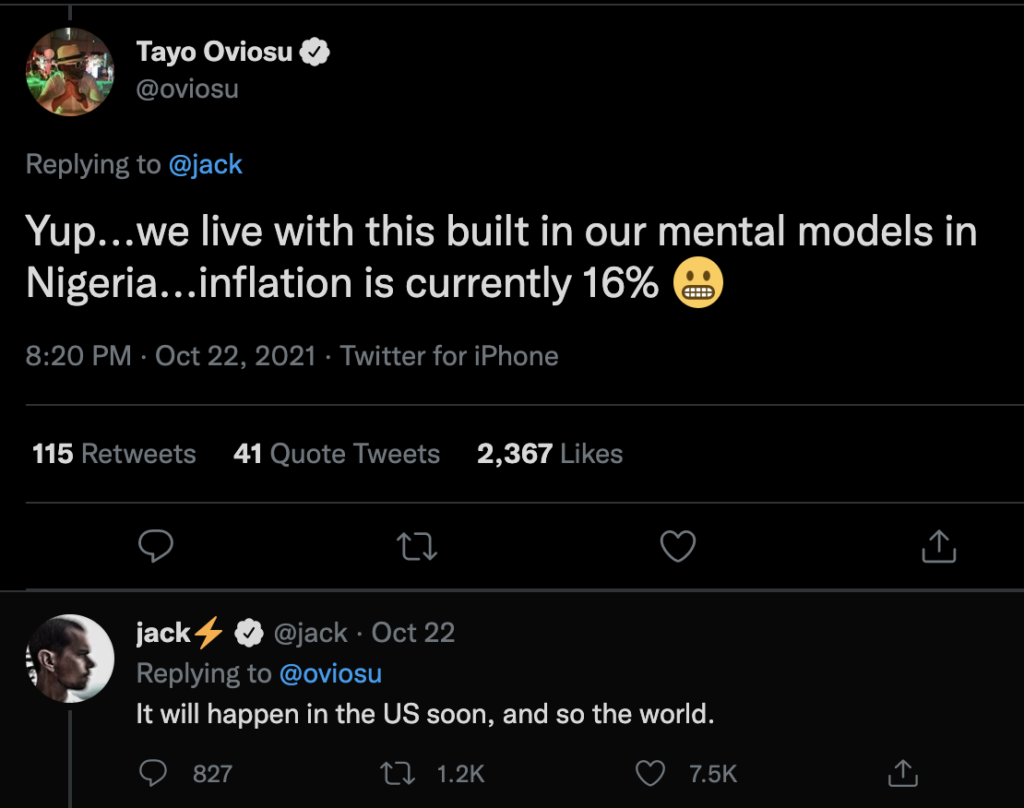 Surprisingly as it may be, such forecasts may fall in the realm of reality, especially as latest US CPI readings have continued to soar above 5% annually over the past several months, as the country's money supply continues to swell to astronomical levels. Indeed, the total value of money in the US economy— or M2 money supply, has grown approximately 36% between December 2019 and August 2021, marking the fastest pace in almost 80 years.
Since being posted on Friday, Dorsey's warning has amassed nearly 20,000 retweets and over 75,000 likes, as followers chimed their take on the billionaire's seemingly daunting forecast on the forthcoming economic landscape. However, in the ironic world that we live in, the twitter censorship police have flagged similar opinions with warning labels in the past.
Back in July, US GOP minority leader Kevin McCarthy posted a video to twitter accusing the Biden administration and House Speaker Nancy Pelosi of stoking inflation and "making life more expensive." The tweet was soon deemed as sensitive content, before a twitter spokesperson explained to the Federalist that the post was flagged "in error."
Both the Biden administration and the Federal Reserve have taken it upon themselves to assure the pubic that any inflationary pressures are merely "transitory," and will subside once global supply bottlenecks ease. Similar sentiment was echoed by none other than the queen of altruistic investing Cath ieWood herself, who also took to twitter to dispute Dorsey's hyperinflationary armageddon.
Wood insists that rather the exact opposite is in store for the US economy, with a deflationary environment beginning to gain a foothold as early as after the holidays. "In 2008-09, when the Fed started quantitative easing, I thought that inflation would take off. I was wrong. Instead, velocity – the rate at which money turns over per year – declined, taking away its inflationary sting. Velocity still is falling," Wood explained in a tweet.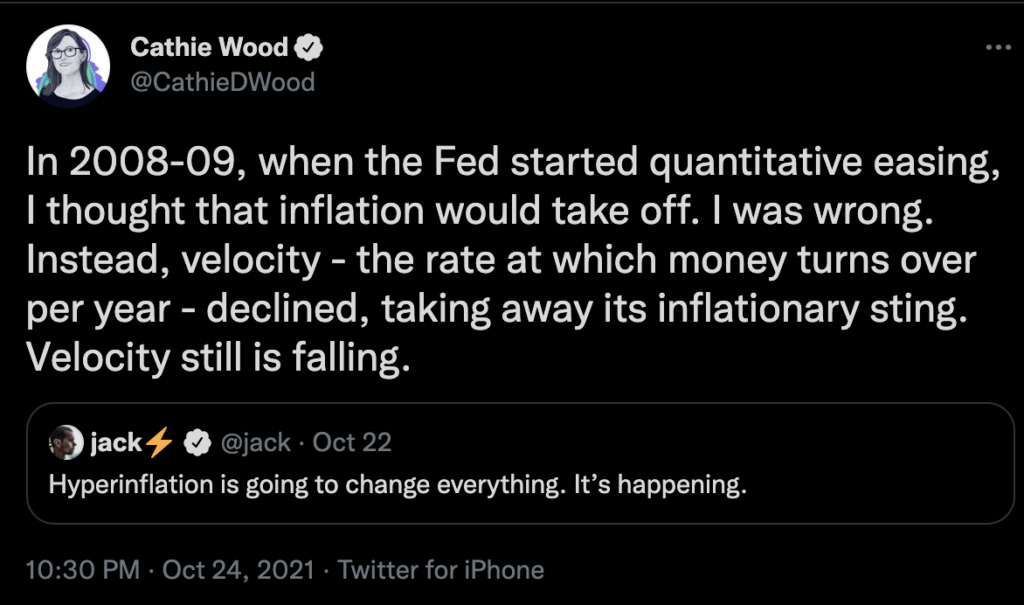 While financial markets— and the rest of the world for that matter, continue to sound the alarm over rapidly accelerating prices that will persist well into 2022 even with the utmost of conservative estimates, Woods insists that it's all a facade, and that prices will come crashing down as commodity prices lose momentum, companies embrace innovational trends, and other firms fail due to lack of innovation.
"Now we believe that three sources of deflation will overcome the supply chain-induced inflation that is wreaking havoc on the global economy. Two sources are secular, or long term, and one is cyclical. Technologically enabled innovation is deflationary and the most potent source," she continued on in her twitter thread, adding that, "When costs and prices decline, velocity and disinflation— if not deflation— follow. If consumers and businesses believe that prices will fall in the future, they will wait to buy buy goods and services, pushing the velocity of money down."
Indeed, Wood's prophecy may be quick to offer an explanation in favour of the temporary aspect of inflation, but regardless of whether you are team Dorsey or Wood, one thing is for certain: history in Western economies dictates that once prices rise, they rarely— if at all— come back down.
---
Information for this briefing was found via twitter. The author has no securities or affiliations related to this organization. Not a recommendation to buy or sell. Always do additional research and consult a professional before purchasing a security. The author holds no licenses.