July 22 Doomsday: Gazprom Cannot Guarantee "Good Functioning" Nord Stream Pipeline, Points To Turbine In Repair From Canada
As the Nord Stream 1 pipeline undergoes its scheduled 10-day maintenance, all eyes are on the 22nd of July when the pipeline is scheduled to go back online. Markets are now iterating scenarios should Russia decide to keep the pipeline closed – cutting off a huge natural gas import source for the rest of Europe.
Fears of a total cutoff have found more substantiation as Gazprom said it cannot guarantee a "good functioning" of the Nord Stream pipeline as it is unsure if a "critical turbine engine" currently in repair will be returned in time from Canada.
Turbine problem was also the reason pointed to by the Russian state-run gas firm for why it reduced its gas deliveries to 40% through the pipeline starting June 14. Siemens apparently delayed the return of turbines required to conduct repairs on the pipeline.
What does doomsday look like?
Since then, natural gas imports through the pipeline haven't returned to the 86 GW full capacity. Fears have been circulating of a total cutoff as possible retaliation by Russian President Vladimir Putin to the mounting sanctions against Russia.
"Russia already has cut back substantially on gas flowing to Germany and through Ukraine, so shutting down the pipelines is not inconceivable," said Jeffrey Schott, a senior fellow at the Peterson Institute for International Economics, in a CNBC interview.
On the day that the pipeline is supposed to be operational again–whether still at 40% or full capacity–analysts have been running scenarios on the eventuality of Russia keeping the pipeline closed, which many are now calling the July 22 doomsday.
The potential effects are toplined by a weaker euro hitting below par to the dollar for the first time in two decades.
"If Nord Stream 1 doesn't resume operations, the euro may drop to 90 cents over the winter," Nomura Securities FX strategist Jordan Rochester wrote.
Strategists at Goldman Sachs also project a 5% fall for the European currency, "if markets price in a full shutdown of Nord Stream 1."
A weaker euro and rising global energy prices generate a "vicious circle" for Europe, according to Charles-Henry Monchau, chief investment officer at Banque Syz.
"Higher energy prices are hurting Europe's economy, driving the euro lower. In turn, the weaker euro makes energy imports even more expensive," Monchau said.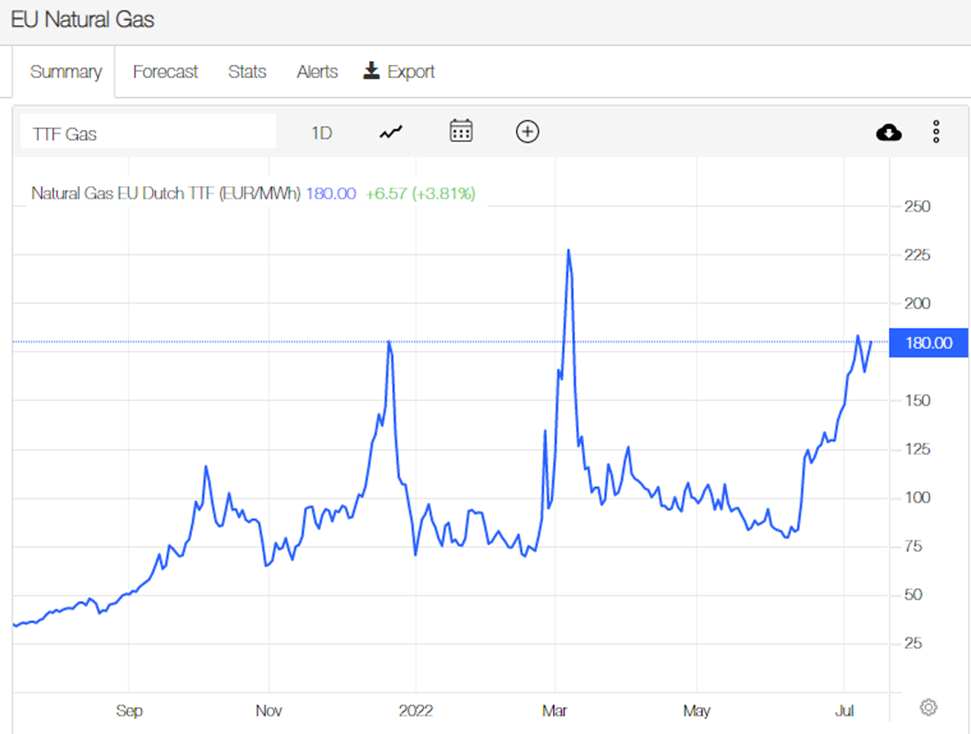 UBS Group AG economists are also expecting market selloff would exceed 20% in the Stoxx 600 and corporate earnings would be reduced by as much as 15%. BNP Paribas strategists are also projecting a 20% decline in the Euro Stoxx 50.
"We stress that these projections should be seen as rough approximations and by no means as a worse-case scenario," wrote UBS chief economist Arend Kapteyn.
On the other hand, JP Morgan Chase strategists are expecting corporate bond spreads to grow, with high-grade debt spreads possibly surging to 325 basis points and junk-rated bond spreads to rise up to 1,000 basis points.
"I am not sure central bank tools work in this scenario," said Pictet Asset Management portfolio manager Prashant Agarwal. "In the past, they had leeway to address the situation because inflation was low."
Inflation in the Eurozone is already at a record high of 8.6% in June 2022, breaking the previous highest rate of 8.1% just the month prior.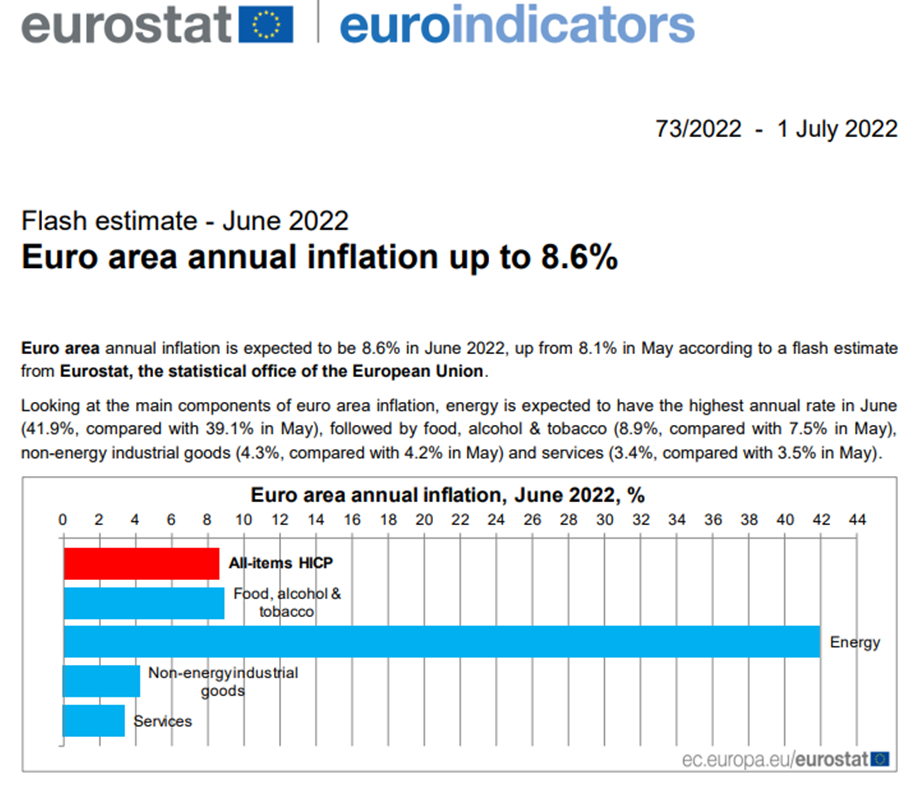 What is Europe doing?
Germany, the primary endpoint of gas exports through the Nord Stream pipeline, has been running scenarios as well to calculate possible shortages should Russia decide to keep the pipeline closed. One of the scenarios, a closed pipeline without reducing energy exports, will spell a gas shortage as early as mid-December, projecting a deficit by winter worth 10% of annual consumption.
Even if Berlin's domestic consumption is reduced and the LNG terminals are activated, the gas reserve lifeline is only extended by a month.
The country is also on the second step of its three-step emergency plan, which includes putting all market players, including TSOs and gas suppliers, under more pressure on judicial use of energy resources. The third step involves state intervention when "gas supply is insufficient to meet the remaining gas demand."
Berlin also put forth a reform to the energy security law which would enable the government to aid energy firms struggling with rising prices by acquiring equity via trusteeship – which is believed to be the state's move to bail out energy firm Uniper.
But the draft law also includes a clause that allows the firms a workaround on consumer protection laws to pass on the price to consumers.
The city of Hamburg is already facing the possibility of having to ration hot water and limit heater usage–according to its environment senator.
"The G-7 have to prepare for a shutdown of gas. The G-7 can deal with a cutback on oil. There are other supplies that could be gotten around the world, but the gas could be shut off and that would have consequences," Schott warned.
The European Union has set the course for this, adopting a gas storage regulation that mandates member states to store up to 90% of their respective gas storage by winter.
While analysts have calculated projections on how a July 22 doomsday would look like for Europe, still to be foreseen is how the pipeline cutoff could affect the rest of the world.
"The big unknown is how the shock that starts in Germany, Poland and other central European countries will reverberate throughout the rest of Europe and the world," said Joachim Klement, an investment strategist at Liberum Capital. "There simply is no substitute available for Russian gas."
---
Information for this briefing was found via Bloomberg. The author has no securities or affiliations related to this organization. Not a recommendation to buy or sell. Always do additional research and consult a professional before purchasing a security. The author holds no licenses.