Netflix Is Looking Into Lower-Priced Ad-Based Subscription Plans
Netflix (Nasdaq: NFLX) is looking at maximizing the value of its subscriber base. Its opportunity area: lower-priced plan with ads. In the company's earnings call, the streaming giant floated the idea of phasing its pricing model to include a tier that would offer the subscription at a lower rate but would include advertisements.
"One way to increase the price spread is advertising on low-end plans and to have lower prices with advertising," said Co-CEO Reed Hastings. Hastings added that while he's "a big fan of the simplicity of subscription," he believes that "allowing consumers who would like to have a lower price and are advertising-tolerant get what they want makes a lot of sense."
"We're trying to figure out over the next year or two. But think of us as quite open to offering even lower prices with advertising as a consumer choice," Hastings added.
But the platform also floated a possible model where Netflix would be "a straight publisher" while it taps other parties to "do all of the fancy ad-matching and integrate all the data about people."
"So we can stay out of that and really be focused on our members creating that great experience and then again, getting monetized in a first-class way by a range of different companies who offer that service," Hastings explained.
The discussion follows after the streaming giant's shares plummeted amid a recorded dip and a further forecasted decline in its subscriber base. The firm announced on Tuesday its financial and operational results for Q1 2022, recording its first quarter-on-quarter decline in its membership base in 10 years. It also forecasted a further decline of 2.0 million users for Q2 2022.
Following the earnings release, the company's shares fell as much as 27% pre-market, trading below the US$260-mark.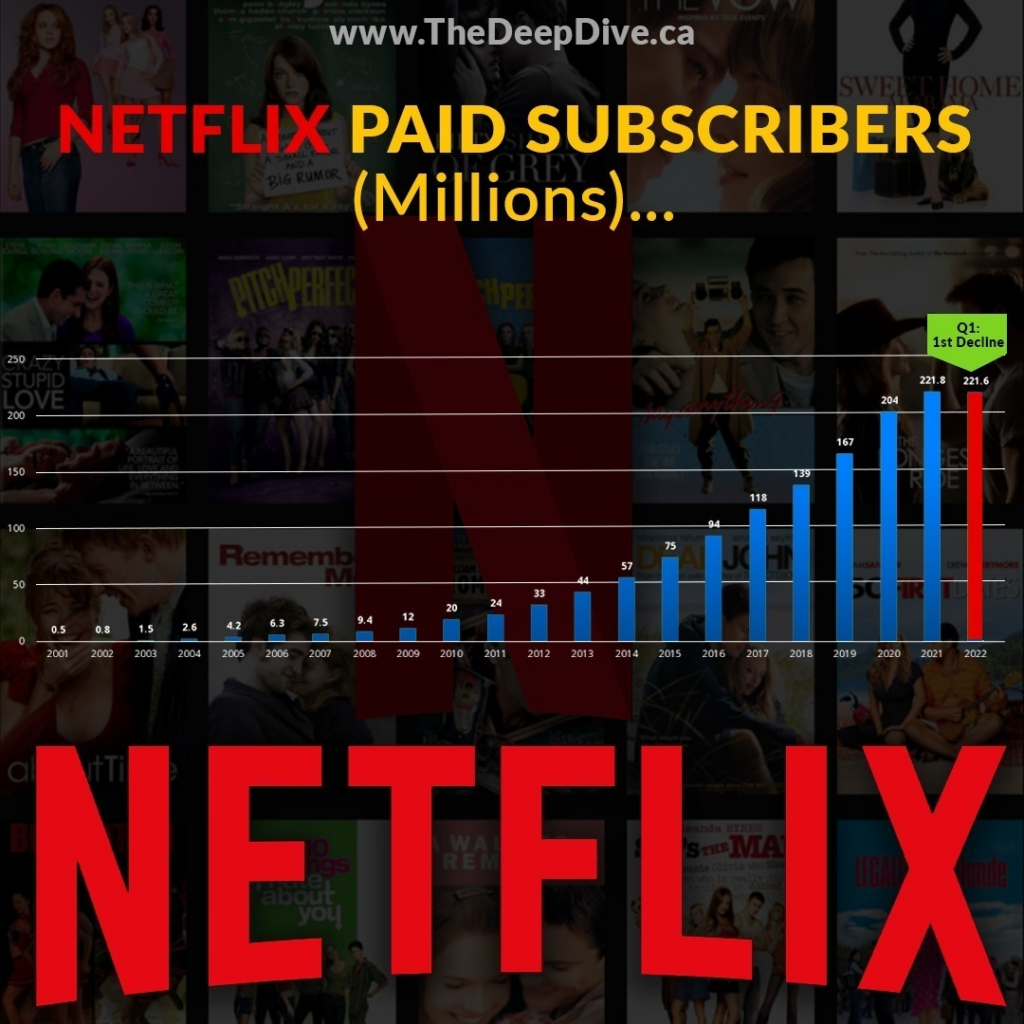 The streaming platform recorded losing around 200,000 users, far from its guidance of 2.5 million net membership additions. The firm attributes the decline to the suspension of its service in Russia and winding-down of all Russian paid memberships. As it stands, the company has 221.6 million users for the quarter and is forecasting the numbers to decline to 219.6 million in Q2 2022.
"Our forecast assumes our current trends persist (such as slow acquisition and the near term impact of price changes) plus typical seasonality (Q2 paid net adds are usually less than Q1 paid net adds)," the company further explained.
Breaking down the firm's numbers, only the APAC region recorded an increase in net additions to memberships.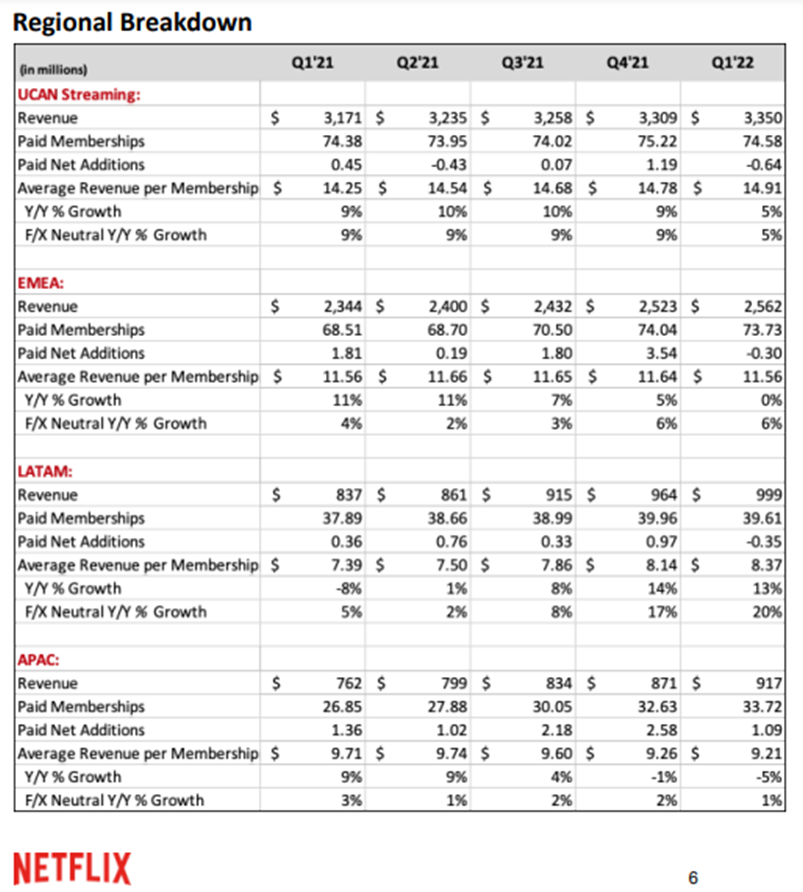 On the financials, the firm recorded US$7.87 billion in revenue, an increase from both Q4 2021's US$7.71 billion and Q1 2021's US$7.16 billion. For Q2 2022, the firm's revenue forecast is at US$8.05 billion.
"In the near term though, we're not growing revenue as fast as we'd like. COVID clouded the picture by significantly increasing our growth in 2020, leading us to believe that most of our slowing growth in 2021 was due to the COVID pull forward," the company said in its statement.
The streaming platform, while it saw an increase in watching hours, is also facing fierce competition from other alternatives.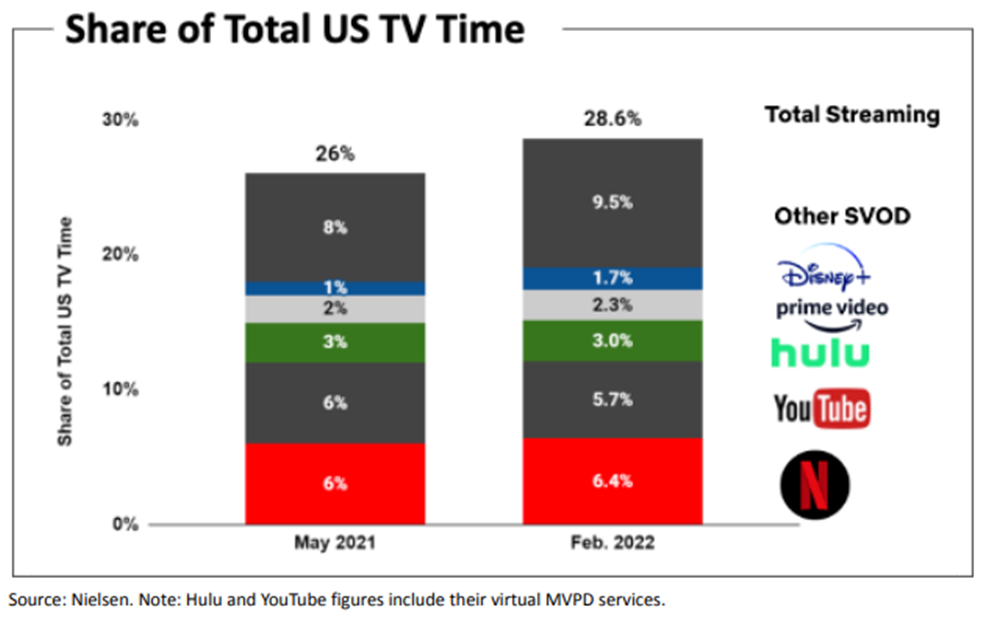 The firm said it is also looking "how best to monetize sharing" as the platform currently has 100 million households sharing a single Netflix account. It tested paid sharing features in Latin America–where users pay premium to add households to the account–and believes this approach is a source of "short- to mid-term opportunity."
Tesla CEO Elon Musk took a jab at the firm after its subscriber base declined, saying the "woke mind virus" is costing the platform its users.
Further down, the company notched a quarterly operating income of US$1.97 billion, a huge jump from Q4 2021's US$631.8 million and an increase from Q1 2021's US$1.96 billion.
Net income came at US$1.60 billion, up from last quarter's US$607.4 million but down from last year's US$1.71 billion. The quarterly income translates to US$3.53 earnings per share.
Calibrating for financial items, adjusted EBITDA grew to US$2.17 billion for the quarter compared to US$795.1 million last quarter and US$1.99 billion last year.
Coming from an operating cash burn of US$403.3 million last quarter, the firm generated net cash from operating activities of US$922. 8 million this quarter. This leads to a cash balance of US$6.03 billion, putting the balance of current assets at US$8.10 billion. Current liabilities, meanwhile, ended at US$7.74 billion.
The gross debt for the quarter ended at US$14.6 billion after the firm repaid around US$700 million in liabilities. This puts the gross debt within the firm's target of US$10 – US$15 billion. However, the firm said it did not launch a share buyback program during the quarter given its minimum cash target.
"While we work to reaccelerate our revenue growth – through improvements to our service and more effective monetization of multi-household sharing – we'll be holding our operating margin at around 20%," the company said.
Netflix last traded at US$348.61 on the Nasdaq.
---
Information for this briefing was found via the companies mentioned. The author has no securities or affiliations related to this organization. Not a recommendation to buy or sell. Always do additional research and consult a professional before purchasing a security. The author holds no licenses.