Short-Seller Hindenburg Squares Up With Carl Icahn's "Ponzi-Like" Enterprise
Carl Icahn, the well-known activist investor who has made a career out of creating corporate brawls, came under fire Tuesday after Hindenburg Research reported a short call against his investment firm.
The short-seller alleged that the billionaire investor's holding company Icahn Enterprises (Nasdaq: IEP), fraudulently pumped up its stock price by 75% with a "ponzi-like economic structure," leading Hindenburg to take a short position in the firm.
"In brief, Icahn has been using money taken in from new investors to pay out dividends to old investors. Such ponzi-like economic structures are sustainable only to the extent that new money is willing to risk being the last one 'holding the bag'," the report said.
Shares of Icahn Enterprises slipped as much as 24% on the day, hitting a multiyear low. Based on estimates, the 87-year old's net worth plunged by approximately $10 billion on Tuesday following the short seller report.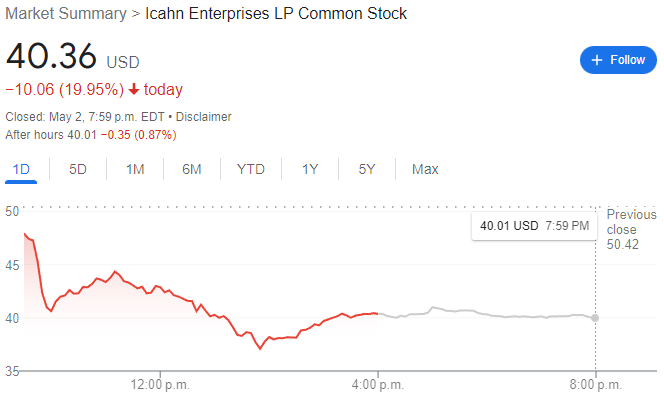 The Nate Anderson-led firm claimed that Icahn Enterprises "inflated" asset valuations due to an unusually high net asset value premium in shares of the publicly traded holding company. Other closed-end holding companies like Dan Loeb's Third Point and Bill Ackman's Pershing Square trade at discounts to their NAV, according to Hindenburg.
"Overall, we think Icahn, a legend of Wall Street, has made a classic mistake of taking on too much leverage in the face of sustained losses: a combination that rarely ends well," the report added.
Hindenburg claimed Jefferies, an investment bank, helped Icahn's scheme by releasing bullish research reports and selling Icahn Enterprises stock to investors. According to FactSet, Jefferies is the sole research firm holding a rating on Icahn Enterprises, most recently assigning a $70 price objective, meaning a 75% upside.
Also based on FactSet data, the corporation pays a dividend of 15.9%. Hindenburg believes the company's cash flow and investment performance are "unsupported" by the high dividend yield.
Icahn, the most well-known corporate raider in history, rose to prominence by successfully executing a hostile takeover of Trans World Airlines in the 1980s, stealing the company's assets. Most recently, the billionaire investor has invested as an activist in McDonald's and the biotech firm Illumina.
A 2015 Delivering Alpha conference argument between Icahn and BlackRock's Larry Fink, the company's CEO, swiftly deteriorated into a verbal brawl. Icahn slammed Fink's open letter, in which he argued that corporate CEOs should not repurchase shares just to appease activists, a "sales pitch for BlackRock" and dubbed the firm "an extremely dangerous company" due to its exchange-traded funds.
More recently, Icahn has fought DNA-sequencing company Illumina Inc., claiming that the company's board of directors set a "new low" in governance by pursuing its acquisition of Grail Inc. despite antitrust regulators' objections. Icahn was cited as saying in an early March meeting with Illumina CEO Francis deSouza and Chairman John Thompson that he "would not even support Jesus Christ" as an independent candidate above his board selections who "answer to me."
"Carl Icahn has built an aura of invincibility around himself—a titan of Wall Street with a knack for coming out on top. But while the focus has always been on his grand public activist campaigns, quieter long-term investment losses, along with the substantial use of leverage, have whittled away his empire," the repost concluded.
In a statement, Icahn stated that the Hindenburg report was "solely" meant to create gains on its short position at the detriment of Icahn Enterprises' long-term interests.
"We stand by our public disclosures and we believe that IEP's performance will speak for itself over the long term as it always has," Icahn said. "We continue to believe that activism is the best paradigm for investing and my activist investments over the last 25 years have well proved this out."
Icahn became the latest billionaire titan Hindenburg has targeted this year, joining Indian tycoon Gautam Adani and Twitter and Block creator Jack Dorsey.
Headquartered in Sunny Isles Beach, Florida, Icahn Enterprises is involved in a variety of industries, including energy, automotive, food packaging, metals, and real estate.
Icahn Enterprises is scheduled to release its quarterly financial report on Friday morning. According to a March investor presentation, the company's assets total $19.8 billion, with a diverse portfolio that includes $500 million in real estate. The enterprise's major assets include a 22% investment in Xerox and an 8% stake in Yankee Candle and Elmer's glue parent company Newell Brands, both worth $1 billion.
---
Information for this briefing was found via the sources mentioned. The author has no securities or affiliations related to this organization. Not a recommendation to buy or sell. Always do additional research and consult a professional before purchasing a security. The author holds no licenses.