Tesla Wins In 2022, But Not For Its Investors
As 2022 comes to a close, it is clear that Tesla (Nasdaq: TSLA) is poised to outdo its financial performance in previous years.
In its Q3 2022 financials, the carmaker generated $21.45 billion in revenue, an increase from both Q2 2022's $16.93 billion and Q3 2021's $13.76 billion. Total revenue in the past three quarters–$57.14 billion–has already surpassed the 2021 total topline figure of $53.82 billion.
Net income for the past nine months of 2022 totaled to $8.87 billion, way above 2021's $5.51 billion. Year-to-date, the firm's earnings per share ended at $2.55 per diluted share, also already higher than last year's $1.63 earnings per diluted share.
The electric vehicle firm was also able to grow its balance sheet to a whopping $74.43 billion as of September 30, 2022, from $62.13 billion in total assets at the end of 2021.
Another winner in the Tesla 2022 story is its chief executive Elon Musk. The billionaire sold around $7.4 billion of his shares in just the past two months–coincidentally, the same period since he took over Twitter.
Year-to-date, Musk has sold Tesla stock to the tune of nearly $40 billion. He still remains the largest shareholder but his stake has come down to 13.4% of the company, according to Refinitiv data. The share sales have been particularly noteworthy after the CEO claimed before that no more "planned sales" will happen for the year.
READ: Elon Musk Sells Tesla Stock Again: 22 Million Shares For $3.58 Billion
Musk is also currently in a legal battle to defend why he's worth the massive $50-billion Tesla pay package that helped make him the world's wealthiest person.
However, for Tesla's retail investors, it is quite a different story. The share price has fallen more than 65% year-to-date, erasing about $626 billion of shareholder value; in just the period alone since Musk bought Twitter, the valuation for Tesla declined by around 28%. In that same period, other big manufacturers such as Ford, GM, and Volkswagen, have mildly increased.
Currently, the firm's shares are trading at a two-year low.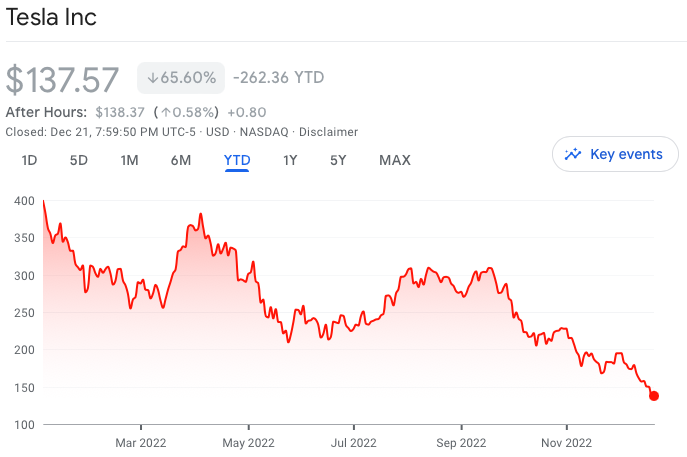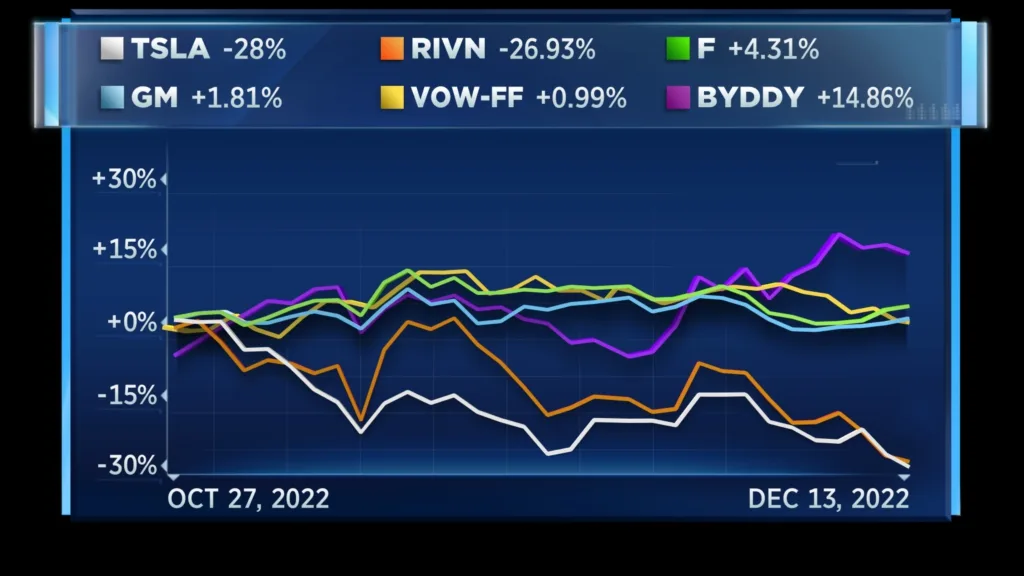 Tesla is currently worth almost $440 billion, still making it significantly larger than any other major global automaker. Toyota Motor Corp., Japan's second-largest, is worth around half as much. According to Bloomberg estimates, Toyota is predicted to sell 8.9 million vehicles in fiscal 2023, which ends March 31, while Tesla is expected to deliver roughly 1.3 million vehicles in calendar 2022.
And as Twitter user @Keubiko highlights, the forward price-to-earnings ratio of Tesla is the highest among its competition in the automotive industry: 34.0.
However, the falling share price does not sit well for some investors. While technology stocks suffered generally as the Federal Reserve raised interest rates to combat inflation, fears of Musk's focus shifting to Twitter away from Tesla continue to chip away at the confidence in the carmaker.
READ: Tesla Taking A Hit As Elon Musk Focuses On Twitter
In a tweet, Musk said it was "generally wise" to avoid using margin loans on any company when there are macroeconomic risks involved.
"When there are macroeconomic risks, it is generally wise to avoid using margin loans on any company, as stocks may move in ways that are decoupled from their long-term potential," Musk tweeted.
The tweet comes after Musk's bank lenders are reportedly considering replacing some of the high-interest debt he piled on Twitter with fresh margin loans backed by Tesla stock that he would be personally responsible for repaying.
Even long-time Tesla bull Ross Gerber, portfolio manager of Gerber Kawasaki, seems to be concerned. In a tweet, he wrote: "Tesla stock price now reflects the value of having no CEO. Great job [Tesla board] – Time for a shake up."
Musk tried to explain the decline in the valuation, claiming the decline is due to "bank savings account interest rates…[approaching] stock market returns," so people now have the tendency to move their money from stocks to cash, causing the stocks to fall.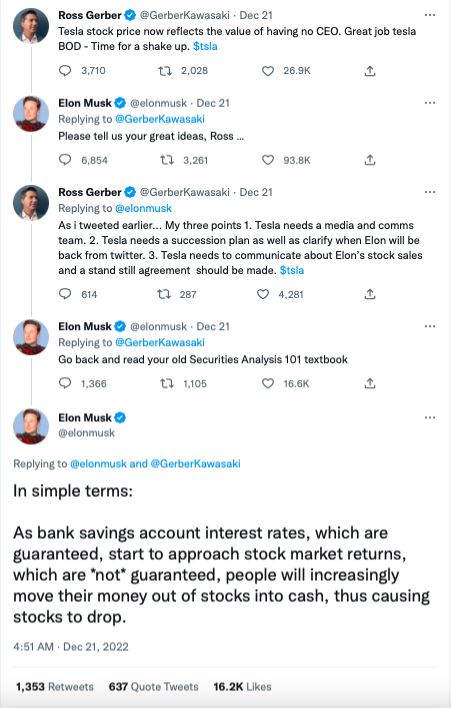 In another tweet that seems to have Musk's approval, it was explained that Tesla stock is declining "due to the fact that the risk free rate has spiked over the past year and the economy is headed towards recession."
He also responded to a tweet suggesting he won't "even entertain the idea that his behavior impacts the stock price."
"I keep saying that Fed rate is insane, because data I'm seeing says we're already in deflation. If true, then real rate of return of T-bills is roughly that of S&P500. Very smart investor I spoke to today said he's shorting S&P," the billionaire replied.
Another group, however, is winning 2022 as Tesla's stocks fall: short investors. The so-called Tesla bears have gained around $15 billion from shorting the carmaker's shares, a vindication from years of wrong-way bets.
"It has not been an easy road being a Tesla bear," said Citron Research founder Andrew Left. "It's been a pain-in-the-ass trade."
The reversal of Tesla's fortunes has been music to the ears of the stock's many doubters, who were stunned when it launched a monster run in early 2020 with no regard for fundamentals. Inversely, many investors continue to be concerned that Musk's attention is divided since taking over Twitter.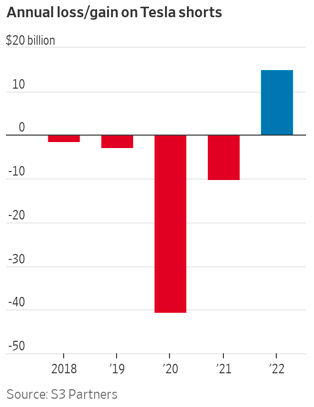 Even the Musk-Tesla-Twitter love triangle has caught the attention of Democrat Senator Elizabeth Warren as she raises legal questions on the dynamic among the companies and how the unitary chief manages them.
"As you know, it is the legal obligation of Tesla's board to ensure that its C.E.O. is meeting all his legal responsibilities and serving as an effective leader," Warren wrote in a letter to Tesla Board Chairperson Robyn Denholm.
Among other things, the senator from Massachusetts inquired the Tesla board whether there's a conflict given that he also heads Twitter. Some one the queries revolved around whether Musk is intentionally shortchanging either of the firms for the benefit of the other, diverting resources from Tesla to Twitter, and if the board has placed protection measures to handle the extent of the potential conflicts of interest.
"The problems identified in this letter are not merely theoretical," Warren added, noting that Tesla's stock has fallen sharply this year and remains under pressure.
Reacting to Warren's letter, Musk shot back with an unrelated argument, saying the country "has definitely been harmed by having her as a senator."
On top of the falling valuation, Tesla continues to face production hurdles–specifically at its Texas gigafactory–due to recruitment hurdles and a problematic employer image. Comparatively, when the Berlin gigafactory first launched in March, the goal was to build 5,000 vehicles per week by the end of the year–even stretching this out to construct half a million Teslas in Berlin in 2022, as Musk told a German media. However, it is far from meeting its objectives due to serious recruitment issues—the company has only hired 7,000 individuals out of a planned 12,000.
READ: Tesla Misses Berlin Gigafactory Production Target As Hiring Continues To Be A Problem
According to sources who told Electrek, Tesla informed its staff that it is adopting a recruiting freeze and has confirmed that another round of layoffs will occur in Q1 2023. The carmaker's chief has provided different explanations for the layoffs to different persons, including that he has a "very bad feeling" about the economy.
The reported move comes after Musk told Tesla executives in June to "pause all hiring" and cut 10% of staff, only to reverse the decision and started growing the workforce again towards the second half of the year.
The carmaker is also reportedly planning to reduce output by at least 20% from its Shanghai facility's full production, bringing capacity levels on par with October and November. The voluntary move comes amid a slump in China's demand for Teslas, indicative of the company's recent onslaught of incentives and price cuts. The EV maker has also drastically reduced its delivery times, also suggesting that supply is outpacing domestic demand.
Analysts also note that the company's highly anticipated driving software and battery technologies are also slipping behind schedule. Meanwhile, the Cybertruck's futuristic look may make it difficult to sell as a mainstream vehicle.
READ: 'The Boy Who Cried Cybertruck': Tesla To Mass Produce Cybertruck By End Of 2023… For Real?
For his part, Musk tweeted a poll asking people if he should step down from his Twitter post, adding that he will abide by the results. Around 57% said yes; the billionaire then said that he will resign as soon as he finds someone "foolish enough" to take over.
READ: Elon Musk Will Resign After He Finds "Someone Foolish Enough" To Head Twitter
Musk is recently being criticized for updating policy on Twitter in which accounts are being restricted to post links that will direct users to a competitor, but later reverted the policy back after the platform was called out.
The social media platform is also being questioned on its actions related to suspending the accounts of a number of journalists, most of whom are covering tech news which includes Musk and his companies, only to reinstate them back after another series of Twitter polls called for it.
Arguably, the effects of Musk's actions on Twitter are spilling over into Tesla–which he once touted to be "worth more than Apple and Saudi Aramco combined."
As of last closing, Apple's market cap is at US$2.15 trillion while Saudi Aramco ended at US$1.82 trillion. Tesla's market cap is at US$431.07 billion.
---
Information for this briefing was found via The New York Times, The Wall Street Journal, CNBC, The Los Angeles Times, Electrek, and the sources mentioned. The author has no securities or affiliations related to this organization. Not a recommendation to buy or sell. Always do additional research and consult a professional before purchasing a security. The author holds no licenses.