Sinking ARK: Cathie Wood's Fund Lost $50 Billion So She Bought Some More Shares
Ark Investment Management's Cathie Wood increased her holdings in Tesla (Nasdaq: TSLA) and Coinbase Global (Nasdaq: COIN), demonstrating her belief in electric vehicles and cryptocurrencies as major trends for the future.
According to Bloomberg data, a variety of Ark Investment Management funds, including Wood's flagship Ark Innovation ETF, purchased nearly 75,000 shares of the carmaker and approximately 297,000 shares of the cryptocurrency exchange operator on Wednesday, continuing a dip-buying streak that began in October.
Tesla is currently trading at its two-year low, following the uncertainty brought about by its CEO Elon Musk's focus on Twitter, as well as the macroeconomic headwinds caused by Federal Reserve rate hikes.
READ: Tesla Wins In 2022, But Not For Its Investors
Despite the tremendous volatility caused by the collapse of Sam Bankman Fried's FTX crypto enterprise, Ark has maintained its purchases in Coinbase. On Tuesday, the exchange's shares hit a record low before slightly recovering on Wednesday.
She reaffirmed last month her $1 million target for Bitcoin, the largest cryptocurrency, which is presently trading at about $16,820.
READ: Cathie Wood Is Targeting Over US$1 Million Per Bitcoin In 2030 But Her Own Math Might Prove Otherwise
Wood's firm is one of Coinbase's major stockholders, with a 4.3% interest as of September 30. Although Ark owns only 0.13% of Tesla, the stock remains one of the top holdings in its flagship fund.
The share shopping spree continues after it was reported that Wood's funds have lost about $50 billion in assets from its family of exchange traded funds from its peak in 2021, showing the magnitude of this year's losses in speculative technology firms.
According to Morningstar data, total assets across Ark's nine ETFs have fallen to $11.4 billion from a high of $60.3 billion in February of last year. This was driven by severe drops in its flagship Ark Disruptive Innovation ETF, known as ARKK, which has lost over two-thirds of its value this year and is on course to have its worst yearly performance.
Wood's ARKK was deemed the "worst-performing fund" in Q1 2022 by Morningstar.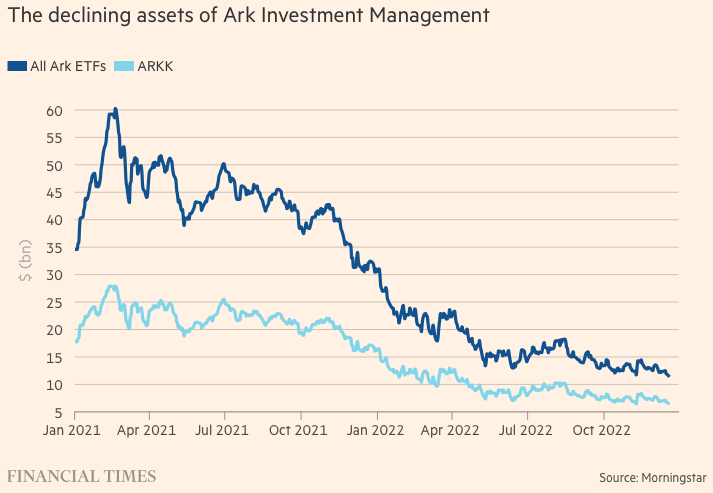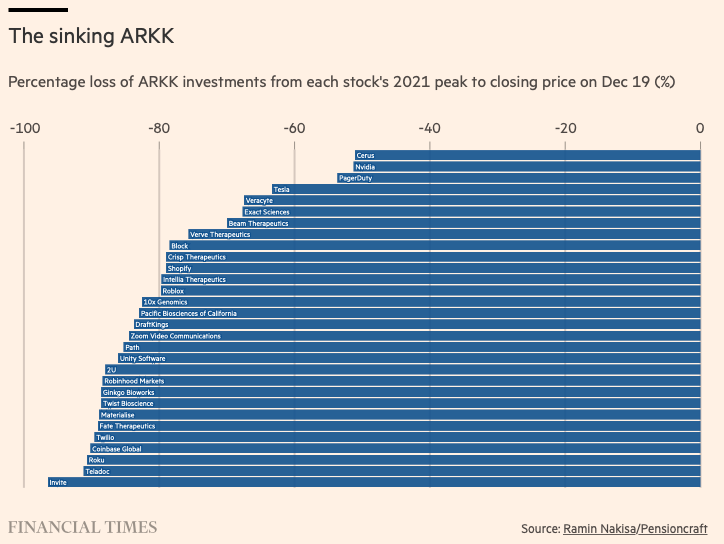 In defending her positions via Ark's Disruptive Innovation and Profitability memo, Wood said that Ark invests in stocks that forgo short-term earnings in order to capitalize on the "exponential growth and highly profitable opportunities" that a few innovation platforms are providing.
"Companies catering to short-term oriented investors and leveraging their balance sheets to pay dividends or manufacture earnings with share repurchases do not seem to us to be investing enough to catch these waves of innovation. As a result, we believe many are likely to be disrupted, if not destroyed," Wood wrote.
In the memo, Wood described that some profitability metrics for matured companies are not enough to gauge the value of growth firms. In an example, she highlighted that "only 27.8% of the [ARKK] holdings are EBITDA positive using Trailing Twelve Month EBITDA based on GAAP numbers."
She argues, however, that "analysts should adjust the GAAP-based EBITDA associated with truly innovative companies," including discretionary investments in research and development, the portion of selling and marketing attributable to capturing market share, and market valuation-related impairments. In that scenario, she claims "84.9% of ARKK's holdings would be EBITDA positive."
"We believe GAAP-based EBITDA falls short when measuring the longer-term growth and profitability profile of early stage, rapidly growing, innovative companies. In our view, the long-term profitability and equity performance of so-called "profitless tech" companies will dwarf those of companies that have catered to short-term oriented shareholders with share repurchases and dividends, at the expense of investing in the future," Wood added.
Hedge fund Third Point's Daniel Loeb thinks otherwise, saying Wood's memo should be used "to study the mindset of stonk hodlers."
"Anyone teaching a value investing class or one on investment psychology should use this memo as a treatise to study the mindset of stonk hodlers," Loeb tweeted.
Wood and her actively managed ETFs have had a rough 2022, having come under harsh pressure during this year of rate rises. Her holdings, which he refers to as "unprofitable tech," have lost between a third and two-thirds of their value this year.
The investment manager called out the Fed on its basis for deciding to hike interest rates in an attempt to control the surging inflation. In an open letter, Wood tried to debunk the the unanimity of the decision to increase the borrowing rates by offering alternative data that argue most commodity prices have already peaked.
READ: Cathie Wood Pulls A "Karen" On US Federal Reserve, Questions Interest Hike Decisions
---
Information for this briefing was found via Bloomberg, The Financial Times, Seeking Alpha, and the sources mentioned. The author has no securities or affiliations related to this organization. Not a recommendation to buy or sell. Always do additional research and consult a professional before purchasing a security. The author holds no licenses.