Harvest Health: The Bridging Harvest
The Deep Dive has identified Harvest Health as one of three Canadian cannabis companies that insolvent commercial lender Bridging Finance is known to have lent to. No comprehensive picture of the Bridging borrowers is available, key portions of the Ontario Securities Commission's submission to Bridging's ongoing receivership having been redacted. This post is part of an ongoing series on Bridging, and its associates such as Gary Ng. The most recent installment of which covers Mjardin Group (CSE: MJAR).
The first time Bridging Finance shows up in the Harvest Health and Rec's financial statements is September of 2018. Bridging's signature "Bank of Nova Scotia prime rate +10.5%" terms are applied to a US$20 million secured letter of credit that Harvest enters into, secured against a lien on the assets of the company and its subsidiaries, featuring an allowance for most of the principle to be paid as a balloon payment at the loan's maturity. Arranging for the loan costs a $579,000 work fee and 143,511 shares of common stock.
The loan was classic Bridging; extended to a low-cashflow borrower that plans to pay it off… later. With an equity raise or something. Or maybe re-finance it. They'll figure it out. For now, it's booked as a $19M liability, to be adjusted as it matures.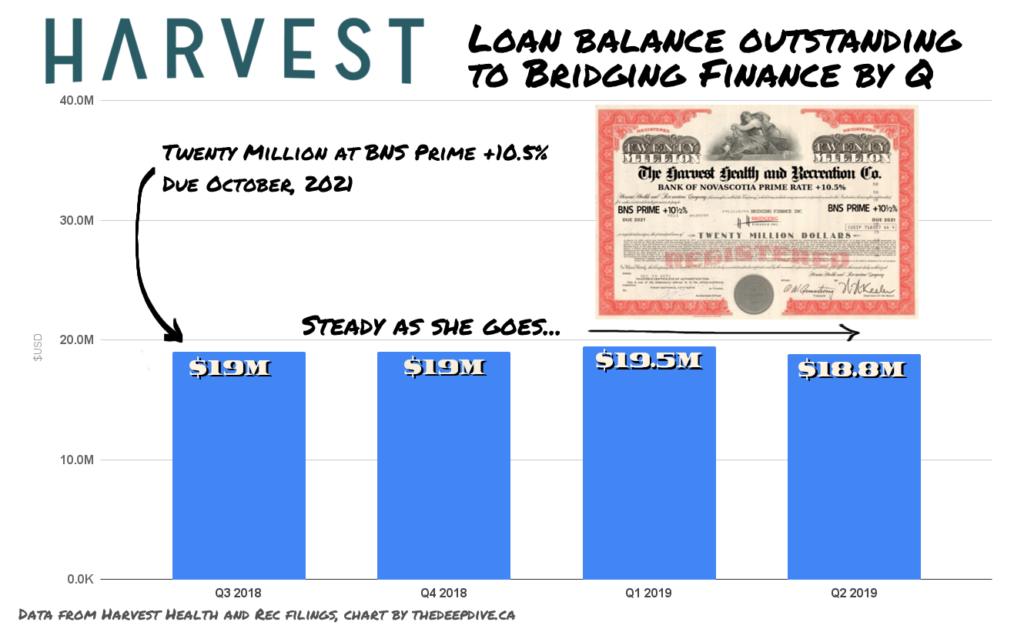 As far as Harvest's books are concerned, the loan balance stays steady until September of 2019, when the company's financial statements have it nearly doubling to $36.3 million.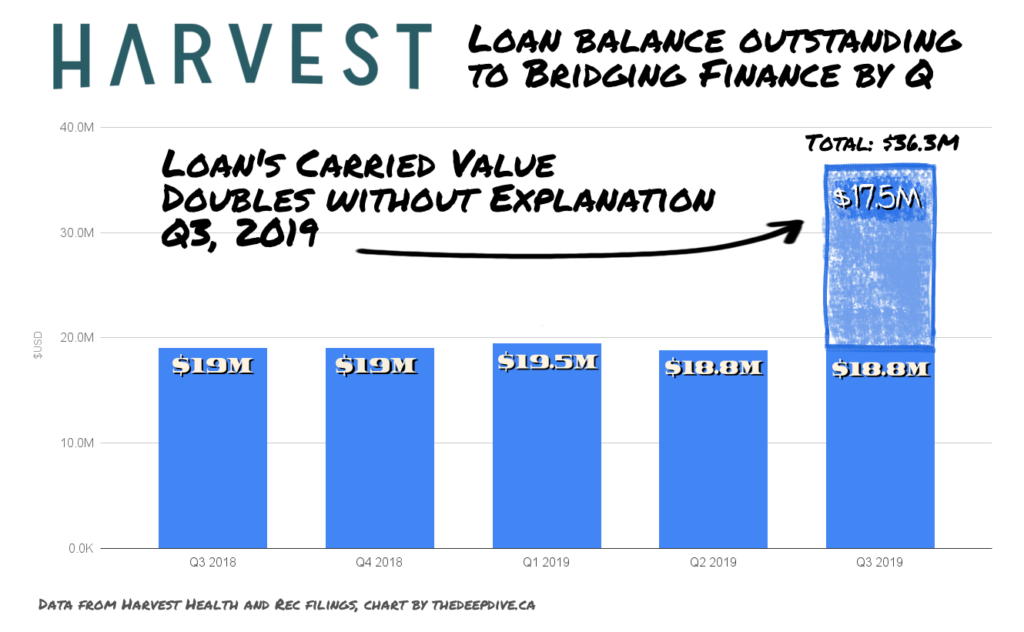 This jump was left unexplained until the December year end financials, when Harvest (possibly at the insistence of its auditor) informed shareholders that it had taken advantage of "additional draws" of $20.7 million and $26.6 million against that credit agreement in August and October. The draws, previously unavailable, but made possible by an amendment and re-statement to the original letter of credit in July, took the outstanding balance to $82.5 million, which sounds like a lot, but Harvest had been very well-behaved all year.
MERRY CHRISTMAS!!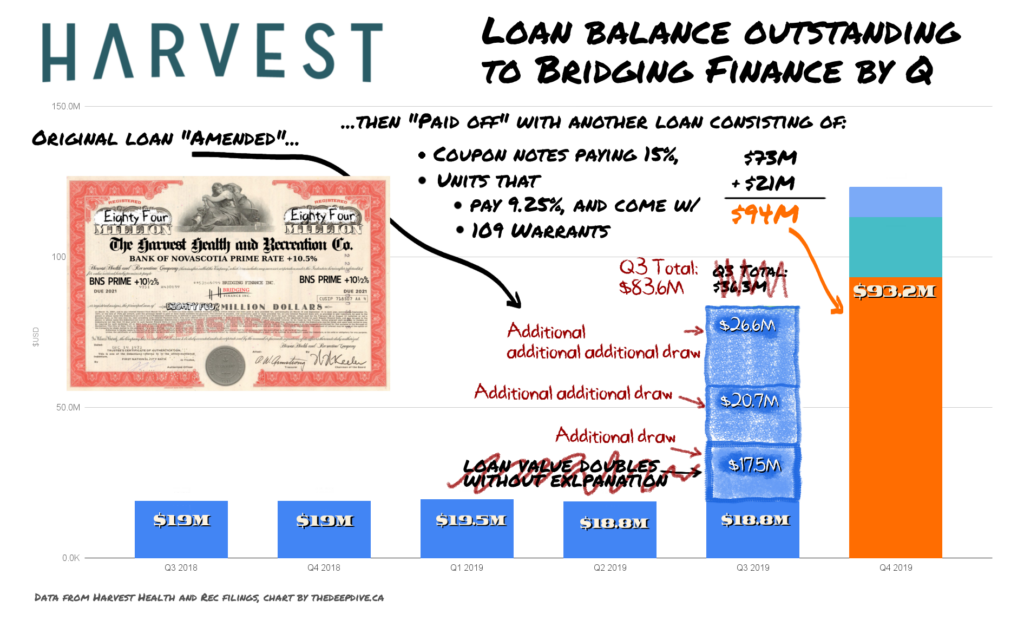 On December 23rd, 2019, a Santa Clause of a lender that the year end financials does not identify by name extends $94 million worth of credit to Harvest in the form of:
a) Senior Secured Notes paying 15% per annum, and
b) $1,000 Units that
i) pay 9.5% per annum and,
ii) each come with 109 share purchase warrants with a $3.66 strike price
Harvest doesn't spell out that the new secured notes and associated units were a rollover and expansion of the retro-expanded Bridging loan facility, but the backdated disclosures give it away:
"The entire Amended and Restatement (sic) Credit Agreement balance of $82,500 was paid off with the Senior Secured Notes and Units described above."
(Emphasis added to illustrate that the the balance was paid off with the notes themselves, as opposed to proceeds from the notes).
…And Happy New Year!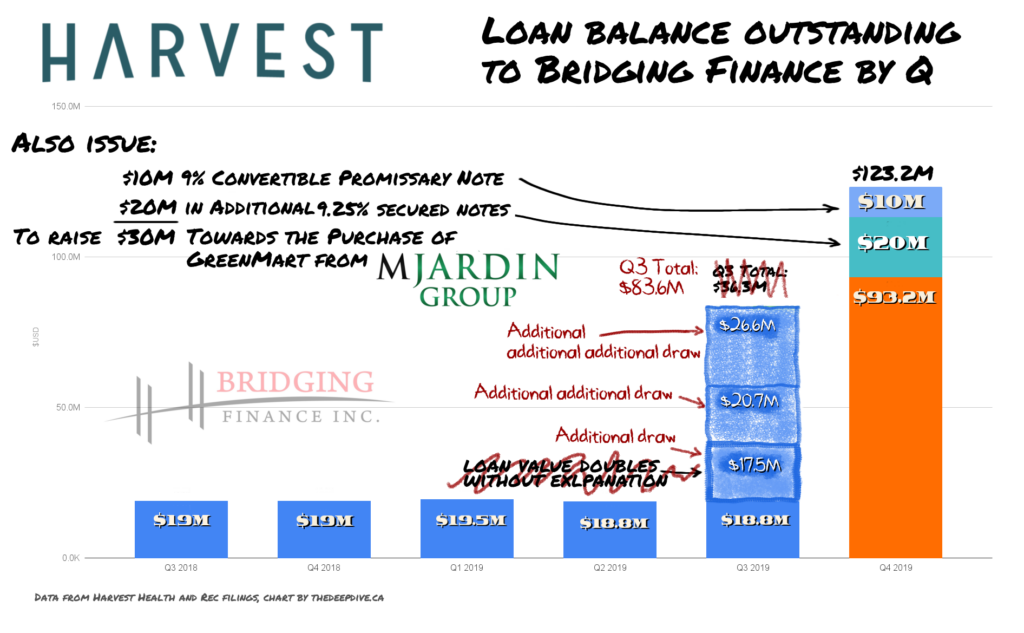 On December 31st, Harvest drew another $20 million against the 9.25% Senior Secured Notes, and issued a $10 million promissory note at 9%, for the expressed purpose of buying Mjardin's Nevada business, GreenMart.
MJardin had only taken full ownership of GreenMart in July of 2019, at a total on-paper cost of $22.9 million, following a Bridging-financed purchase of some of the founders' debt, so flipping it to Harvest at the end of the year for $35 million was some pretty good luck. It gave MJardin an opportunity to pay down some of that Bridging debt.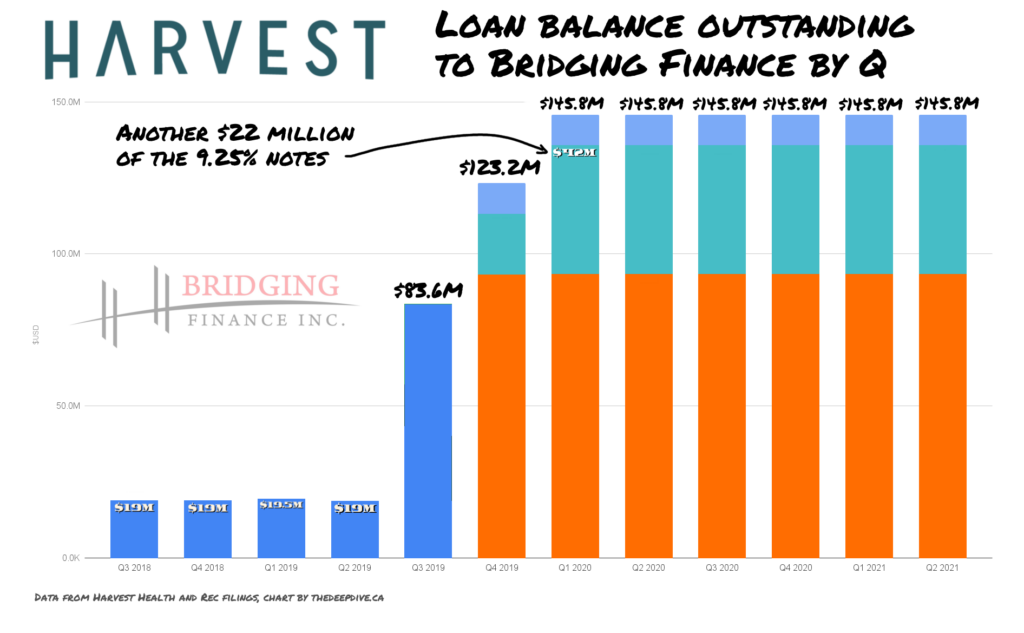 It should be noted that these charts only include the Harvest debt that can be reasonably linked to Bridging Finance. By June of 2021, Harvest was carrying a total outstanding loan balance of $290 million, including $100 million of out-of-the-money convertibles. (Link to an image of the Notes Payable portion of the filing here, because some readers may consider it obscene.)
There's a good argument to be made that, despite the debt load, Harvest was not borrowing beyond its means. The company generated quarterly revenue in the tens of millions, though almost always at a negative operating cashflow. Reading the financial statements, one gets the sense that one particular lender was always pushing debt on them, eagerly selling high-interest offerings with discounts and payment-in-kind terms that resulted in large asset bookings on the lender's side.
As complicated as all of this might seem, it's actually simple: none of this money exists. Ever since the unitholders gave it to Bridging, it's been long gone. Its ghosts bounce from balance sheet to balance sheet as IOUs, as its masters do their damnedest to use it as components of an illusion of value in the equity market that it scares some more money into a similar death. As of this writing, the most recent benefactor appears to be Trulieve.
Trulieve Cannabis Corp. (CSE:TRUL) acquired Harvest Heath and Recreation in a $1.4 billion all-stock deal that closed October 1, 2021. That makes Harvest's debt to Bridging (and all of its other debt) Trulieve's problem, and appears to have shoved these ghosts back into a realm where they can't haunt anyone who didn't ask for it.
Trulieve borrowed $342.6 million at 8% in a senior secured note offering at the same time as the Harvest transaction, some of which is earmarked for the Harvest debt. Unlike Harvest, who states explicitly in its disclosures that its debt instruments and the associated warrants are never to be listed, Trulieve lists its debt and warrants all the time. In 2020, its debentures were frequently the most traded listing on the CSE by dollar volume. The notes it issued to pay off the Harvest debt are already listed and trading; freely available to anyone with money looking to fill out a balance sheet.
More to come..
---
Information for this story was found via the Globe and Mail, BNN Bloomberg, Sedar and the other sources mentioned. The author has no securities or affiliations related to this organization. Views expressed within are solely that of the author. Not a recommendation to buy or sell. Always do additional research and consult a professional before purchasing a security. The author holds no licenses.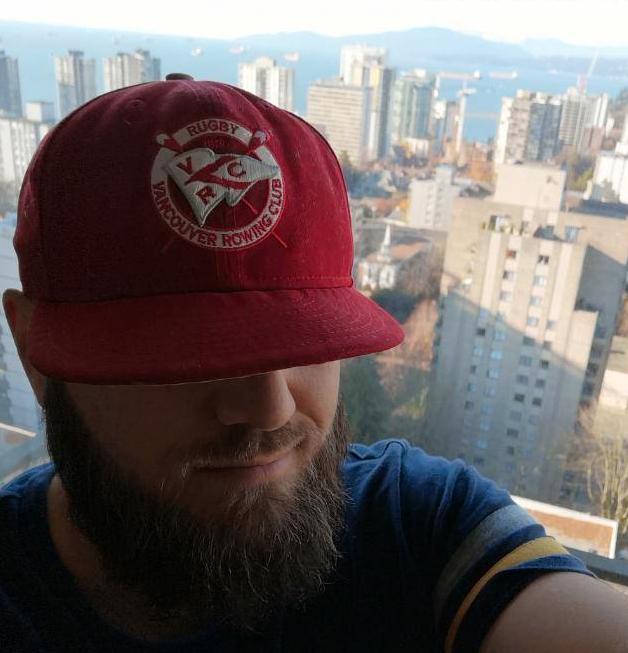 Braden Maccke is a freelance writer from Vancouver, B.C.
You can read all of his Deep Dive articles here.
He can be reached at braden@fundamentalhype.com.